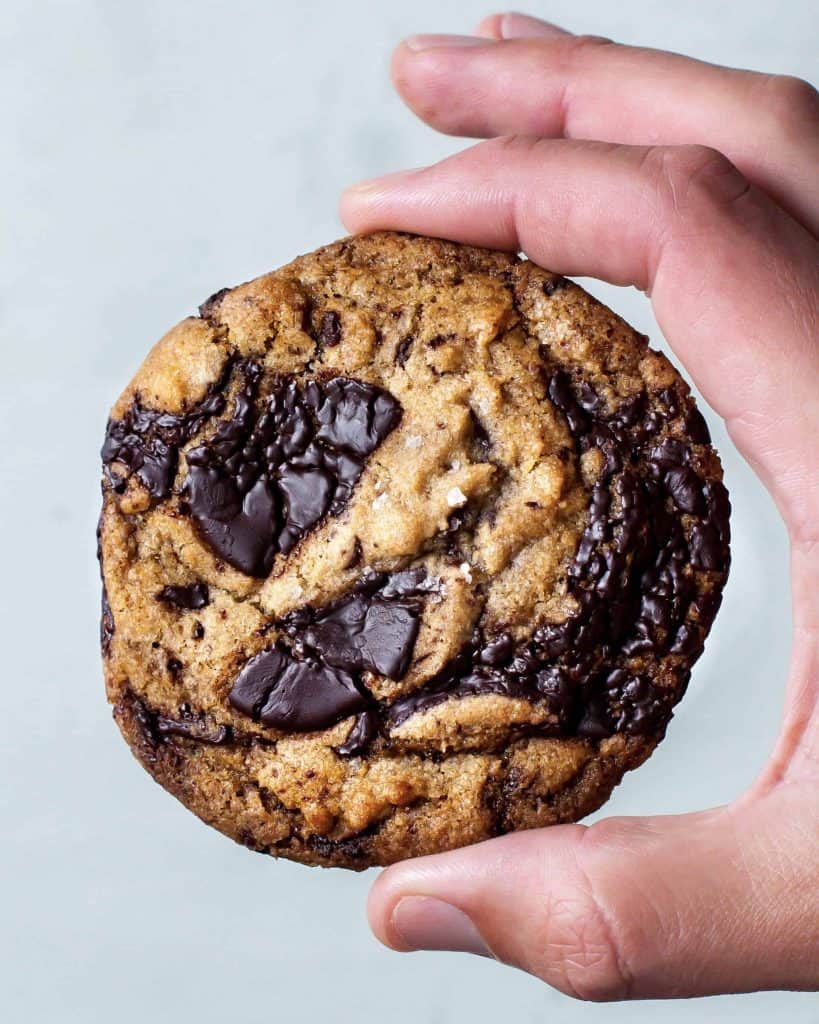 Vegan chocolate chip cookies like you've never tasted before! Chewy inside, crispy outside, with a dark chocolate kick and sprinkle of sea salt!
---
A chip off the old choc!
Tell me one thing that's better than PROPER vegan chocolate chip cookies! Melty, chocolatey, delightfully chewy with a very slight crisp on the outside.

Ideal for dunking in your tall, cold glass of oatly or just eating straight off the damn tray!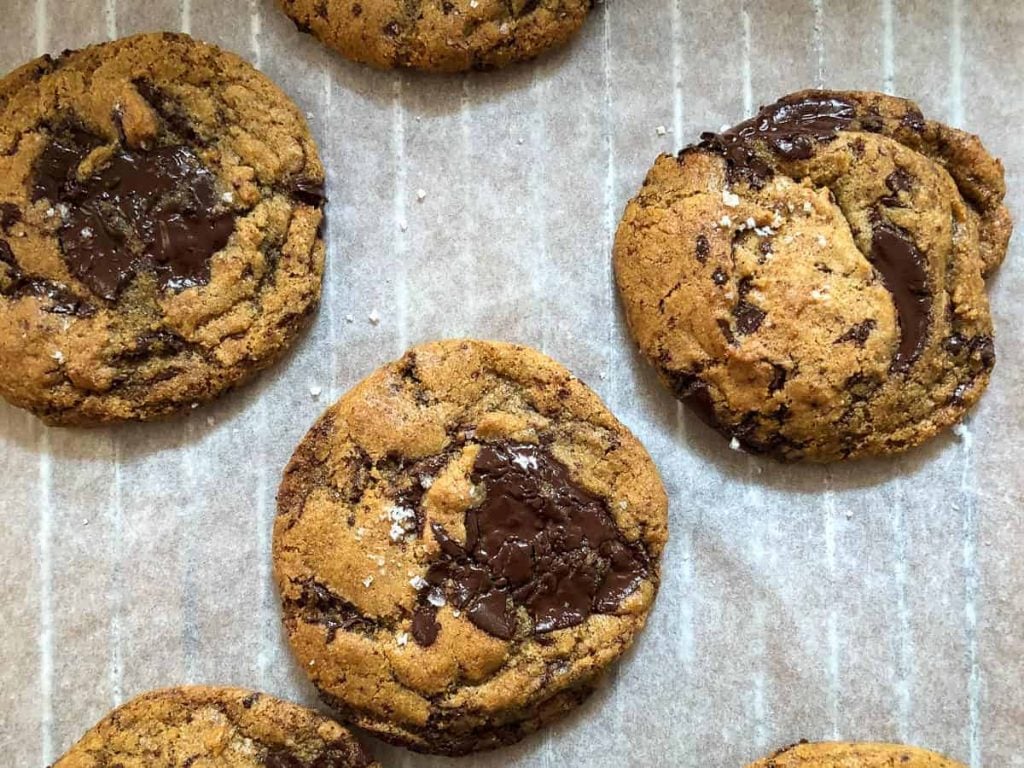 You may be surprised to hear this, but when I was growing up, chocolate chip cookies weren't really a thing - especially not vegan chocolate chip cookies!

Sure, British classic cookies were everywhere (rich tea, nice, custard creams) but a proper American style chewy cookie was very hard to find! So forgive me for catching up on lost time and NAILING this recipe daily!
The PERFECT vegan cookie!
I've been stalking the instagram page of Edd Kimber (The Boy Who Bakes, winner of Season 1 of Bake Off) for a while now, looking for things to veganise.

He's incredibly talented, he made my wedding cake (we won't talk about how he dropped it in transit - it was fine - I couldn't even tell!) and is a suitable candidate for some serious SNV recipe hijacking!
His cookie recipe is legendary (or should I say, legen-DAIRY) and I've not been able to try them because he only published the recipe AFTER I went vegan! SO! I chose his cookies to veganise.
These are  - hands down - the best cookies I've ever made. Edd has balanced the sweet and salty like a master! His idea of chopping some of the chocolate means you get the most indulgent texture inside with some beautiful big chunks throughout. DO NOT MISS THIS! Bake them!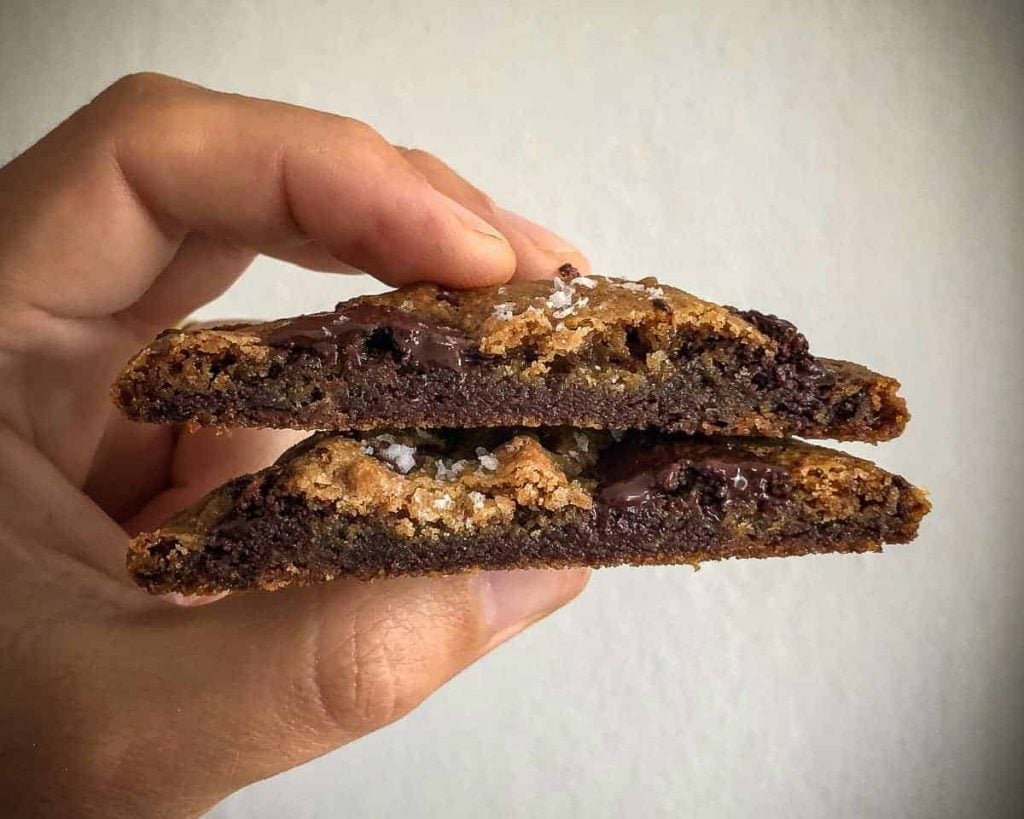 Any fancy ingredients?
Psyllium husk powder, as you might have noticed, is my favourite thing ever these days. It's such a great egg replacement and is so much more powerful and has so much less taste than flax seeds.
However, if you're not able to get hold of psyllium husk powder, just use flax or linseed like usual. Just exchange the teaspoon for tablespoon and you're all set!
The other thing to make sure you do properly is the chocolate! Try to buy the best you can get! I love to use the huge chocolate buttons, which they use for chocolate making because they melt more easily. The technical term is a chocolate "callet". 
Try to use chocolate over 70% cacao. Not only does it taste much better, with that slightly bitter-sweet kick, but dark chocolate also tends to be vegan (but make sure you read the pack!).
Need more chocolate??
Why not try these guys!:
Vegan Chocolate Creme Donuts
Best Ever Chocolate Chip Cookies
These are - hands down - the best cookies I've ever made.
Ingredients
225

g

vegan butter

((I used Naturli "vegan block" because it browns beautifully but if you're in the US use Miyokos))

350

g

plain white flour

¾

teaspoon

baking powder

¾

teaspoon

baking soda

100

g

soft light brown sugar

100

g

soft dark brown sugar

150

g

caster sugar

2

teaspoon

psyllium husk powder + 8 teaspoon water

6

tablespoon

soy or oat milk

2

teaspoon

vanilla bean paste or extract

340

g

dark chocolate chips or buttons

((I used Callebaut "callets" (like big buttons, bought from amazon. Remember, most chocolate over 65% cacao is usually vegan but double check the ingredients))

Flaky sea salt for sprinkling
Instructions
Preheat the oven to 160c.

In a small bowl, mix together the psyllium husk powder and the water. Set aside to thicken.

In a separate medium bowl, measure out the flour, baking powder and baking soda.

Set aside around ⅔ of your chocolate chips/buttons. With the other ⅓, chop roughly. Set aside also.

In a small saucepan, place the butter and place over a medium/low heat. If you're not using Naturli or Myokos you'll find that your butter will not brown, however please follow this step anyway as you'll want your butter at least melted. Stirring constantly, cook until the butter is fully melted, begins to foam and starts to develop light brown specks (around 3-4 minutes). Remove from the heat and allow to cool slightly for around 5 minutes.

Pour the butter into the bowl of a stand mixer fitted with the paddle attachment. Add the sugars and beat on a medium speed to combine. Add the thickened psyllium husk, the vanilla and the oat milk while the mixer is running. Beat until the psyllium husk "egg" is fully incorporated (it has a tendency to be quite lumpy if not beaten enough).

With a silicone spatula, stir in your dry ingredients, being careful not to over mix or you'll end up with a tough cookie!

Add all the chocolate and stir to combine. Line a cookie sheet with baking parchment and scoop out balls of cookie dough, a couple inches apart, making sure each one has a good amount of chocolate showing on top. Sprinkle with a little sea salt and place in the preheated oven. Bake for 16 minutes.

Once baked, allow to cool on the baking sheet for about 5 minutes and then transfer to a wire cooling rack. Once cooled, ENJOY!
Nutrition
Love this recipe?
Let me know on Instagram!