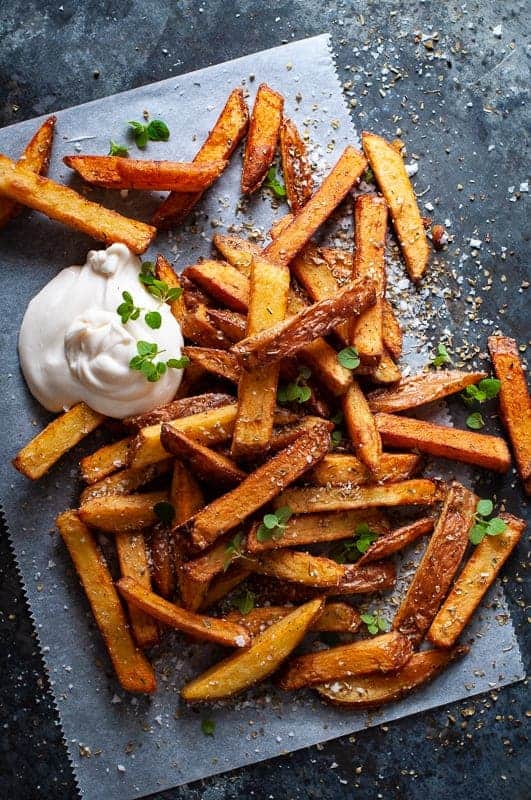 Crispy, fragrant oregano fries! Perfect for with vegan souvlaki or as a twist on your classic vegan burger accompaniment! Serve with vegan mayo, like a pro!
---
Me? I'm an oregano fry guy!
Oregano fries first came into my world on holiday in Greece. I was visiting some friends in Kefalonia (I URGE you to visit Kefalonia!) and we went sailing around the island, hopping from taverna to taverna in search of good food and good drink.
Every single place we stopped did their own twist on oregano fries, and each was equally delicious. Needless to say, I was hooked!
Years later I fell in love with the souvlaki from The Grilling Greek – a really great food truck based in London. Their oregano fries did not disappoint either!
What's so special?
The short answer to why oregano fries are so good is "I don't know". Burger joints across the UK had a love affair wit rosemary fries in recent years, but for me, rosemary is far to boisterous. Oregano is such a subtle but almost meaty herb which, when dried, makes fries taste almost nutty! I can't think of any herb I'd rather have on my fries!
Some key pointers on the perfect fry!
Oregano fries aren't the most difficult thing in the world to cook, but if you follow these rules you can take them to the NEXT LEVEL!
Always use a nice waxy potato. My spud of choice is a nice red skin variety, but maris piper work great too!
Double frying your fries makes sure they're fluffy on the inside and crispy on the outside. Be sure to raise the temperature of your oil between dips!
A simple but often forgotten trick is to sprinkle your fries with salt straight out of the fryer and leave them to rest on some kitchen towel. This helps to absorb any excess moisture and oil, making them perfectly crispy.
Need more snacks??
Why not give these guys a go: