Publised on 11/02/2020 by Richard. Last Updated on 13/11/2022 by Richard.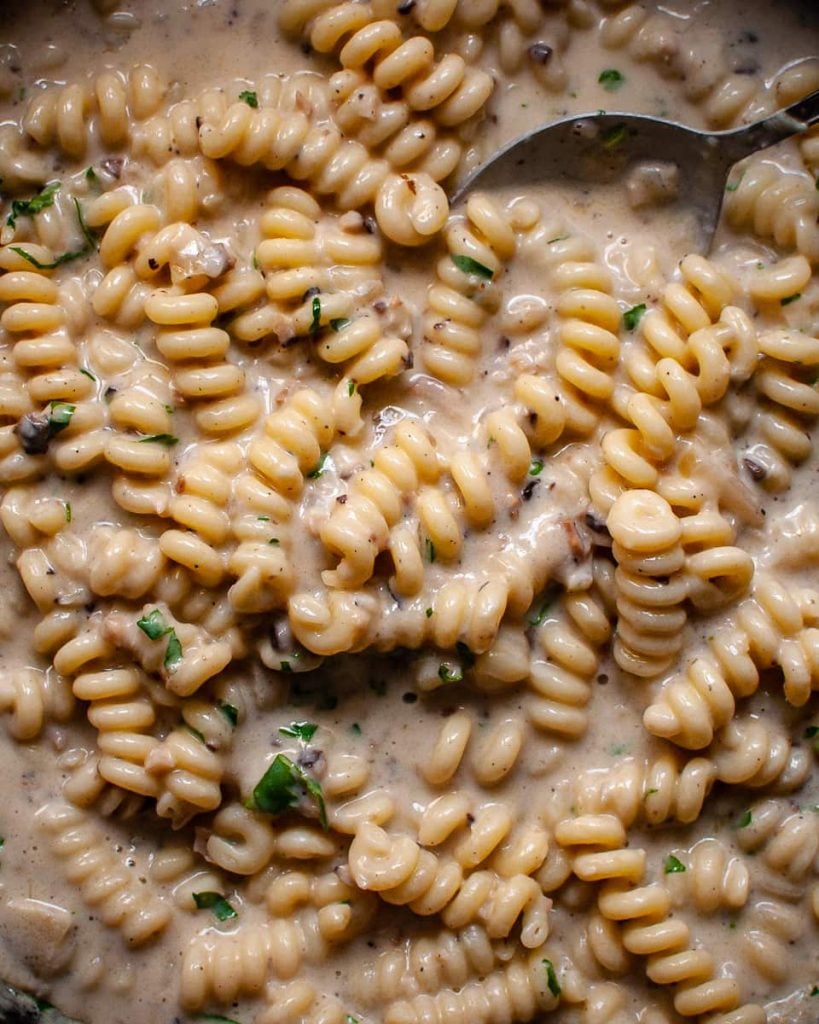 The creamiest vegan wild mushroom fusilli you'll ever try. Packed with mushroomy earthiness, this is the glossiest, most deliciously smooth pasta sauce out there!
---
Plot twist - creamy pasta sauces aren't just for omnivores and this vegan wild mushroom fusilli proves it! I also love how gosh darn simple this sauce is. The majority of its flavour comes from intensely earthy dried wild mushrooms, zingy white wine and a decent kick of black pepper.
But how d'ya make it so damn creamy I hear you ask?? It's all down to that old vegan classic - cashew cream! This cashew cream consists of only two ingredients and it works in all sorts of other recipes. If you decide not to use it all in this recipe, it stores in the fridge really well for a later date!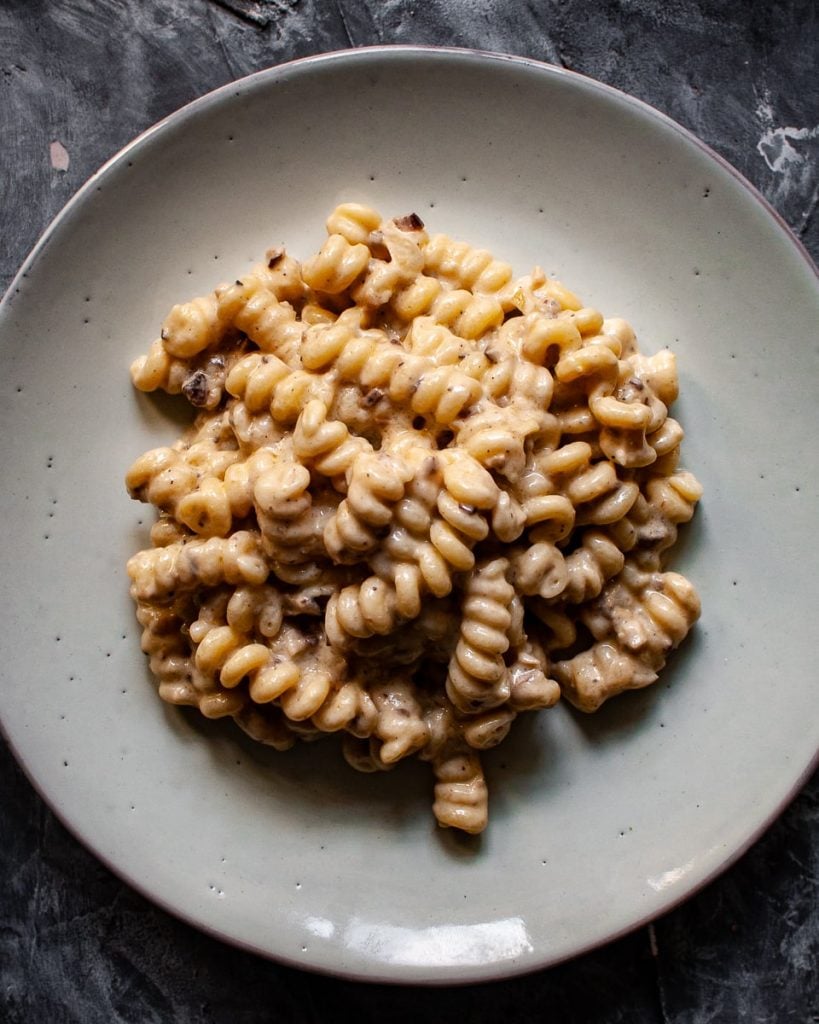 Do I need any specific ingredients?
This is definitely a recipe you can throw together with just a few store cupboard ingredients, but if you'd like to master the recipe, here are a few bits n bobs you'll need.
Dried Wild Mushrooms
Chances are you've already used these in another recipe. I like to buy wild mushroom blends rather than just one type of dried mushroom. That way you end up with a much more varied mushroom flavour.
You can grab Dried Wild Mushrooms here!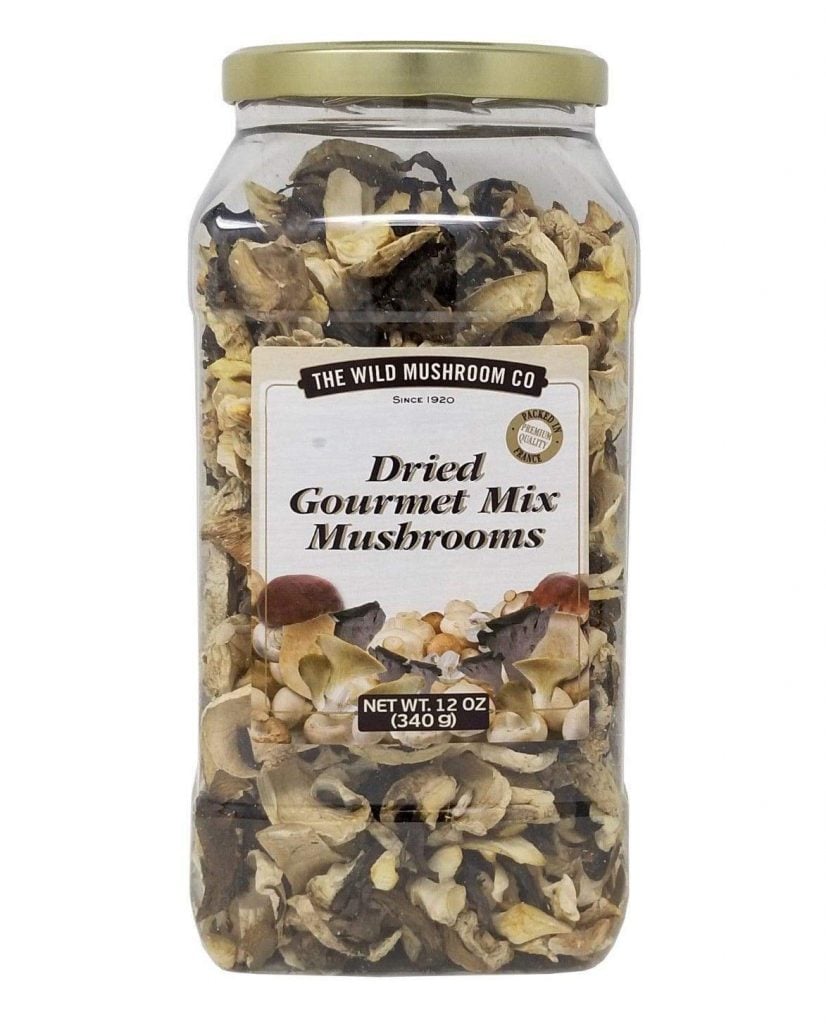 Fusilli Bucati Corti
This is one of my favourite pastas out there. It's like regular fusilli except the entire shape is made of a series of tubes. Tubes means more sauce can stick to the pasta which = more flavour!
You can grab Fusilli Bucati Corti here!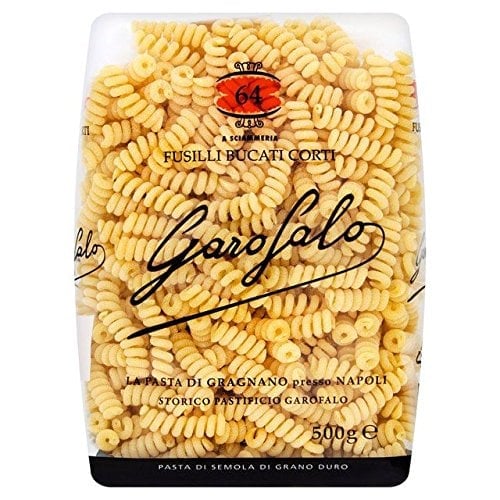 Do I need any specific equipment?
Just one thing!
I push these guys quite a lot, but I promise you they're worth it. If you want a really, really smooth custard for your vegan french toast and not something which feels like scrambled eggs, I'd recommend using one of these.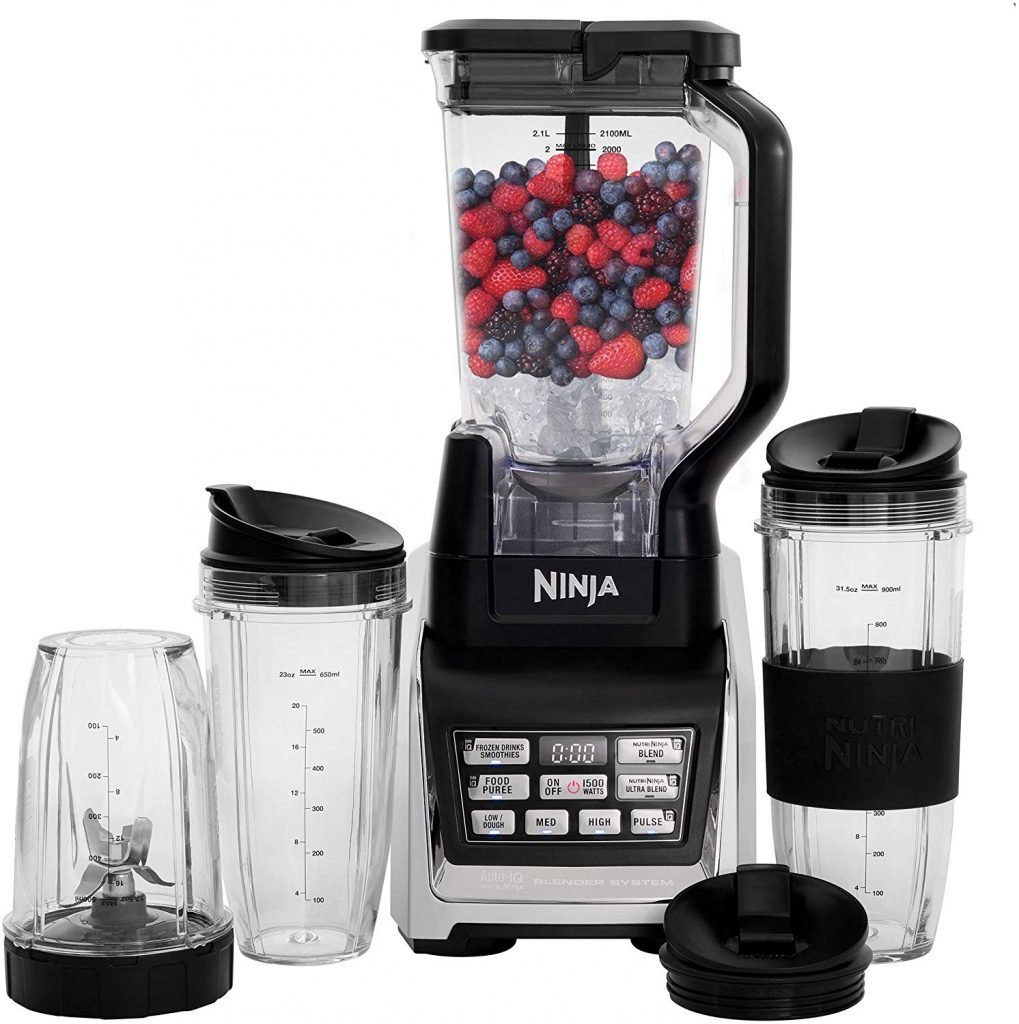 How do I make vegan wild mushroom fusilli?
This is a mega simple recipe. You can find the whole recipe at the bottom of this page, as always, but here is a breakdown of the steps involved.
1. Soak the cashews
This recipe uses a cashew cream. You need to soak cashews before you can blend them to make a cream. If you're short on time, you can also boil the cashews for around five minutes. Remember to drain them and add new water before blending into a cream.
2. Sautee the onions and garlic
To start the sauce, cook your onions and garlic. It's really important that they don't pick up any colour - just make sure they're starting to turn translucent. I like to do this in vegan butter as it makes the sauce even creamier, but olive oil also works!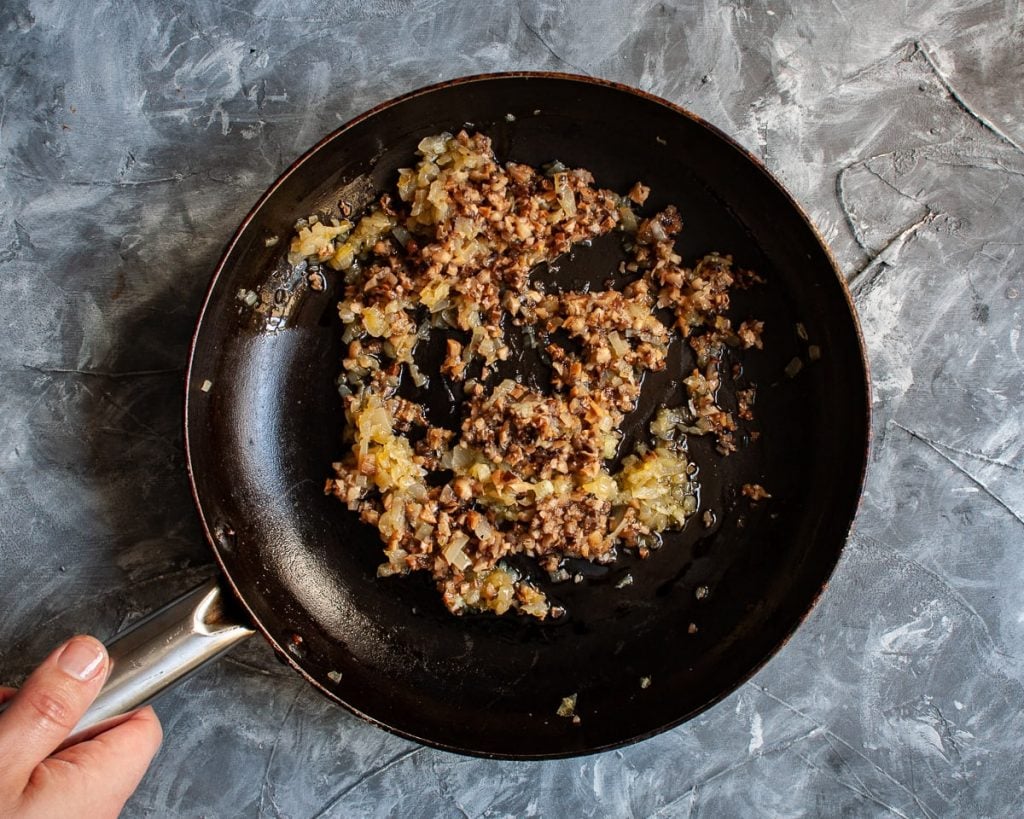 3. Add the mushrooms
Add the soaked, chopped mushrooms to the onions and garlic. Immediately you should immediately smell that beautifully earthy vibe! That's what this sauce is all about. Fry for a little longer to cook off the mushrooms.
Tip: I like to chop the mushrooms very finely for this recipe. For me, it's important not to have too much texture from the mushrooms - we're mostly just after the flavour! So keep them nice and fine.
4. Deglaze the pan
This just means GET SOME LIQUID INVOLVED! Our liquid is a nice blend of white wine and some of the mushroom soaking water. I also like to use a little pasta water as the extra starch helps to make the sauce super glossy. Allow it to simmer and reduce before adding the cashew cream.
5. Dress the pasta and serve!
The sauce is ready! So get some on that fusilli and sprinkle with a little fresh parsley. You're ready to serve!
Need more pasta recipes??
You came to the right place! Why not try some of these guys!
---
Please keep in mind...
I love sharing my food with you - it seriously gives me so much joy! As a result, I put a huge amount of time and energy into creating these recipes. This recipe right here is my lil baby and I wouldn't change a single thing about it. As such, I won't give advice on any ingredient swaps, substitutions, omissions or changes to the method described above (how dare you talk about my baby like that!)
But seriously, if this recipe doesn't do it for you and you want to customise it - that's cool - no probs. Put that finely honed chef's intuition to good use and tailor the recipe to suit you! Regardless of whether you make any changes or not, let us know how you get on in the comments below.  
---
Disclosure: some of the links above are affiliate links, meaning at no additional cost to you, I may earn commission when you click through and make a purchase.
Vegan Wild Mushroom Fusilli
The creamiest vegan wild mushroom fusilli you'll ever try. Packed with mushroomy earthiness, this is the glossiest, most deliciously smooth pasta sauce out there!
Ingredients
80

g

cashews

((raw, unsalted))

175

ml

water

20

g

dried wild mushrooms

200

g

fusilli

((I used fusilli bucati corti))

50

g

vegan butter

½

white onion

((finely chopped))

2

cloves

garlic

((peeled and finely crushed))

pinch

flaky sea salt

½

teaspoon

ground black pepper

5

tablespoon

dry white wine

((make sure it's vegan))

1

tablespoon

fresh parsley

((finely chopped))
Instructions
The night before making, cover the cashews in water and leave to soak. Alternatively you can boil the cashews over a medium/low heat for 5 minutes or until soft.

Once the cashews are soft, drain them of their soaking/boiling water and place them in the cup of a high-speed blender. Add the 150ml of water and blend on the highest speed until you have a very smooth cashew cream. It should be around the consistency of double cream.

In a mug, cover the dried mushrooms with boiling water and leave to soak for at least 2 minutes.

Boil the fusilli in liberally salted water until al dente. If the pasta is ready before the sauce, drain it but keep the pasta water. Toss the pasta in a little olive oil to stop it sticking together.

To make the sauce, heat the vegan butter in a skillet or frying pan over medium heat until melted. Add the onion and fry for a few minutes until turning translucent. Add the garlic and fry for a few minutes more. Do not allow the onions or garlic to brown.

Drain the mushrooms but reserve their soaking water. Chop the mushrooms very finely before adding to the frying pan and stirring well. Season with the salt and pepper.

Without stirring, remove around four tablespoon of the mushroom soaking water. Mix it with the white wine and add to the frying pan. Reduce the heat to medium/low and allow the sauce to simmer until nicely reduced.

Add a large ladle of the reserved pasta water (around 200ml) and simmer again, stirring often, until reduced by about half.

Stir well before adding the cashew cream. Whisk to combine and allow to simmer one more time on a low heat until glossy and thick enough to coat pasta. Remove from the heat.

Dress the pasta with the sauce before serving and sprinkle with chopped parsley and a little extra black pepper if needed.
Nutrition
Serving:
1
grams
Calories:
485
kcal
Carbohydrates:
64
g
Protein:
14
g
Fat:
18
g
Saturated Fat:
4
g
Sodium:
67
mg
Fiber:
4
g
Sugar:
4
g
Love this recipe?
Let me know on Instagram!