Publised on 02/10/2022 by Richard. Last Updated on 20/11/2022 by Richard.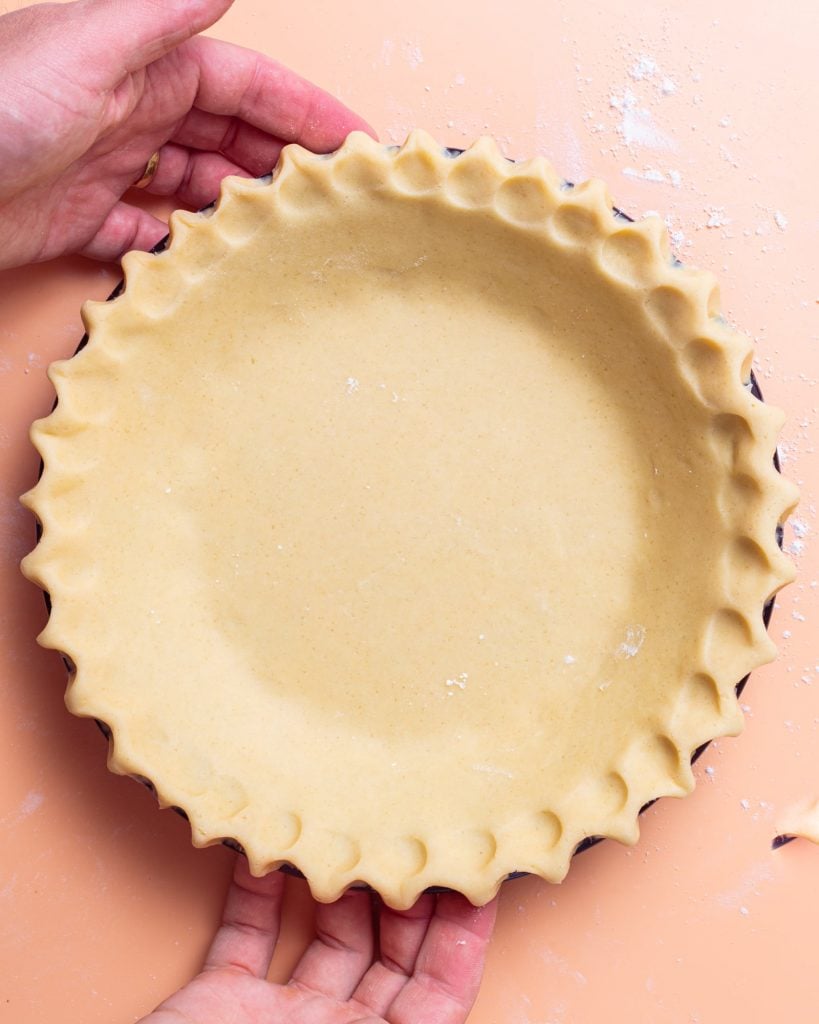 My easy vegan pie crust is foolproof to make and deliciously buttery and crisp. Ideal for vegan pies as well as tarts and pastries.
---
Well, it's officially pie season, so I'm delivering unto you MY PERFECT VEGAN PIE CRUST RECIPE for all your vegan pastry needs! It's flaky, it's crumbly, gosh darn it's even buttery and what's more this is SUCH an easy vegan pie crust, you'll be making vegan pumpkin pie and vegan pecan pie ON THE REGULAR!
I wanted to make a truly foolproof recipe which combined super simple ingredients with a couple of neat but easy techniques for the perfect pastry, so that's what you'll find below! Nothing complicated and definitely nothing difficult to make. So let's get cracking shall we!?
Just a couple of things: if you haven't made pastry before, theres a few things to keep in mind.
Dry and crumbly is good! If the dough gets too wet in the making process, you'll activate the gluten in the flour. The gluten holds things together, like glue, and so makes for tough baked pastry. Therefore it's best to add water to the dough very gradually.
Overworked dough suffers a similar fate: tough! Unlike bread dough, we're trying NOT to activate the gluten, so no kneading is required. I recommend using a food processor to combine your ingredients as it slices the dough rather than knead it, but even then, don't allow it to run for too long.
Pastry should be kept cold! Another reason why I suggest using a food processor is that it negates the need to use your hands, which warms up the dough. Warm dough means melty vegan butter, which means more liquid in the dough - and we know how that ends!
How do I make a vegan pie crust?
So you've decided you wanna make a vegan pie! Great! You'll be needing a vegan pie crust for sure! The recipe, as always, is at the bottom of this page, but if you wanna pick up some extra tips and tricks before you get started, keep reading!
1. Combine your dry ingredients
Just a combo of flour, salt and sugar! Super simple. But we're starting straight in the food processor, so throw everything in there and give it a good blend to combine. If you don't have a food processor, just combine these ingredients in a bowl and give them a good whisk.
2. Add the vegan butter and blend
As I mentioned earlier, it's best to use a vegan butter which comes in a block, rather than the spreadable variety, like margarine. I used this stuff in the photos for this recipe but if you're in the US, Miyokos butter works perfectly too.
You just want to pulse the mixture until everything looks like a coarse, sandy texture. Little lumps of unblended butter are a good thing! They help to keep the vegan pie crust nice and flaky. If you're not using a food processor, you should cut the butter into the flour with two knives or a pastry cutter.
3. Add a little water gradually
As the food processor is working, drizzle a little ice cold water into the mixture. Don't add too much though, you want the vegan pie crust dough to JUST ABOUT come together, but remain crumbly in texture.
The ice cold water helps the vegan butter not to melt, which will keep the vegan pastry nice and crumbly once baked.
4. Press the dough
This is a little technique to help keep the vegan pie crust nice and flaky. Press the dough into a clean counter with the heel of your palm a few times to flatten it. You don't need to go crazy here, just a few pushes will improve the texture massively.
Once done, gather the pastry into a ball and flatten gently into a thick disc. Wrap in cling film or saran wrap then refrigerate for at least 1 hour.
5. Roll out the vegan pastry
This is enough vegan pastry for a 23cm or 9 inch pie dish. You'll want to roll out the dough to around 30cm or 12 inches, to allow for overlap and crust. Every vegan pie crust needs a nice CRUST, so you'll want to roll out the pastry slightly bigger than the circumference of your pie dish.
I like to use a non-stick metal pie dish, but many people swear by ceramic pie dishes. You do you!
6. Trim vegan pie crust pastry
Once you've placed the rolled out dough into the pie tin, you'll want to trim the overhanging pastry ever so slightly. Around half an inch of overhanging pastry is the perfect amount, so don't over-trim, or you won't have enough for a nice crust.
Next you want to fold the overhanging pastry UNDER itself to create a crust around the rim of the pie which is twice as thick.
7. Crimp the edges
Now you'll need to crimp the vegan pie crust around the edges. I like to use this technique - where you pinch the dough between your two pinch fingers on the right hand and the pointer on your left hand - all technical terms obviously!
If you're after a vegan pie crust which is slightly more rustic in appearance, you can use a fork to crimp the edges. Now you're going to freeze the pastry for a good half hour. This helps the pastry not to slip down the sides of the tin when baking.
If you're making a vegan pie which doesn't need to be blind baked, your crust is now ready! But if you need to blind bake, read on!
8. Blind bake the vegan pie crust
Blind baking involves pre-baking your vegan pie crust before adding any filling to ensure a lovely crispy base. You'll need to fill the pie crust with tin foil and then fill with baking beads or dried beans/chickpeas. This helps to stop the pie crust from shrinking while it bakes, or from slipping down the sides of the pie tin.
You'll want to bake for 20 mins with the tinfoil and pie weights, then remove them and bake for another 10 mins. Alternatively follow the instructions in your pie recipe!
And that's it! Your pie crust is ready! If you love the looks of this recipe, it would mean a huge amount to me if you could give me a five star rating below!
Alternatively, take a picture and pop it on instagram! You can follow me here if you don't already, or use the hashtag #schoolnightvegan when you post!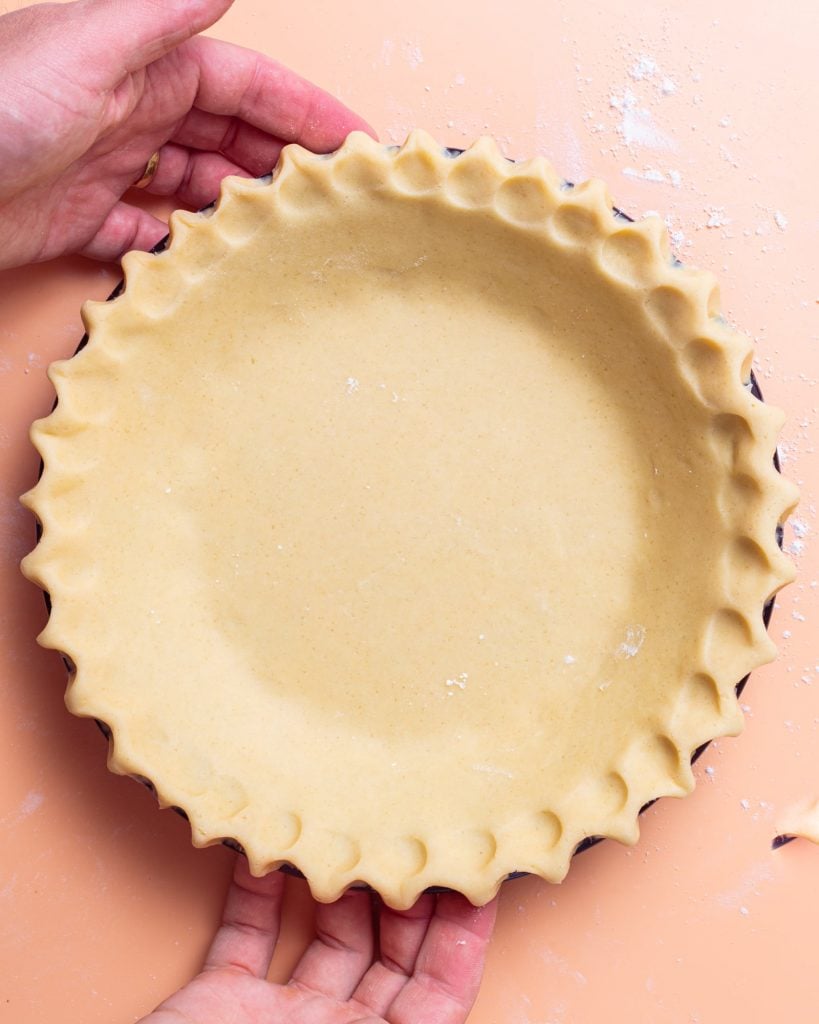 Vegan Pie Crust
My easy vegan pie crust is foolproof to make and deliciously buttery and crisp. Ideal for vegan pies as well as tarts and pastries.
Ingredients
160

g

plain white flour

½

tablespoon

caster sugar

(aka superfine sugar)

¼

teaspoon

fine sea salt

115

g

vegan "block" butter

(, chilled, or deodorised/refined coconut oil)
Instructions
Add the flour, caster sugar and salt to a food processor and pulse a few times to combine. Add the vegan butter and run the food processor until the mixture resembles a coarse, sandy meal. 

160 g plain white flour,

½ tablespoon caster sugar,

¼ teaspoon fine sea salt,

115 g vegan "block" butter

Slowly drizzle in 3-4 tablespoon of ice cold water while the food processor is running. Remove the dough - it should still be crumbly. 

Roughly push the crumbly dough with the heel of your hand into the counter around 5-6 times. Gather the dough into a ball and then pat into a disc. Wrap in cling film and refrigerate for at least 1 hour. 

Lightly dust a clean counter and remove the pastry from the fridge. Allow the pastry to sit for 10-15 mins before unwrapping the cling film. 

Unwrap and dust the surface of the pastry with a little flour. Use a rolling pin to roll out the dough into a 30.5 (12 inch) circle then carefully lift the rolled dough and drape over a 23cm (9 inch) pie tin or dish. Use scissors to trim the overhanging pastry to around 1 ½ cm (approx ½ an inch) then fold the edge pastry under itself, all the way around, to create a full lipped crust. 

Place the pie dish into the freezer for at least 1 hour. If you're not blind baking the pie crust, your pastry is now ready to fill and bake according to your recipe.

If your recipe does require blind baking, 20 mins before you're ready to bake, preheat the oven to

175

°C

. Remove the pie tin from the freezer and prick all over the base of the pastry with a fork. Line the pastry with tin foil then fill the tinfoil with baking weights or dried beans/peas/rice. Place in the oven to bake for 20 minutes then remove and take out the tin foil. Place back in the oven for 10 minutes or until evenly golden all over.
Notes
1. I'd always advise using vegan block style butter for making pastry of any kind. It has the right consistency and because it's more firm than soft margarine, it won't blend into the flour as easily, meaning the pastry will be nice and flaky.
2. To help make the pastry super flaky I like to use a technique where you push the dough flat with the heel of your palm a few times before gathering into a ball and refrigerating. This compacts the vegan butter and flour in flat layers so the pastry becomes flakier as it bakes.
Nutrition
Calories:
1430
kcal
Carbohydrates:
129
g
Protein:
17
g
Fat:
94
g
Saturated Fat:
18
g
Polyunsaturated Fat:
29
g
Monounsaturated Fat:
45
g
Trans Fat:
17
g
Sodium:
1337
mg
Potassium:
192
mg
Fiber:
4
g
Sugar:
6
g
Calcium:
28
mg
Iron:
8
mg
Love this recipe?
Let me know on Instagram!
WANT MORE VEGAN PIES!?
Why not try:
Tahini and Dark Chocolate Fridge Pie