Gently spiced vegan sweet potato cake, baked in a sheet pan and topped with torched aquafaba marshmallow fluff. Moist, delicious and moreish.
---
OK, ok, no need to shout – I know vegan sweet potato cake isn't exactly the most spring-centric cake out there. But look, I couldn't resist. I was originally about to make a lovely Easter carrot cake before I realised I HAD NOT DAMN CARROTS (kind a prerequisite, I know). So I started looking up sweet potato cake, since I had about 25 kilos of those orange boys.
Turns out sweet potato cake is VERY MUCH a thing and also has the potential to be a VERY FINE damn thing too. This recipe took me MANY attempts to get right for you but I think we're here now! The sponge is MEGA moist and mellow, thanks to the sweet potato puree. It's also gently spiced with a gorgina kick of toasty sweetness from the marshmallow fluff.  
What the HECK is vegan sweet potato cake!?
It's your new best friend – that's what!! Think about carrot cake with all that delicious spice and brown sugar. Now think about if you replaced the cream cheese frosting with LITERAL ACTUAL VEGAN TOASTED MARSHMALLOW FLUFF (aka Italian Meringue for all the fancy pants). 
I'm not about to pretend I'm classy so this is obviously a sheet cake. My absolute fave thing to bring to a party because sheet cakes are just DESIGNED for sharing. Or, alternatively, if you're a fellow food hoarder, you can keep it in the fridge and eat it on your own over the next 2 days. Just sayin'. 
How do I make vegan sweet potato cake??
I thought you'd never ask!! Full recipe is at the bottom of the page, as always, but here is a little step-by-step guide for you!
1. Cook your sweet potatoes
It's no surprise that the first step in making sweet potato cake is to cook your sweet potatoes! I prefer to boil them – it's super easy. Just peel them and chop into 2 inch chunks. Pop in a pot of boiling water for 20 mins and then drain. BINGO binch!
2. Blend up your wet ingredients
The QUICKEST and SMOOTHEST way to get your wet ingredients together is to blend them. We need to blend our sweet potatoes anyway, so we might as well chuck everything in there together. It also serves two benefits: 1. It makes sure your psyllium husk powder doesn't clump together and go all gross. 2. It makes sure everything is homogenised and emulsified. 
3. Add the dry ingredients
This is where your flour, spices and raising agents get involved. Remember that once your dry ingredients are added, you need to work fast. The baking soda will begin to react with the acidity of the sugar pretty much immediately, so you want to get it into a prepared tin straight away and into the oven.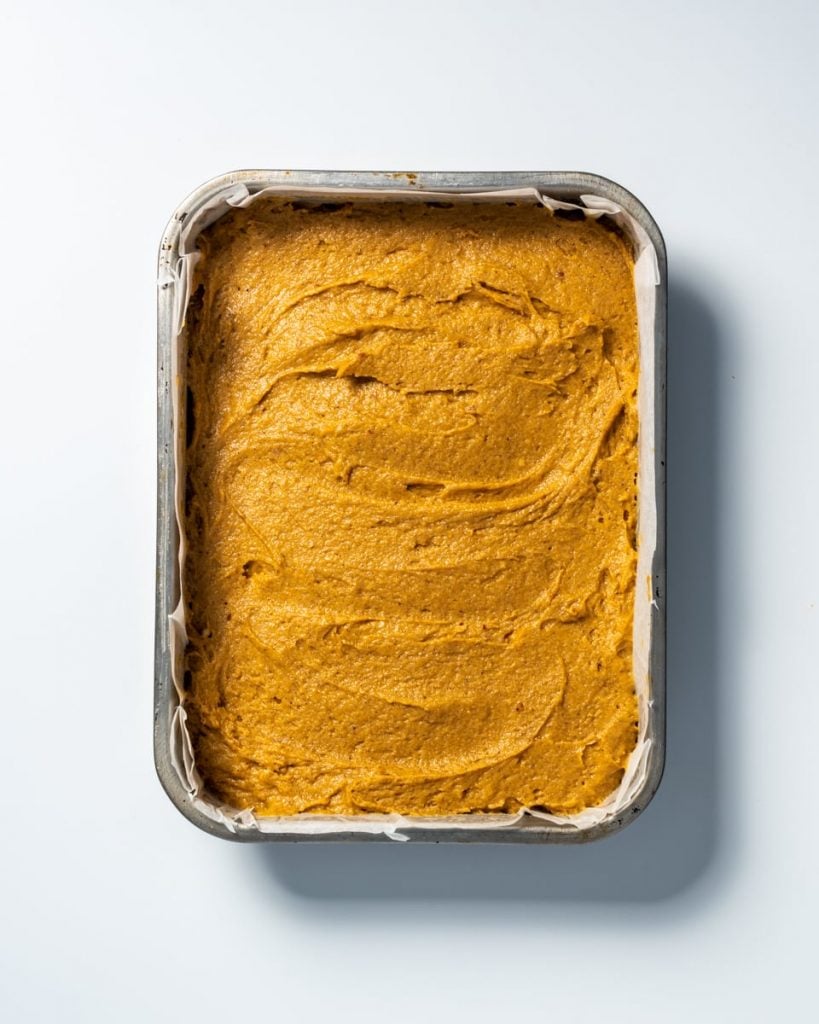 4. Bake the damn cake!!
That's right! Get it in the damn oven and bake it up good. Around 175c for 40 mins should do it! Once baked, remove from the oven and allow to cool fully!
5. Make the marshmallow fluff
This is probably the most complicated part of the recipe, so be sure to read the recipe instructions through fully before you get started. For now, here are a few top tips. 
Make sure your mixing bowl is SPOTLESS. Wiping the bowl and whisk with a piece of lemon will help to eliminate any excess grease you may not be able to see. Also make sure your aquafaba is chilled for at least an hour in the fridge before using. 
Stick with it! The aquafaba will take at least 10 mins to whip to full volume, so if you're not happy with your stiff peaks, just keep whipping!
Use a chef's thermometer to check the temperature of your sugar syrup before adding to the whipped aquafaba. If you don't have a chef's thermometer, follow this guide on checking whether your sugar syrup has reached "soft ball" stage. 
If you can find it, use xanthan gum. Xanthan gum will help your marshmallow fluff to thicken and hold those peaks. Aquafaba meringue isn't as stable as egg whites, so needs a little help once the sugar syrup is added. If you don't have xanthan gum or don't want to use it, don't worry! Just leave it out. Everything will still taste delicious but your marshmallow fluff will be much runnier and won't stay set for quite as long. 
6. Top the cake and serve!
Finally, you just need to top the cake! Don't forget, this marshmallow fluff frosting only really comes alive when it's been toasted! OMG. The flavour! If you have a chef's blowtorch, use this (also super useful for making vegan creme brulee!). If you don't, just use the grill/broil setting on your oven. Be careful though, the frosting can burn very quickly.
And that's it!
I love this vegan sweet potato cake with all my heart – I can't even tell you! If it's too autumnal for you, don't worry! The recipe will still be here come fall! Pop back in a few months and use the search bar up top to find it again!
Need some more cake recipes?!
You got it sis!! Why not give these bad boys a try!?
Vegan Chocolate Chip Sheet Cake
Hi-Hat Cupcakes; Vegan Caramel Filled!