Publised on 12/12/2022 by Richard. Last Updated on 19/09/2023 by Richard.
Super easy crispy panko coated vegan shrimp (or vegan prawns), perfect for the oven, airfryer or deep fryer!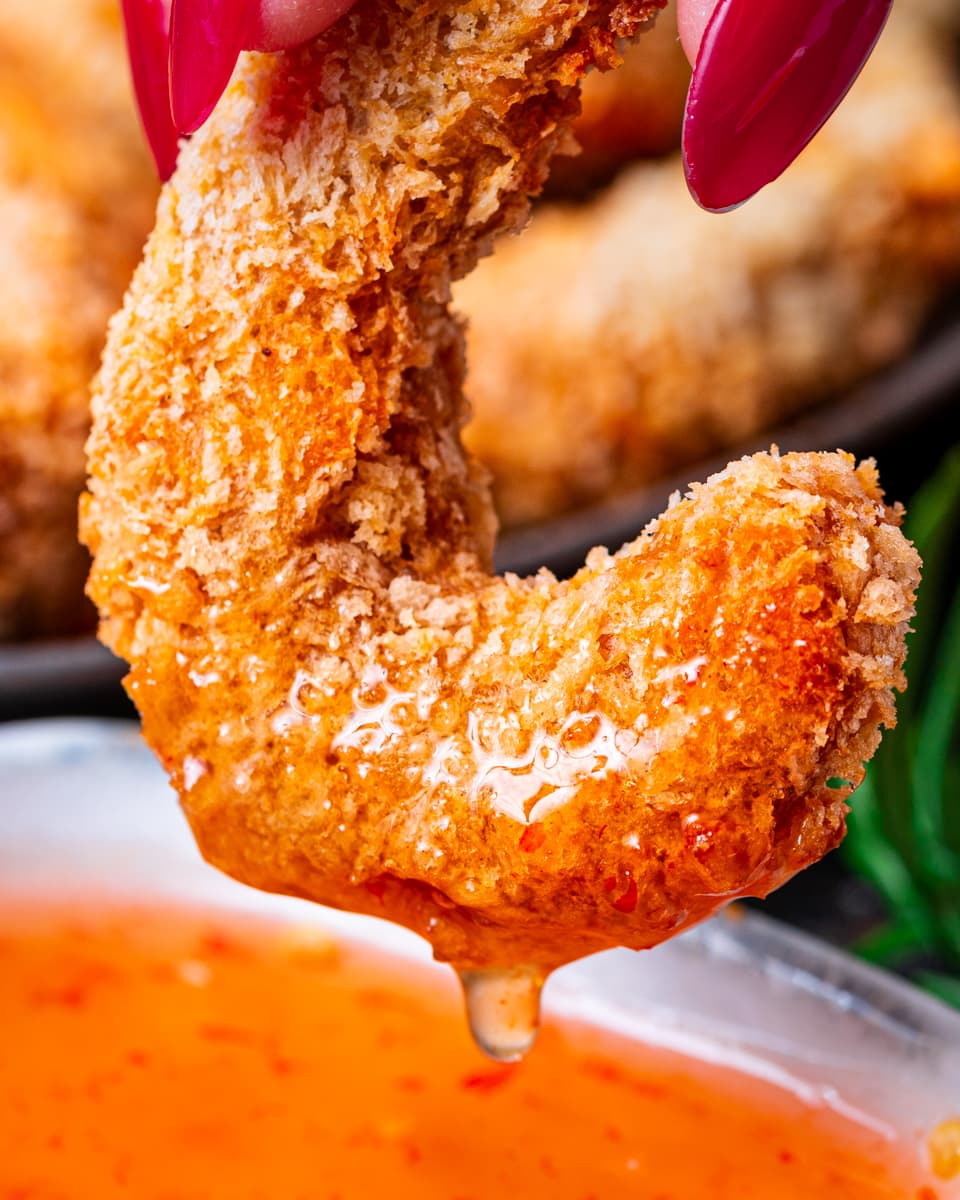 Deliciously crispy, panko coated vegan shrimp! You never thought you'd be saying this but here goes: "ROLL ON VEGAN PARTY SEASON!". I honestly can't emphasise how simple and yet rewarding these vegan shrimp (or vegan prawns) are. Obvs choose what you call them based on where you're from, but here's why they're amazing:
They're ready to eat in literally like 25 minutes.
They can be baked, air-fried, shallow fried OR deep fried! You name it!
My vegan shrimp (or vegan prawns) can be frozen AND cooked from frozen!
They're insanely versatile! Dunk my vegan shrimp in sweet chilli sauce at a party or put them in a wrap with lettuce and ranch!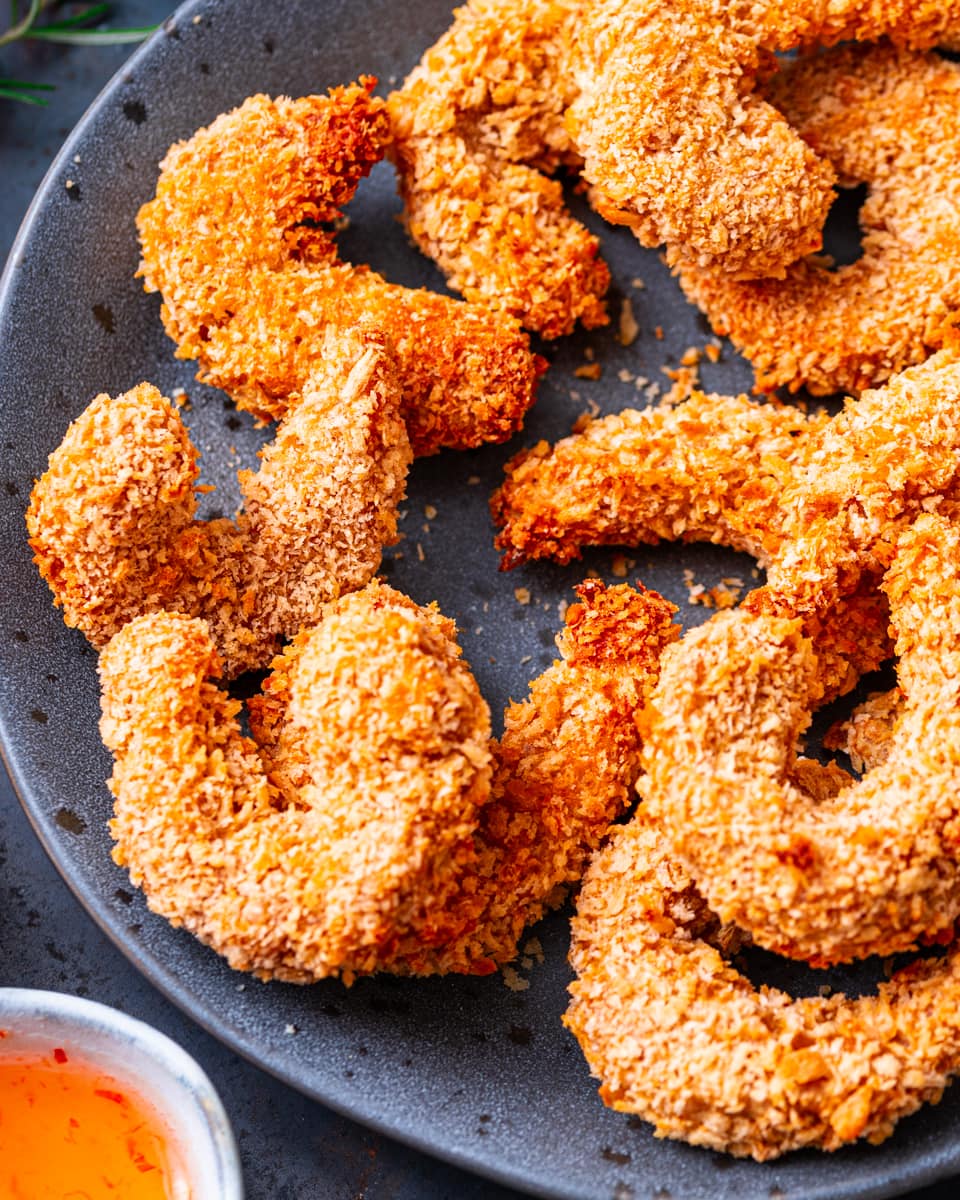 Jump to:
🧈 Vegan Shrimp Ingredients
And here's the big reveal! If you were wondering what my v aka vegan prawns are made from... drum roll please.... IT'S VEGAN SAUSAGES! I know, I know, sausages don't taste like shrimp! But we're gonna tweak the flavours slightly and I promise, once they're coated and crispy, you'll love them even more!
Here's everything you're gonna need to get started: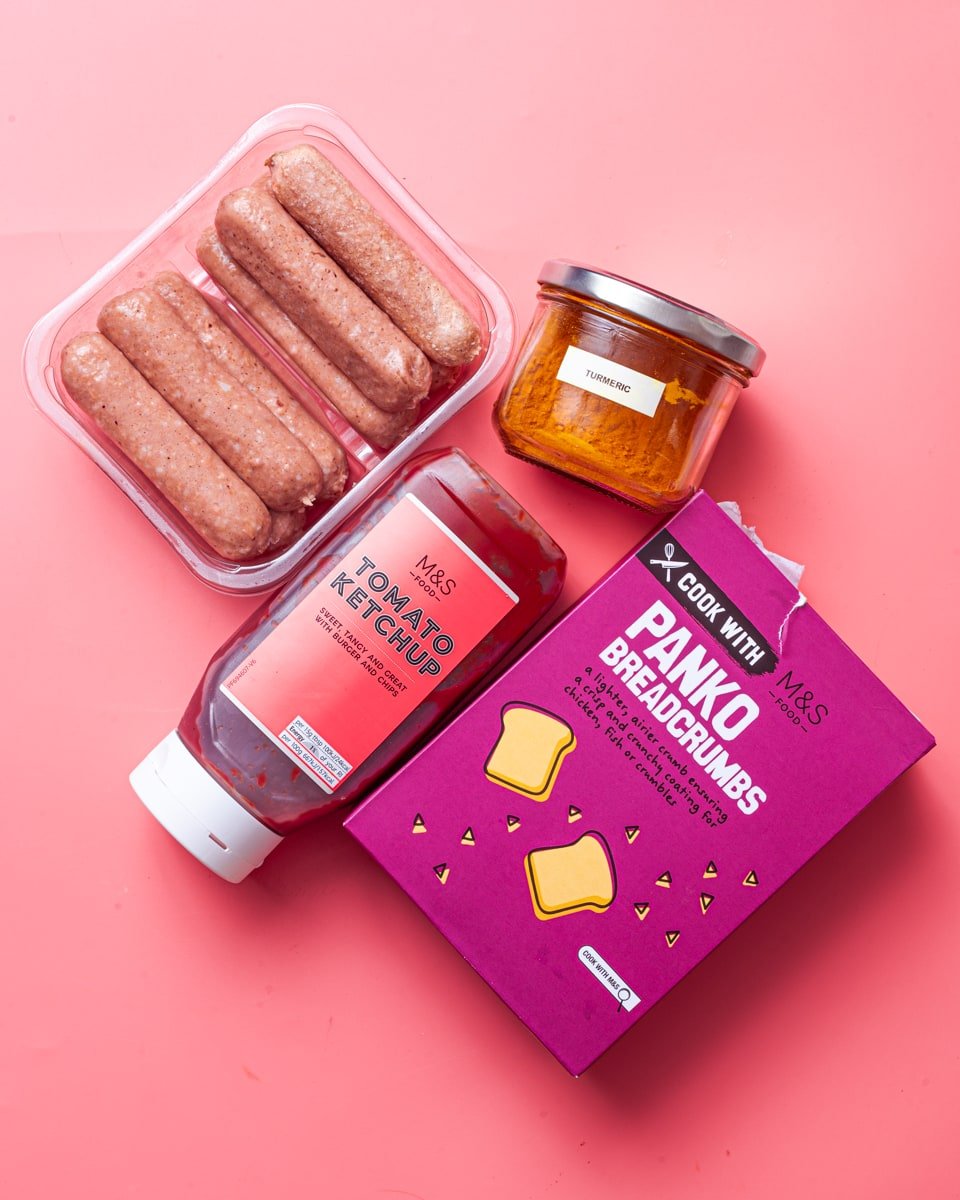 Vegan sausages - I like to use a nice pink coloured variety like Richmond or This. If you live in the US, Beyond make a similar (but much larger) variety. The ingredient you want to check for is methyl cellulose - it's an ingredient which helps vegan meats to firm up when cooked - you'll need to pick a variety of sausage with this ingredient.
Ground turmeric
Tomato puree (aka tomato paste)
Ketchup
Sriracha
Garlic (finely minced)
Plain white flour (aka all purpose flour)
Fine sea salt
Plant milk (unsweetened and unflavoured)
Lemon juice
Panko breadcrumbs
Vegetable oil
As always, don't panic! The amounts are all listed in full at the bottom of the page in the recipe card. Wanna go there now? Then go for it! Wanna read some more of my chatty chatty friendly vibes? Let's go!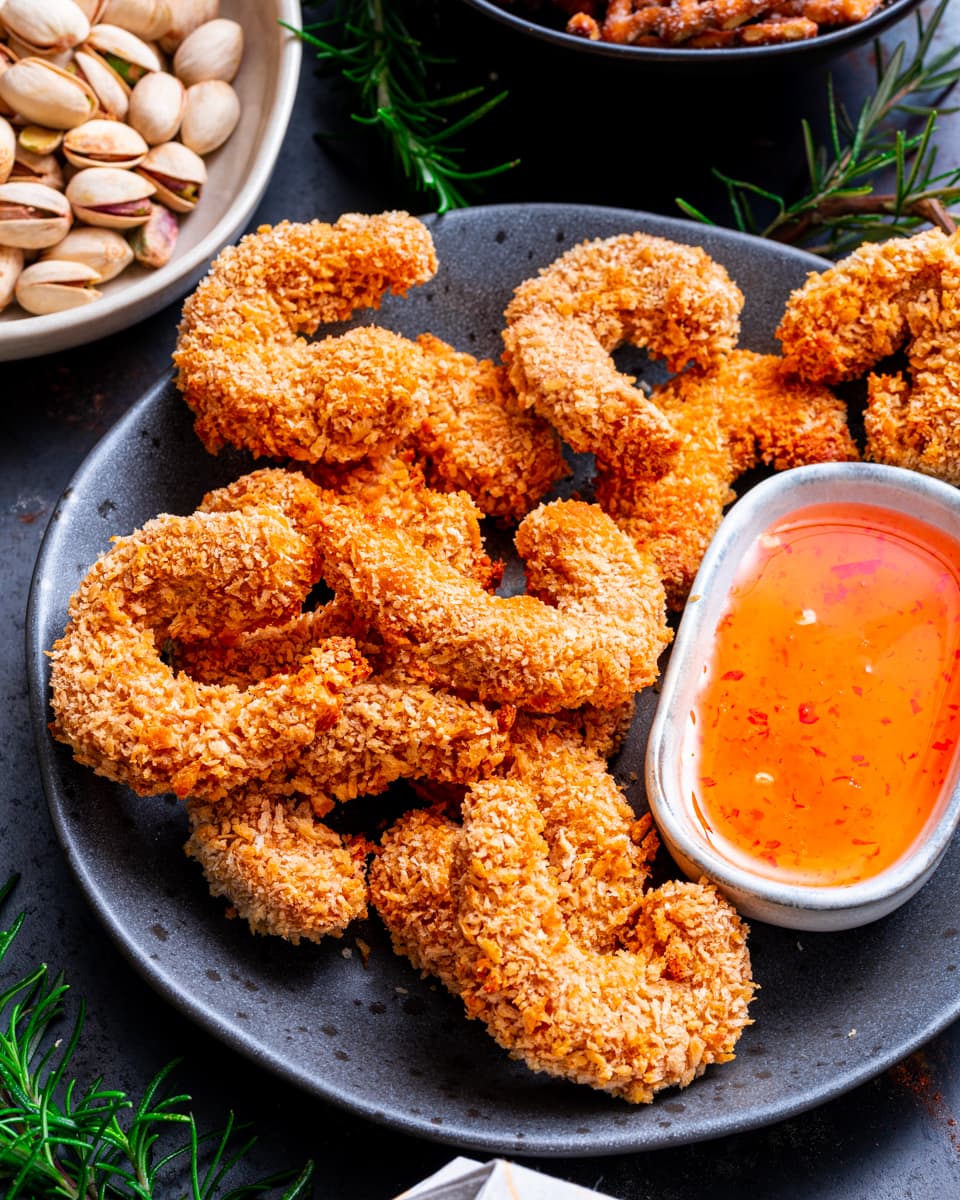 🥣 Method
Ok I promise you making vegan shrimp (or prawns) is so so easy, but it MAY get a tiny bit messy. Get stuck in and use your hands! It'll be fun! Promise!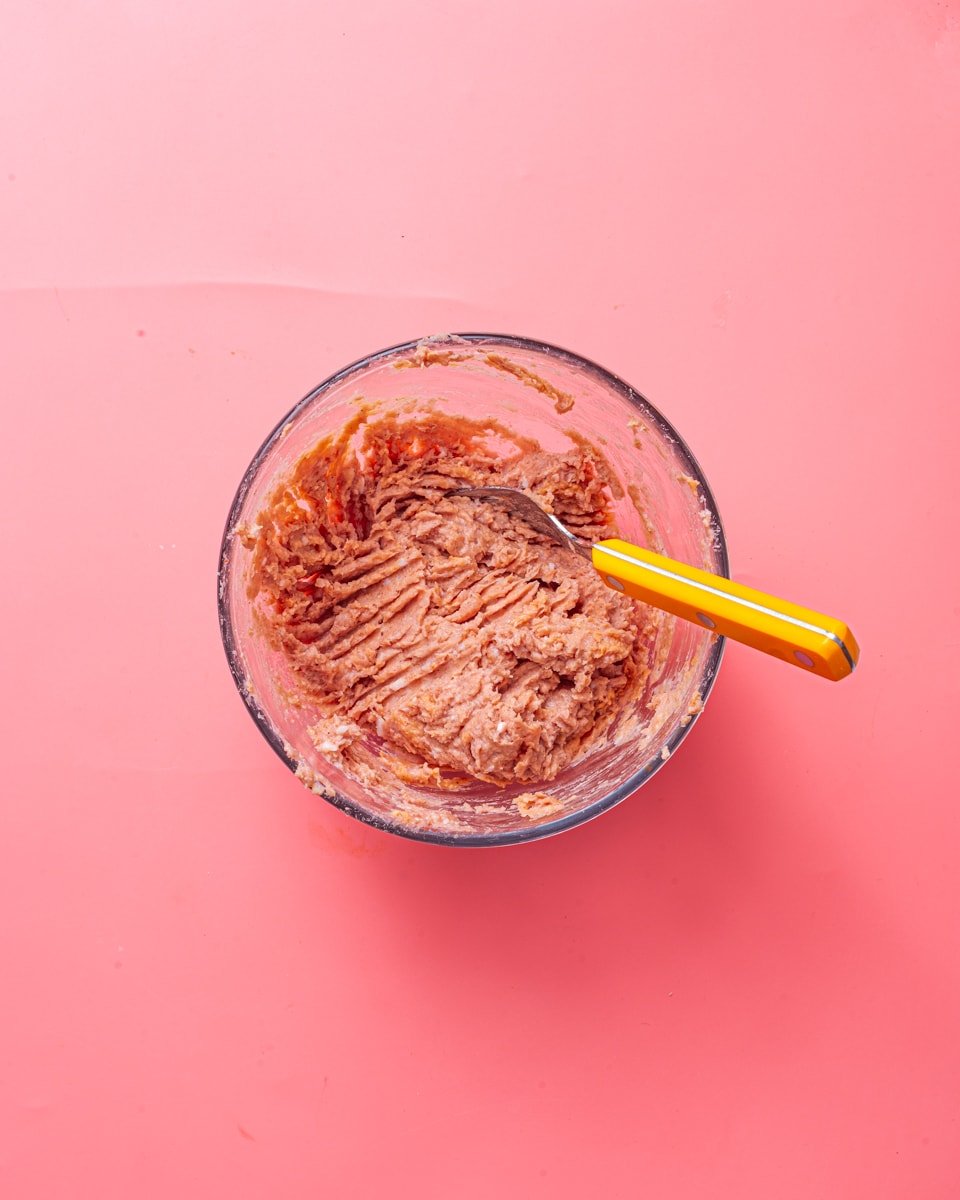 1. Mash the vegan sausages! The main body of your vegan shrimp is made from mashed vegan sausage - don't worry! It'll firm up once cooked (if you used the right variety of sausage - see the ingredients note above if you're not sure!). Don't worry about removing the skins - just mash away!
2. Mix together your flavours! We're gonna try to distract from the fact that these are sausages, not shrimp, so in goes some extra flavour to make things a bit more...shrimpy! Stir them all together in a bowl then add to the mashed sausages. If your sausages aren't already pink, this should help with the colour too! Now just form the "meat" into shrimp shapes!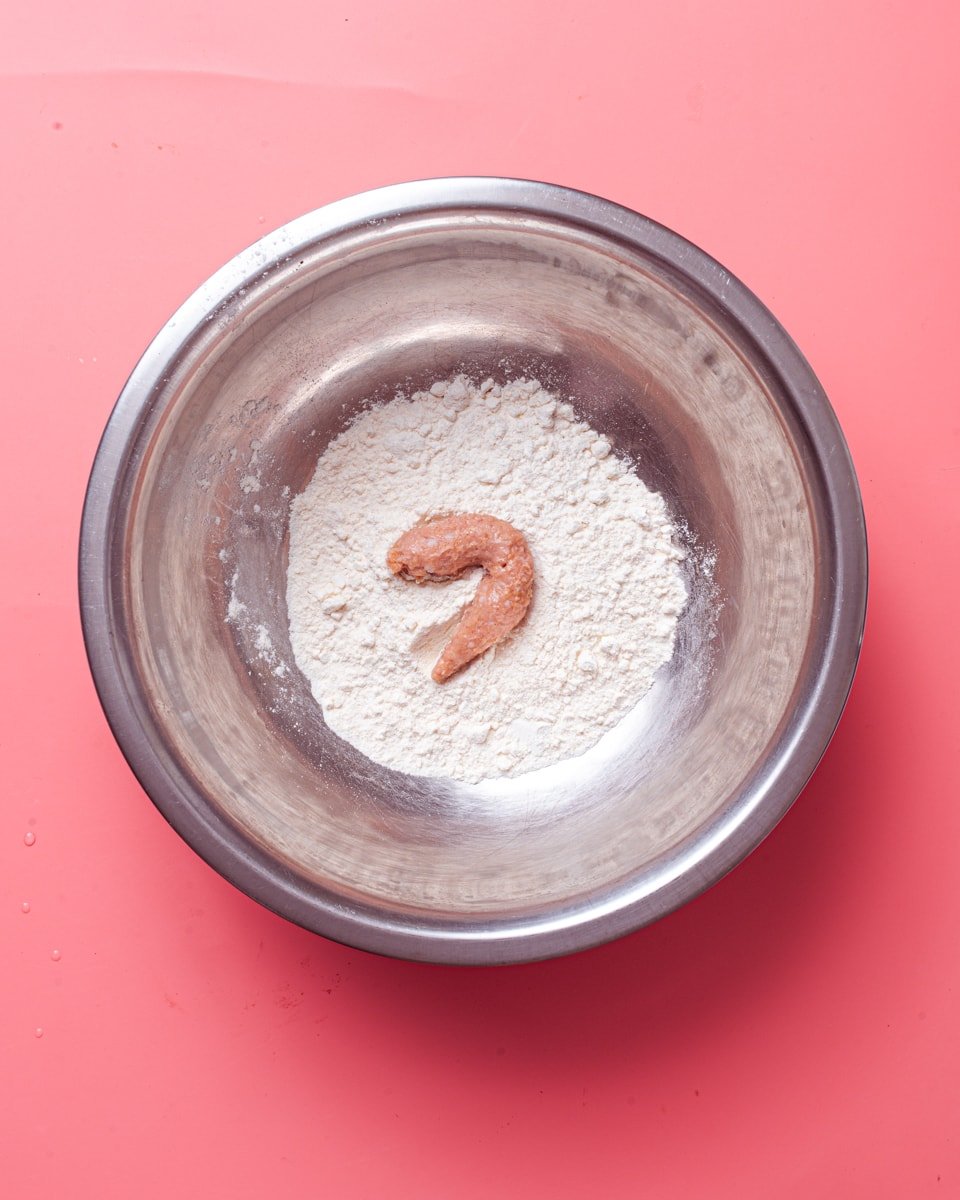 3. Coat the vegan shrimp! If you've made my baked tofu nuggets before, you'll be familiar with the three bowl method. You dunk first in flour, then soy milk, then panko bread crumbs. It helps to make a really delicious but super crispy coating all around the vegan shrimp. Perfecto!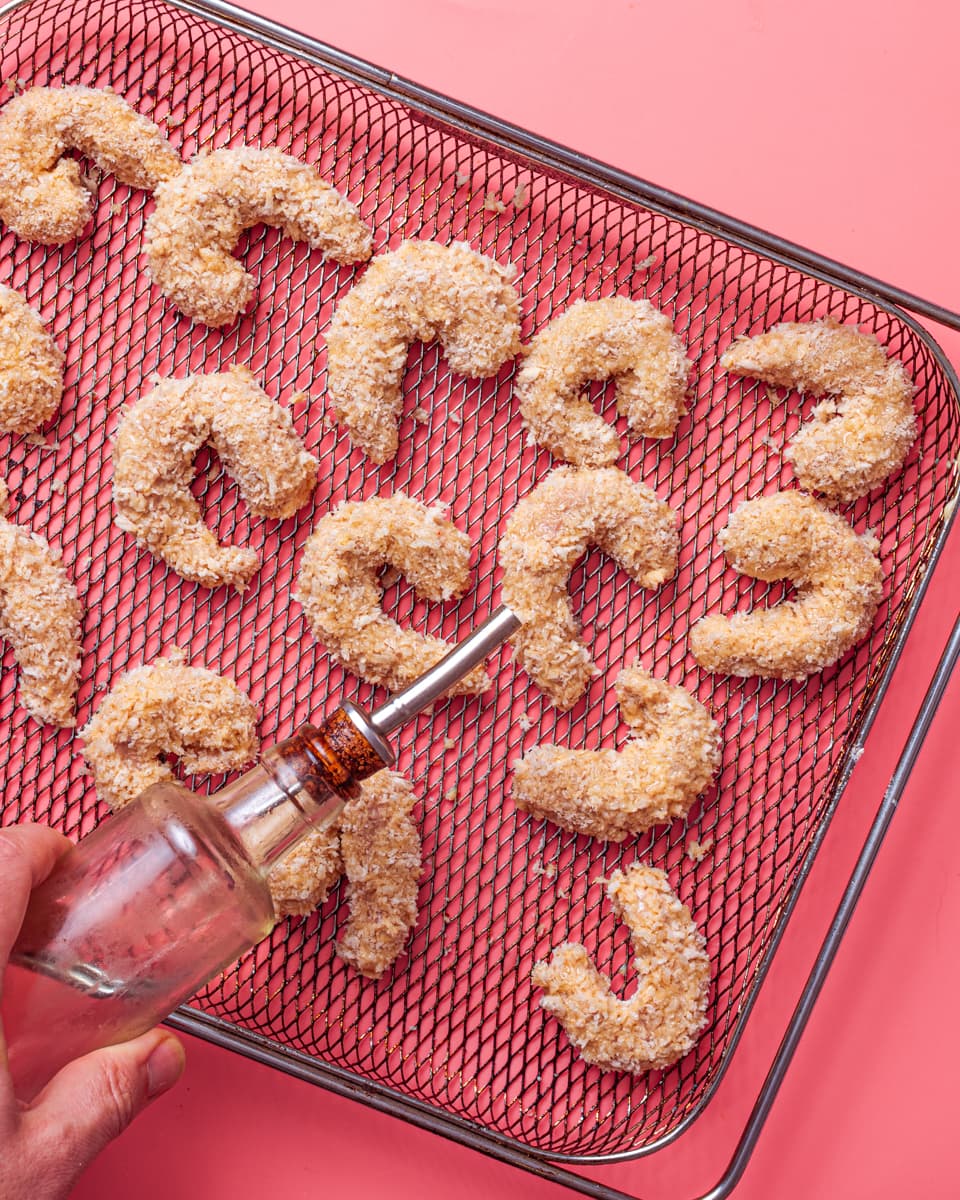 4. Cook em! Like I mentioned above, you can cook these vegan shrimp however you'd like! I like to use my air-fryer, in which case it's important to drizzle with a little vegetable oil first. You can also bake, shallow fry or even deep fry these bad boys! Just be sure to drizzle or spray with oil if you're not cooking them IN oil!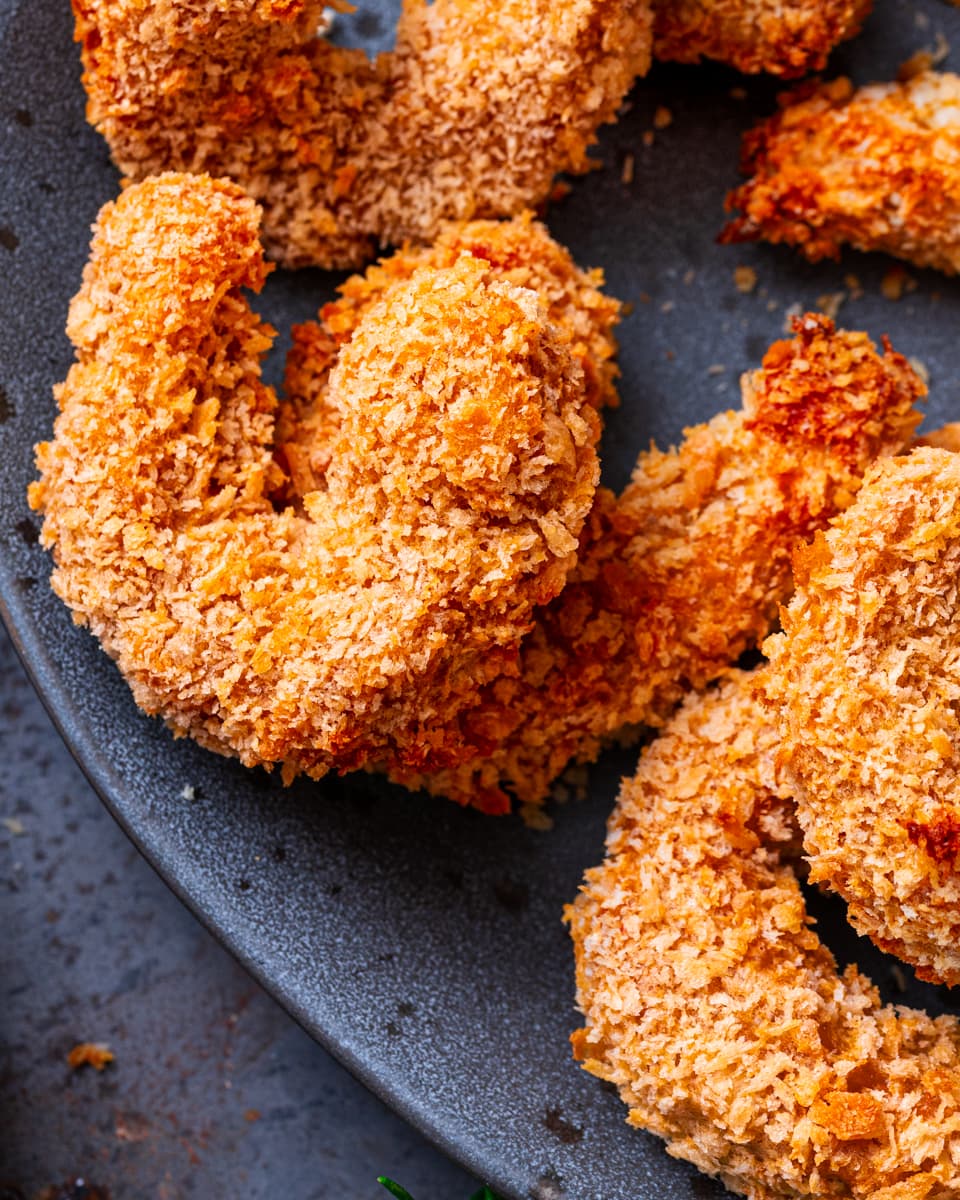 🧞‍♂️ Hint
I like to use panko bread crumbs but you can also use golden breadcrumbs. Hey, you can even make your own breadcrumbs! Whenever I have a loaf of sourdough that's about to go stale, I break it into pieces and put in a freezer bag. That way, whenever I need fresh breadcrumbs I can just take out a few chunks, put them in the blender and pulse until they're finely ground. See ya soon crispy vegan shrimp!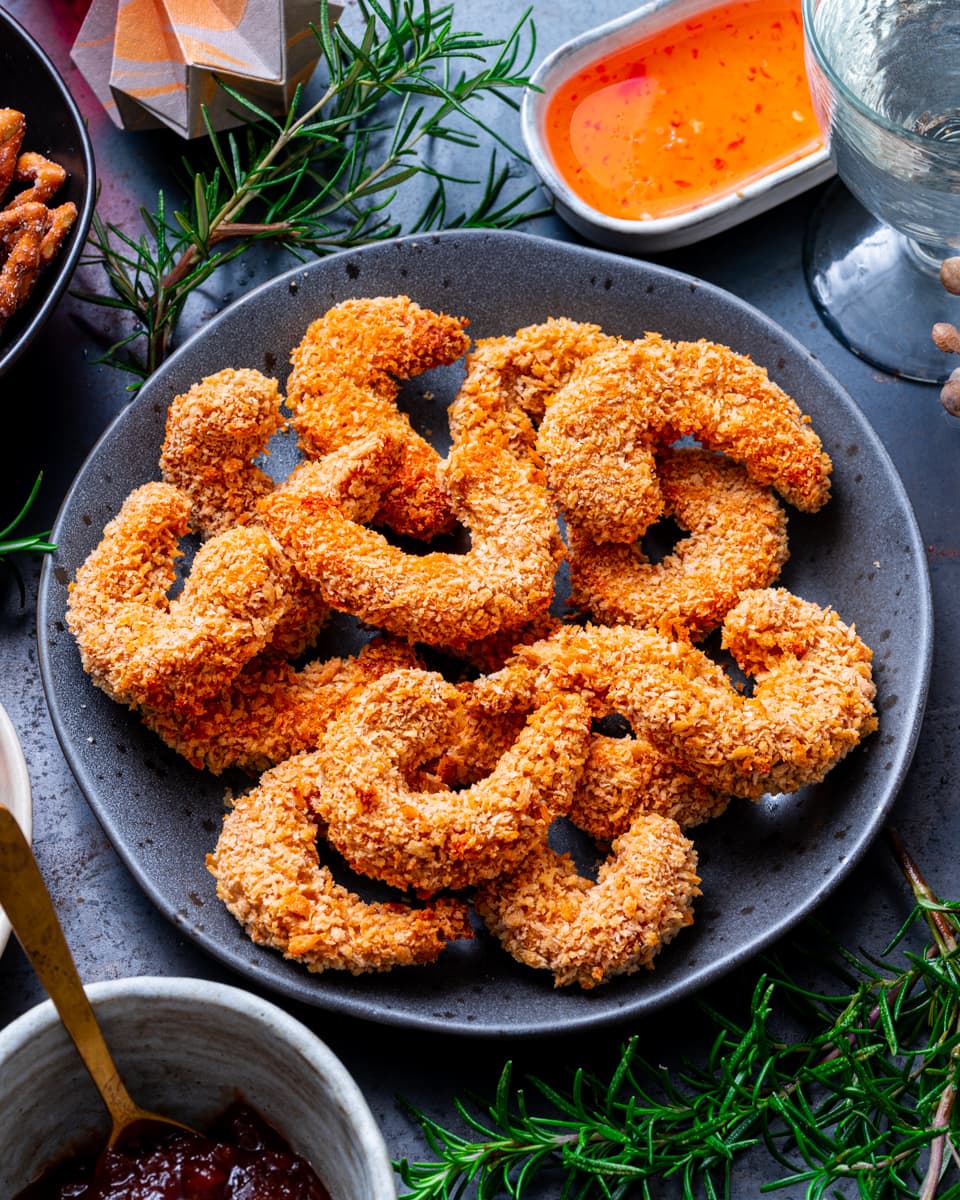 🔄 Substitutions
Let's talk about making these vegan shrimp aka vegan prawns suitable for ALL!
Gluten Free Vegan Shrimp - The great news, the only ingredient containing gluten is the flour and breadcrumbs. To replace these, just use a 1-to-1 gluten free flour replacement like this one from Freee or this one from Bob's Red Mill. For gluten free breadcrumbs just leave a few slices of gluten free bread to go stale, or dry out in a warm oven for 20 mins. Pop in a blender and pulse until you have breadcrumbs!
Soy Free Vegan Shrimp - Again, this is an easy swap! Be sure to use a soy-free plant milk in the coating and be careful to pick a vegan sausage which is Soy free, like Beyond.
Let me know via instagram if you decide to make any swaps or subs. I love this recipe, so don't go too rogue, but defs spread your wings and fly free!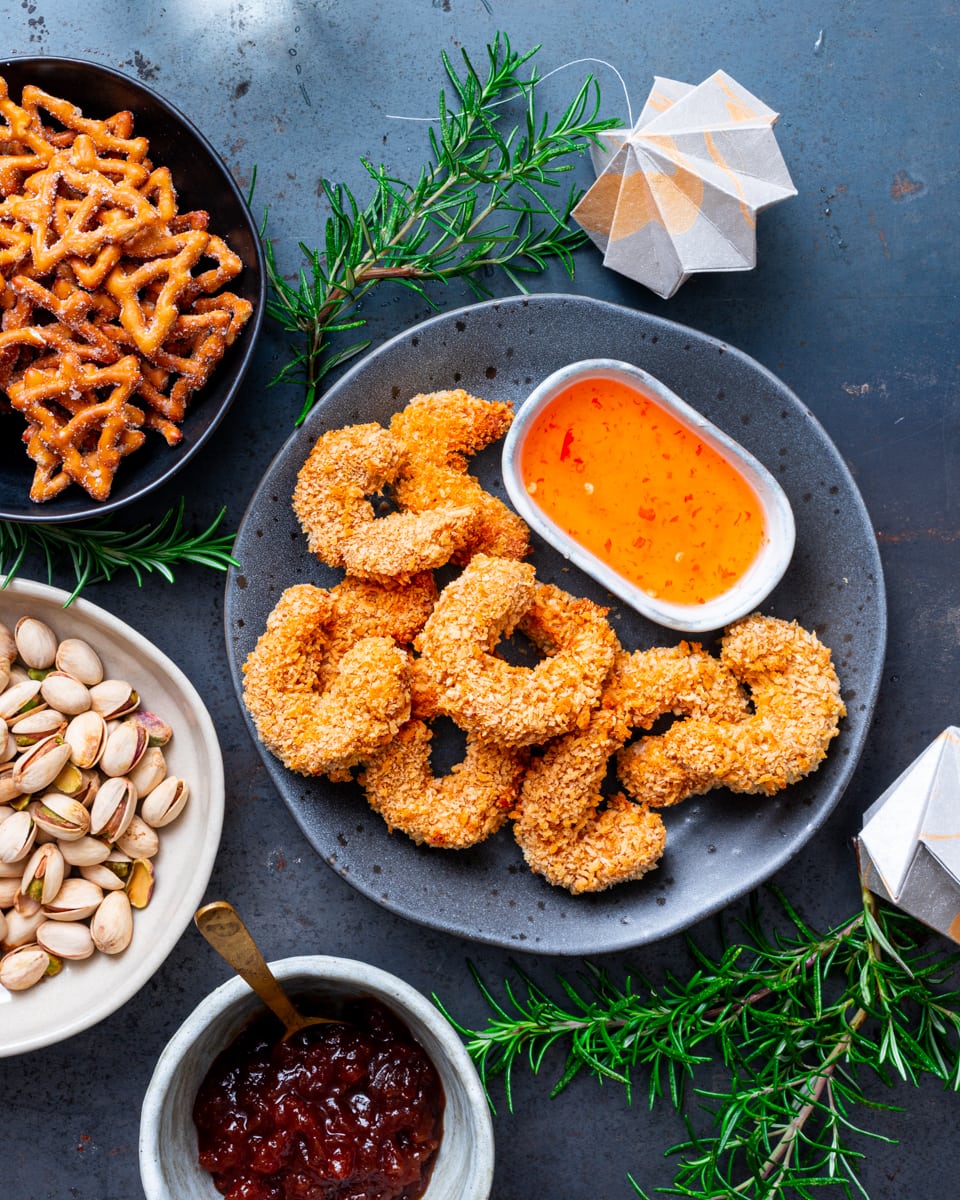 🥞 How to Serve Vegan Shrimp
So you've worked your socks off making vegan shrimp, now you've just gotta serve em! Here are some ideas for getting the best out of your vegan prawns (or whatever you bloody wanna call em!)
Sweet Chilli Sauce! - I used this sweet chilli sauce recipe when shooting this recipe (because I didn't have any store-bought stuff in) and it turned out amazing!
Tempura Dipping Sauce - This is a more Japanese vibe for your vegan shrimp! Easy to make and also delicious!
Sriracha Mayo - Alternatively just whisk a few tablespoon of sriracha into a half-cup of vegan mayo! Spicy AND creamy!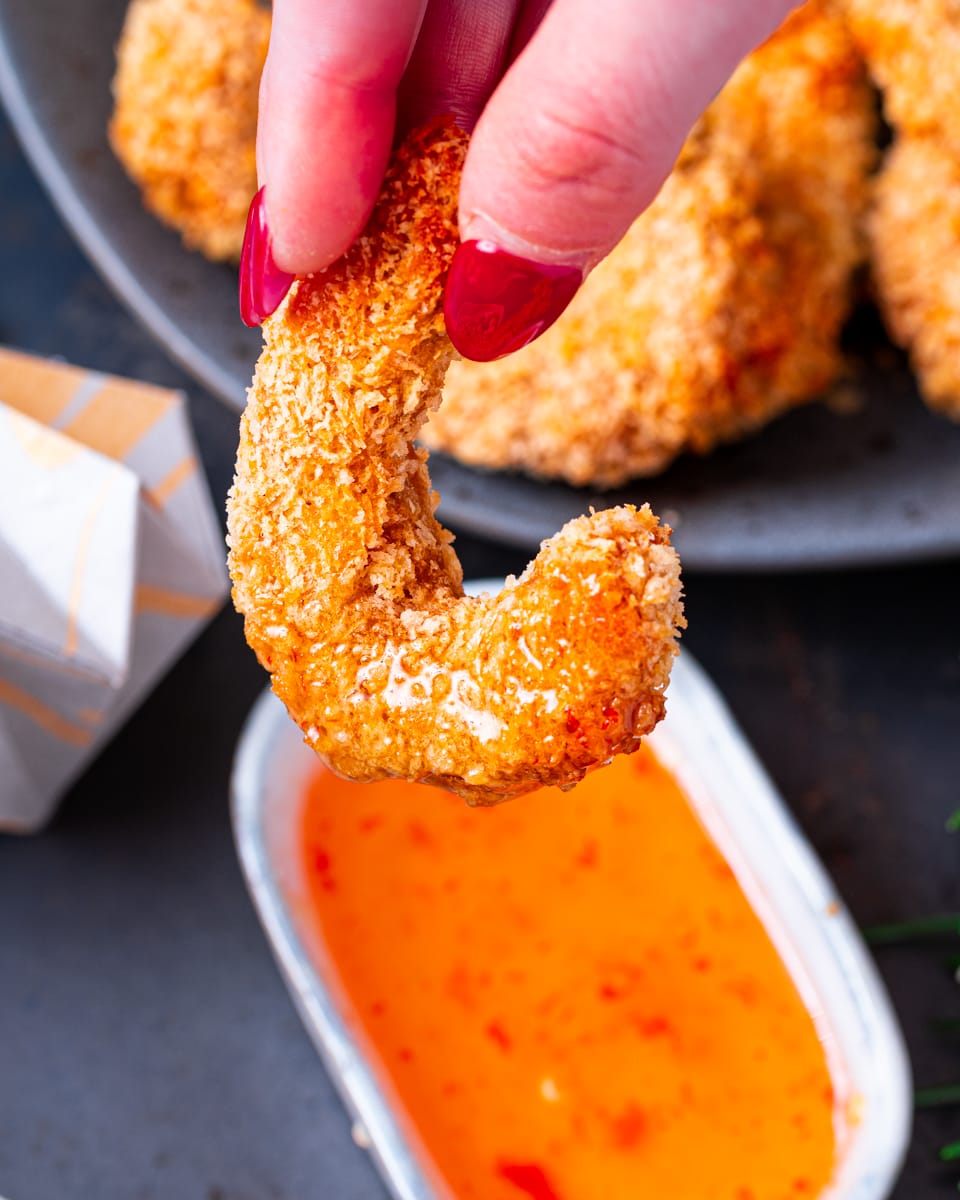 🔪 Equipment
This one's insanely simple! Here's all you'll need!
Either an oven, air-fryer or deep fat fryer
1 x medium bowl
4 x small bowls
If you find it easier, you can form the vegan shrimp onto a cocktail stick. This'll result in longer, straight vegan prawns/shrimp which will resemble tempura prawns instead. Either is fun and delicious.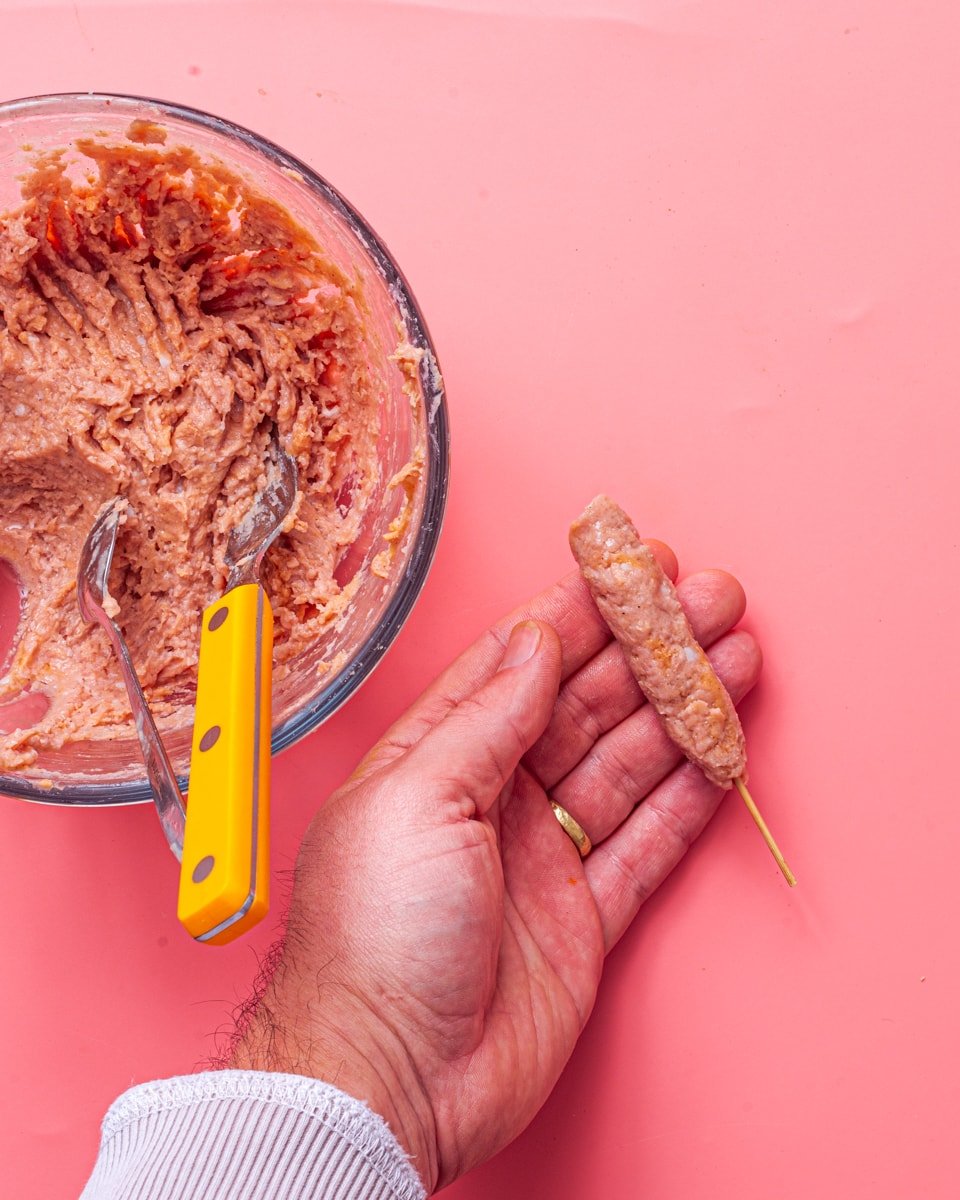 🤷‍♀️ Vegan Shrimp FAQs
Q: What are vegan shrimp made from?
A: In this recipe, vegan shrimp are made using store-bought vegan sausages. I also add some ingredients to help boost the flavour!
Q: Are vegan shrimp served hot or cold?
A: This should be served hot! Fresh from the oven or straight from being cooked with a delicious dipping sauce!
Q: How do I store vegan shrimp?
A: You can make these vegan shrimp ahead of time and freeze them! When you need to cook them, no need to defrost, just bake, fry or air-fry for slightly longer at a slightly lower temperature.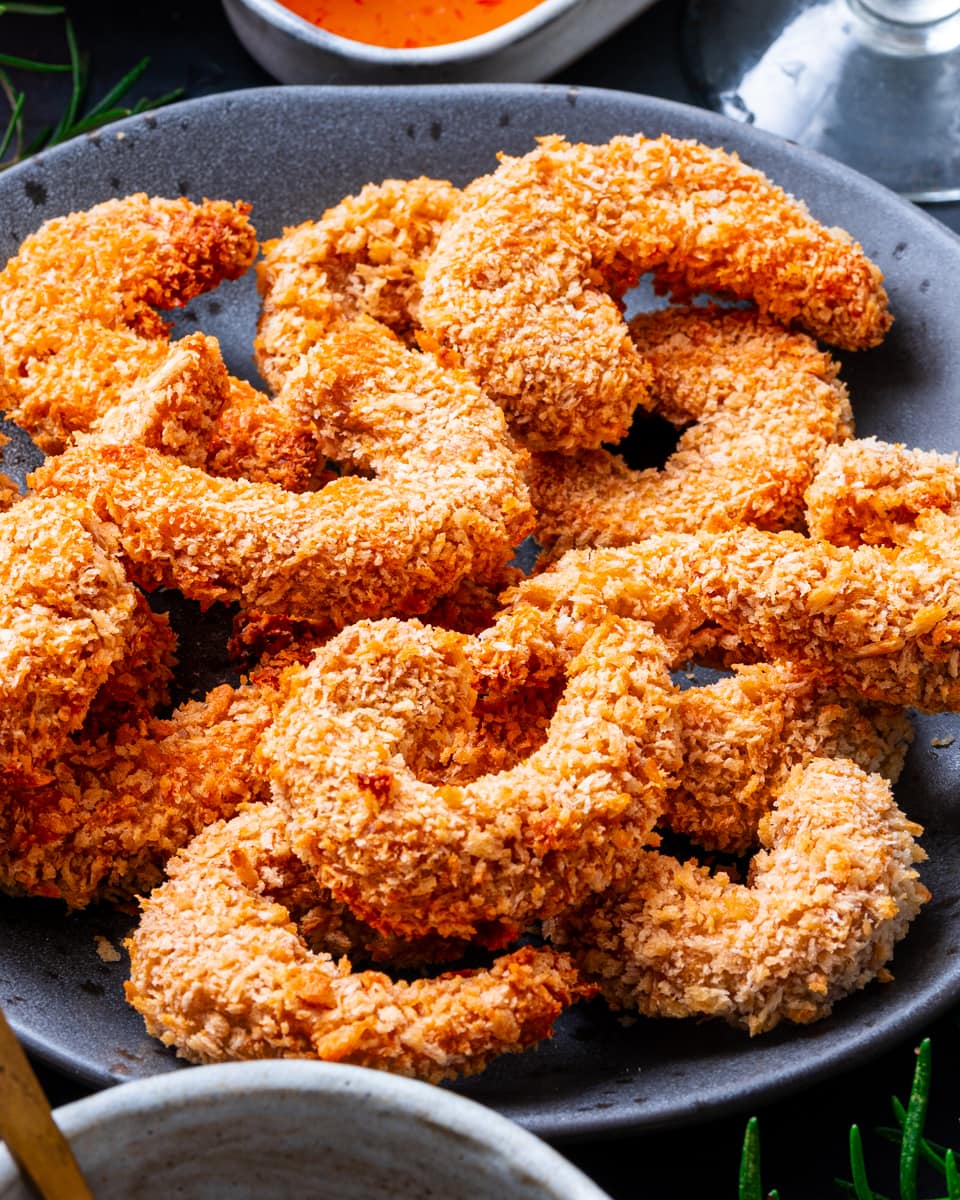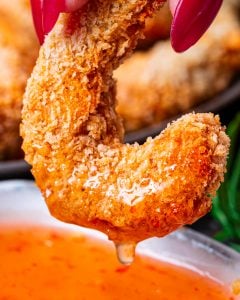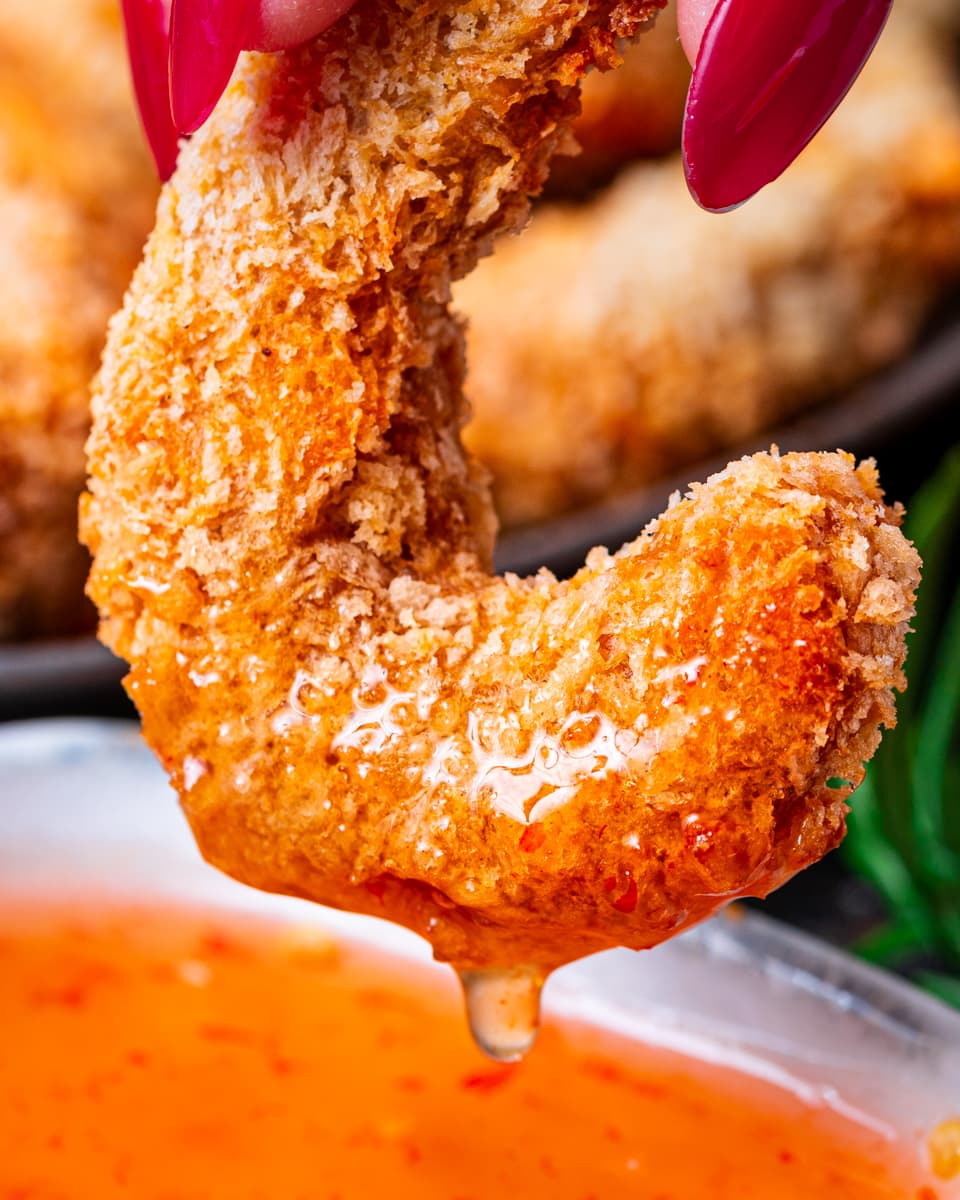 Vegan Shrimp
Super easy crispy panko coated vegan shrimp (or vegan prawns), perfect for the oven, airfryer or deep fryer!
Equipment
Oven, air-fryer or deep fat fryer

1 x medium bowl

4 x small bowls
Ingredients
8

vegan sausages

(See notes under "Ingredients" above for recommended brands)

⅛

teaspoon

ground turmeric

¼

teaspoon

tomato puree

(aka tomato paste)

1

tablespoon

ketchup

1

tablespoon

sriracha

1

clove

garlic

(finely minced)

100

g

plain white flour

(aka all purpose flour)

1

teaspoon

fine sea salt

100

ml

plant milk

(unsweetened and unflavoured)

1

teaspoon

lemon juice

150

g

panko breadcrumbs

1

tablespoon

vegetable oil
Instructions
Preheat the oven to

200

°C

. Alternatively preheat an airfryer to

200

°C

or fill a deep fat fryer with vegetable oil and bring to

180

°C

.

Place the vegan sausages in a medium bowl and mash with a fork.

In a separate small bowl, mix together the ground turmeric, tomato puree, ketchup, sriracha and minced garlic. Add to the mashed vegan sausages.

⅛ teaspoon ground turmeric,

¼ teaspoon tomato puree,

1 tablespoon ketchup,

1 tablespoon sriracha,

1 clove garlic

Wet your hands slightly and form a roughly 1.5 tablespoon portion of the mashed sausage mixture into a small tapered "shrimp". You can do this on a cocktail stick or just in your hands. You can also choose to keep the shrimp straight or bend them round.

Take three small bowls. Put the plain white flour and salt in the first bowl and whisk together. Put the plant milk and lemon in the second bowl and whisk. Finally add the panko breadcrumbs to the third bowl.

100 ml plant milk,

1 teaspoon lemon juice,

100 g plain white flour,

1 teaspoon fine sea salt,

150 g panko breadcrumbs

Take a formed "shrimp" and carefully dust with the flour mixture. Secondly dunk the floured "shrimp" in the plant milk then finally in the panko breadcrumbs. Repeat with the remaining "shrimp" and arrange them all on a baking tray or in the basket of your airfryer. Drizzle with the oil then either bake for 25 minutes or airfry for 20 minutes, or until golden and crispy. For deep frying, do not drizzle with oil and fry in batches of 4-5 shrimp for roughly 4-5 minutes.

1 tablespoon vegetable oil

Serve with sweet chilli sauce or your favourite dipping sauce.
Nutrition
Calories:
86
kcal
Carbohydrates:
13
g
Protein:
5
g
Fat:
2
g
Saturated Fat:
0.2
g
Polyunsaturated Fat:
1
g
Monounsaturated Fat:
0.3
g
Trans Fat:
0.01
g
Sodium:
411
mg
Potassium:
35
mg
Fiber:
1
g
Sugar:
2
g
Vitamin A:
28
IU
Vitamin C:
1
mg
Calcium:
24
mg
Iron:
2
mg
Love this recipe?
Let me know on Instagram!