Publised on 09/04/2019 by Richard. Last Updated on 13/11/2022 by Richard.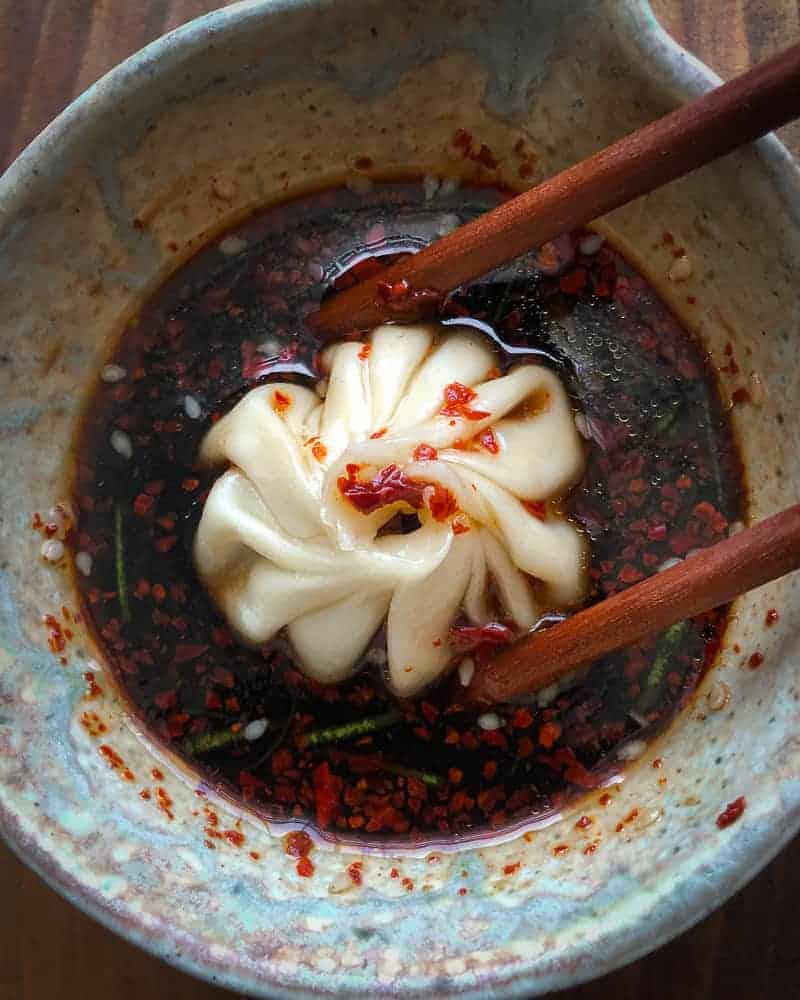 Vegan shiitake dumplings, bursting with umami flavour. Satisfyingly savoury with a hint of sharpness from diced, pickled mustard greens.
---
If I've got time to make an interesting lunch, chances are I'll make these vegan shiitake dumplings. Not because I'm some fancy smancy foodie who just LOVES spending time in the kitchen (although, guilty as charged) but because I'm OBSESSED with these dumplings.
I also find that whenever order dumplings at a restaurant I'm never satisfied with the quantity. I always want, like, eight to ten more dumplings. The best thing about this recipe for vegan shiitake dumplings is that you can MULTIPLY it by twenty, or just eat all 12 dumplings to yourself.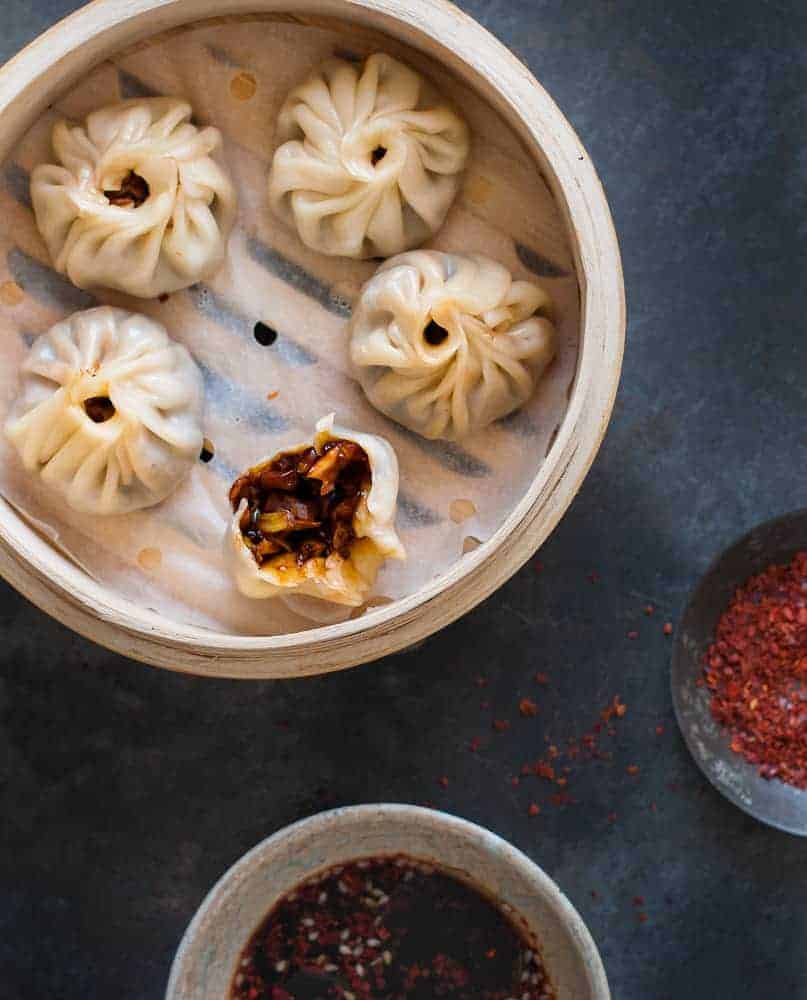 How's your technique?
I know what you're thinking. These guys look a little daunting because the pastry is a little complicated to fold, but trust me - it's less complicated than it seems. Here are my tips for making these perfect steamed vegan shiitake dumplings. 
Step one, the most important step, is to WATCH THIS VIDEO! I recommend the style which begins at 5 mins 30 seconds (the round momo style) but actually any of these will work!
Step two is to make sure your dumpling pastry is fully defrosted before use.
Step three is to dip the edge of your pastry in water before folding. This makes it more pliable and less likely to crack. 
Step four - make sure your filling is nice and cold! Otherwise it will steam your dumplings from the inside out and they'll begin to rip. 
Stick to these rules and you'll be a dumpling EXPERT in no time!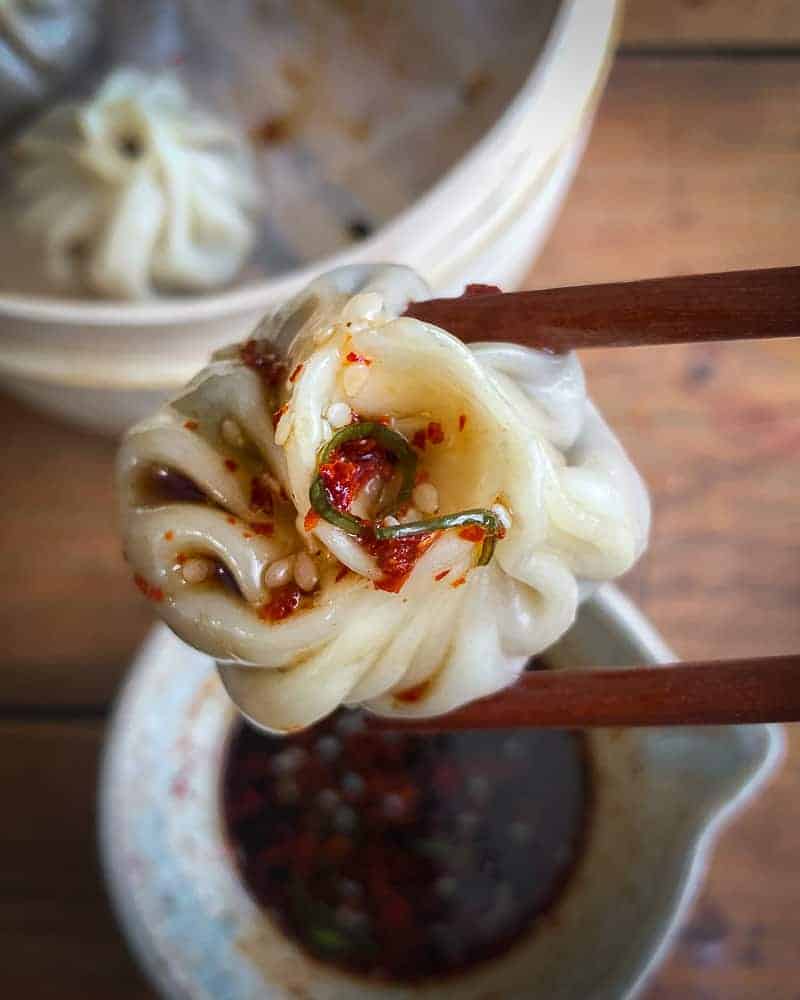 How bout that filling?
Your folding technique is only a small part of this vegan shiitake dumplings recipe! The real magic is in the filling! I've used a combination of bold umami shiitake mushrooms with, my favourite Chinese supermarket ingredient: pickled mustard greens!
For the shiitakes, fresh or dehydrated would work fine! Just make sure you rehydrate your mushrooms if necessary. The mushrooms make these some of the most deliciously savoury vegan dumplings you've ever had. They also bring a seriously meaty texture!
This recipe also calls for pickled mustard greens. You'll find these in almost all asian supermarkets or online if needs be. They tend to come in plastic vacuum sealed packets rather than in a jar or tin. Chop them finely and you'll love the acidity they bring to these vegan shiitake dumplings, even before you've dunked in the black vinegar dipping sauce!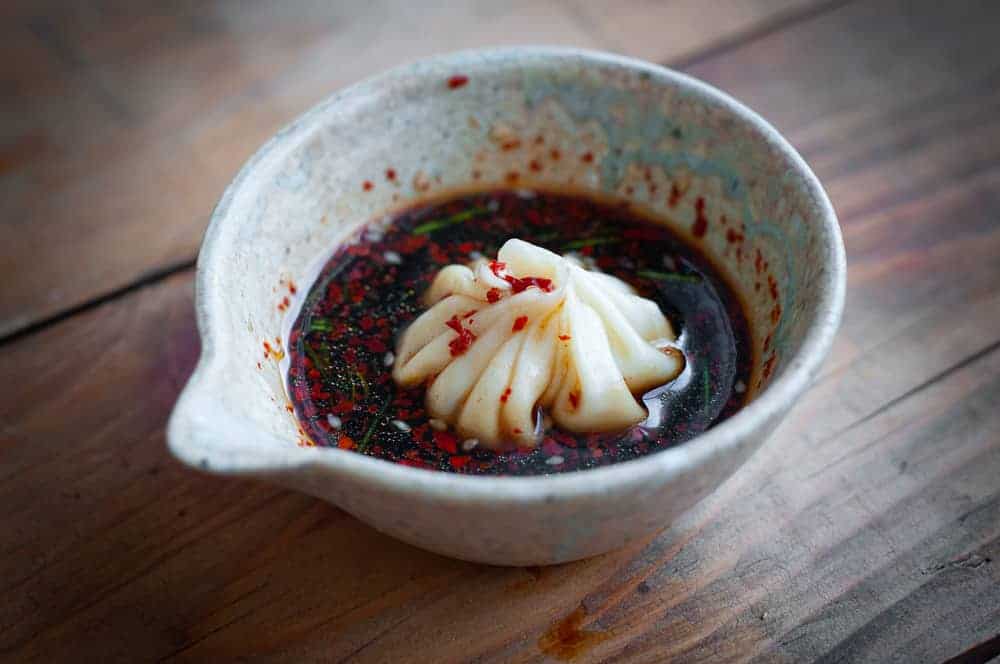 Gimme some of that sauce!
For these super complex flavoured vegan shiitake dumplings, I like to keep the dipping sauce nice and simple and zingy. You may be unfamiliar with some of the ingredients, so here's a little rundown:
Chinese Black Vinegar - Commonly used in stir fries and sauces, Chinese black vinegar is dark, complex and slightly sweet. The closest European equivalent is probably balsamic, but it really does have a unique flavour. Grab a bottle if you plan to use this website much, because I go through BOTTLES of it each month!

Shaoxing Rice Wine

- Made from fermented glutinous rice, this guy brings the sweetness to our dipping sauce. It's mostly used for cooking but it does also make a good aperitif!  
Gochugaru Chilli Flakes - Perfect for a super mild chilli heat, these dried Korean chilli flakes add a mild kick to our dipping sauce. It has a mild smokiness to it which keeps the flavour profile really complex and grown up!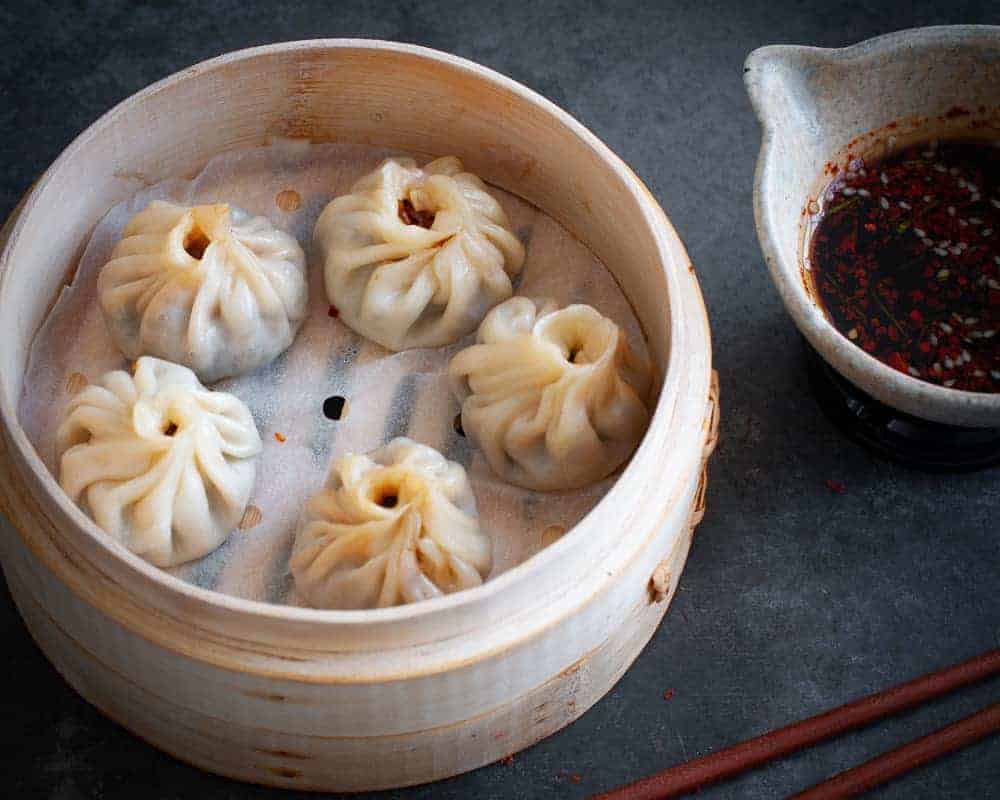 Love Chinese Food?
Why not try a couple more of my favourites!
Shiitake and Pickled Mustard Greens Dumplings
Ingredients
For the Dumplings
12

circles of dumpling pastry

4

large

(dried shiitake)

1

spring onion

(finely chopped)

½

bulb pickled mustard greens

(finely chopped - the kind you find in international supermarkets in plastic vacuum packs)

2

tablespoon

dark soy sauce
Black Vinegar Dipping Sauce
2

teaspoon

Chinese black vinegar

1

teaspoon

light soy sauce

½

teaspoon

shaoxing rice wine

Pinch

chilli flakes

(I use gochugaru)

½

teaspoon

toasted sesame oil

pinch

white sesame seeds

greens of a spring onion

(finely chopped)
Instructions
To Make the Dipping Sauce
Combine all the ingredients in a small bowl and mix. Set aside.
To Make the Dumplings
Rehydrate the shiitake in a mug of boiling water for minimum 20 minutes. Once rehydrated, dice the shiitakes very finely.

Heat a medium frying pan with a little vegetable oil. Add the diced shiitake, spring onion and chopped pickled mustard greens.

Fry on medium heat for a few minutes before adding the soy sauce and stirring well. Once most of the liquid has evaporated, remove the pan from the heat and set aside an allow to cool for about 15 minutes before filling the dumplings.

Fill each dumpling with around a tablespoon of the filling mixture. I followed this video when folding my pastry but feel free to use your own method.

Turn on a steamer to high or set a bamboo steamer over a pot of boiling water. Line the layers of the steamer with perforated greaseproof paper and fill each layer with dumplings. Steam for around 5-8 minutes.

Serve alongside the bowl of dipping sauce and go crazy!
Nutrition
Love this recipe?
Let me know on Instagram!