Publised on 23/10/2022 by Richard. Last Updated on 27/11/2023 by Richard.
Crispy yet succulent vegan pigs in blankets, just perfect for a vegan Christmas dinner! Made with vegan sausages and homemade vegan bacon!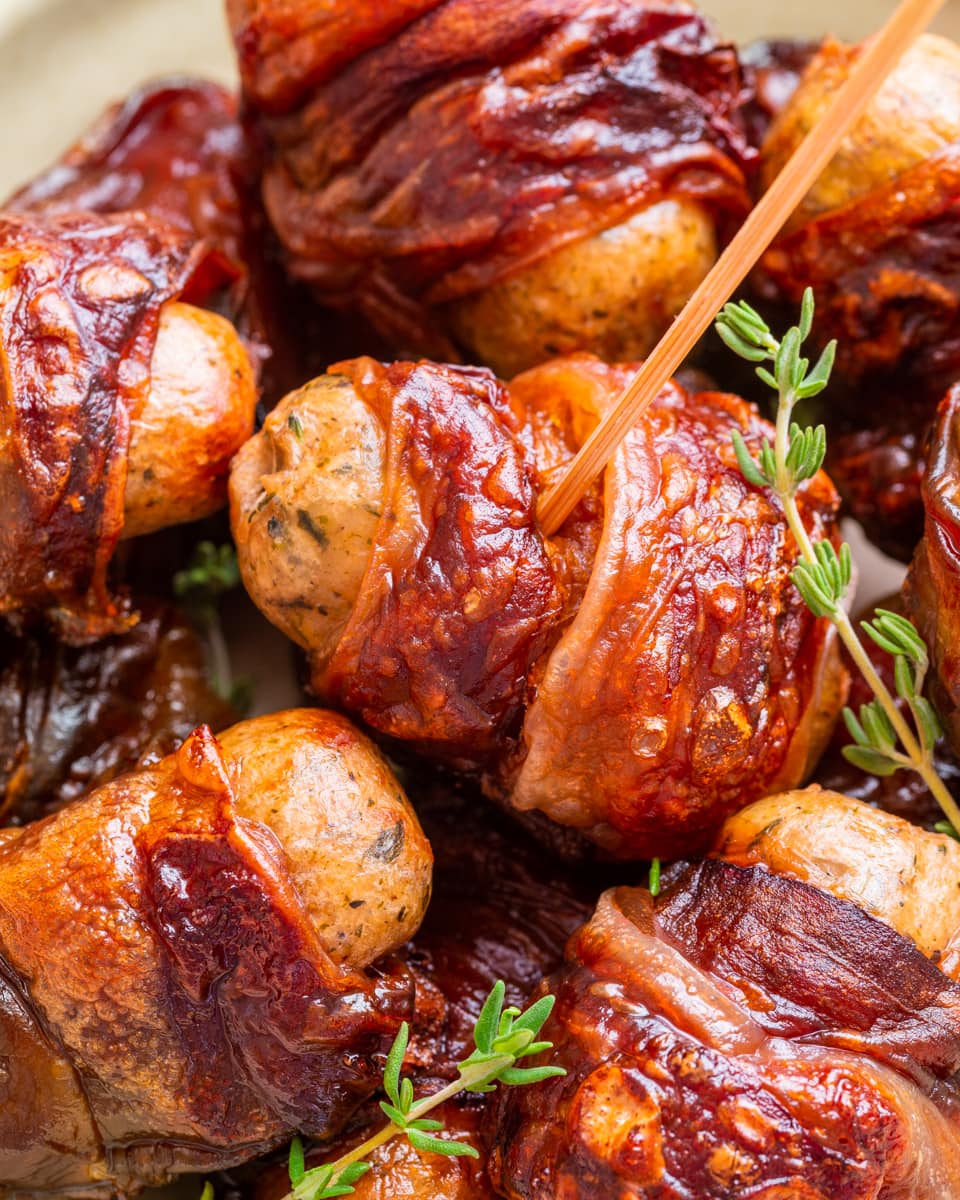 OK UK, It's finally time for some PROPER vegan pigs in blankets. You've been ACCOSTING me online and in the streets with relentless requests for this recipe, so now, with joy, I share it with you. Please call off your letter writing campaign, thankyouverymuch.
Ambiguity issue: pigs in blankets in the UK are different (and better) than those from the USA. In America they're sausages wrapped in thin strips of puff pastry (ok, fine, but that's obvs a sausage roll). In the UK they're sausages wrapped in BACON! Obviously vegan pigs in blankets are completely plant-based, and I'm going to show you HOW TO MAKE THEM!
Jump to:
What are vegan pigs in blankets made from?
Obviously my vegan variety of pigs in blankets aren't made form real sausages or real bacon - in 2022?? Come on! They're made from vegan sausages and my own extra special vegan bacon hack - designed specifically for this recipe.
Here's what you'll need to make my vegan pigs in blankets.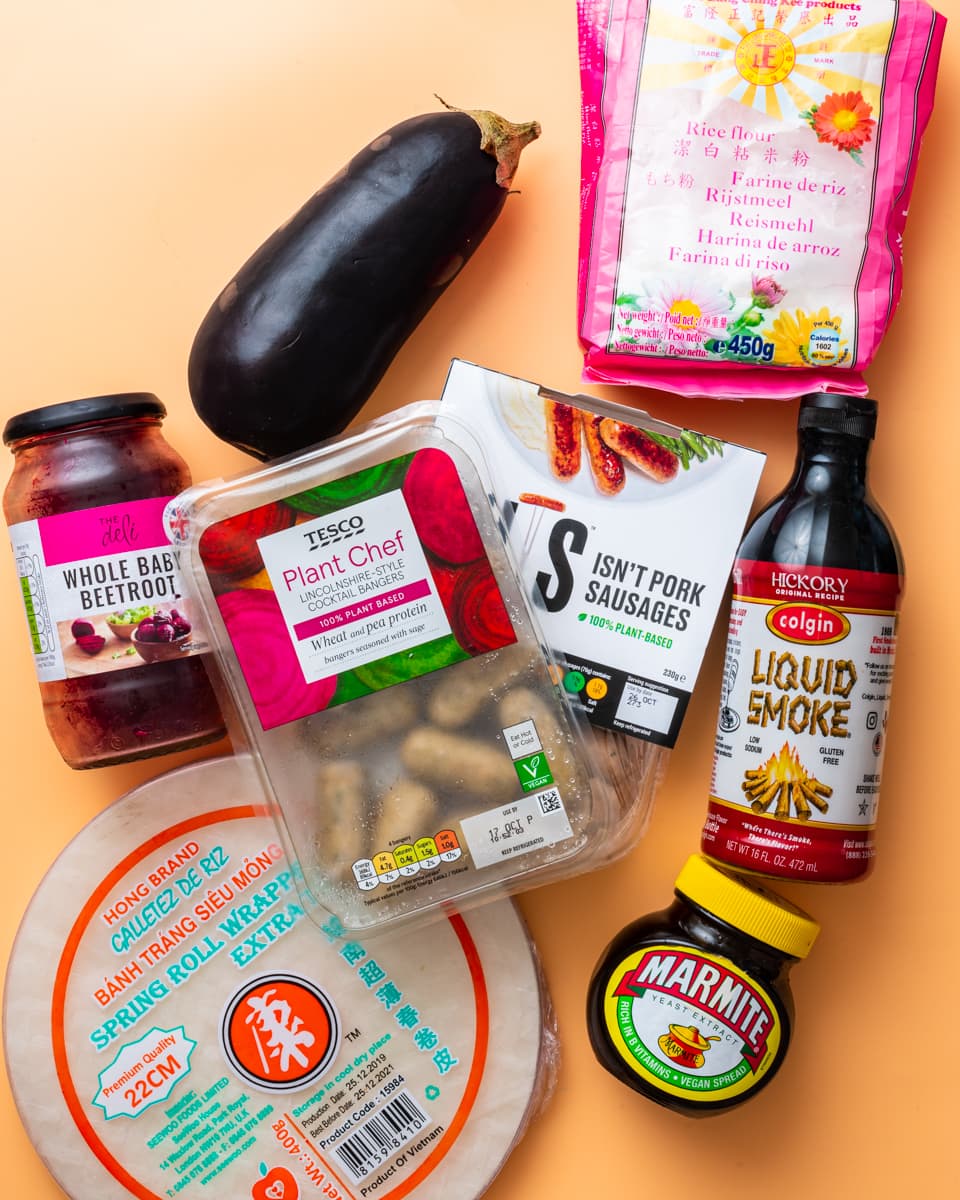 OK, to make this recipe you're gonna need:
Aubergine - This will become the body of your vegan bacon strips.
Dark soy sauce & light soy sauce - This will be the base of your vegan bacon marinade for saltiness, umami flavour and colour!
Vegetable oil - To get that nice browned colour as the vegan pigs in blankets bake!
Liquid smoke - For that smokey bacon vibe!
Maple syrup - To bring the oaky sweetness of smoked bacon.
Beetroot juice - Largely for colour but also contributes to the earthy flavour.
Marmite - For a meaty umami kick!
Rice flour - To help the aubergine to stick to the...
Rice paper - Yep! We're going to wrap the aubergine in rice paper.
Mini vegan sausages - You'll be relieved we're not making these from scratch! You can halve full-size vegan sausages instead!
Before you panic, this is not the recipe: see the recipe card at the bottom of the page for quantities.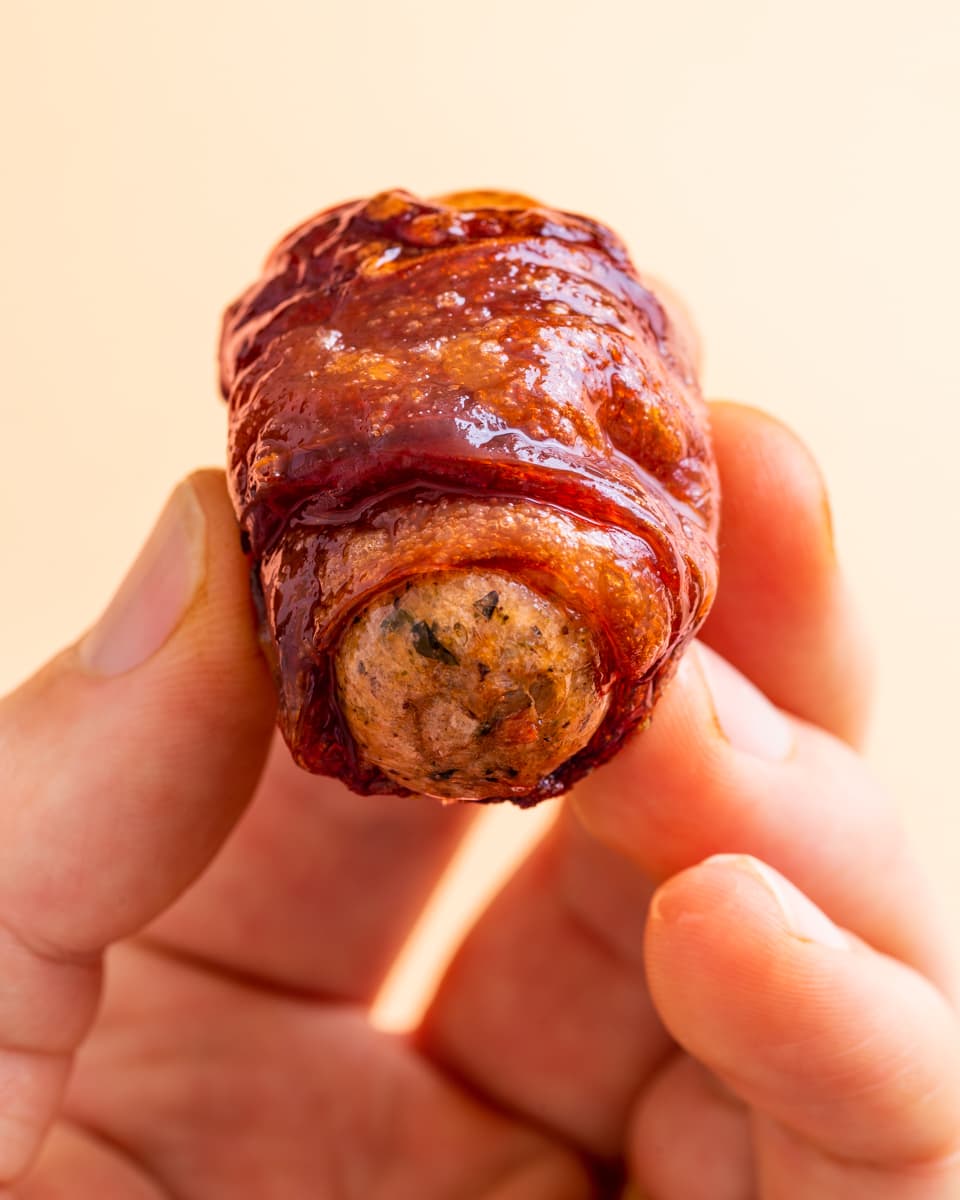 How do I make vegan pigs in blankets?
The process. is simple but kinda fiddly. So I've prepped some process photos for you, to help you along. Nah! Don't mention it! Just pay me 30% of your vegan pigs in blankets direct deposit to my mouth.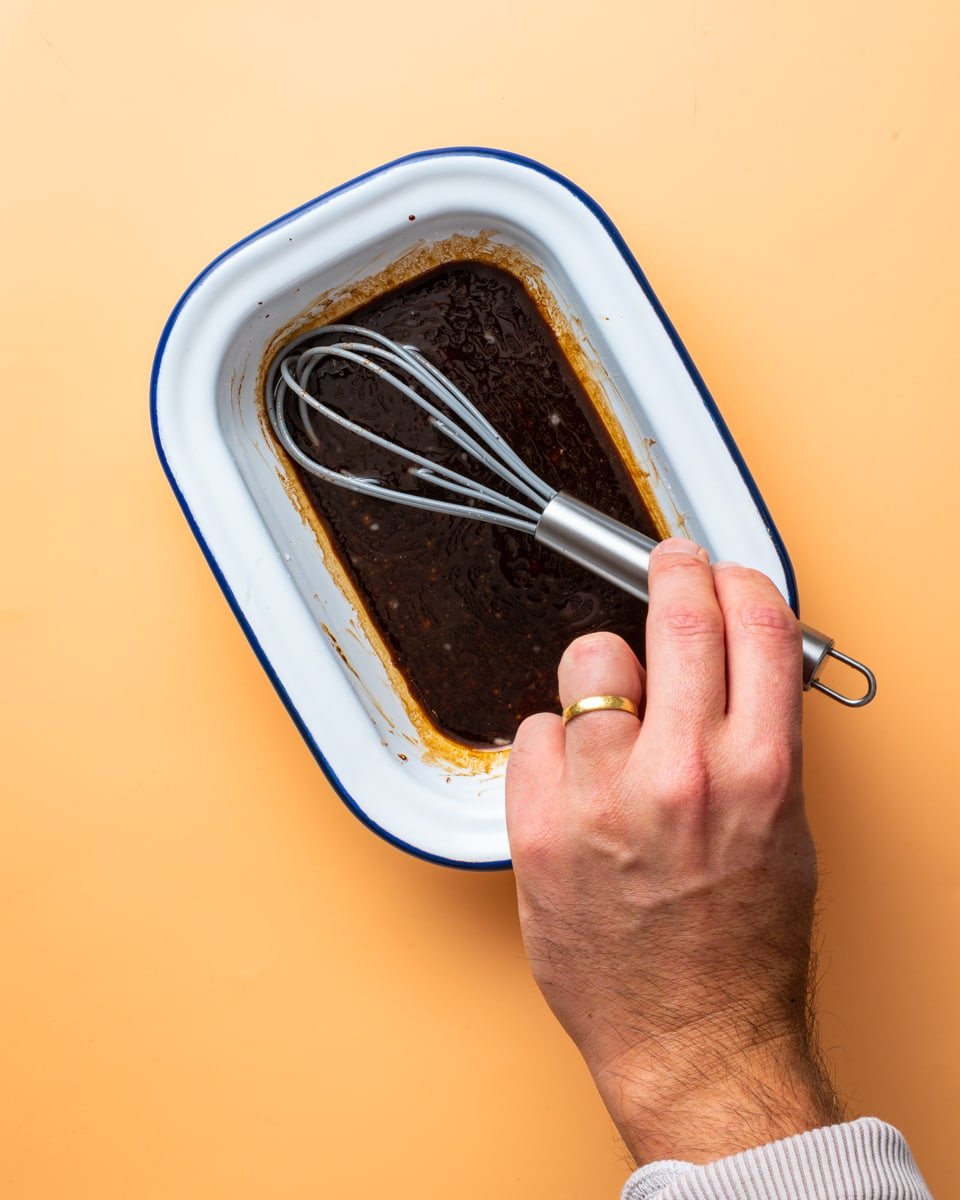 1. Make the vegan bacon marinade! This will bring the smoky, meaty, saltiness with a nice kick of umami! Our aubergine bacon will soak this up beautifully, making sure our vegan pigs in blankets are insanely tasty.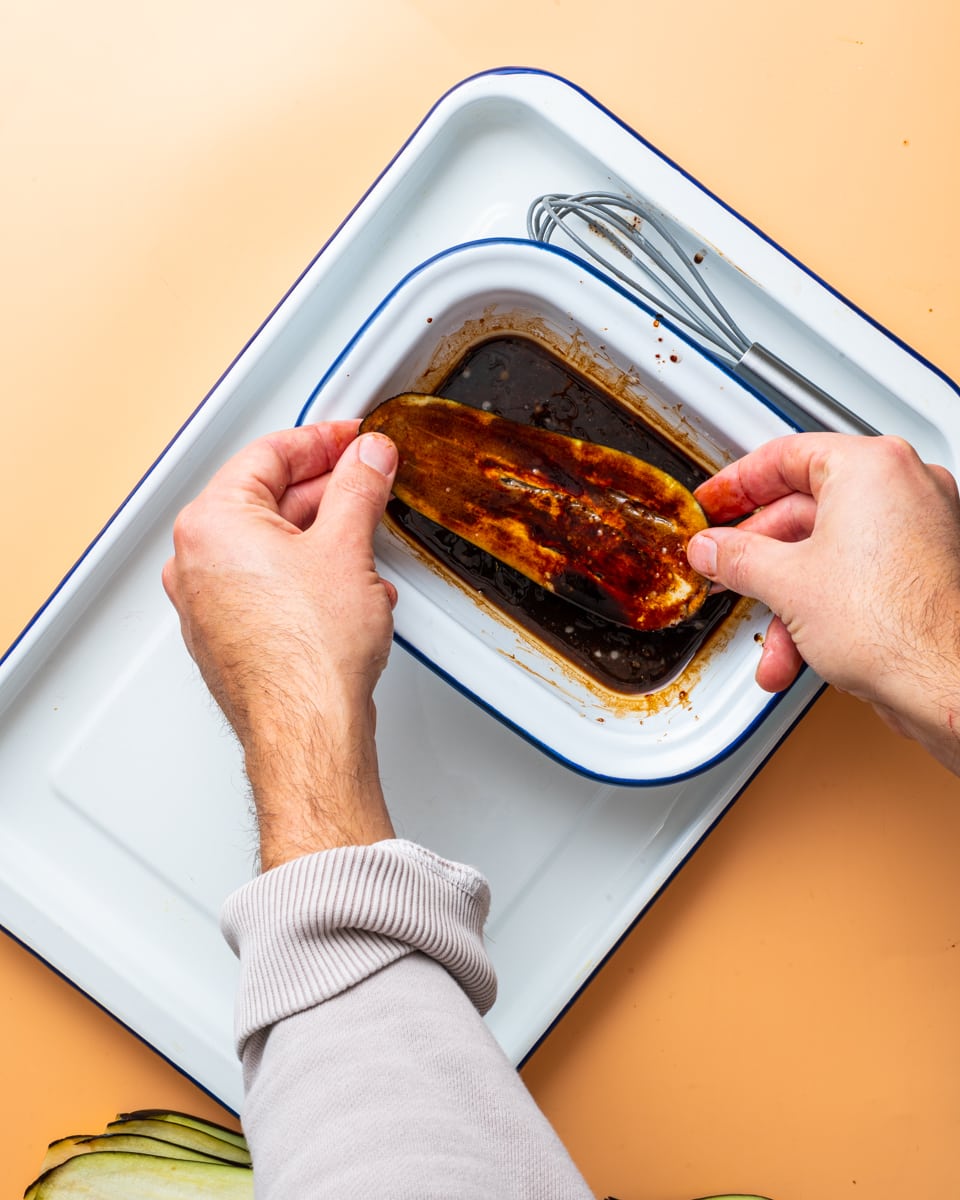 2. Marinate the aubergine! There's no need to sit the aubergine slices in the marinade, just submerge them and push down with your fingers all over. This'll force the spongey texture of the aubergine to absorb!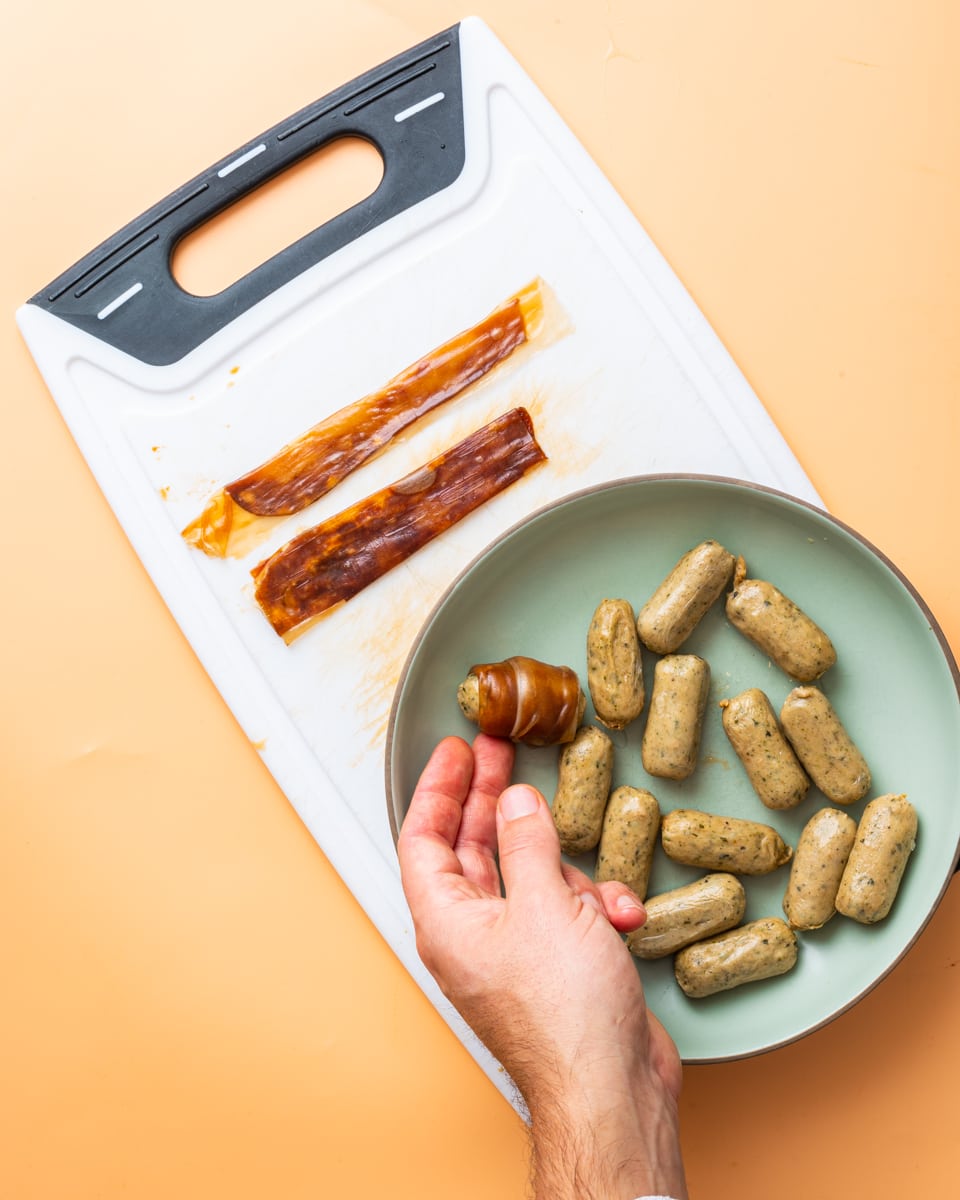 3. Wrap the sausages! First the aubergine slices get wrapped in hydrated rice paper, for extra crispiness, then that gets wrapped around the vegan sausage! I use small vegan sausages for bite-size convenience!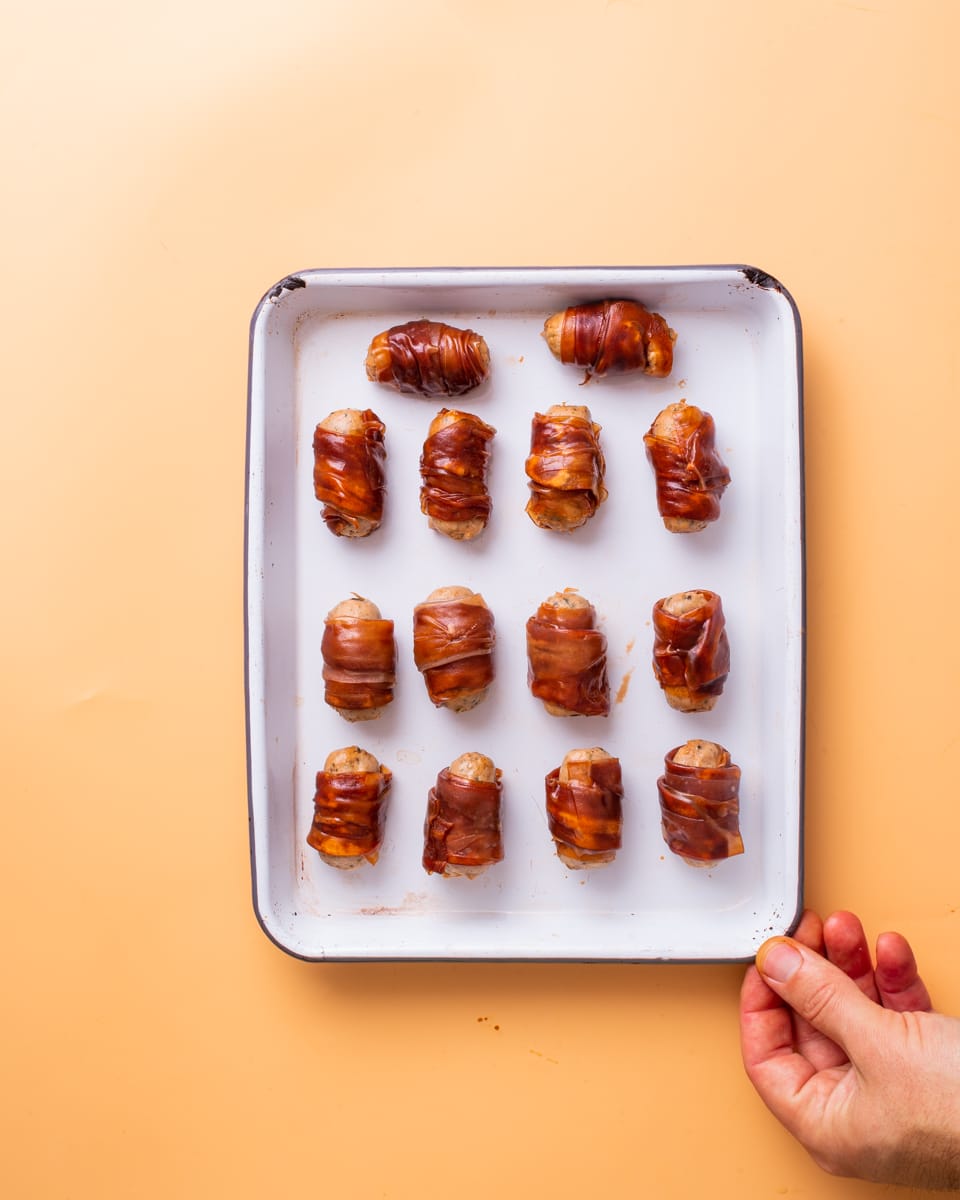 4. Bake the vegan pigs in blankets! Now all you've got to do is stick them on a baking tray and bake! Don't worry about them becoming unraveled as they bake - they won't - the rice paper is too sticky.
Hint: The thinner your aubergine slices are, the more realistic your vegan bacon will be. I always use a mandolin for this task. Just be careful with your fingers though, as these contraptions can be super dangerous since they're insanely sharp!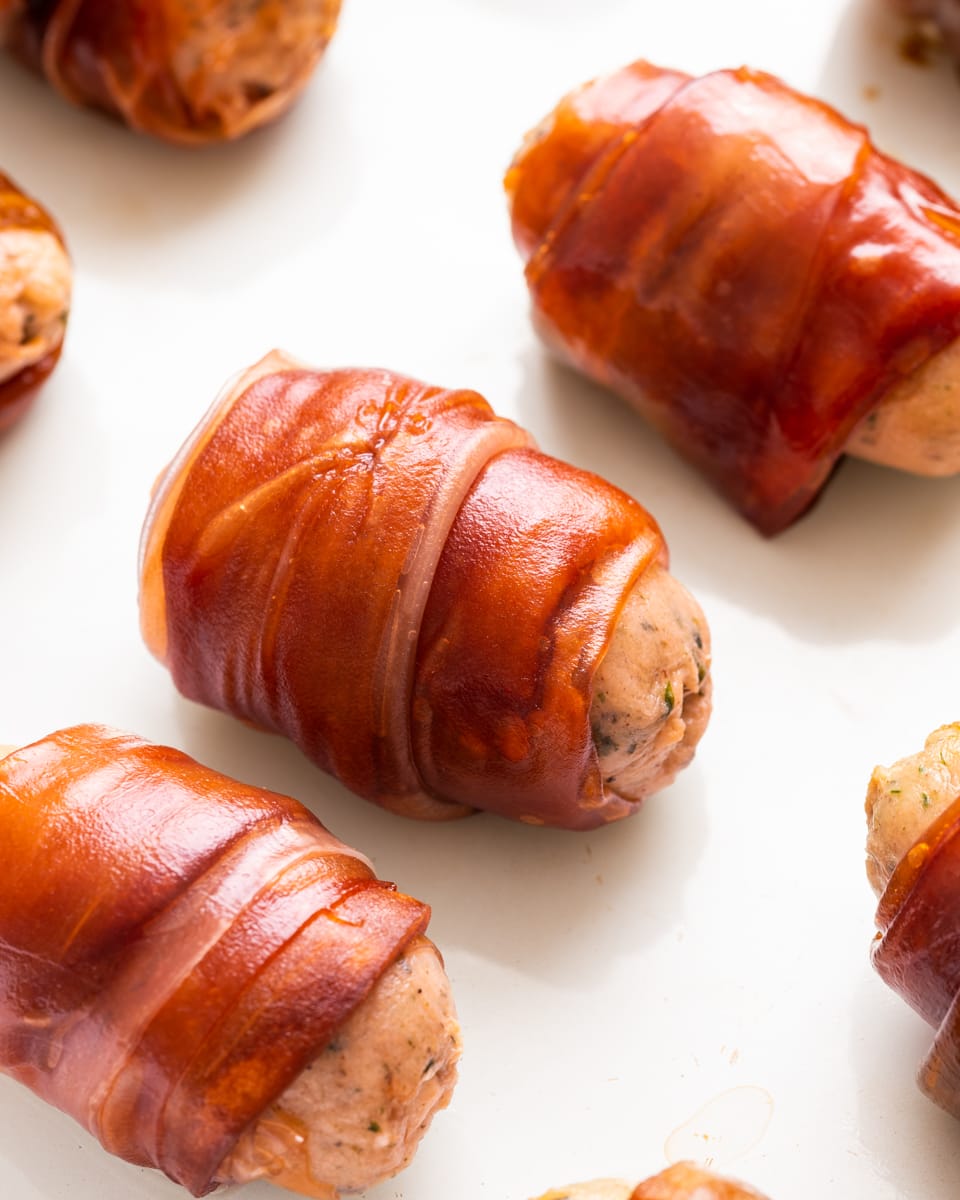 Can I make some swaps?
YEAH MATE! You go for it! Here are some bits and bobs you might want to switch up when making vegan pigs in blankets!
Aubergine - I'm a lover of aubergine and it does this job perfectly, but if you don't feel the same, you can always switch it up for thinly sliced king oyster mushrooms!
Soy Sauce - If you have a soy allergy, feel free to replace the soy sauce with tamari or liquid aminos! They all do the same job!
Liquid Smoke - Liquid smoke is one of my favourite vegan ingredients when making fake meat. If you're not a fan though, just replace for 2 teaspoon of smoked paprika instead!
If you've made this recipe with some swaps, let me know how it worked out in the comments!
Jazz up your vegan pigs in blankets!
EVERYONE loves a plate of vegan pigs in blankets for vegan Christmas dinner, but nobody likes knowing their dinner is identical to someone else's! So here's how to make my vegan pigs in blankets recipe YOUR OWN!
Herbify!- Obviously these vegan pigs in blankets work great with all the flavours of a vegan roast dinner. That's why I'd like to suggest you introduce some fresh herbs while you roast them. Thyme, rosemary and sage are a good starting point!
Switch the sausage! - Plain vegan sausages work great for this recipe, but you can also up the Christmas factor by using vegan Lincolnshire sausages. Want a spicy twist? Why not use vegan chorizo sausages?
Dippy Dippy! - If you're not serving these alongside Christmas dinner, you simply MUSt serve them with a dip. I like to serve with cranberry sauce, or you can blend 1 tablespoon of cranberry sauce with 3 tablespoon vegan mayonnaise for vegan CRAYONNAISE (no crayons involved!).
And look, if you're now changing your mind and want some different vegan sides for with your Christmas dinner, why not try my vegan stuffing instead? Alternatively, you could serve some delicious creamy vegan mashed potato, or spend this time perfecting your vegan ROAST potatoes instead!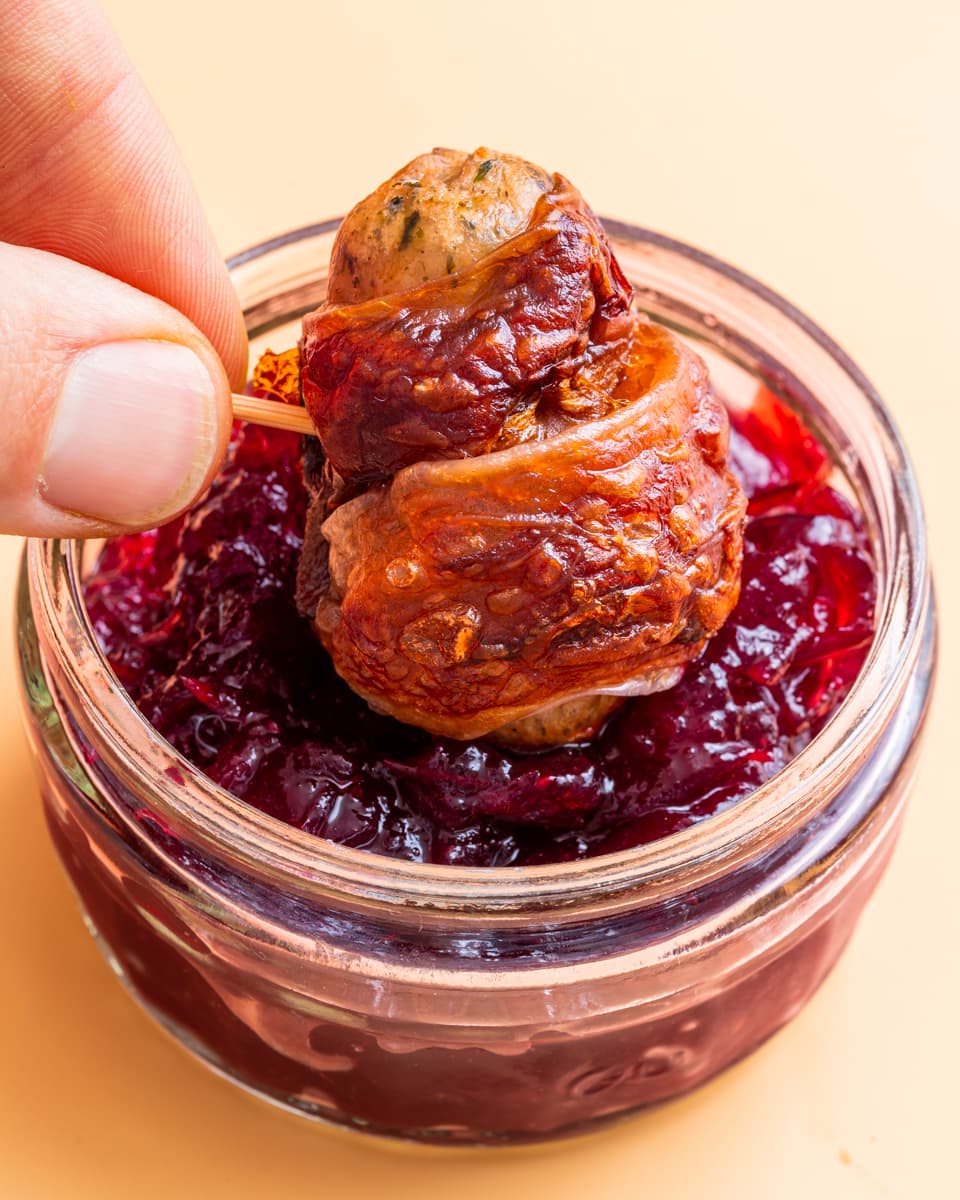 Do I need any specialist equipment?
Here's what you'll need to make my vegan pigs in blankets.
1 x mandoline slicer
1 x flat dish
1 x baking tray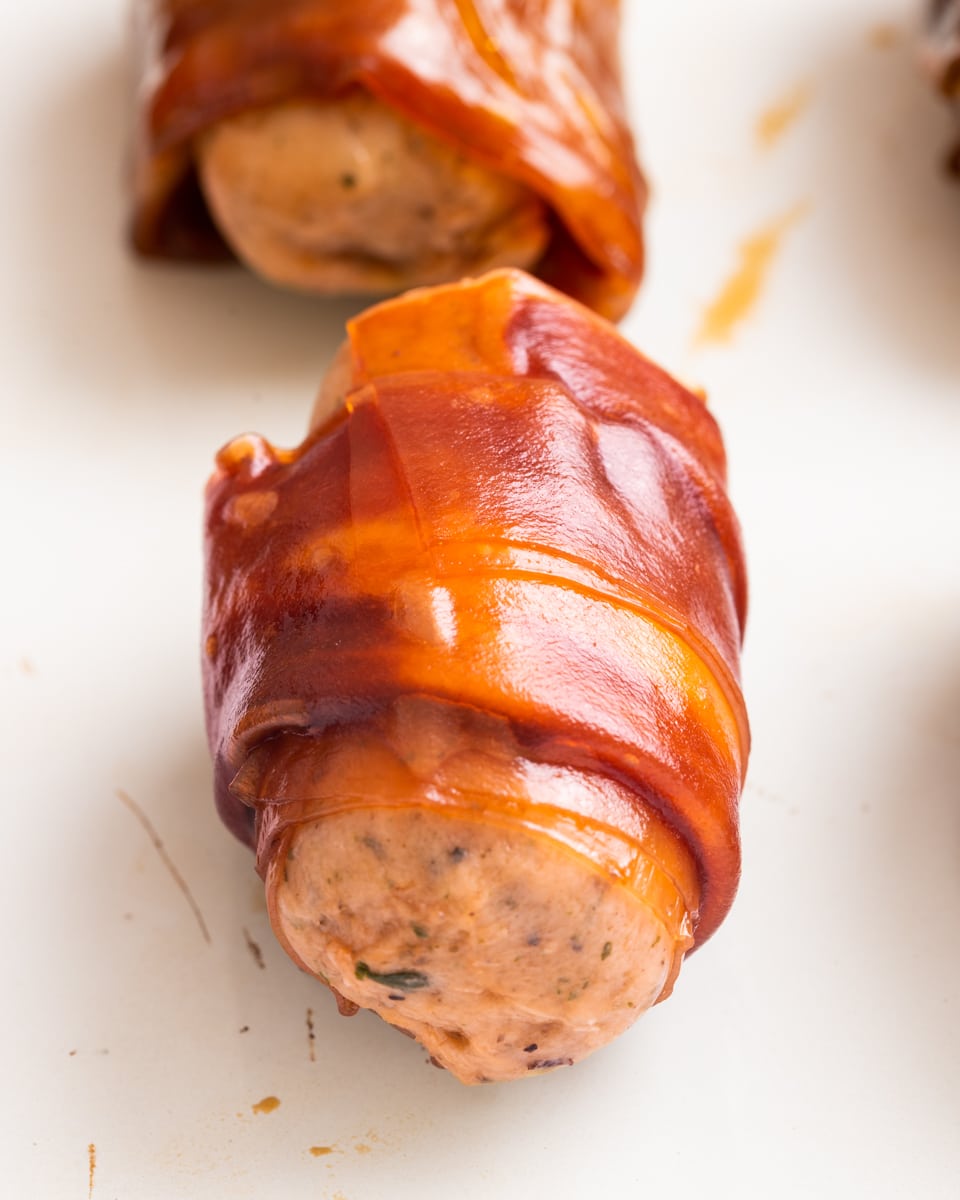 Can I make vegan pigs in blankets ahead?
Yes! Here's my advice though - they don't do too well when re-heated. This way you'll dry out the sausage inside, which is sad. Instead, you can make the vegan pigs in blankets, arrange on a small tray and place in the freezer for a few hours. Once frozen, place them in a sealed freezer bag or air-tight container and return to the freezer until you're ready to cook them!
When you're ready to roll, just arrange the frozen vegan pigs in blankets on a lined baking tray, drizzle with the extra vegetable oil and roast for an extra 10 minutes (so 30 total).
Bonus Tip!
Be careful when wrapping your aubergine strips in rice paper. You don't want any parts where the rice paper is more than 2 layers thick. This will prevent the rice paper from crisping up in the oven. Just lay the piece of aubergine on the soaked strip of rice paper and fold it over once. Trim off the excess and then roll around the sausage.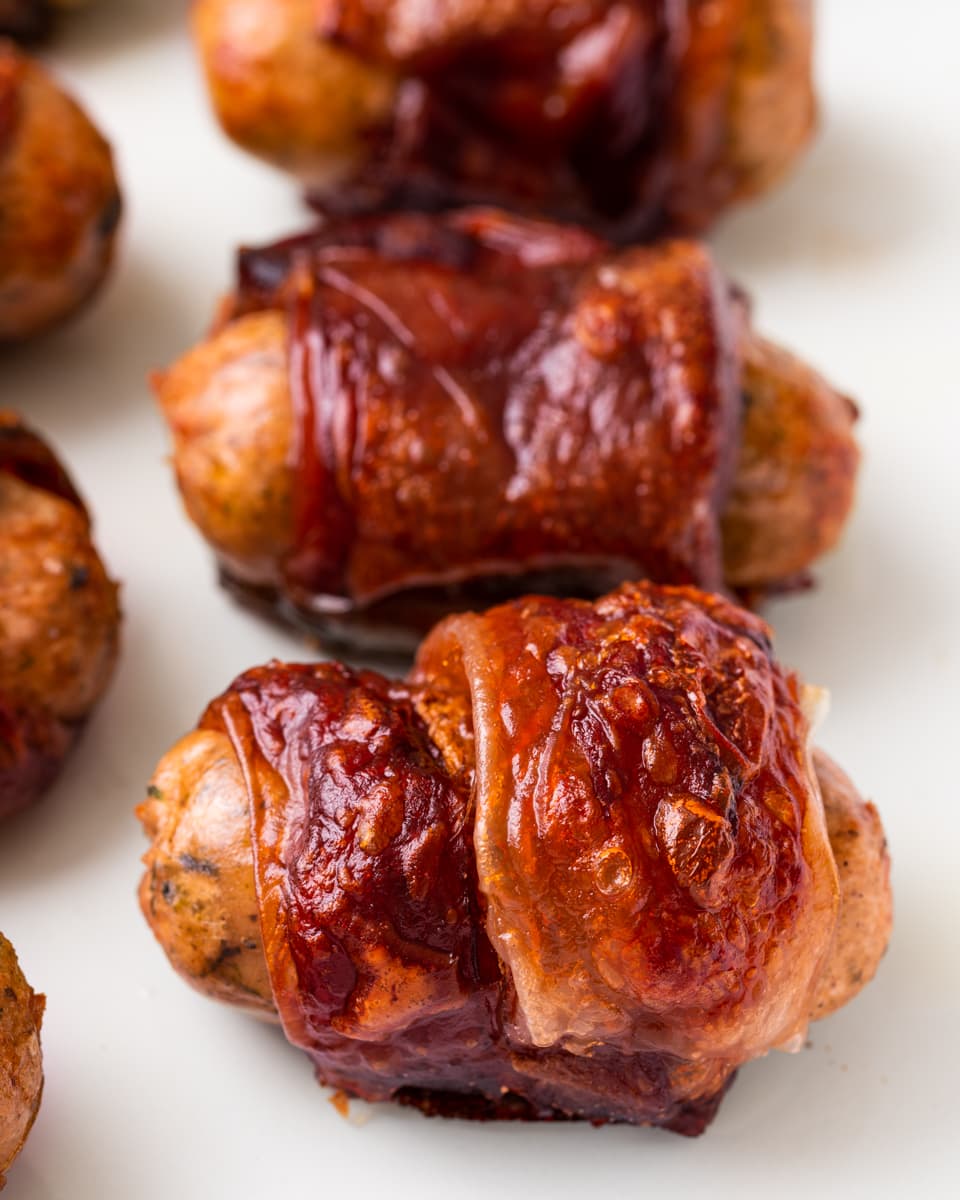 Vegan Pigs in Blankets FAQs
Q: Which sausages are vegan?
A: In the UK, there are now dozens of brands of vegan sausages, with many supermarkets producing their own brand too. Award winning vegan meat alternative company This make convincingly porky vegan sausages, while Tesco's own brand Plant Chef make a Cumberland variety, which are great value for money.
Q: What are pigs in blankets?
A: In the UK, pigs in blankets are usually pork sausages wrapped in bacon and roasted until crispy. Vegan varieties can now be bought at Aldi or made from scratch using this recipe!
Vegan Pigs In Blankets
Crispy yet succulent vegan pigs in blankets, just perfect for a vegan Christmas dinner! Made with vegan sausages and homemade vegan bacon!
Equipment
1 x mandoline slicer

1 x flat dish

1 x baking tray
Ingredients
1

aubergine

1

tablespoon

dark soy sauce

2

tablespoon

light soy sauce

2

tablespoon

vegetable oil

(plus more for drizzling)

1.5

tablespoon

liquid smoke

1

tablespoon

maple syrup

1

tablespoon

beetroot juice

1

teaspoon

marmite

(optional)

2

teaspoon

rice flour

(aka rice starch)

6

sheets

rice paper

(aka Vietnamese spring roll wrappers)

12

mini vegan sausages

(or 6 regular vegan sausages, ideally a variety with a skin.)
Instructions
Preheat oven to

200

°C

. Line a baking tray with baking parchment.

Remove the green top from the aubergine then slice in half lengthways. Using a potato peeler, peel the skin from one of the aubergine halves and reserve the other half for use in a different recipe.

Slice the peeled aubergine lengthways using a mandolin until you have 6 very thin slices of aubergine.

In a flat dish, mix together dark soy, light soy, 2 tablespoon vegetable oil, liquid smoke, maple syrup, beetroot juice, marmite and rice flour.

1 tablespoon dark soy sauce,

2 tablespoon light soy sauce,

2 tablespoon vegetable oil,

1.5 tablespoon liquid smoke,

1 tablespoon maple syrup,

1 tablespoon beetroot juice,

1 teaspoon marmite,

2 teaspoon rice flour

Dunk a slice of aubergine in the marinade and push down firmly with your fingers to ensure it absorbs the marinade all over. Remove from the marinade and place on a chopping board. Slice the strip of aubergine lengthways down the centre to make a rasher-shape. Repeat this process with remaining aubergine slices until you have 12 strips of aubergine bacon.

Cut a sheet of rice paper in half and dunk a few times in cold water. Place one strip of marinated aubergine in the middle then fold over the edges of the rice paper to wrap it up. Place a sausage on the piece of aubergine bacon and wrap tightly then place on a baking tray lined with baking parchment. Repeat with remaining sausages, aubergine strips and rice paper.

6 sheets rice paper,

12 mini vegan sausages

Drizzle the pigs in blankets with extra vegetable oil then bake for 20 minutes or until crispy and bubbling.
Nutrition
Calories:
133
kcal
Carbohydrates:
11
g
Protein:
10
g
Fat:
5
g
Saturated Fat:
1
g
Polyunsaturated Fat:
3
g
Monounsaturated Fat:
1
g
Trans Fat:
0.01
g
Cholesterol:
1
mg
Sodium:
594
mg
Potassium:
164
mg
Fiber:
3
g
Sugar:
2
g
Vitamin A:
10
IU
Vitamin C:
1
mg
Calcium:
10
mg
Iron:
10
mg
Love this recipe?
Let me know on Instagram!