Publised on 14/10/2022 by Richard. Last Updated on 10/09/2023 by Richard.
The absolute peak of vegan roast potatoes - insanely fluffy inside and staggeringly crispy outside with zero duck fat (obvs)!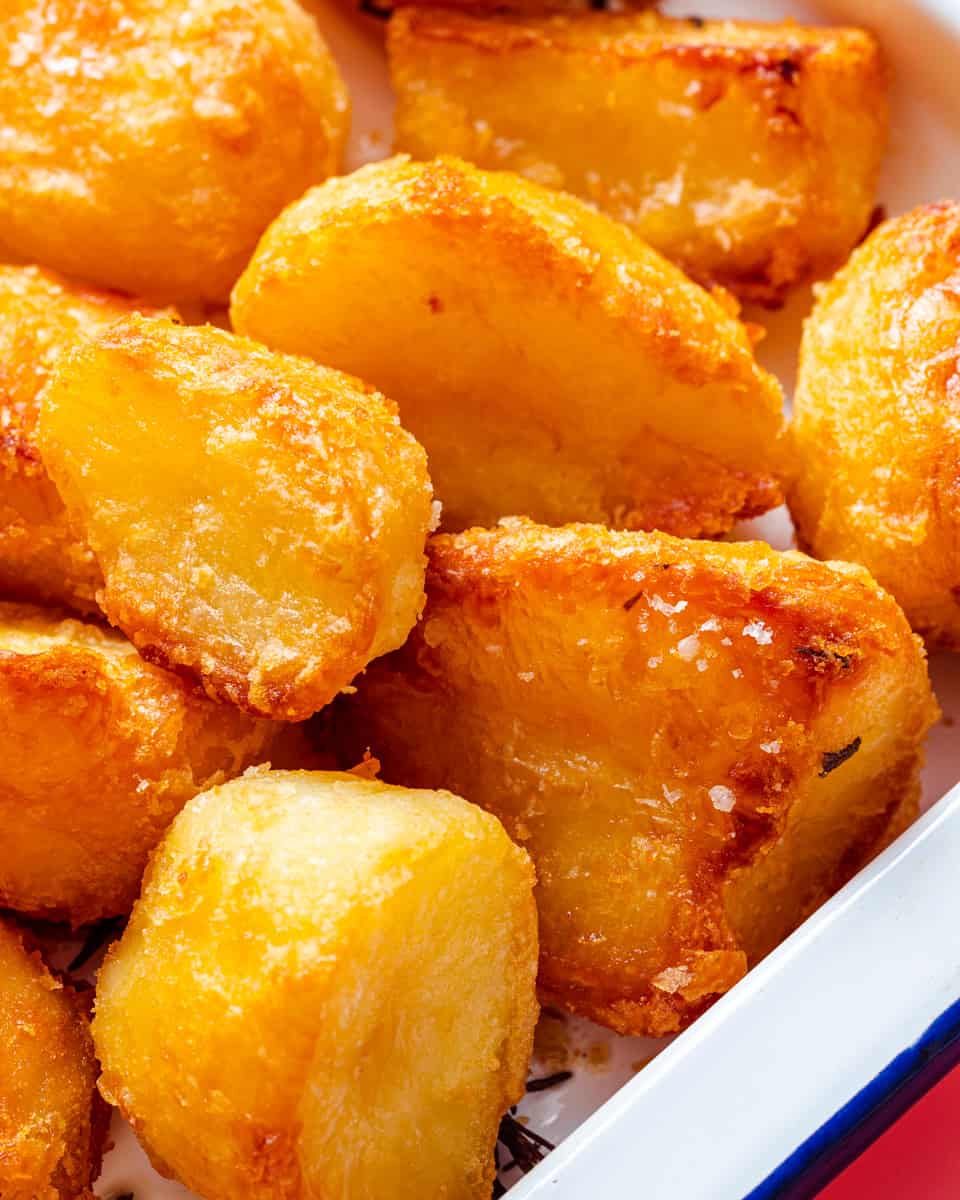 I've toyed with posting a vegan roast potatoes recipe for AGES now and BOY am I glad I finally decided to! They're one of those recipes which is super easy to veganise, so I often wonder if you actually need my help to make them. So instead of my usual veganising process, I decided to do an OPTIMISING process! The recipe and method on this page is you GUARANTEED ticket to the crispiest, fluffiest roast potatoes with ZERO animal fat required (coz it's bleurgh obvs).
Obviously you're gonna share these vegan roast potatoes with a big slap-up dinner, so why not stick my vegan turkey roast OR vegan roast beef on your to-make schedule!? Oh and don't you DARE make these without my vegan gravy or I'll call the police!
Jump to:
Which ingredients do I need?
Luckily, this one's super simple. Obviously see the full recipe at the bottom of the page for quantities, but in the meantime here are the ingredients with a couple notes to get you DETAIL ORIENTED folk started!
Sunflower oil - In my rigorous testing process I used over five different types of oil to see which worked best! I go into this process in the FAQs section below, but just trust me for now that sunflower oil is the best!
Rosemary - Please, if you can, use fresh rosemary. It has such a beautifully floral flavour and as soon as it starts infusing into that sunflower oil you're going to get excited about vegan roast potatoes!
Potatoes - Obviously an essential component! You MUST use a floury variety like Maris Piper though. See the FAQs for more info on potato varieties.
Fine sea salt - This is for seasoning the water which we're going to use to par-boil the roast potatoes. Get that flavour involved ASAP!
Flaky sea salt - Yep! Two types of salt! This one is important because it seasons the potatoes AND provides some texture.
Before you panic, this is not the recipe: see the recipe card at the bottom of the page for quantities.
How do I make vegan roast potatoes?
As always, the full recipe is down below, but here are a few visuals for you! The glory of this recipe is mostly in the technique, so PAY ATTENTION! Or I'll sit you in the naughty chair.
1. Peel and slice the potatoes! It's really important to aim for potatoes which are roughly the same size. You also don't want potatoes much bigger or smaller than 5cm. Deviating from this will affect how quickly they par-boil.
2. Boil and drain the potatoes! Stick to a strict 8 minutes in seasoned water please. We only want to cook the potatoes enough to soften the outsides. Not to cook them all the way through.
3. Rough up the potatoes! The easiest way to do this is to place the lid on the pan you used to par-boil and shake it up and down! The exteriors should look fluffy and floury, which will result in crispier potatoes! Trust me!
5. Part roast the potatoes! Yep, these are technically twice roasted potatoes! First we're going to roast the potatoes in the pre-heated oil. Make sure they're all coated in oil before popping in the oven, to ensure an even crisp!
4. Heat and infuse your oil! Before roasting, you want to get your sunflower oil nice and hot! This is also a good chance to infuse the oil with a bunch of flavour, so stick some rosemary in there too!
6. Drain and roast again! For the second roast we're going to drain off all the oil, sprinkle with flaky sea salt and roast the potatoes again in the same tray. Guaranteed super crispy vegan roast potatoes!
Hint: It's a good idea to flip the vegan roast potatoes half-way through their first roast. However, be super careful with them, as they'll still be quite soft at this stage. We all love one or two tiny crispy roasties, but a whole tray of them isn't fun!
Subs and swaps
With such a small ingredients list, it's difficult to think of subs and swaps for you, but here are a few ideas!
Potatoes - Although you won't get the fluffy crispy exterior with another variety of potato, you can still try this recipe out with sweet potatoes or new potatoes. For both of these it's not necessary to par-boil.
Rosemary - Rosemary not your thing? Feel free to swap for another fresh herb. You could use thyme, sage or even fresh oregano.
Sunflower oil - Again, I wouldn't recommend deviating from sunflower oil for this recipe, but if you simply must, you can use vegetable oil or rapeseed oil instead. See the FAQs for more info on this.
If you've got any suggestions for other swaps, pop them in the comments below for other readers to see. Thank you!
Customise your vegan roast potatoes!
Simple recipes are so fun to customise and my vegan roast potatoes are no different. Here are some ideas I want to try:
Add some spice! - For that final roast, why not toss the potatoes in your favourite spices? Curry spiced roast potatoes? Smokey paprika roast potatoes? The spice rack is your oyster!
Garlicky roasties?! - We can use fresh garlic in the same way as we used the rosemary - to infuse the oil! Slice a head of garlic in half and place cut-side down in the oil while it pre-heats!
Core blimey! - I heard a podcast recently where Matt Lucas talked about how he started using an apple corer to cut a hole in his potatoes before roasting! Extra surface area! Sounds DELISH!
Remember, it's not too late to change your mind and ask for vegan mashed potatoes instead! Whatever floats your boat!
Do I need any specialist equipment?
Here's what you'll need to make the perfect vegan roast potatoes. TLDNR? Nothing fancy, just some basics!
1 Large pot with lid
1 Large roasting tray
oven
Bonus Tip!
Keep an eye on your vegan roast potatoes while they're in the oven. If they're browning more slowly than you'd like, crank up the temperature to 220c/430f for the second roast. That'll get some colour on their cheeks!
Vegan roast potatoes FAQs
Q: Which oil is best for vegan roast potatoes?
A: Sunflower oil is the best for guaranteed crispy roast potato exteriors. Olive oil and coconut oil both have low smoking point, which means they'll burn and alter the flavour of your vegan roast potatoes before they can reach the correct temperature.
Q: Which potatoes are best for roasting?
A: If you're looking for a crispy roast potato with a fluffy interior, choose a potato with a floury texture like Maris Piper or King Edward in the UK or Russets and Yukon Gold in the USA.
Q: Should I parboil my roast potatoes?
A: If you want extra crispy potatoes with a perfectly cooked middle it's essential to parboil your roast potatoes. Just 8 minutes in salted water should do nicely and be sure to shake them up before adding to the hot oil.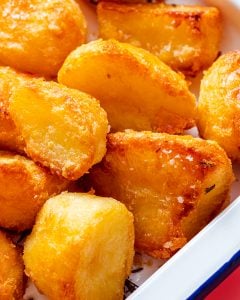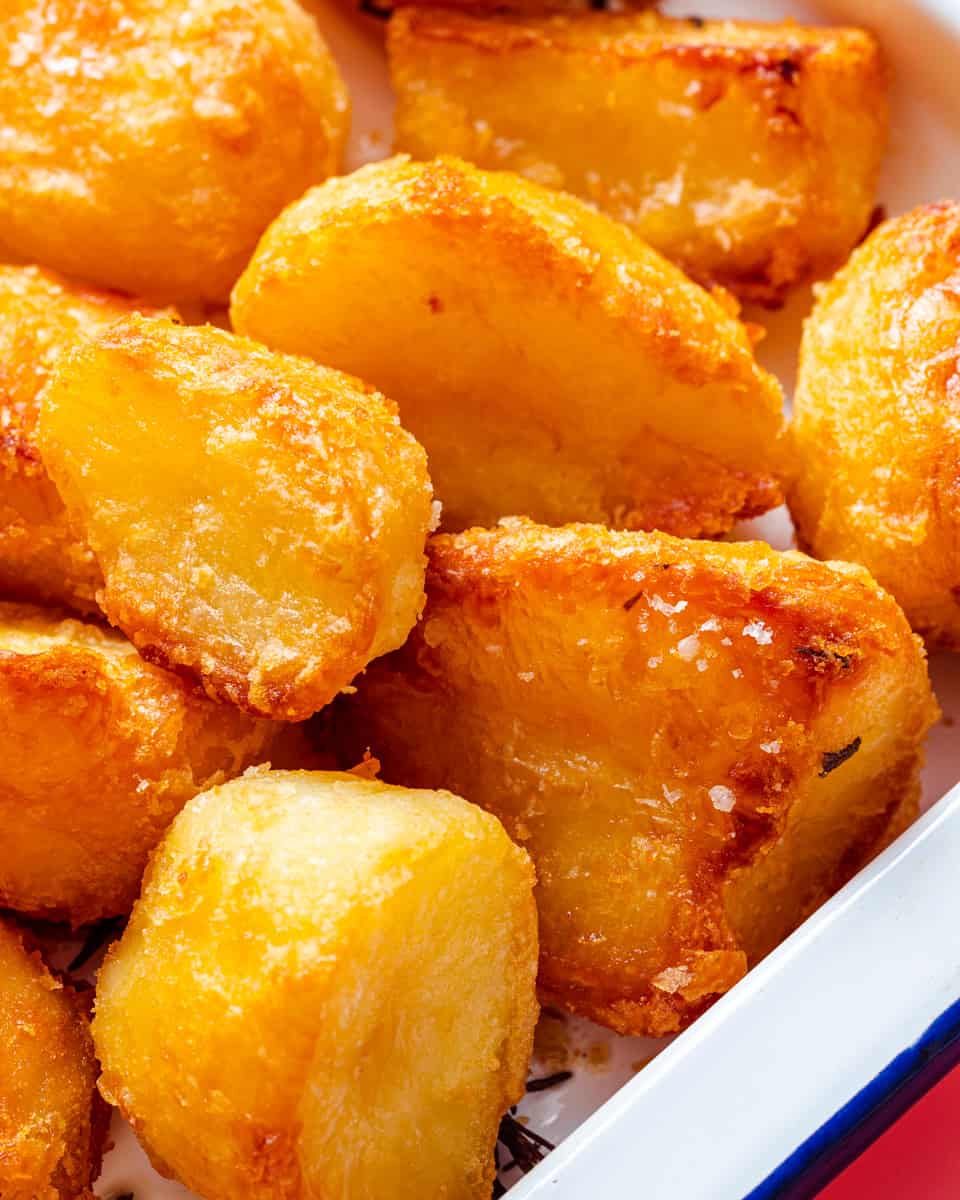 Vegan Roast Potatoes
The absolute peak of vegan roast potatoes - insanely fluffy inside and staggeringly crispy outside, roasted in rosemary infused sunflower oil!
Equipment
1 Large pot with lid

1 Large roasting tray

oven
Ingredients
sunflower oil for roasting

3

sprigs

rosemary

(fresh)

1

kg

potatoes

(use a floury variety like Maris Pipers)

2

teaspoon

fine sea salt

1

teaspoon

flaky sea salt
Instructions
Preheat the oven to

200

°C

.

Fill a large roasting tray with at least ½cm of the sunflower oil then add the rosemary and place in the oven to pre-heat.

sunflower oil for roasting,

3 sprigs rosemary

Peel the potatoes and slice into chunks no larger than 5cm/2 inches. Bring a large pot of water to the boil and season with the fine sea salt.

1 kg potatoes,

2 teaspoon fine sea salt

Add the potatoes to the pot and cover with a lid. From the second the water begins bubbling again, cook the potatoes for exactly 8 minutes. Drain the potatoes and leave to steam in the colander for 3 minutes.

Transfer the potatoes back to the pot and cover with the lid. Vigorously shake the pot up and down 4-5 times to break up the outside of the potatoes.

Remove the baking tray from the oven and carefully transfer the potatoes to the hot oil (they should sizzle as they hit the oil). Use a spatula to gently flip each potato in the oil so that all sides are coated in a thin layer of oil.

Place in the oven for 40 minutes, carefully flipping all the potatoes over at the half-way point.

After 40 minutes check your potatoes, they should be lightly browned but still pale and undercooked in places. Remove the tray from the oven and drain off all the oil. Remove the rosemary then sprinkle the potatoes with the flaky sea salt. Return the potatoes to the oven for a further 10-15 minutes until they are crisp and golden brown. Serve the potatoes hot and fresh from the oven.

1 teaspoon flaky sea salt
Nutrition
Calories:
193
kcal
Carbohydrates:
44
g
Protein:
5
g
Fat:
0.2
g
Saturated Fat:
0.1
g
Polyunsaturated Fat:
0.1
g
Monounsaturated Fat:
0.01
g
Sodium:
1759
mg
Potassium:
1054
mg
Fiber:
6
g
Sugar:
2
g
Vitamin A:
7
IU
Vitamin C:
49
mg
Calcium:
32
mg
Iron:
2
mg
Love this recipe?
Let me know on Instagram!