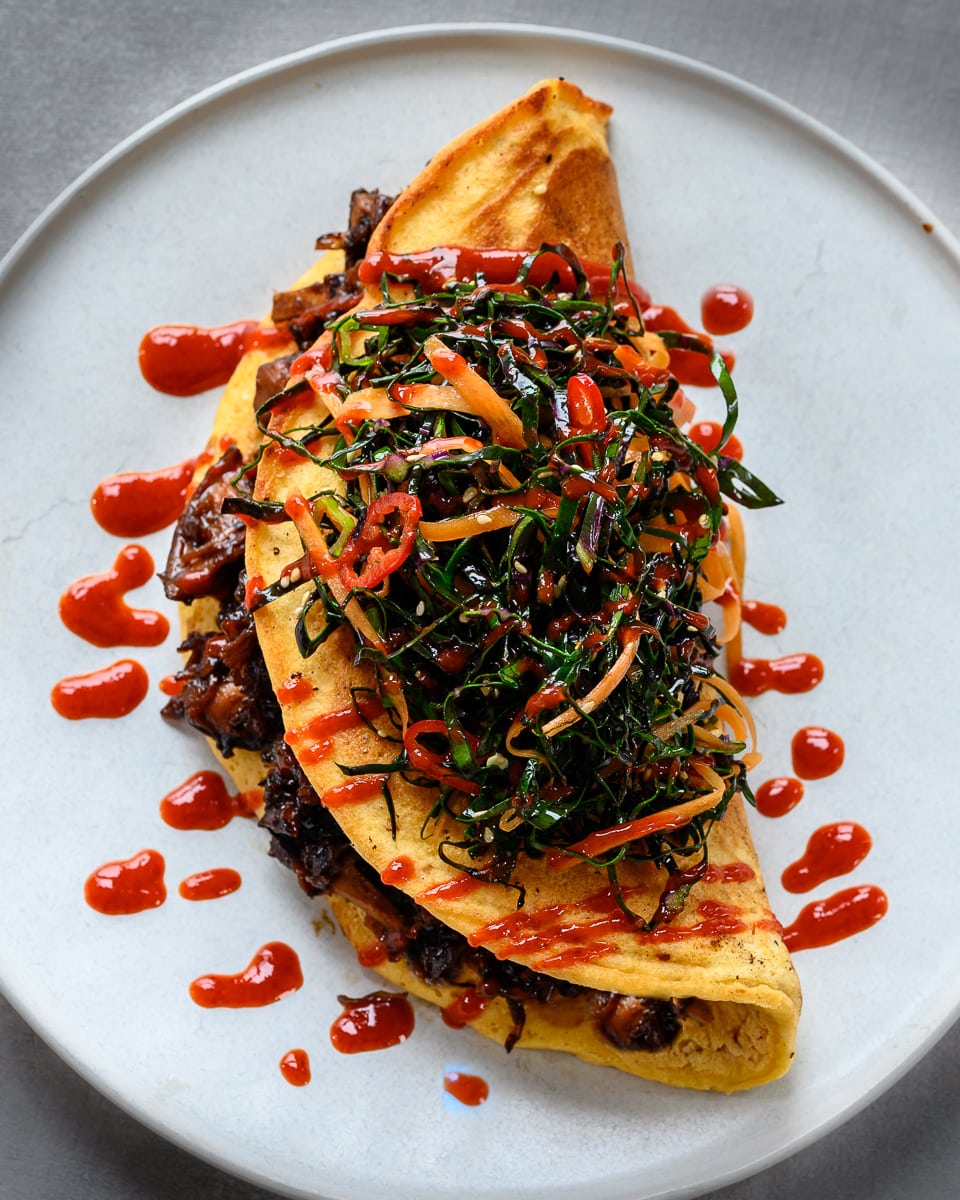 My super fluffy vegan kimchi pancake with tamari mushrooms, topped with a spicy sesame slaw.
---
You, me, and two of this delicious vegan kimchi pancake – AKA the perfect lunch date! These guys are one of the easiest, quickest vegan hot lunches you'll come across. They're also an absolute vegan umami flavour bomb which will knock your socks off!
Largely made with store-cupboard and fridge ingredients, these pancakes can be ready to go in an absolute flash! So next time you're at home for lunch, give these a go! 
What do vegan kimchi pancakes taste like?
As you can imagine, the dominant flavour here is umami! The kimchi brings that bad-ass funk you expect from fermented food and the tamari mushrooms are sweet and savoury. The sesame slaw really wakes things up with a punch of freshness and makes them 100% a lunch dish!
The spice level of these vegan kimchi pancakes really comes down to the kind of kimchi you use, and whether you'd like to dress the whole thing in LITRES OF SRIRACHA like I did!
If you need a good vegan kimchi recipe, why not try this one – it's my favourite and can be made without any animal products.
How do I make it!?
The process is mega easy and truly nothing to fret about! You'll nail it first time, I 100% promise! The full recipe is below but have a quick read through the process first to make sure you're on the right track!
1. Whip up the slaw.
It's great to have this ready first so that you can top the pancake and munch away while it's all still warm. The key to a perfect slaw is to make sure everything's sliced as thinly as possible. Use a really nice sharp knife or a mandolin and you'll be great!
2. Make the dressing.
Again, it's good to get this out of the way early on so you're not letting the pancake cool while you prep. It's just three ingredients – shake em together in a jar and you're good to go.
You can toss the slaw in the dressing now or leave it until the last minute – either way is fine!
3. Prepare the mushrooms.
This is just a case of slicing the mushrooms up and frying in a hot pan with shallots, ginger and garlic. Once the mushrooms are juicy and starting to brown, you'll glaze them with the tamari and sugar.
Take them out of the frying pan and set aside. If you want to keep them warm, cover with a bowl while you prepare the pancake.
4. Make the pancake batter.
Before you start the pancake batter, you'll need to make sure the kimchi is really nicely chopped. Don't forget to reserve some of that kimchi juice too!
Mix together your dry ingredients and then add your wet. The mixture should be quite loose and will bubble slightly.
5. Fry the pancakes.
Heat up a good frying pan or skillet with some oil. When it's nice and hot, add half of the pancake batter. Now be careful not to flip the pancake too soon – you want to make sure the top of the pancake is evenly dotted with bubble. Then, and only then, should you flip it!
Once flipped, fry for a further 30 seconds so until both sides are nicely brown. 
6. Fill and fold!
Remove the pan from the heat and place half of the cooked mushrooms on one half of the pancake. Fold the other half over, like an omelette and remove from the pan. 
Plate up with a good topping of the slaw and, if you're into it, with some sriracha!
Repeat the process with the second half of the batter and you'll have two gorgeous vegan kimchi pancakes ready to go! 
Need more delicious Asian snacks?!
Here are some of my top guys for eating ANY TIME OF DAY OR NIGHT!
---