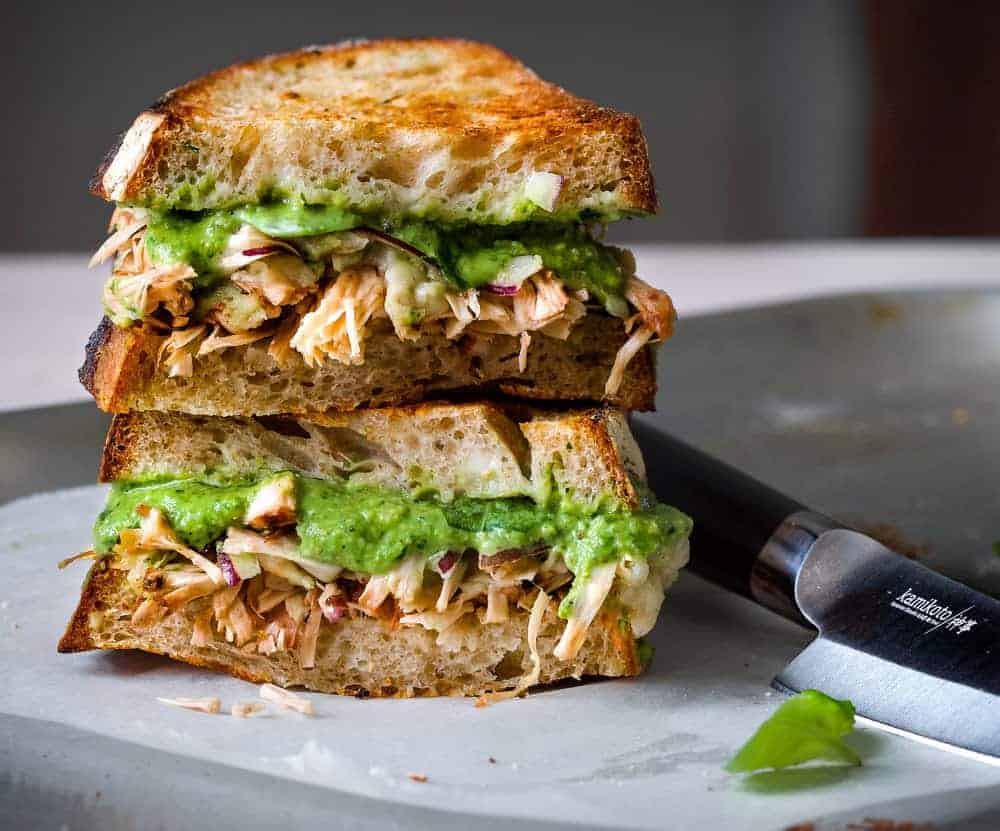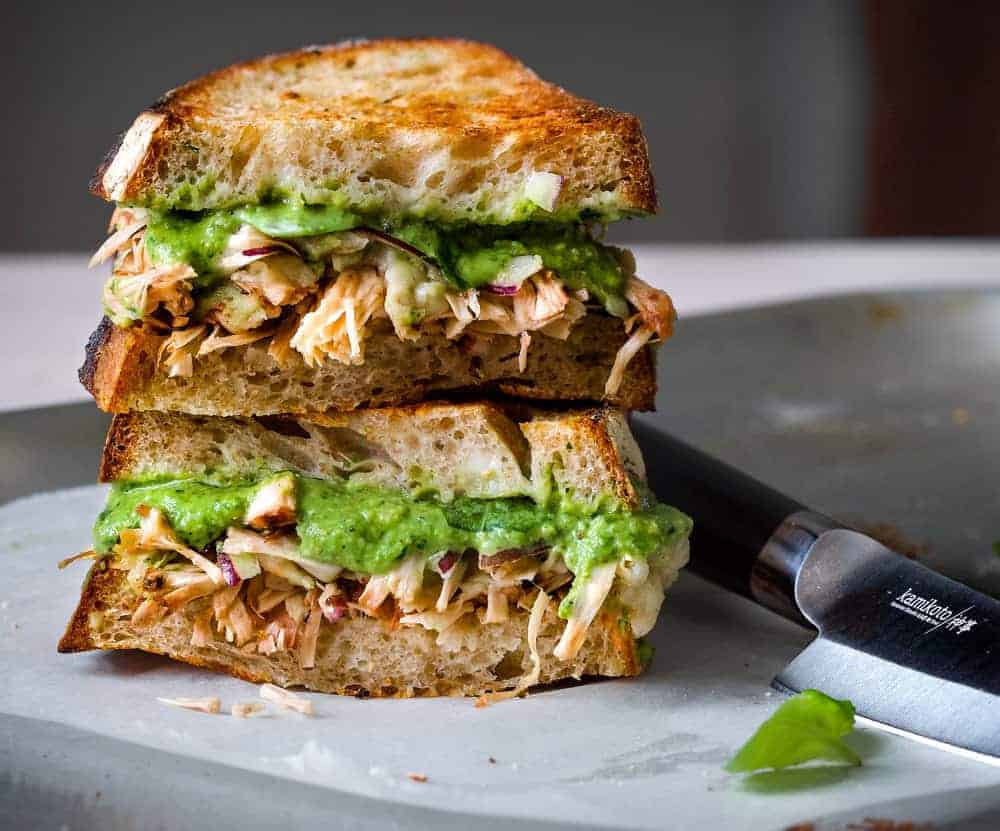 Vegan pesto jackfruit melt sandwich, drizzled with the tastiest vegan pesto ever. It's a new vegan mediterranean classic and it's gonna blow your mind!
---
Vegan jackfruit melt with pesto! It's the grilled sandwich you never thought you needed but now can't live without! I could honestly eat this sandwich for every meal – breakfast, lunch and dinner. The melty cheese, the meaty pulled jackfruit and the zingy basil pesto. This vegan jackfruit melt is a total triple threat!
Do I even need a sandwich recipe??
YES!
I mean, I'll admit it, writing sandwich recipes always seems a bit silly. You're all clever folks, I'm sure you know how to make a sandwich. However this fella is pretty complicated and involves one of the best pestos I've ever made. Not that dull green boring vegan pesto from a jar, which always tastes super old. This stuff is zingy and fragrant and super punchy!
Also, this recipe is helpful for all of you who love jackfruit but have never learnt to cook it. It's super easy, trust me, and no you don't have to buy the entire massive spiky fruit – we use tinned stuff round here honea!
Here's why it's so good!
I do things a lil differently with this vegan jackfruit melt, so here's what makes it taste so BOMB!
With this sandwich we cook the jackfruit separately and keep the pesto raw. It makes sure the super fresh zingy vibe stay strong and that gives the sandwich a real kick!
The jackfruit is double cooked (before and after it gets "pulled") and I advise you give it a good high heat. This way you'll get some crispy bits and some nice tender juicy bits!
We use my vegan mozzarella in this recipe and you'll really notice the difference compared to shop bought stuff. It's a much more delicate flavour but you'll get that delicious melty pull that you get with real cheese.
Get your prep done first!
As mentioned above, this recipe uses my vegan mozzarella for that super cheesy melt, so you'll need to whip up a batch of this before you begin. 
The sandwich won't use all the cheese, so you can refrigerate or freeze the leftovers for your next cannelloni or pizza!