Publised on 24/06/2019 by Richard. Last Updated on 12/10/2022 by Richard.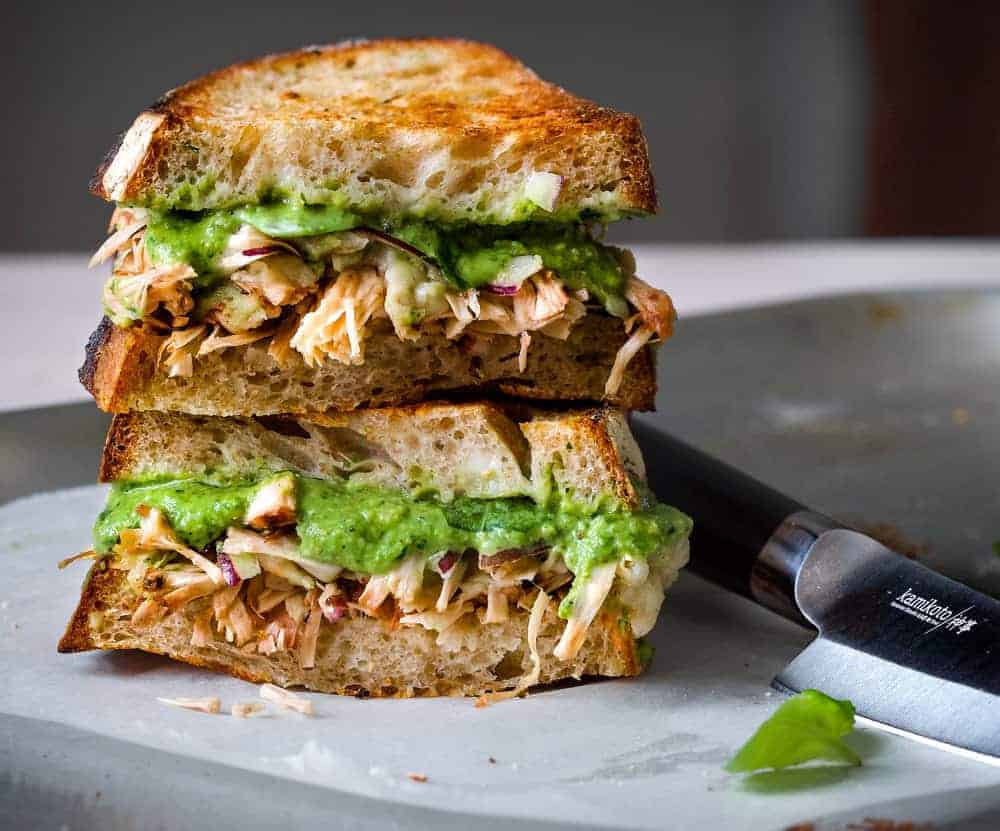 Vegan pesto jackfruit melt sandwich, drizzled with the tastiest vegan pesto ever. It's a new vegan mediterranean classic and it's gonna blow your mind!
---
Vegan jackfruit melt with pesto! It's the grilled sandwich you never thought you needed but now can't live without! I could honestly eat this sandwich for every meal - breakfast, lunch and dinner. The melty cheese, the meaty pulled jackfruit and the zingy basil pesto. This vegan jackfruit melt is a total triple threat!
Do I even need a sandwich recipe??
YES!
I mean, I'll admit it, writing sandwich recipes always seems a bit silly. You're all clever folks, I'm sure you know how to make a sandwich. However this fella is pretty complicated and involves one of the best pestos I've ever made. Not that dull green boring vegan pesto from a jar, which always tastes super old. This stuff is zingy and fragrant and super punchy!
Also, this recipe is helpful for all of you who love jackfruit but have never learnt to cook it. It's super easy, trust me, and no you don't have to buy the entire massive spiky fruit - we use tinned stuff round here honea!
Here's why it's so good!
I do things a lil differently with this vegan jackfruit melt, so here's what makes it taste so BOMB!
With this sandwich we cook the jackfruit separately and keep the pesto raw. It makes sure the super fresh zingy vibe stay strong and that gives the sandwich a real kick!
The jackfruit is double cooked (before and after it gets "pulled") and I advise you give it a good high heat. This way you'll get some crispy bits and some nice tender juicy bits!
We use my vegan mozzarella in this recipe and you'll really notice the difference compared to shop bought stuff. It's a much more delicate flavour but you'll get that delicious melty pull that you get with real cheese.
Get your prep done first!
As mentioned above, this recipe uses my vegan mozzarella for that super cheesy melt, so you'll need to whip up a batch of this before you begin. 
The sandwich won't use all the cheese, so you can refrigerate or freeze the leftovers for your next cannelloni or pizza!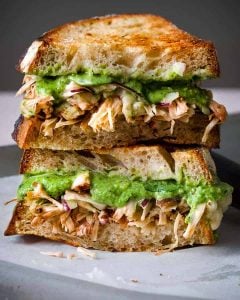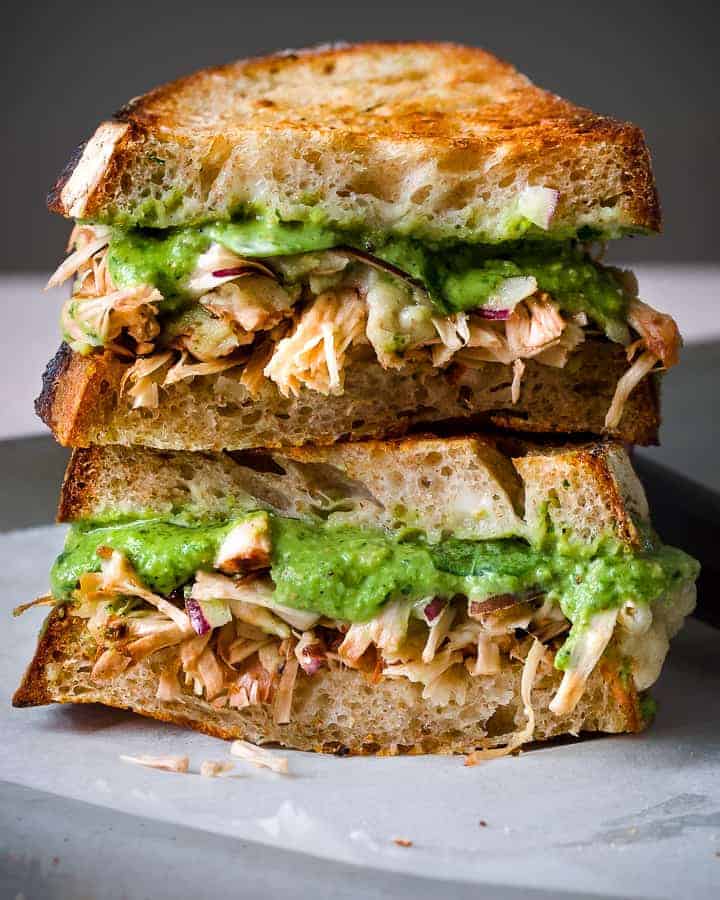 Vegan Jackfruit Melt with Quick Pesto
Vegan pesto jackfruit melt sandwich, drizzled with the tastiest vegan pesto ever.
Ingredients
For the Pesto
28

g

raw cashews or pine nuts

((toasted in a dry frying pan))

1

garlic clove

((roughly chopped))

¾

teaspoon

flaky sea salt

30

g

fresh basil

((roughly chopped))

20

g

extra virgin olive oil

1

tablespoon

fresh lemon juice

1.5

tablespoon

nutritional yeast

1

tablespoon

water

pinch

ground black pepper
For the Sandwich
½

tablespoon

olive oil

80

g

chunks of young jackfruit

((I used canned jackfruit))

¼

teaspoon

dried oregano

pinch

flaky sea salt

4

slices

sourdough

2

tablespoon

vegan mayonnaise

60

g

vegan mozarella

¼

red onion

((finely sliced))
Instructions
To Make the Pesto
Place all the ingredients in the cup of a blender. Blitz until you reach the desired consistency - I always stop just before smooth to give it a little texture. Set aside.
To Make the Sandwich
Heat a medium frying pan over a medium heat and add the olive oil. Once at temperature, add the chunks of jackfruit chunks. Tossing or stirring frequently, allow the jackfruit to brown lightly.

Once browned, using a fork or a potato masher, break the jackfruit into rough shreds. Add the oregano and salt and keep over the heat - cook for a further 2 minutes then remove from the heat.

Preheat the grill/broiler to full temperature. Arrange the slices of bread on a grill tray. Place under the grill and toast lightly until crisp. Remove the grill tray from the oven and remove one of the slices. Flip the remaining slice of bread and spread with the vegan mayo. Top one side with the cooked jackfruit and then top the jackfruit with the vegan mozzarella. Place under the grill/broiler until the mozzaella is melted and starting to brown. While the cheese is grilling, spread the untoasted side of the other slice of bread liberally with the pesto.

Remove the cheesy jackfruit slice from the oven once grilled and top with some freshly sliced red onion. Top with the pesto covered bread and enjoy.
Nutrition
Serving:
1
grams
Calories:
728
kcal
Carbohydrates:
92
g
Protein:
21
g
Fat:
31
g
Saturated Fat:
5
g
Sodium:
1617
mg
Fiber:
6
g
Sugar:
5
g
Love this recipe?
Let me know on Instagram!