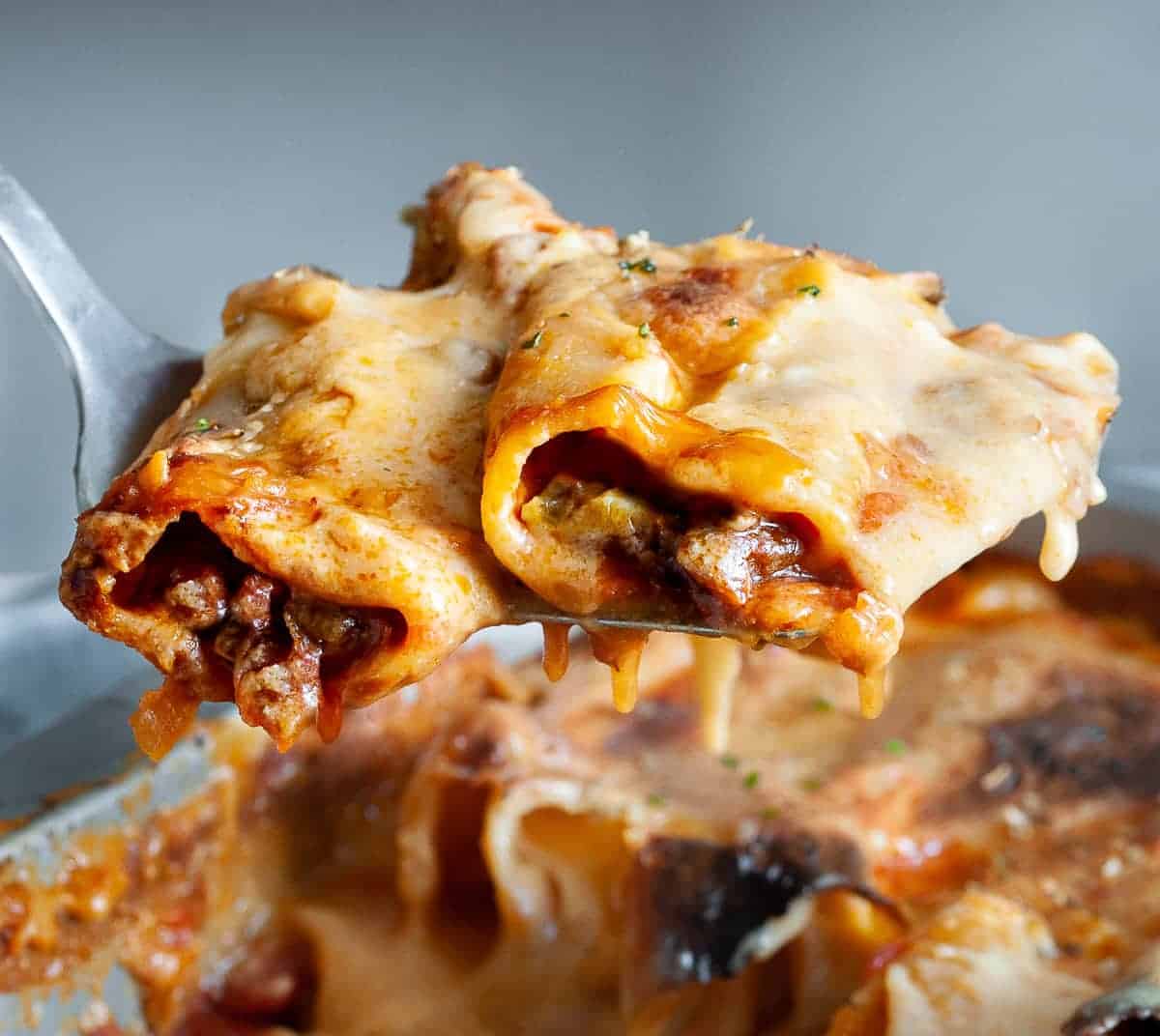 Vegan cannelloni, stuffed with green lentil ragout and topped with the cheesiest béchamel sauce of your life (it even browns!)
---
This vegan cannelloni recipe has been a long time coming. So long, in fact, that a select few of you have been HOUNDING my instagram with vague threats! But rest assured – the recipe is here, and you will NOT be disappointed. Allow me to talk you through what's going on here:
First we have a layer of deliciously tangy and sweet green lentil ragout. Fragrant and zingy with a tiny kick of balsamic vinegar.
Then we have a layer of cannelloni which is ALSO stuffed with the green lentil ragout. The lentils cook so beautifully in this zone that you'll swear they're minced beef.
Final layer of this vegan cannelloni is the CHEESIEST béchamel sauce ever! It tastes rather similar to my vegan mozzarella recipe and it even has that stringiness. Oh! and if you like your top crispy, whack it under the grill and you'll get some stunning browning action!
Why Cannelloni??
As you might know, I was vegetarian since I was 6, so I've never actually tasted a true meaty cannelloni. I've had spinach and ricotta, and no shade to spinach and ricotta, but I wanted to make a plant-based version of the CHEESIEST most TOMATOEY comfort food pasta ever. It had to be this recipe – it was fate!
I remember going on holiday to Sorrento as a teenager with my family and struggling to come to terms with the fact that MOST of my favourite italian dishes were packed with meat and therefore were off limits. But now I'm a vegan WIZARD, I can take control of my destiny and MAKE THIS STUFF HAPPEN! So..
Here's how you make it happen!
I've made everything as simple as possible for this vegan cannelloni recipe, because what's the point in making comfort food if you need a power nap as soon as you take it out of the oven?? This dish is EASY PEASY, trust me.
I use tinned lentils AND tinned tomatoes which means no soaking, no boiling, no peeling/de-skinning, just crack out that tin opener and you're ready to go!
One thing I will stipulate: PLEASE use Italian peeled plum tomatoes – not chopped tomatoes. Oh and green lentils are the best for this recipe, but any lentils will do really!
What should I serve it with!?
My recommendation is to bite the bullet and go double carb with this! I served mine with some sourdough focaccia and a panzanella salad (which technically makes it TRIPLE carb!) – oh and a nice glass of vegan red wine!