Publised on 25/04/2022 by Richard. Last Updated on 20/11/2022 by Richard.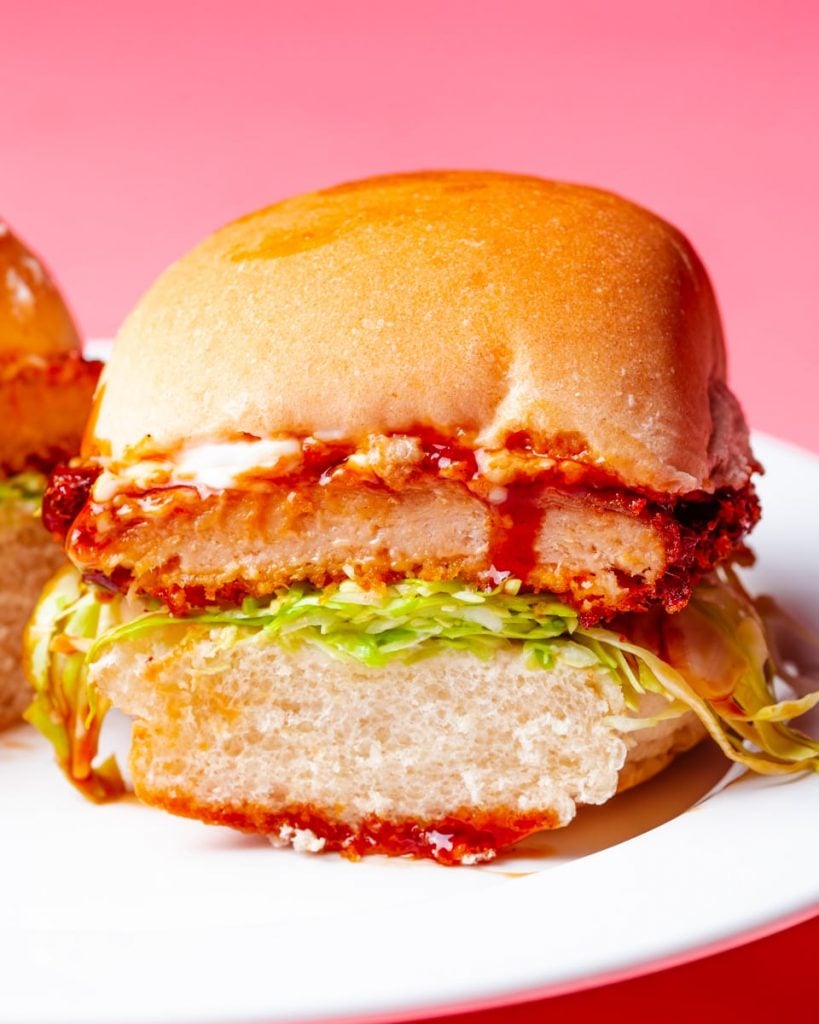 Super crispy vegan chicken katsu sandwich with shredded cabbage and tonkotsu sauce. Name a better sandwich - I dare you!
---
Let me tell you, in my house we STAN a vegan chicken katsu sandwich. For me it's all about that holy trinity of textures - the SOFT white bread, the CRUNCH of the panko breadcrumbs and the BITE of the vegan chicken in the middle. That being said, this recipe would be NOTHING without the tonkotsu sauce, so do not miss that stuff.
And look, many of my recipes are very involved, but this isn't one of them. I use a bunch of store-bought ingredients in this recipe (which at this stage seems out of character for School Night Vegan) but this is how I actually cook most of the time, and I suspect you might too. I've offered some subs and swaps in case you can't find the exact products I use, so don't be spooked - your perfect sandwich awaits!!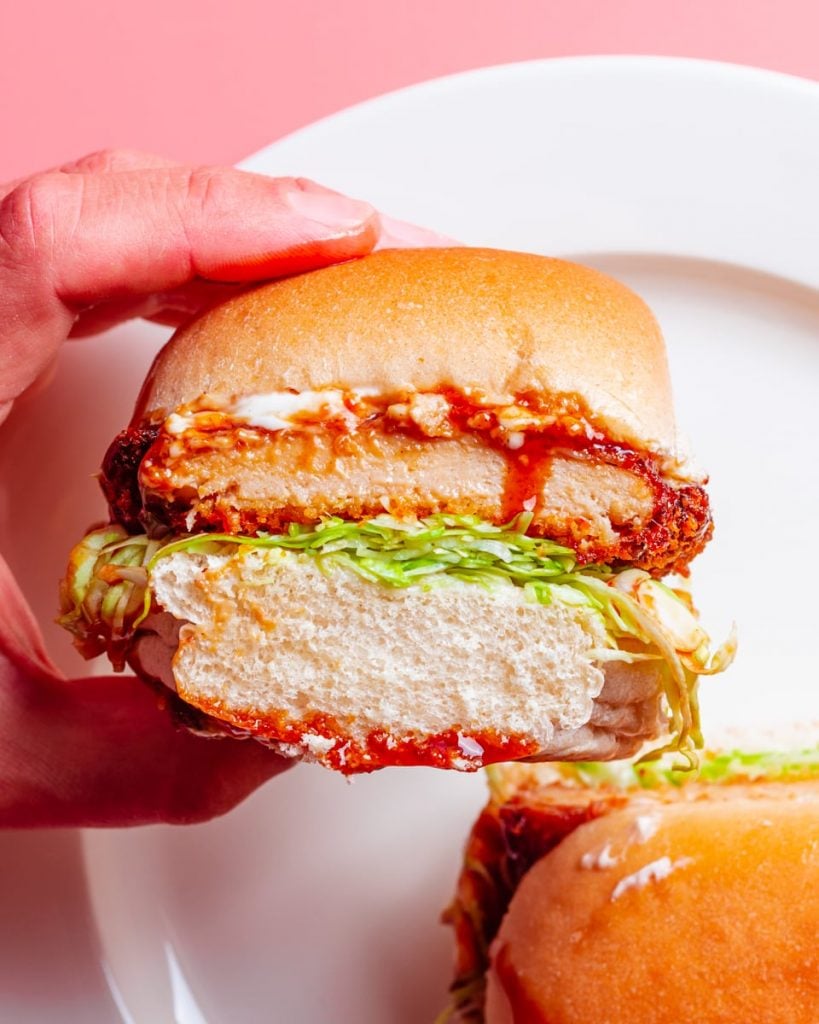 How do I make a vegan chicken katsu sandwich!?
As always, the FULL RECIPE is at the bottom of the page - scroll on down if you're in a hurry. If not, hey! Welcome! You're the best!! I'm gonna talk you through the process behind a perfect vegan chicken katsu sandwich right now!
1. Start with the "Chicken"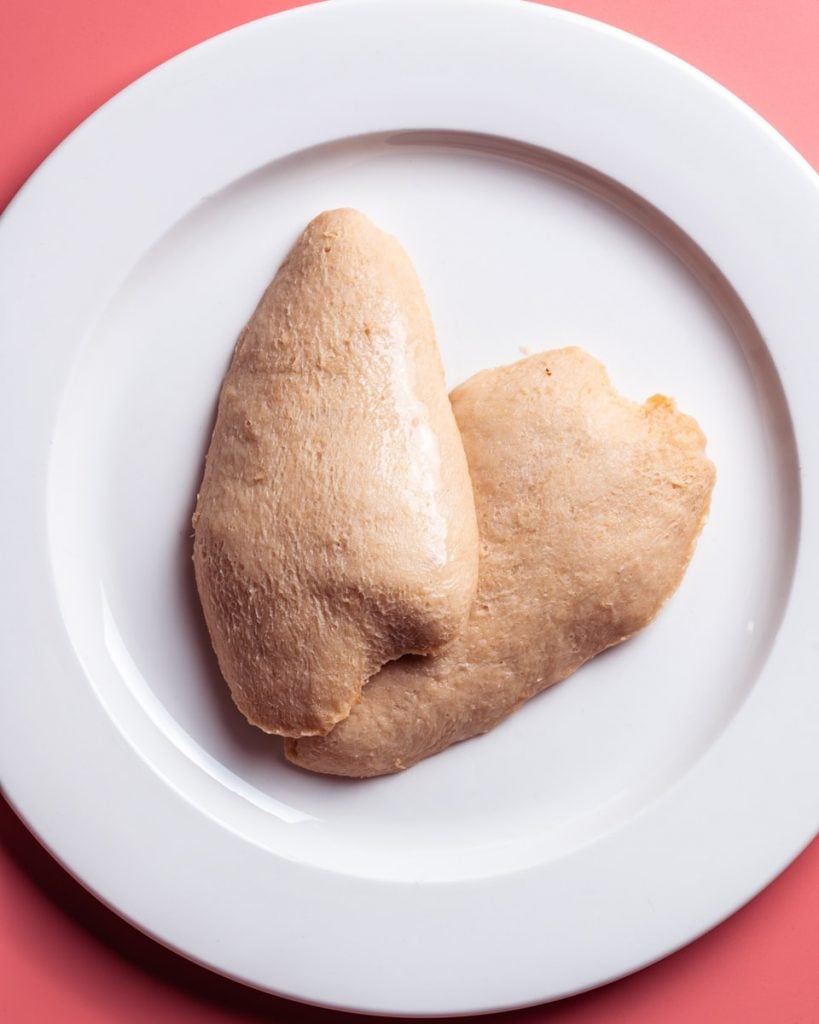 In the UK we're lucky to have a HUGE choice of vegan meats, including the vegan chicken fillets above, made by The Vegetarian Butcher. These are the most realistic I've come across and I was suuuper satisfied with how they turned out. However, I'm aware that not everyone has access to this brand (or ANY brand for that matter) so here are my suggestions.
If you need to sub out the vegan chicken fillets, my first suggestion would be to make your own using my vegan chicken recipe. If this sounds like a lot of work for you, don't worry! This recipe will also work great with tofu (just pick an extra fir variety and slice into around 2cm thick squares) or even a flat cluster of oyster mushrooms. The important thing is that you use something with a little bite.
2. Coat the chicken!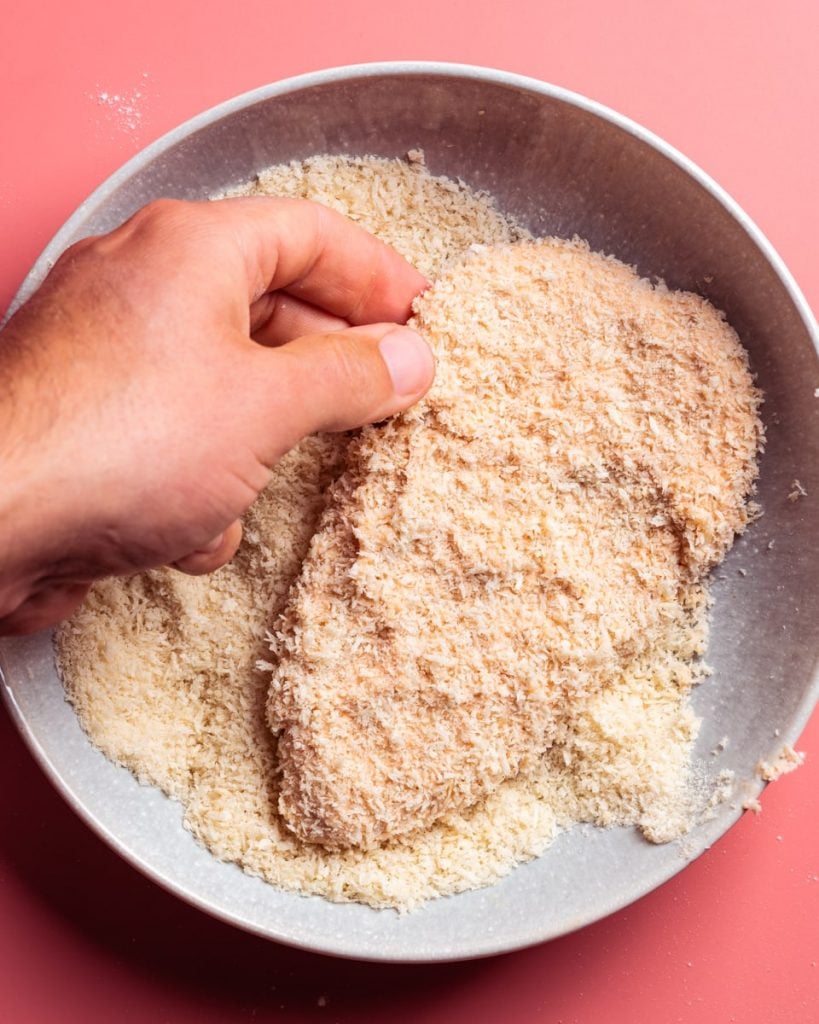 It would be very cute and very easy if we could just dunk our chicken in breadcrumbs and get frying, but alas, we need something to help them stick. We're going to use a three bowl method to make this happen. First we dunk in a mixture of flour and corn flour (cornstarch in the USA). This helps to retain the moisture in the vegan chicken fillet once fried and also makes the outside suuuper crispy. Then we need to dunk in a wet mixture of vegan yoghurt, plant milk and sriracha.
Finally we're ready for the breadcrumbs!
3. Fry the chicken!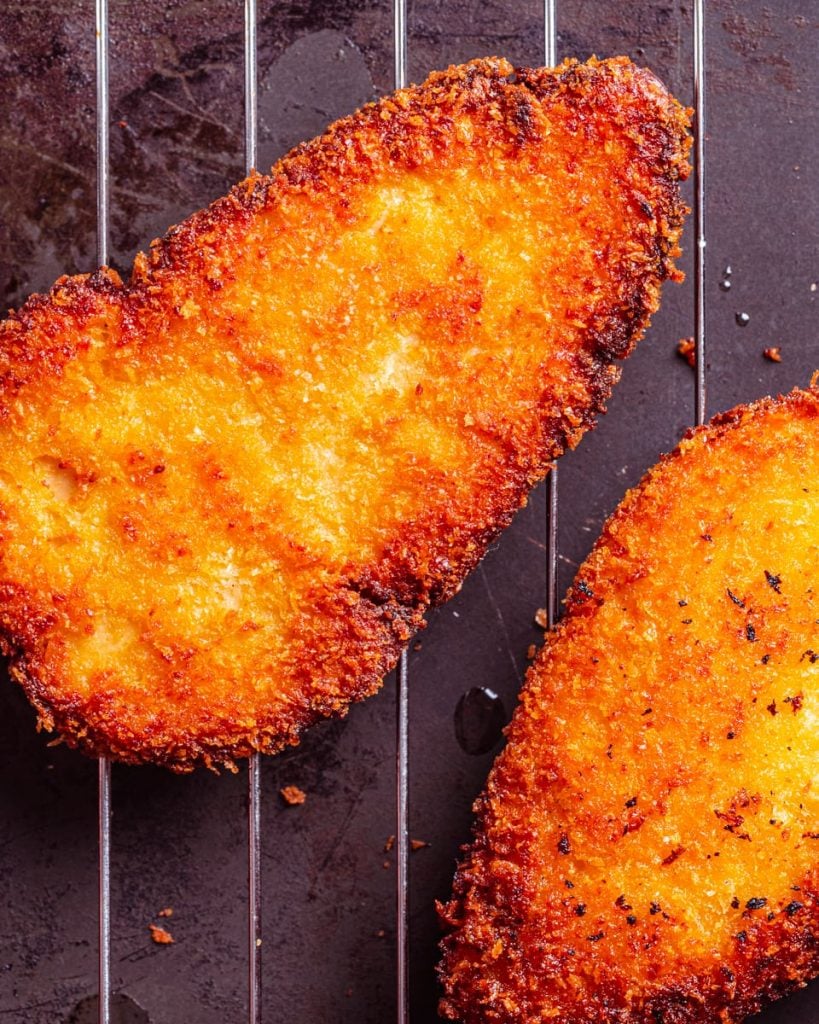 I fry my vegan chicken katsu fillets in vegetable oil or sunflower oil. You don't need a huge amount but just make sure it's super hot before you add your vegan chicken fillets to the pan. They'll brown nice and quickly (around 3-5 mins on each side) then you'll want to drain them on kitchen roll. You're now ready to assemble!
4. Sandwich: ASSEMBLE!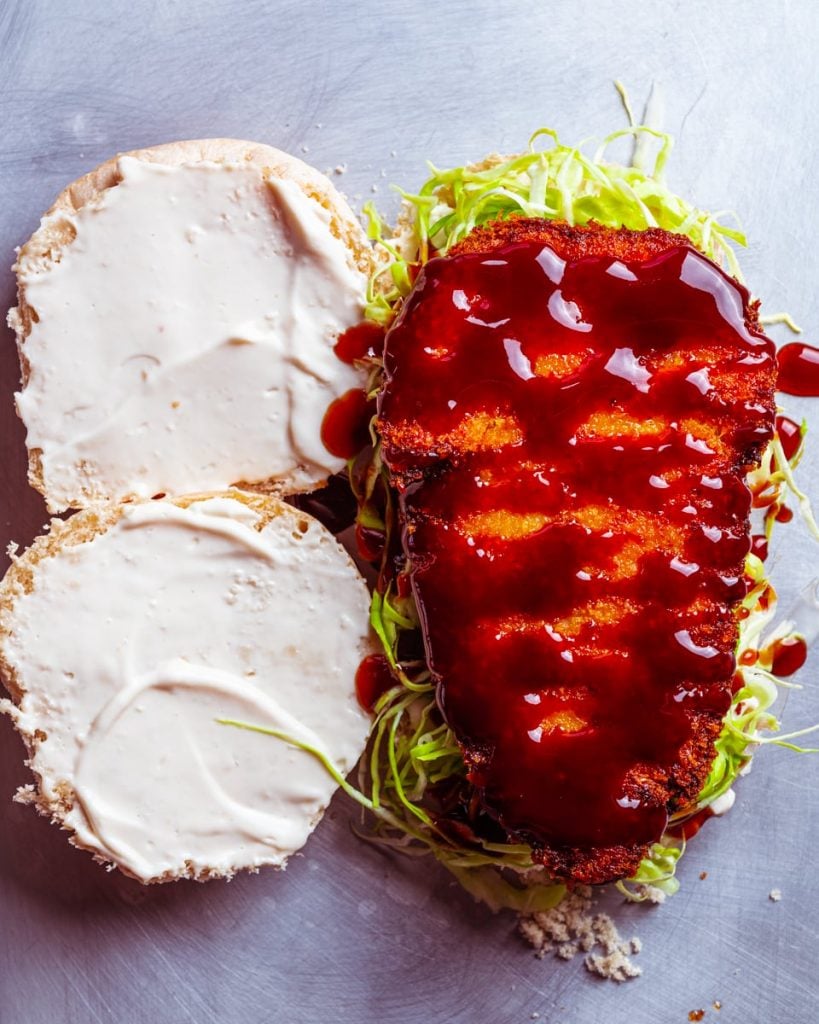 This isn't an intensely complicated sandwich, you've simply got bread, (white please!) vegan mayo, (Hellmans is best!) and some shredded cabbage. When I first made this recipe I found the cabbaginess a bit too loud, so I recommend tossing your cabbage in lemon juice once shredded. It'll add a little extra zing!
You're also going to be adding tonkotsu sauce now. It's essential - do not skip it or your sandwich will have very little flavour! I use a brand called Bull-Dog because it's SO DAMN DELICIOUS! And remember, the more sauce the tastier the sandwich will be, but it'll also make your katsu lose that crispiness if you leave it for too long.
5. Serve your vegan chicken katsu sandwich and enjoy!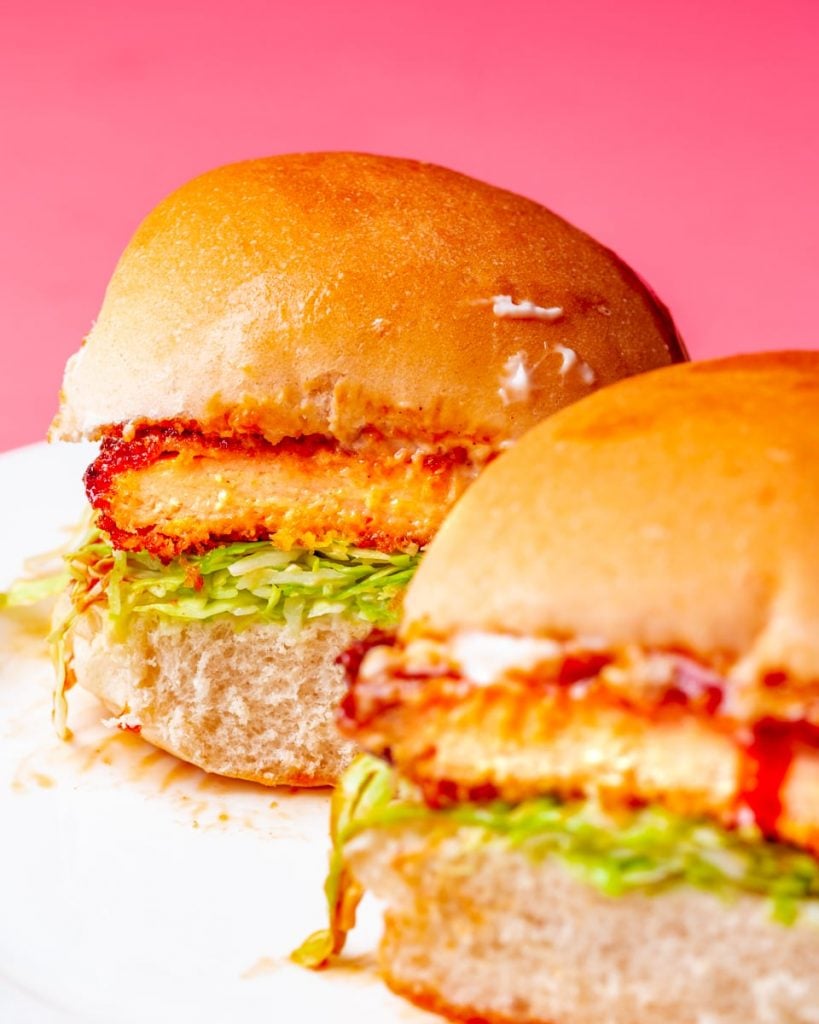 That's it! You made the greatest sandwich known to humankind! And no animals had to die! YESSSSSS!
WANT MORE SANDWICHES!?
Why not try:
Vegan Jackfruit Melt Sandwich with Quick Pesto
Vegan Chicken Katsu Sandwich
Super crispy vegan chicken katsu sandwich with shredded cabbage and tonkotsu sauce. Name a better sandwich - I dare you!
Ingredients
For the Chicken
2

vegan chicken fillets

(see note 1. below)

30

g

plain white flour

(aka all purpose flour)

1

tablespoon

cornflour

(aka cornstarch in the USA)

1

teaspoon

fine sea salt

40

g

vegan yoghurt

(unsweetened and unflavoured)

120

ml

plant milk

(unsweetened and unflavoured)

1

tablespoon

sriracha

80

g

panko breadcrumbs

4

tablespoon

vegetable oil

(for frying)
For the Sandwich
2

soft bread rolls

(or 4 thick slices of white bread)

4

tablespoon

vegan mayonnaise

150

g

sweetheart cabbage

(finely shredded)

Juice of half a lemon

Tonkotsu sauce

(ideally Bull-Dog brand)
Instructions
To Prepare the Sandwich
Slice the buns (if using) and spread both sides with the vegan mayo.

2 soft bread rolls,

4 tablespoon vegan mayonnaise

Place the shredded cabbage in a small bowl and dress with the lemon juice.

150 g sweetheart cabbage,

Juice of half a lemon
To Make the Chicken Katsu
Place a vegan chicken fillet on a piece of baking parchment and fold over to cover. Use a rolling pin to gently tap the fillet until it has flattened into a slightly larger piece. Repeat with the second fillet. If using

my vegan chicken recipe

, tofu or oyster mushrooms, skip this step.

In a medium bowl, whisk together the plain white flour, cornflour and fine sea salt. In a separate medium bowl whisk together the vegan yoghurt, plant milk and sriracha. In a third medium bowl place the panko breadcrumbs.

30 g plain white flour,

1 tablespoon cornflour,

1 teaspoon fine sea salt,

40 g vegan yoghurt,

120 ml plant milk,

1 tablespoon sriracha,

80 g panko breadcrumbs

Place a fillet in bowl 1 with the flour mixture. Make sure it's completely covered on both sides, flipping as necessary.

Remove the fillet from bowl 1 and dunk in the yoghurt mixture in bowl 2. Again, flip the fillet to make sure it's coated on both sides.

Finally, dunk the fillet in bowl 3 with the panko breadcrumbs. Scoop breadcrumbs over the top to coat before flipping and patting gently into the breadcrumbs to ensure it's fully coated.

Set the coated fillet aside on a plate and repeat the process with the second fillet.

Place a medium, non-stick frying pan or cast-iron skillet over medium heat and add the vegetable oil. Once hot, carefully lower the fillets into the oil - they should sizzle immediately. Fry for roughly 3-5 minutes on each side or until golden brown and crispy.

4 tablespoon vegetable oil

Remove from the frying pan and place on a piece of kitchen roll to catch any residual oil.
To Make the Sandwich
Divide the shredded cabbage between the two buns.

Transfer each fried fillet to the prepared buns then top immediately with tonkotsu sauce. Close the sandwich and serve.
Notes
1. In the images for this recipe I used store-bought vegan chicken fillets from a company called The Vegetarian Butcher. If you don't have access to store-bought vegan chicken fillets, don't worry! You can use my vegan chicken recipe. Alternatively, pressed, firm tofu works great, or you could try with a flat cluster of oyster mushrooms.
Nutrition
Calories:
780
kcal
Carbohydrates:
64
g
Protein:
14
g
Fat:
51
g
Saturated Fat:
8
g
Polyunsaturated Fat:
17
g
Monounsaturated Fat:
7
g
Trans Fat:
0.2
g
Cholesterol:
11
mg
Sodium:
1910
mg
Potassium:
189
mg
Fiber:
3
g
Sugar:
9
g
Vitamin A:
257
IU
Vitamin C:
9
mg
Calcium:
184
mg
Iron:
3
mg
Love this recipe?
Let me know on Instagram!