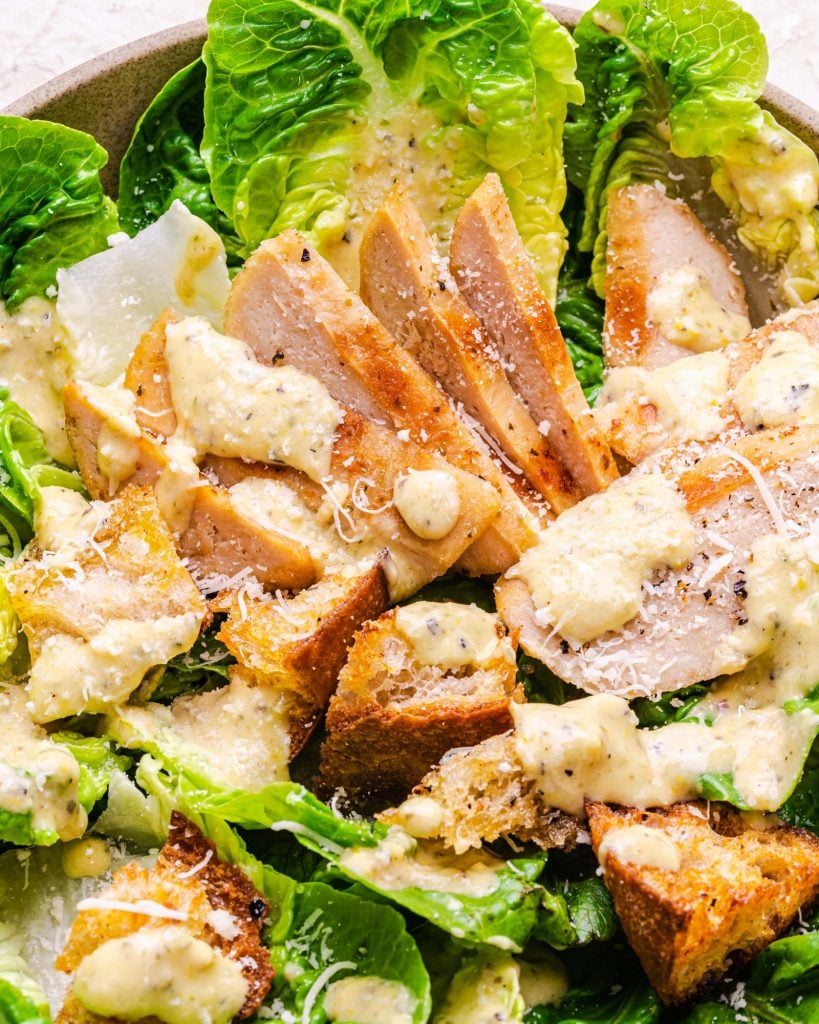 Vegan caesar salad with vegan chicken and a deliciously tangy, creamy dressing. The ideal lunch for sharing with friends!
---
This vegan caesar salad has been a LONG TIME coming and I'm happy to tell you it's also a vegan CHICKEN caesar salad! You people have been asking for this one for a long time, and well, here it is!! Are we shook by that glossy dressing? Yes, we are. Are we shooketh by the crispiness of those salt and pepper croutons? Good lord we are! And finally are we SHOOOketh about that garlic and caper grilled vegan chicken that's packed with flavour even BEFORE it gets dressed?? You know the answer. 
 I REALLY enjoyed making this with SNV kitchen assistant Lillie and we absolutely DEVOURED this for our lunch! The best way to eat a caesar salad, in our opinion, is to use a piece of lettuce as a wrap and stuff it with vegan chicken, croutons and a good blob of dressing then eat it like a taco. I'll let you eat your salad however you like, as long as you follow this INSANELY GOOD recipe!
Potential Substitutions
I'm hoping that most of the ingredients in this recipe are easy to find, but if they're not, here are my suggestions for potential subs and swaps!
The Vegan Chicken
There are a BUNCH of great vegan chicken products out there these days, ideal fro a vegan caesar salad – usually these come as strips. If using store-bought, my favourites are these wonderful chicken fillets from the Vegetarian Butcher which I also use in my vegan chicken katsu sandwich if you prefer the home-made route, I'd recommend using MY OWN VEGAN CHICKEN. (which also works great in my vegan fried chicken). Finally, if you want a quick and easy fix, I've also tried this recipe with firm tofu. Once glazed, it browns beautifully and gets lovely and crisp like a chicken sub would! Feel free to use whichever you like best, but this recipe glazes and bakes the chicken as fillets and then slices afterwards, so try to pick an option which comes in fillet form!
The Vegan Parmesan
I don't have a parmesan recipe available for you (YET!) but I can recommend my favourite store bought version. I LOVE this option from Violife if you are after nice large shavings, or this option from Follow Your Heart if you're a fan of Italian restaurant-style shaky parm. If you'd prefer not to buy a vegan cheese, a lovely sprinkle of nutritional yeast will still take your vegan caesar salad to the next level!
So, how do I make perfect vegan caesar salad!?
As always, the FULL RECIPE is at the bottom of the page – scroll on down if you're in a hurry. If you've got time or want some extra pro-level tips on getting the perfect vegan caesar salad, keep readin!
1. Start your vegan caesar salad dressing!
We're first going to use some of our caesar salad dressing ingredients to make a delicious glaze for our vegan chicken. We're just whisking together vegan mayo, garlic, chopped capers and nori flakes. This will give our vegan chicken so much more flavour!
2. Brush and bake the chicken
Make sure you do this on a lined baking tray! Depending on which vegan chicken you use, it may have a tendency to stick to the tray. I also like to bake the croutons at the same time, so make sure you leave room for them on the same baking tray.
3. Finish off your vegan caesar salad dressing!
To finish off the dressing we're going to add some extra ingredients (including lemon and dijon mustard) but we'll also drizzle in a little extra virgin olive oil. To make sure everything emulsifies, whisk the dressing constantly while adding the extra virgin olive oil.
4. Slice the vegan chicken up
I find a nice diagonal cut makes the chicken work best! It also allows it to absorb more of the vegan caesar salad dressing too! If you're baking the croutons at the same time, be sure to remove these before the chicken as they're likely to brown faster. 
5. Assemble the salad
I like to toss the lettuce with a little dressing before assembling the salad. Then I top the leaves with the sliced chicken, croutons and some vegan parmesan. It's also essential to then drizzle more dressing over the assembled salad to make sure everything is EXTRA tasty! And that's it! Your vegan caesar salad is ready to serve!
As always, it helps me MASSIVELY if you can rate and review this vegan caesar salad recipe below. This blog only exists because people like you actually use it and cook these recipes, so it would mean a massive amount to me if you could let others know that you rate this recipe or that you're just excited to make it!
Alternatively, take a picture and pop it on instagram! Be sure to tag me though – I can't wait to see how you use this recipe!
WANT MORE VEGAN LUNCHES!?
Why not try: