Publised on 23/10/2023 by Richard. Last Updated on 24/10/2023 by Richard.
My delicious tofu bolognese sauce is vegan and dairy free - ideal for spaghetti and pasta. Ready in 30 minutes, easy to make and minimally processed.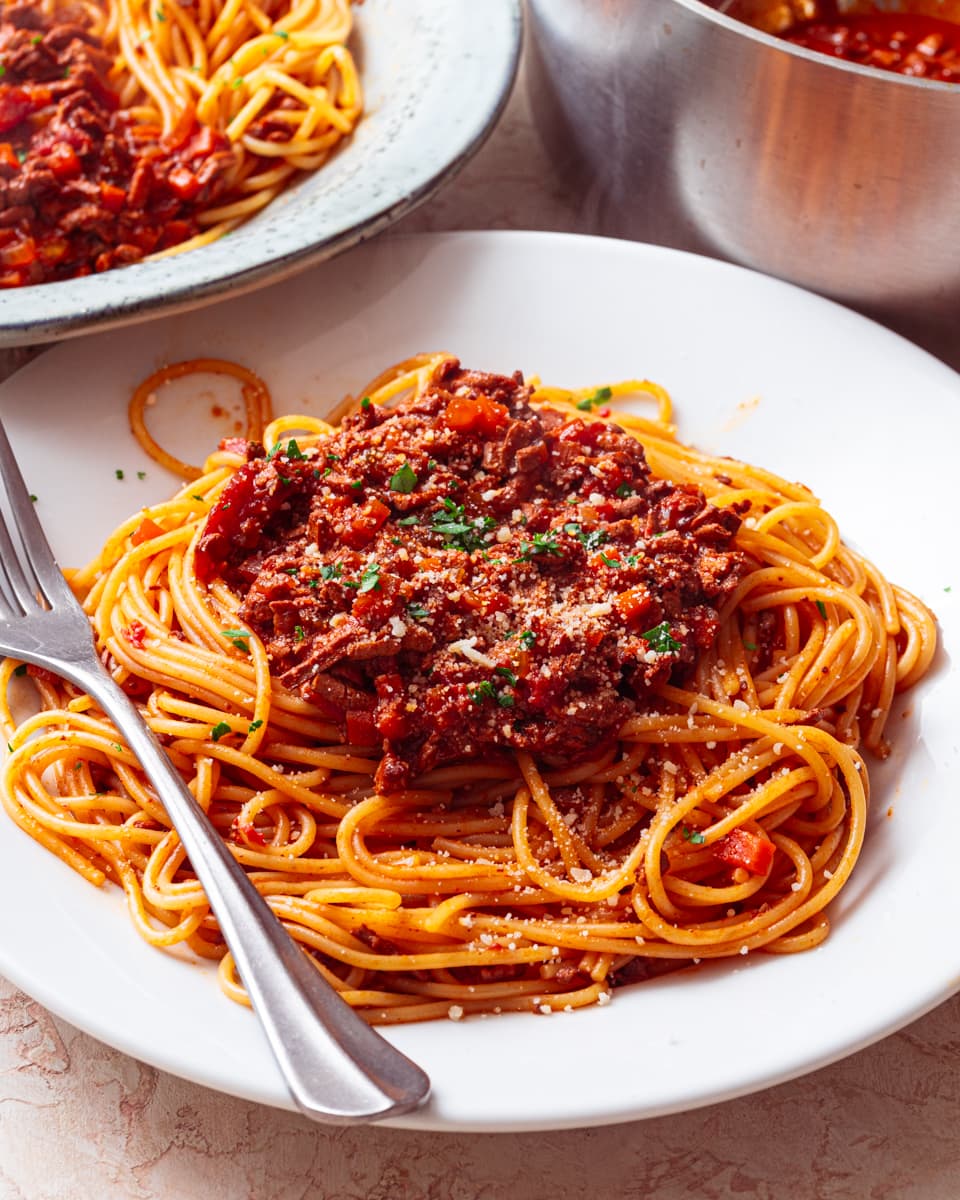 It's here, the easiest vegan pasta recipe I've ever made, my tofu bolognese! If you're looking for a simple, deliciously meaty sauce that doesn't require any store-bought meat alternatives, you've come to the right place. It's dairy free, meat free and easily adaptable to be gluten free.
I guess you could see this tofu bolognese as a companion to my classic vegan bolognese recipe. Both are delightful but this one uses fewer processed products and more whole food ingredients without sacrificing on protein content.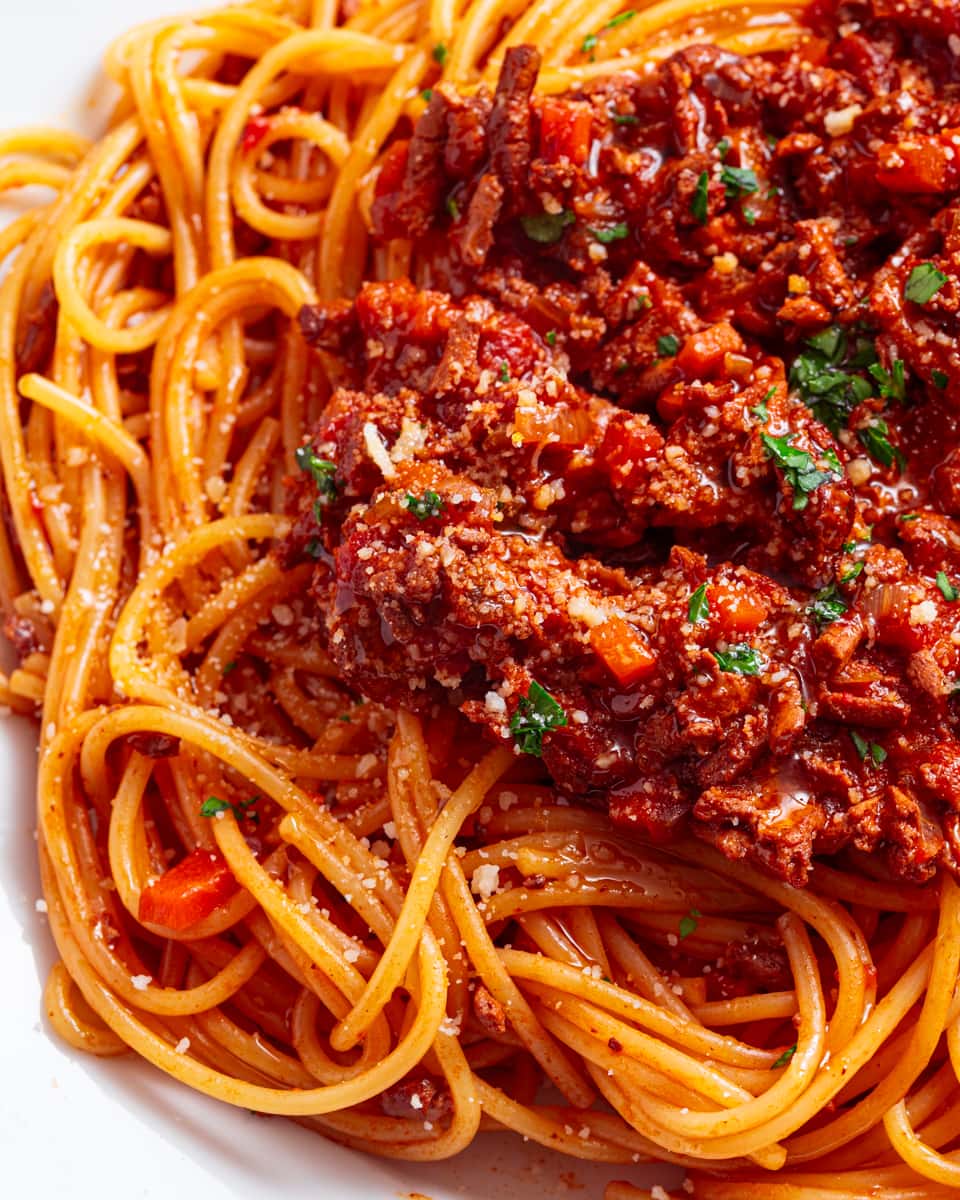 Jump to:
🧈 Tofu Bolognese Ingredients
The other benefit of using fewer processed products in this recipe is that all of the ingredients are easy to find and super familiar! As always, I've included the full recipe card embedded at the bottom of the page. Below I'm gonna break down the main ingredients for my tofu bolognese for you!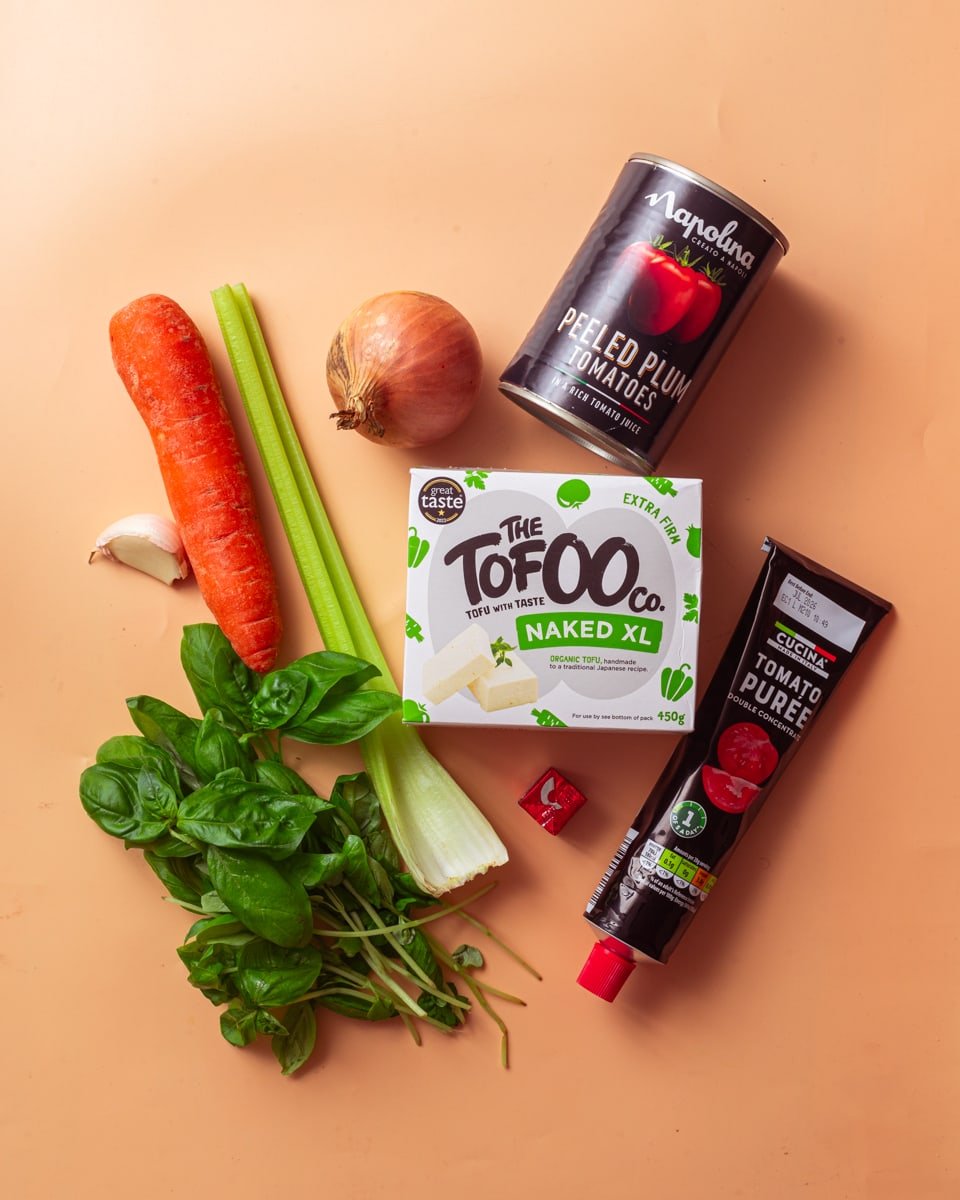 Extra firm tofu - I use Tofoo brand, but any extra firm tofu will do!
Dark soy sauce - If you're making this recipe gluten free, sub this for tamari.
Olive oil - classic and delicious
Onion, carrot, celery & garlic
Tomato puree - aka tomato paste
Can of chopped tomatoes
Red wine - optional, but make sure it's vegan if you use!
Vegan stock cube - or vegan bouillon powder
Bay leaf
Flaky sea salt, ground black pepper and sugar
Pasta - I used spaghetti but any pasta will do!
Soy milk - yep! See below for why!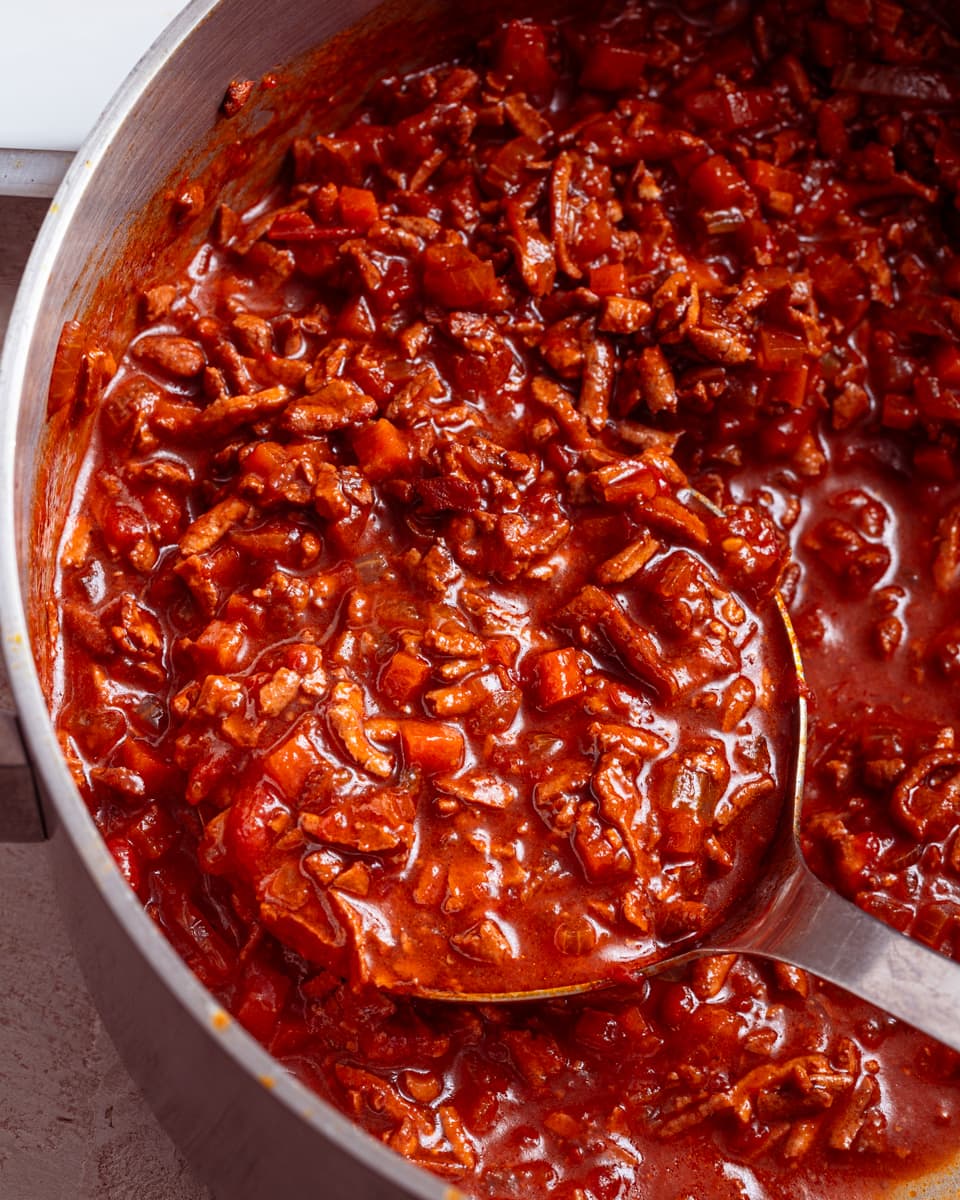 🥣 Tofu Bolognese Method
It's super easy to make my tofu bolognese but here's a little visual breakdown of the four main steps! You know how you learn stuff much easier if someone shows you how to do it, rather than just telling you? Well this is me SHOWING you, because I'm your lovely big brother who doesn't call you mean names.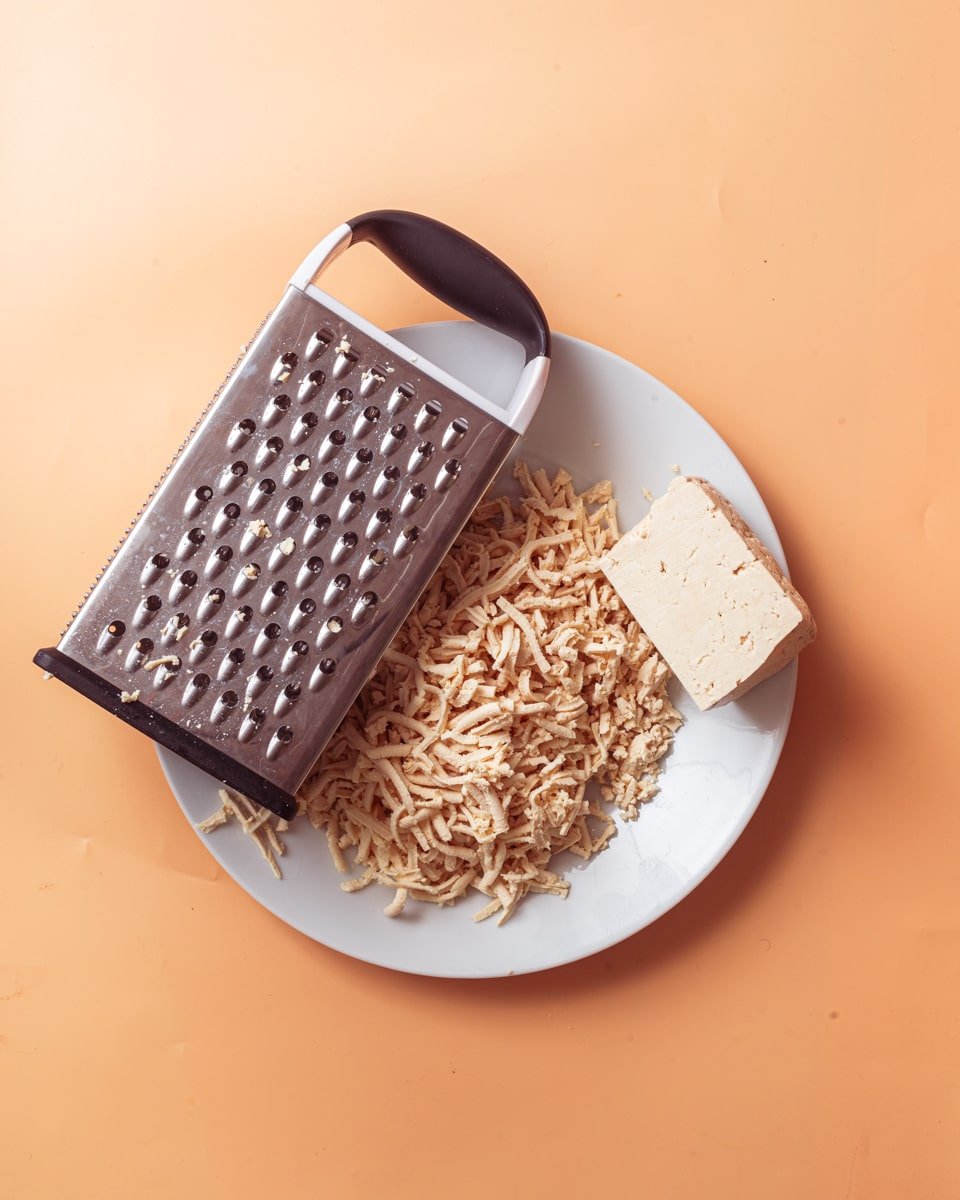 1. Grate your tofu! This is why you need extra firm tofu for this recipe. Extra firm tofu holds its shape much better, especially after shredding. Even firm tofu cant handle this! It's for the tough stuff only!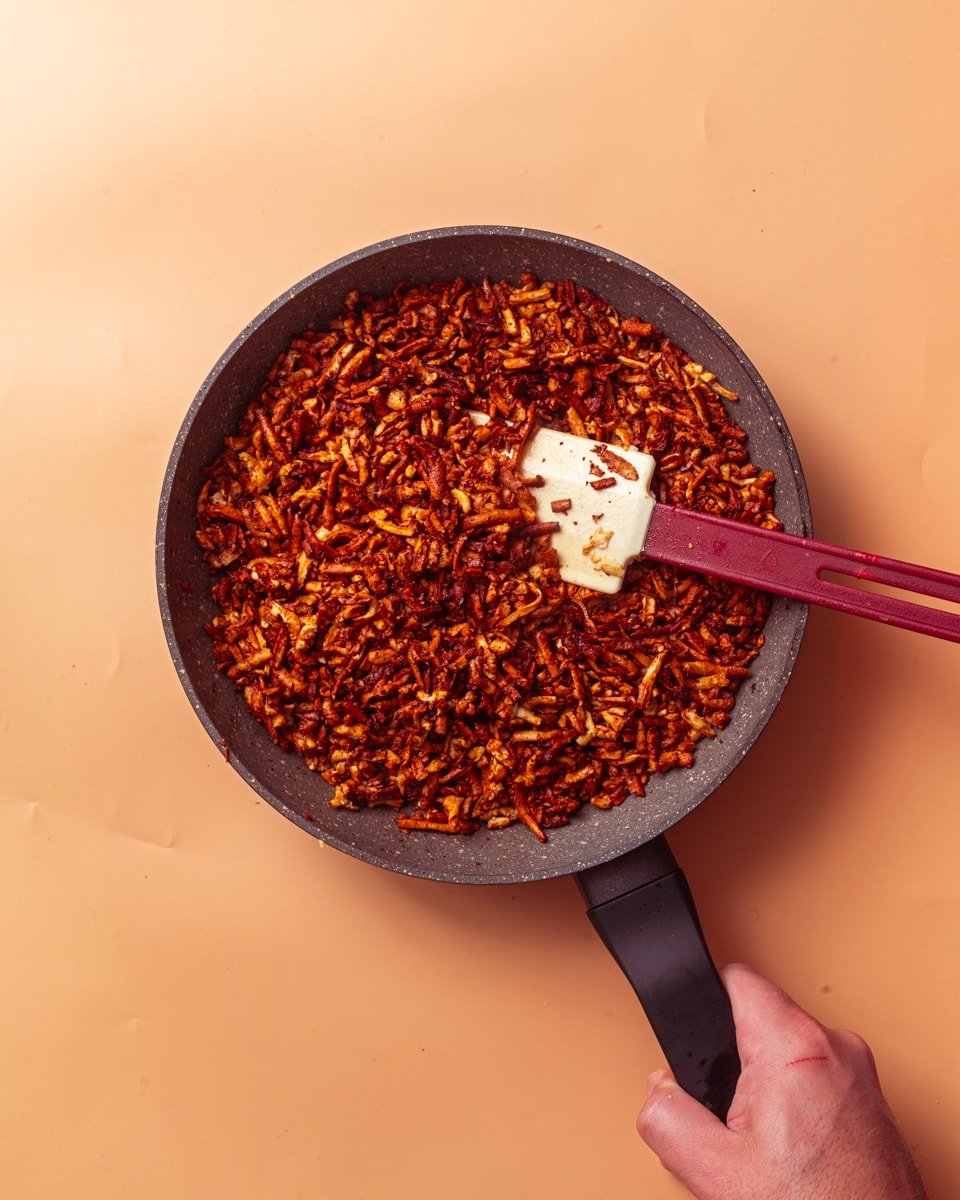 2. Fry off the tofu! This is going to dehydrate it slightly which is cool because it's going to absorb loads of flavour! Once fried, drizzle with some dark soy sauce or tamari, for that super meaty flavour!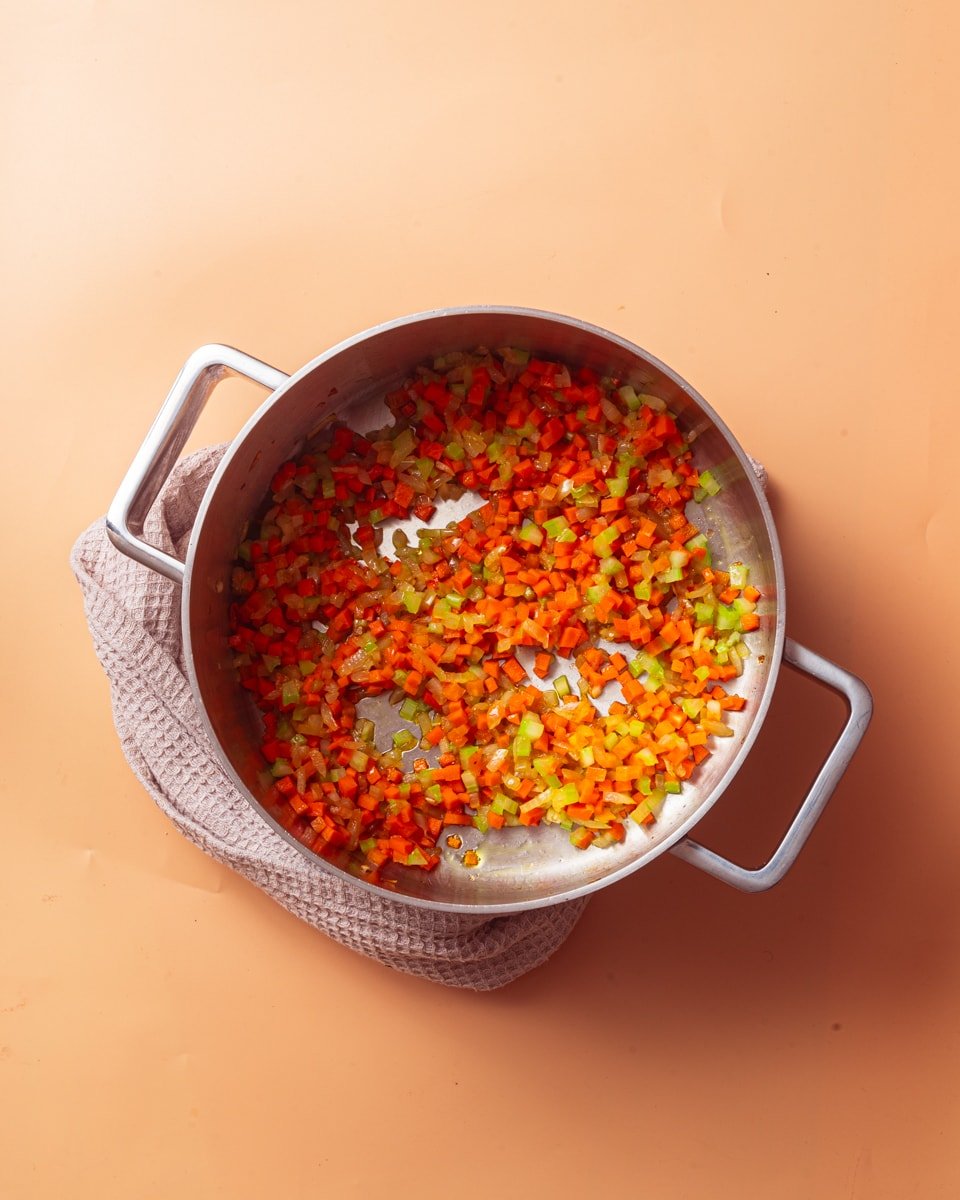 3. Start the tofu bolognese! We begin with a mire poix, which is basically just onion, garlic, carrots and celery. They need to be fried off nicely until delicious and buttery. Then we add our remaining sauce ingredients and let is simmer.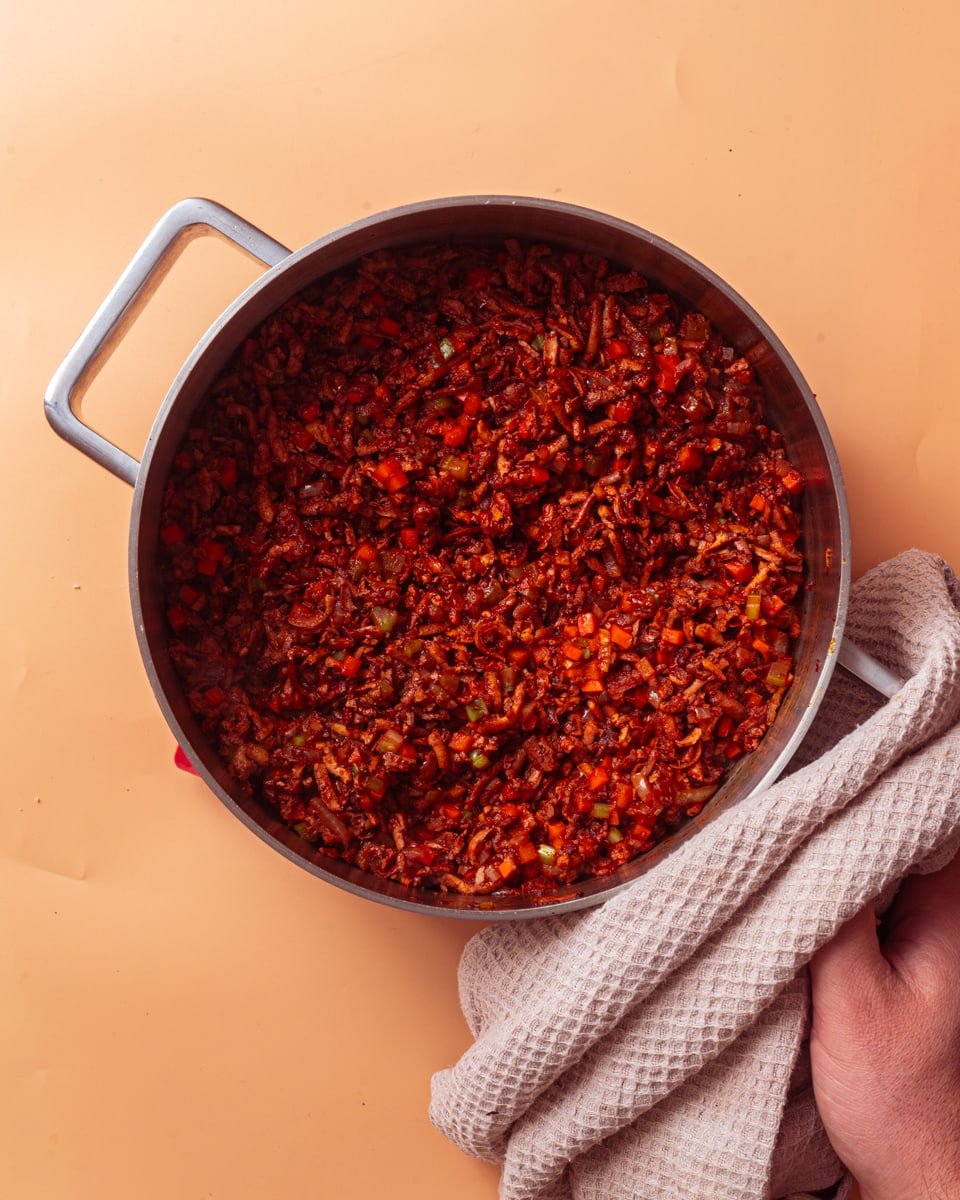 4. Once the bolognese is simmered and thickened, the last thing we need to do is add the soy milk. This is actually a traditional method done with dairy milk that helps to give the sauce a beautiful glossy texture. Don't skip this bit. Trust me!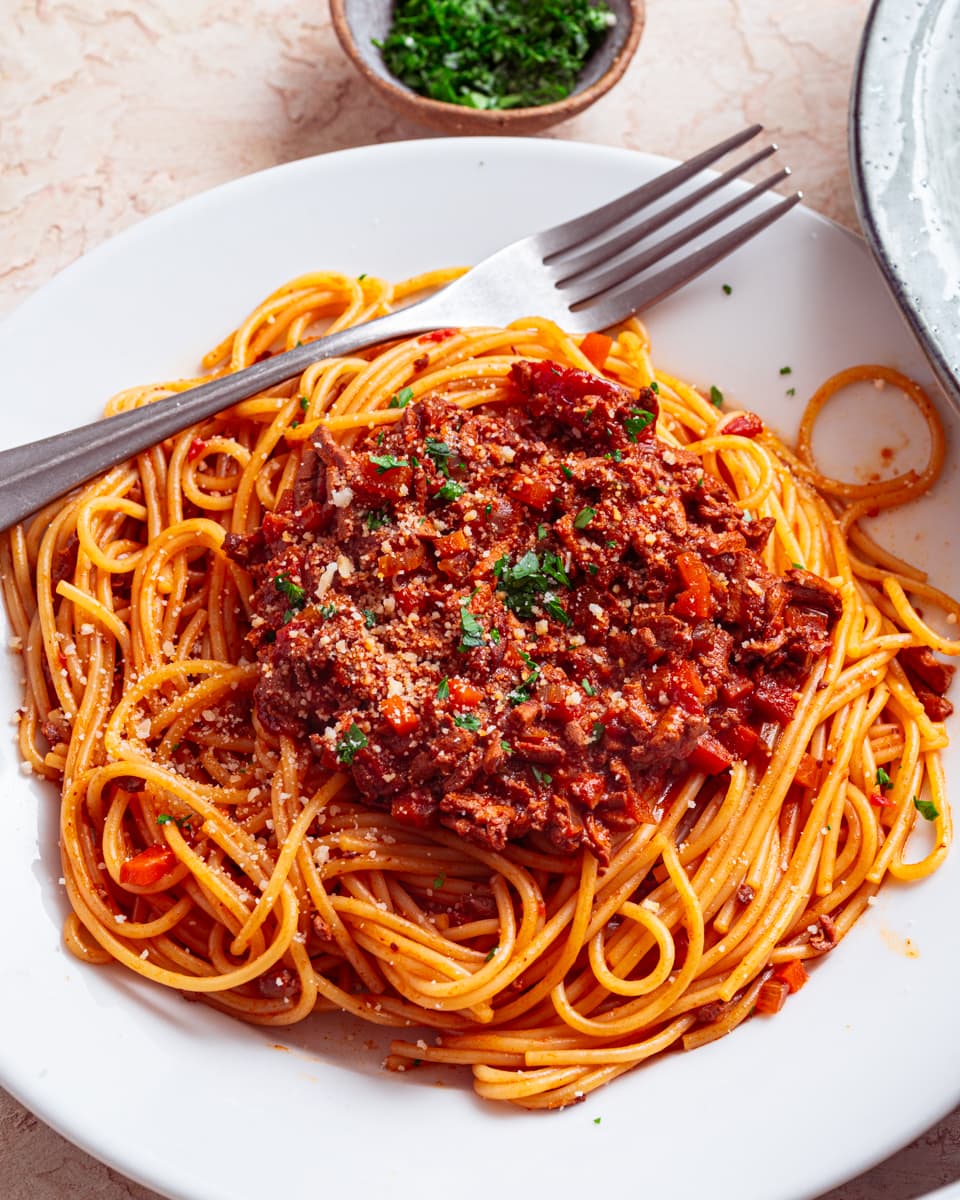 🥛 A Note on the Soy Milk
I understand you might be tempted to scream at your phone or computer "WHY is there milk in my tofu bolognese!?", but hear me out! This is actually more traditional than you think! Many Italian bolognese recipes use regular milk to produce a delicious glossy bolognese sauce.
Be sure to add the soy milk little by little, stirring the sauce after each addition. Trust me, this is a breakthrough!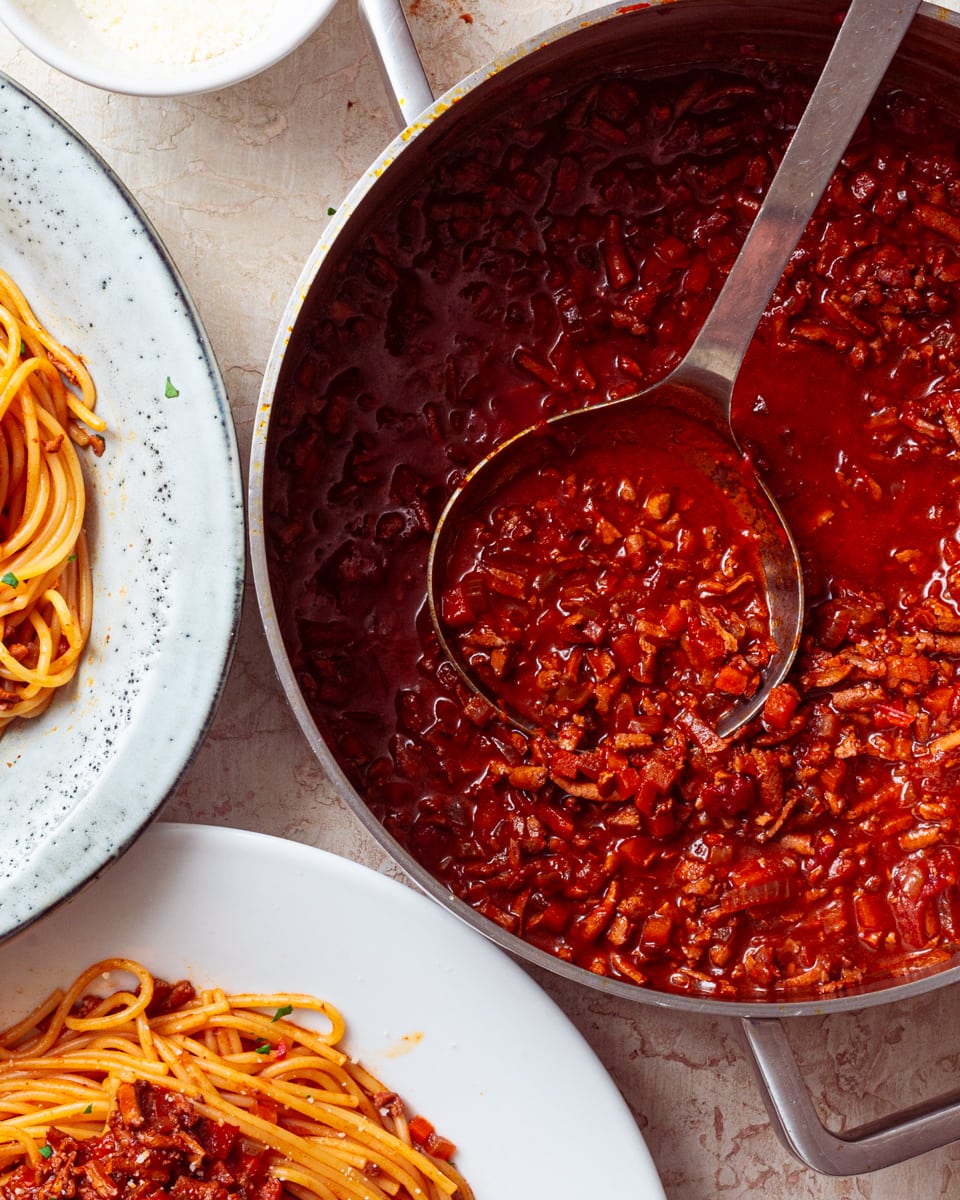 🔪 Required Equipment
Here's everything you'll need to make a gorgeous batch of vegan bolognese sauce.
1 non-stick frying pan
1 large saucepan
1 medium saucepan
1 box grater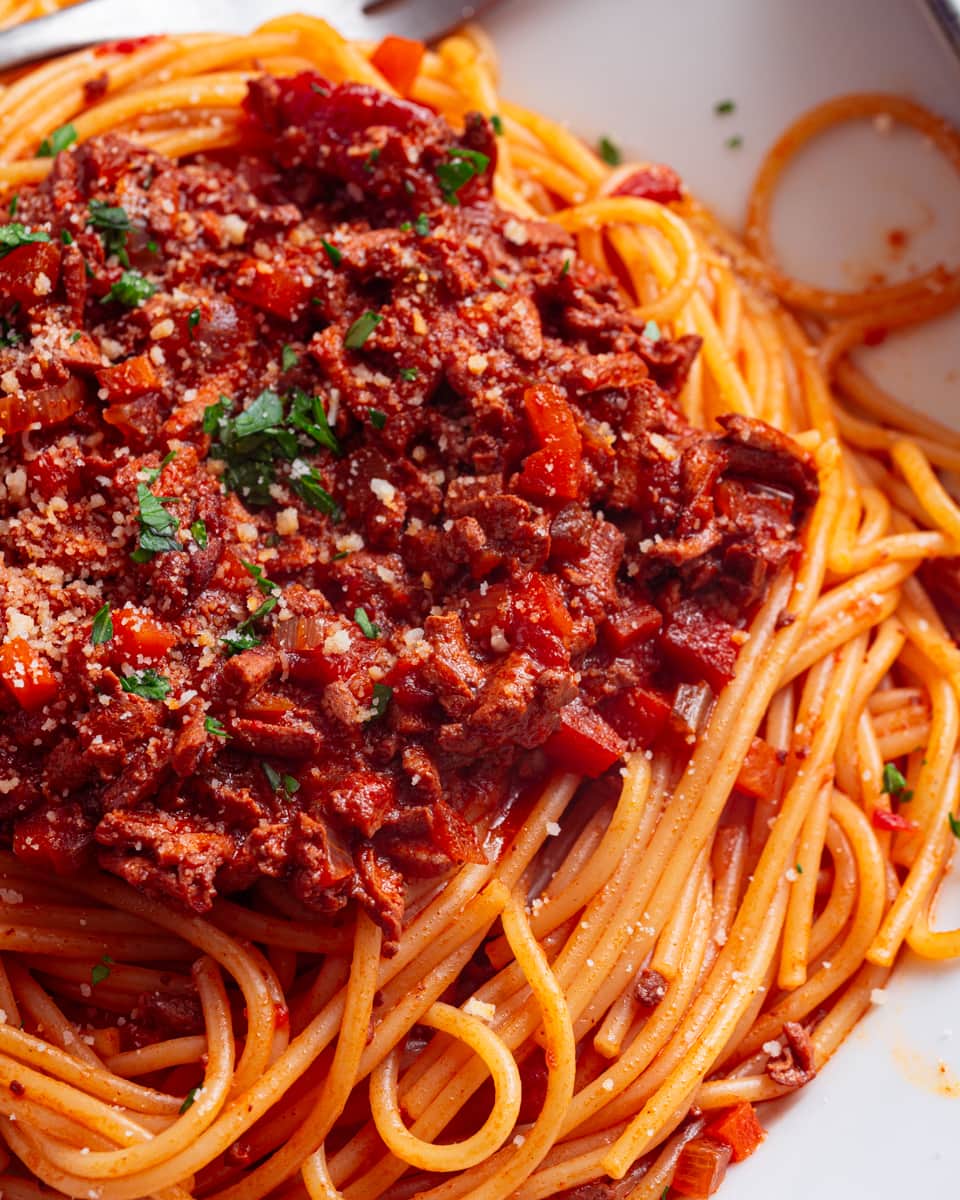 🤷‍♀️ Tofu Bolognese FAQs
Q: Where does bolognese come from?
A: Bolognese sauce is an Italian ragu sauce which originates from the Bologna region.
Q: What can I put in bolognese instead of meat?
A: Many vegan bolognese recipes use vegan meat alternatives, white others use veggies like mushrooms and lentils. This recipe uses tofu for a high protein alternative!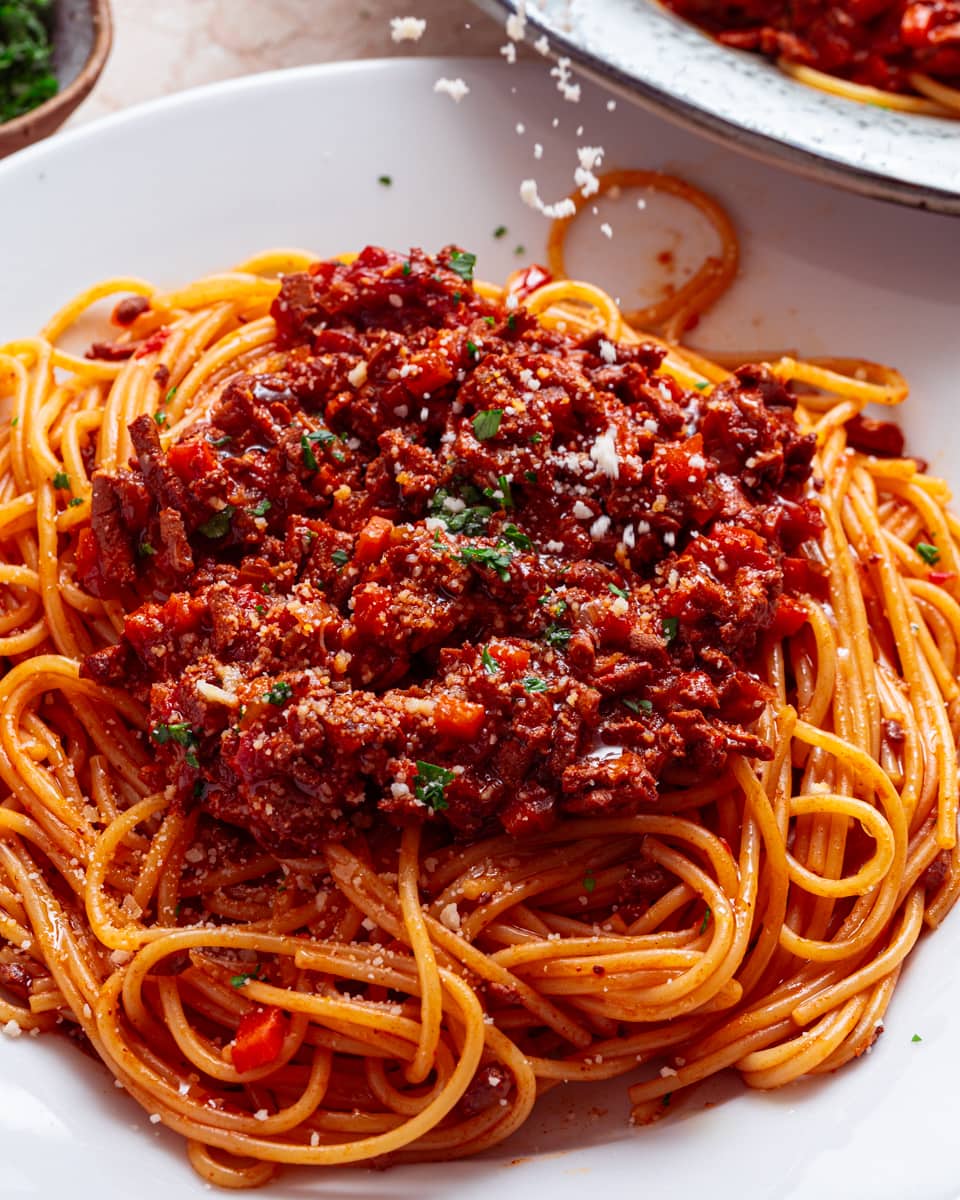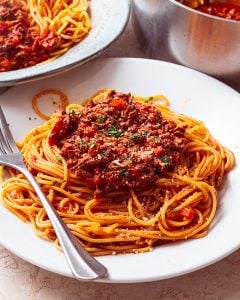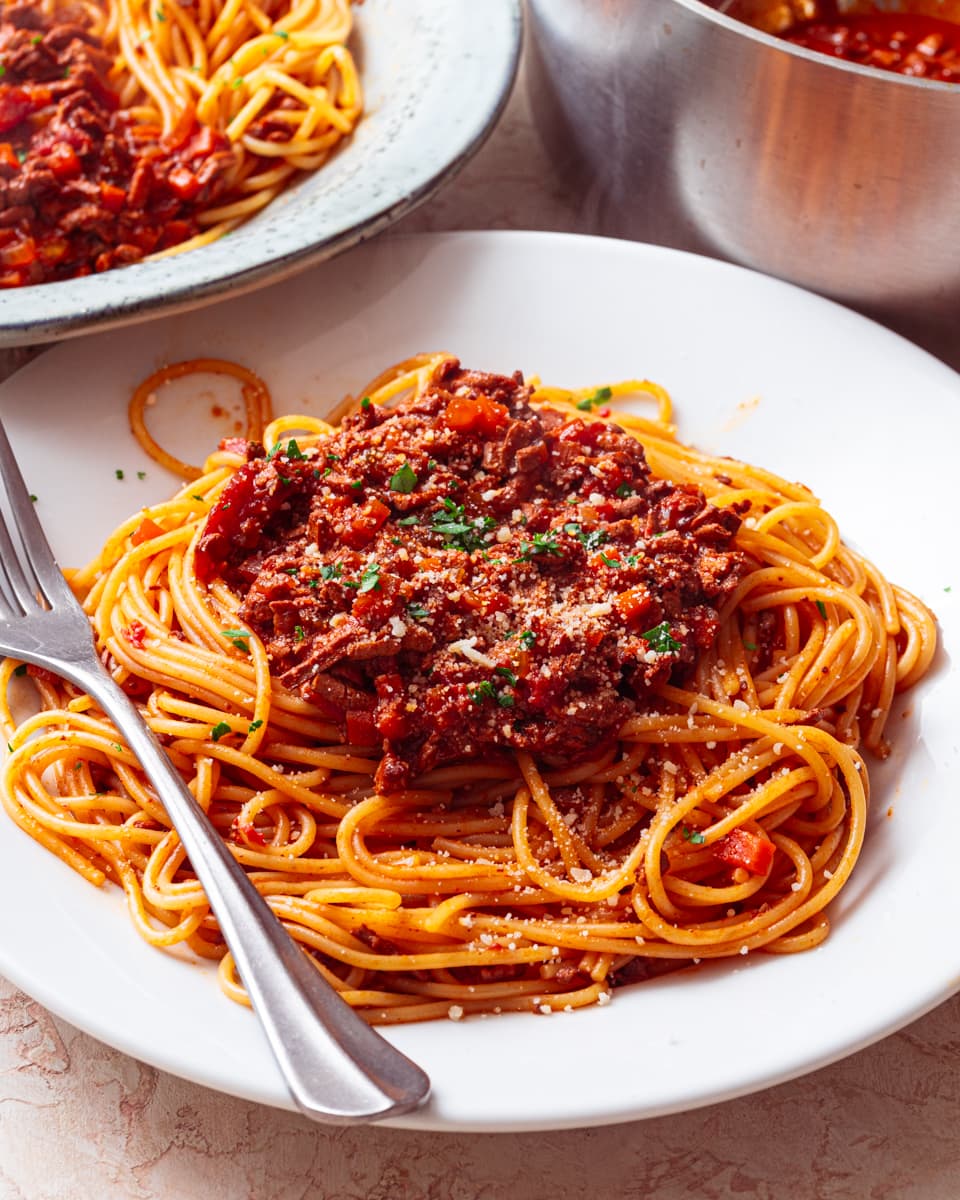 Tofu Bolognese
My delicious tofu bolognese sauce thats vegan, dairy free and gluten free - ideal for spaghetti and pasta. Ready in 30 minutes, easy to make and minimally processed.
Ingredients
250

g

extra firm tofu

1.5

tablespoon

dark soy sauce

(or sub for tamari if gluten free)

3

tablespoon

olive oil

(or sub for rapeseed, vegetable oil or any neutral oil)

1

onion

(peeled and finely diced)

1

carrot

(peeled and finely diced)

1

stick celery

(finely diced)

1

clove

garlic

(finely minced or crushed)

2

tablespoon

tomato puree

(aka tomato paste)

400

g

can of chopped tomatoes

130

ml

vegan red wine

(optional)

1

vegan stock cube

(or 1 tablespoon vegan bouillon powder)

1

bay leaf

2

teaspoon

flaky sea salt

½

teaspoon

ground black pepper

1

teaspoon

sugar

440

g

pasta

(I used spaghetti)

100

ml

soy milk

(unsweetened and unflavoured)

Fresh basil

(for serving)

Vegan Parmesan

(for serving)
Instructions
Drain the extra firm tofu and pat dry with kitchen towel. Use the coarse holes on. Box grater to shred the tofu into a medium bowl.

In a large non-stick frying pan, add one tablespoon of the olive oil and place over medium heat. Add the tofu and fry for 5 minutes, stirring often, until lightly browned. Turn off the heat. Add the dark soy sauce and stir through the tofu. Set aside.

1.5 tablespoon dark soy sauce,

3 tablespoon olive oil

Place a large saucepan over medium heat and add the remaining olive oil. Once hot, add the onion and fry for two minutes or until soft, do not let the onion brown. Add the carrot, celery and garlic then fry for a further two minutes.

3 tablespoon olive oil,

1 onion,

1 carrot,

1 stick celery,

1 clove garlic

Add the shredded tofu and stir in the tomato puree and red wine. Allow to simmer for 2 minutes then add the can of chopped tomatoes.

2 tablespoon tomato puree,

130 ml vegan red wine,

400 g can of chopped tomatoes

Fill the empty can of chopped tomatoes up with just boiled water and add to the frying pan. Stir in the stock cube, bay leaf, sea salt, black pepper and sugar. Bring the sauce to a simmer then reduce the heat, cover with a lid and leave to cook for 20 minutes, stirring occasionally.

1 vegan stock cube,

1 bay leaf,

2 teaspoon flaky sea salt,

½ teaspoon ground black pepper,

1 teaspoon sugar

While the sauce cooks, place a large saucepan of salted water over medium heat and bring to the boil. When the sauce is 10 minutes from being ready, cook your pasta according to the packet instructions.

Drain the pasta. Check the sauce, it should be reduced and very thick. Add the soy milk to the sauce little by little, stirring for around a minute after each addition until it's completely absorbed into the sauce.

Return the cooked pasta to its saucepan and dress with a little sauce. Divide the pasta between 4 plates and top with the remaining sauce. Serve with extra black pepper, a sprinkle of fresh basil and your favourite vegan parmesan.

Fresh basil,

Vegan Parmesan
Nutrition
Calories:
239
kcal
Carbohydrates:
19
g
Protein:
8
g
Fat:
13
g
Saturated Fat:
2
g
Polyunsaturated Fat:
2
g
Monounsaturated Fat:
8
g
Sodium:
2065
mg
Potassium:
821
mg
Fiber:
4
g
Sugar:
11
g
Vitamin A:
3288
IU
Vitamin C:
23
mg
Calcium:
120
mg
Iron:
3
mg
Love this recipe?
Let me know on Instagram!