Publised on 01/06/2021 by Richard. Last Updated on 13/11/2022 by Richard.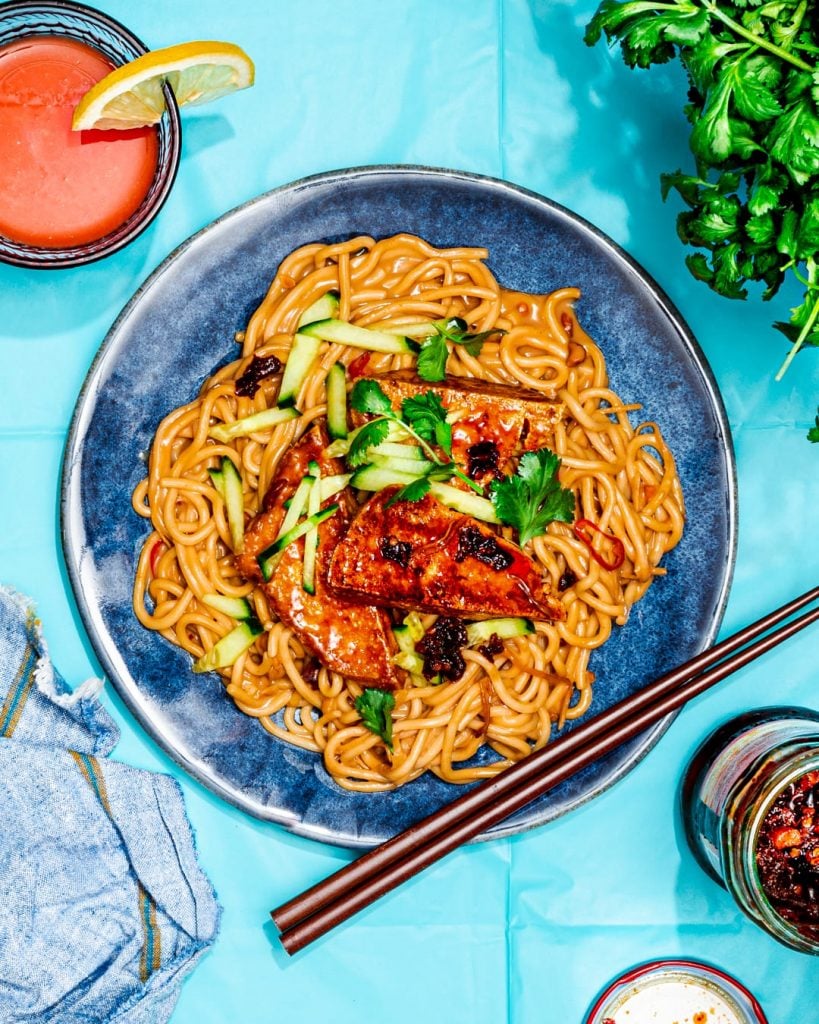 Smooth, creamy, spicy peanut noodles with crispy tofu and fresh cucumber. It's a summer slurper for sure! Go on! Make a mess of that nice t-shirt!
---
Ding dong, it's me, Summertime - just here to remind you that it's peak noodle season and you STILL haven't made these 100% vegan spicy peanut noodles with crispy tofu! That's right! It's toasty warm outside and the sun is cracking the flags, meanwhile these noodles are packed full of flava and more slippery than a politician in an interview!
"ooooooOOOoooh we LIKED HIM before he got POLITICAL!!!!"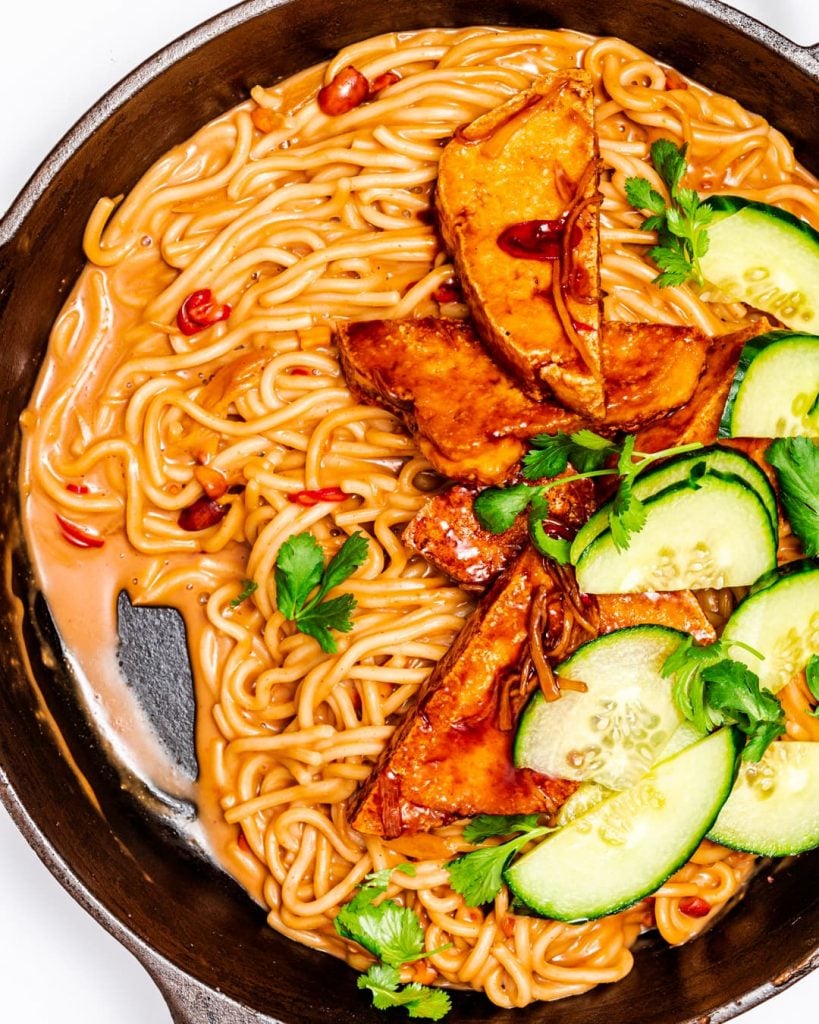 Talk To Me About Them Noods!
OK first of all, before I start talking, open your eyeballs as wide as you can then put the above picture as close to your face as you dare. Now tell me you don't want to shove that skillet in the back of a convertible muscle car and drive off into thew sunset together. IT'S THE OUTLAW LOVE STORY OF OUR GENERATION! BONNIE AND CLYDE! SID AND NANCY! ROMY AND MICHELE!
Here's why you're going to love these noods:
They're a slurp-fest! - Legend has it that the slurps produced by these vegan spicy peanut noodles can be heard from space and that the average consumer gets slapped in the face by a noodle seventeen times per bowl of spicy peanut noodles. HEAVEN!
They're speedy! - It took me 35 minutes to whip up the huge bowl of heaven. You can't even bath a small dog in 35 minutes (trust me, I'm an expert).
They're an all-season pleaser! - Ideal for summertime because they work so well with fresh cucumber and coriander with a squeeze of lime, but they're also the MOST WARMING meal for a cold night in with Mr. Netflix.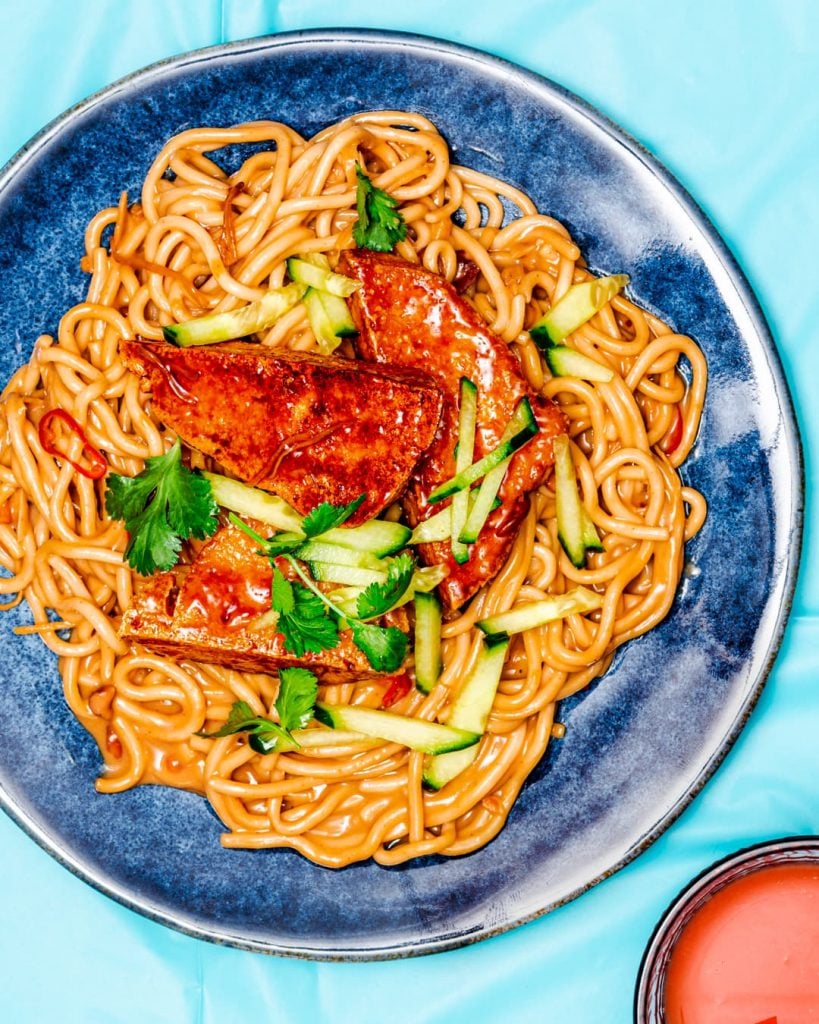 How Do I Make Spicy Peanut Noodles!?
As always, the full recipe is at the bottom of this page (if you're a scroller, so long, farewell, don't let the door hit you in the noodle on the way out!) but here's a little illustrated step-by step for this recipe!
1. Fry the Tofu
Let's kick off these spicy peanut noodles with some crispy tofu, or as I like to call it "Crofu". The key to gorgeous crofu with lightly browned edges and a gorgeous soft interior is to DRAIN YOUR TOFU! I don't just mean pour away the soaking water and pray to Lauren Toyota (Patron Saint of Tofu) that it won't stick to the pan. You've gotta wrap that sucker in kitchen roll and squeeze or press out all the excess water. 
If your tofu is nice and dry going into the hot oil, it'll brown quicker and is far less likely to stick. Simples!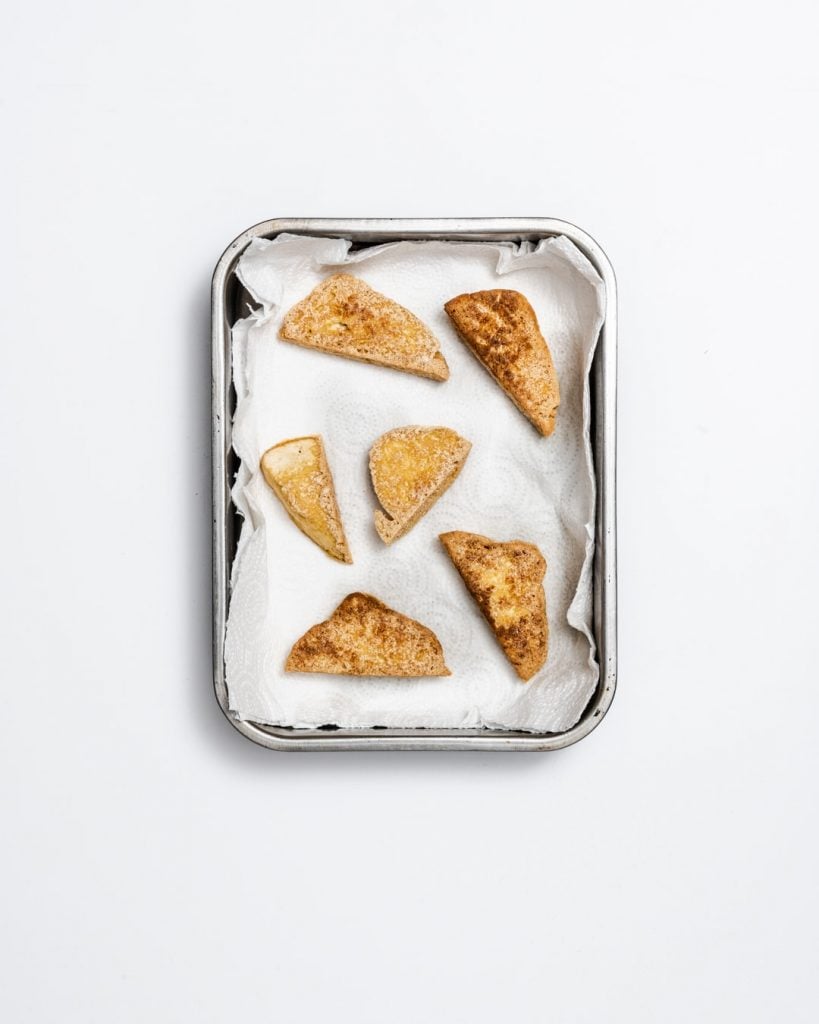 2. Start the Sauce
We're gonna make a simple soy, ginger and garlic sauce which we'll use to glaze the tofu. Once the tofu is glazed, it comes out of the pan and gets set aside. What's left in the pan becomes our noodle sauce! Smart huh?? Two sauces for the price of one!!
The recipe calls for Chinese black vinegar or chinkiang vinegar. If you don't have this at home, it's really worth getting some! Not only is it key to the tangy flavour of this sauce but it's also useful for just about EVERY stir fry sauce you'll ever make. At a push you can use balsamic vinegar instead, but it's just not the same.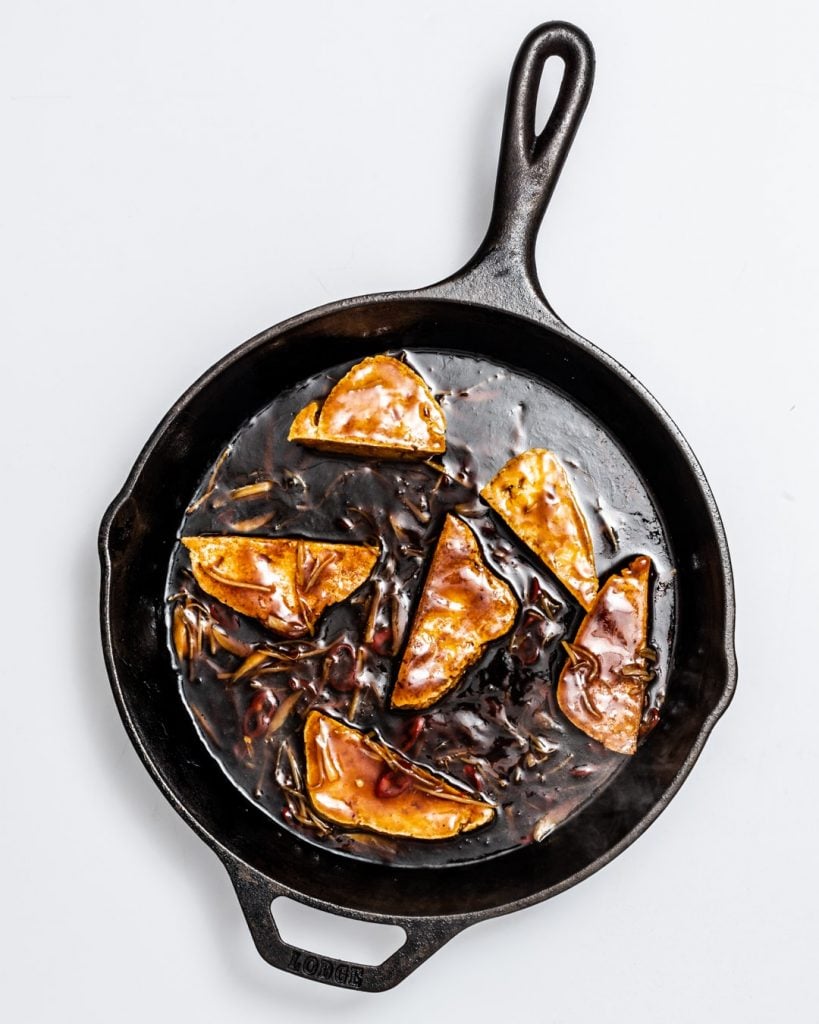 3. Peanut it Up!
Here come the peanuts!! I like to use a really chunky, dark roast peanut butter from Pip and Nut for this recipe. If you can't get hold of this, just make sure you're using a decent peanut butter (not one that's padded out with palm oil and sugar). Add it to the sauce and stir well to combine. 
Like with pasta, it's always good to reserve your noodle water. I find this sauce thickens super quickly and you'll want to thin it out with some hot water. Your noodle water also contains a bunch of starch from the noodles which will help to keep the sauce glossy and slick (like me).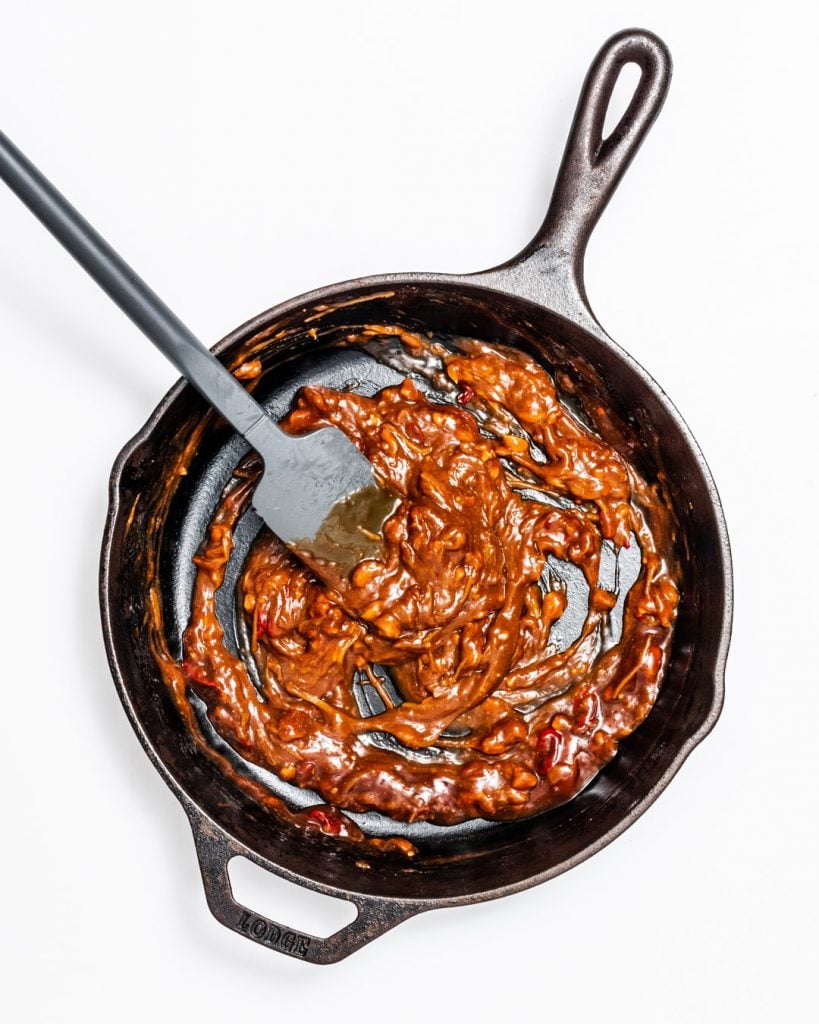 4. Add Your Noods!
This is where you chuck in some cooked noods to finish off your spicy peanut noodles! I like to use a thin variety of udon also known as "Chinese Stir Fry Noodles" but you can literally use any wheat noodle for this recipe! Soba noodles will add a gorgeous wholemeal flavour to the dish, but if you're running low, spaghetti will also do the trick!
Also be careful when stirring your sauce together, you don't want to break any noods!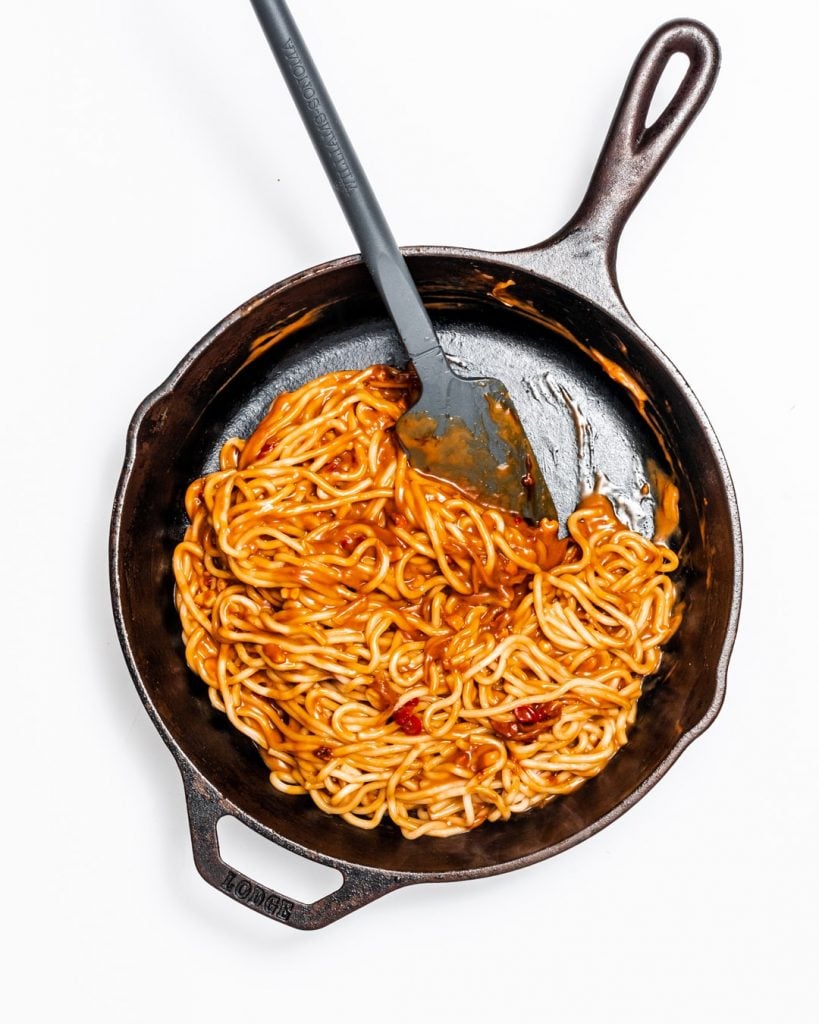 5. Serve it Up
And that's it! You just need to top your noodles with your glazed, sticky, crispy tofu and some fresh cucumber and coriander! If you're not a coriander fan sub for finely sliced spring onions.
And that's it! Lunch/dinner is served! If you read this far, do me a favour and head to my instagram and comment "Lucy Lawless" on the latest post! I'll take off my shoes and do a little dance if I get more than 10 Lucy Lawlesses. (also, who doesn't stan Lucy Lawless??).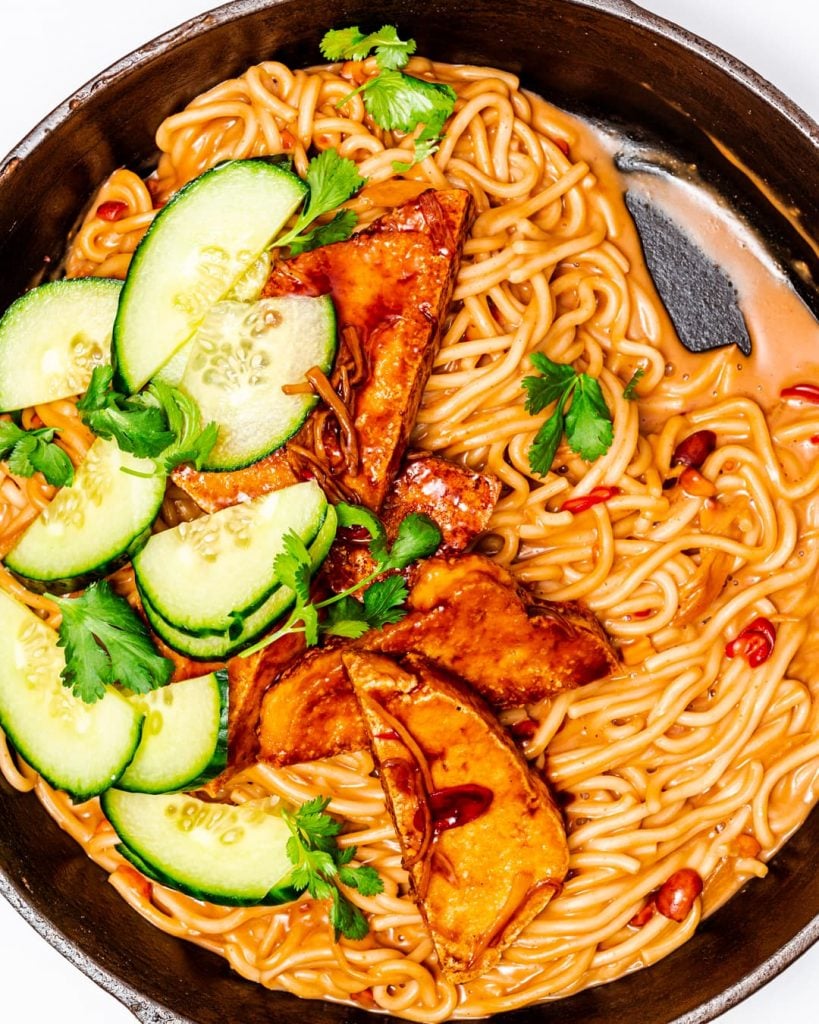 Need some more noodle recipes?!
You got it sis!! Why not give these bad boys a try!?
Chickpea Noodle Soup; One Pot Recipe!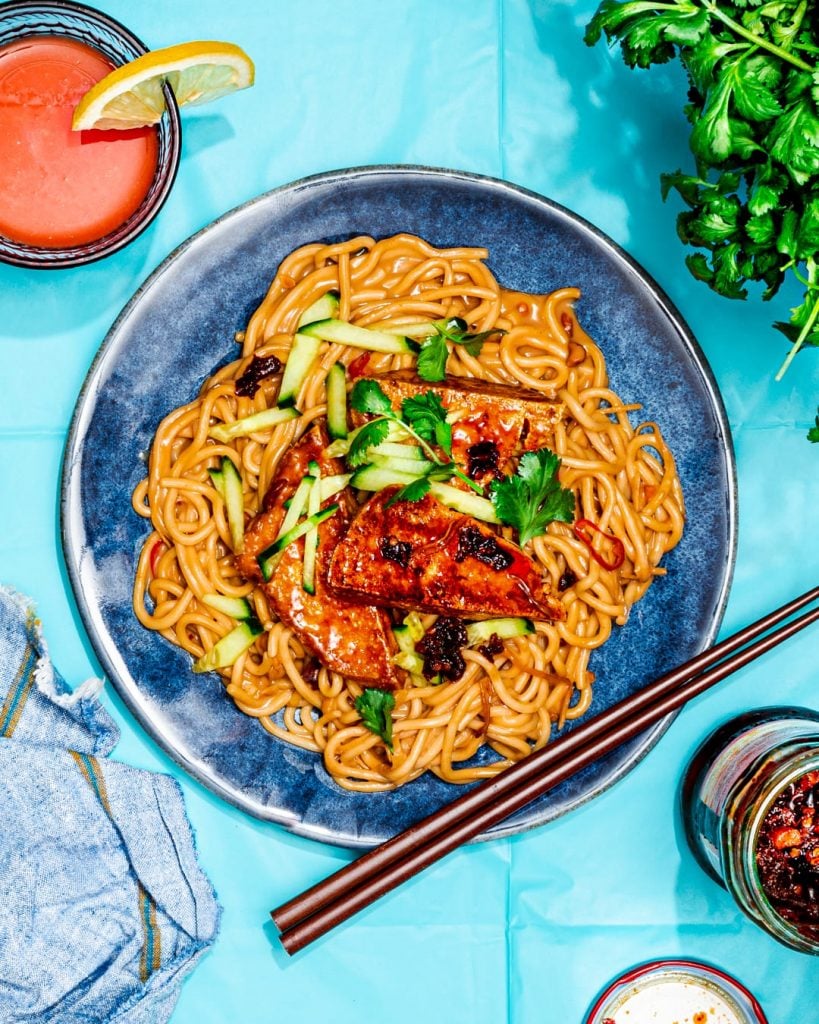 Spicy Peanut Noodles with Crispy Tofu
Smooth, creamy, spicy peanut noodles with crispy tofu and fresh cucumber. it's a summer slurper for sure! Go on! Make a mess of that nice t-shirt!
Equipment
Medium Frying Pan

Medium Saucepan
Ingredients
2

tablespoon

vegetable oil

220

g

extra firm tofu

(drained and sliced into 1cm thick triangles)

1

inch

piece of ginger

2

cloves

of garlic

(peeled and minced or finely sliced)

60

ml

soy sauce

60

ml

water

2

tbsp

dark brown sugar

2

tablespoon

Chinese black vinegar

(aka chinkiang vinegar)

1

red chilli

(finely sliced)

2

teaspoon

cornstarch

3

tablespoon

chunky peanut butter

(use a good quality peanut butter)

400

g

udon noodles

(or 200g any dried wheat noodles)

¼

cucumber

(finely sliced)

small bunch of coriander
Instructions
Place a medium frying pan over medium heat and add the vegetable oil. Bring to temperature. Add the tofu and fry for approx 5 minutes before flipping and frying the other side. Remove from the pan and set aside when lightly golden and crispy.

Peel the ginger with a teaspoon and slice into fine matchsticks. Add to the frying pan along with the garlic and fry for a minute or until just starting to caramelise. Meanwhile, in a small bowl, whisk together the soy sauce, water, dark brown sugar, Chinese black vinegar, red chilli and cornstarch.

When the garlic and ginger are lightly browned, add the combined sauce ingredients to the pan and bring to a simmer (the sauce will thicken quickly). Add the tofu back to the pan with the sauce and stir until coated. Remove the now glazed tofu from the pan and set aside. Leave the rest of the sauce in the pan but lower the heat to the lowest possible setting.

Bring a medium saucepan of water to the boil and cook the noodles according to the instructions on the packet. Add the peanut butter to the sauce in the frying pan and whisk together until very smooth.

Drain the noodles (reserving the noodle water) and add them to the frying pan with the sauce. Stir gently to coat the noodles, using the reserved noodle water to loosen everything up if it's too thick.

Serve the noodles while hot, topped with the crispy glazed tofu, the cucumber and coriander.
Nutrition
Calories:
966
kcal
Carbohydrates:
156
g
Protein:
42
g
Fat:
22
g
Saturated Fat:
12
g
Sodium:
4154
mg
Potassium:
399
mg
Fiber:
12
g
Sugar:
33
g
Vitamin A:
241
IU
Vitamin C:
35
mg
Calcium:
66
mg
Iron:
3
mg
Love this recipe?
Let me know on Instagram!