Publised on 09/12/2019 by Richard. Last Updated on 13/11/2022 by Richard.
Vegan "Nutella" cookies, packed with chocolate chips and stuffed with Vego - an insanely good vegan chocolate hazelnut spread!
---
When I say vegan Nutella cookies, what I really mean is vegan VEGO cookies. Obviously, Nutella is on the milky list, but Vego is my go-to alternative and - in all honesty, I think it's even better. 
Like a nut butter, you can choose from smooth OR crunchy vego, which is just one reason why it's better than Nutella. For this recipe I used the crunchy option, but you do you!! Obviously, if you can't find Vego in your country but you do have access to a different kind of vegan Nutella, then go for it!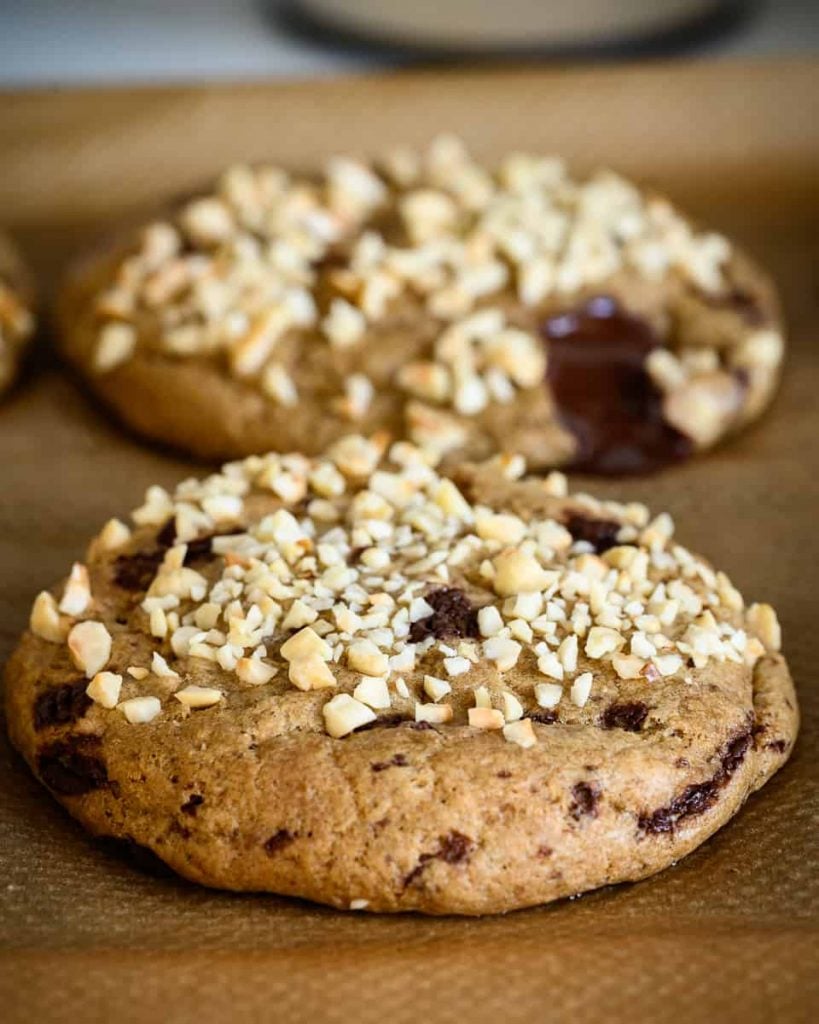 What's a vegan nutella cookie?
It's nothing short of a miracle, that's what!! These vegan nutella cookies are essentially a super chunky, super chewy chocolate chip cookie which is packed full of Vego - my fave Nutella alternative!
Because of how the recipe works, the Vego stays molten inside the cookie so when you break it open, there's a whole RESERVOIR of chocolatey hazelnutty goodness under there!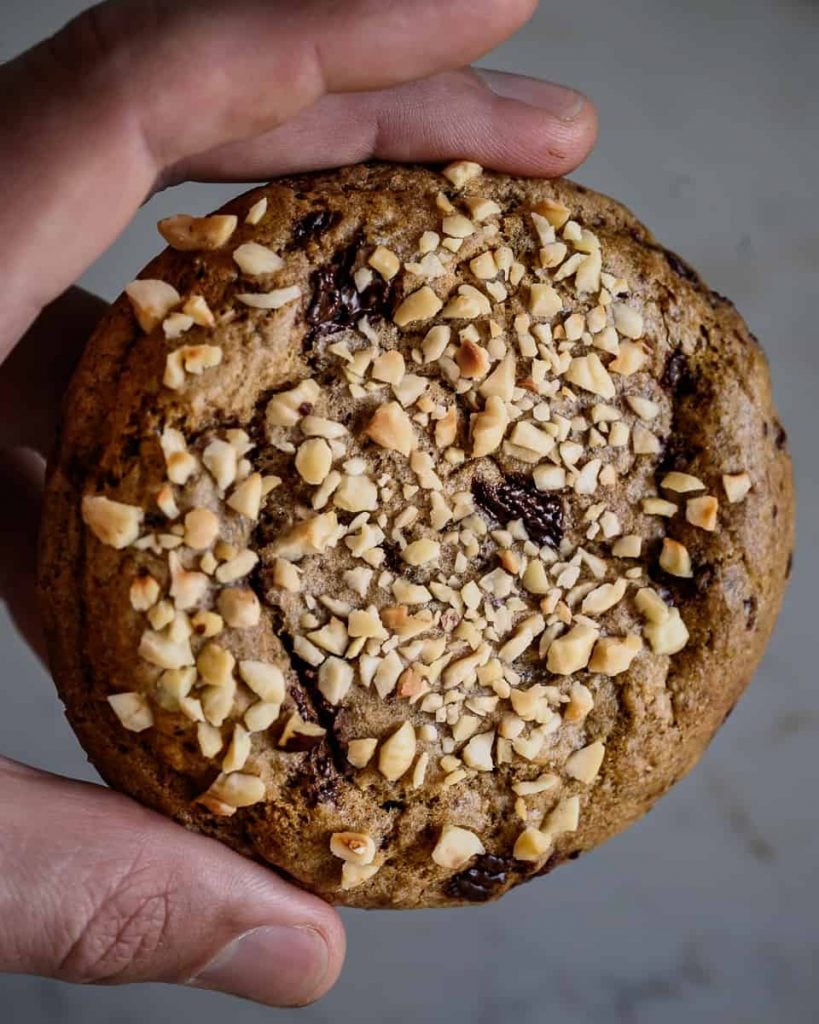 What do I need to make these bad boys??
This isn't a tricky recipe by any stretch of the imagination, but if you want things to go perfectly, you'll need a couple of bits and bobs!
Cookie scoops make life SO much easier. Trust me, this is a right faff to do with two dessert spoons. We're going to be packing frozen Vego into these cookies, so things can get a tad fiddly. It's also important to use this size cookie scoop because my bake-time is adjusted to match.
---
Silpat Mold
This recipe uses a silpat mold to freeze the Vego into the perfect shape to fit in the centre of the cookie dough. This isn't an essential purchase, but I love this piece of kit and would recommend it regardless. (It's great for making vegan profiteroles too.. just sayin!)
You can grab my fave silpat mold here. 
---
This is a vegan Nutella cookie recipe, so you're gonna need some vegan Nutella, right!? As I've mentioned a billion times, Vego is my favourite, but there are other guys available out there. You can grab Vego from the link below or have a search online for something similar.
You can grab my fave silpat mould here.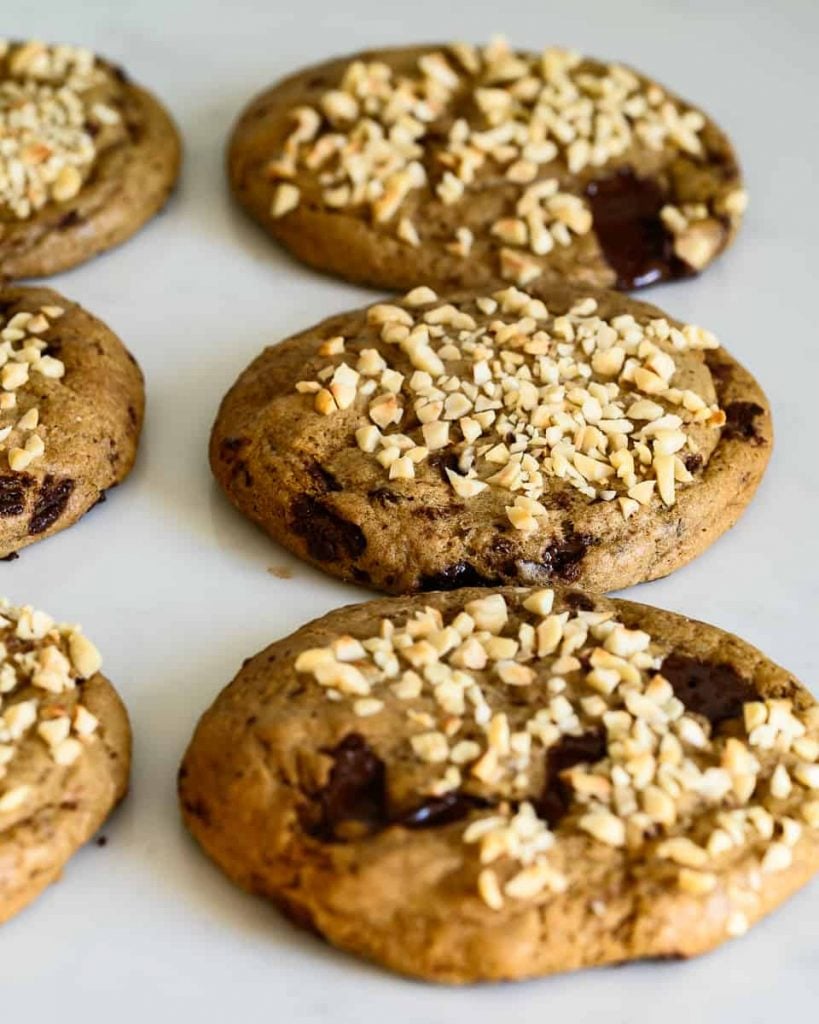 How do you get the vegan Nutella INSIDE the cookie??
I'm not going to talk you through the whole cookie recipe, because it's pretty simple and everything you need to know is in the recipe below...BUT....the tricky bit is getting that vegan Nutella inside the damn cookie dough! Here's how we do it:
1. Freeze the vegan Nutella!
If you're using the silpat mould recommended above, this'll be an absolute piece of cake. If you're not, then you can just scoop onto a baking sheet lined with baking parchment.
Stick it in the freezer and leave it for a good 3 hours. Freezing the vegan Nutella makes it much easier to handle and also means it bakes at a slower speed from the cookie dough, so it won't ooze out or evaporate into thin air!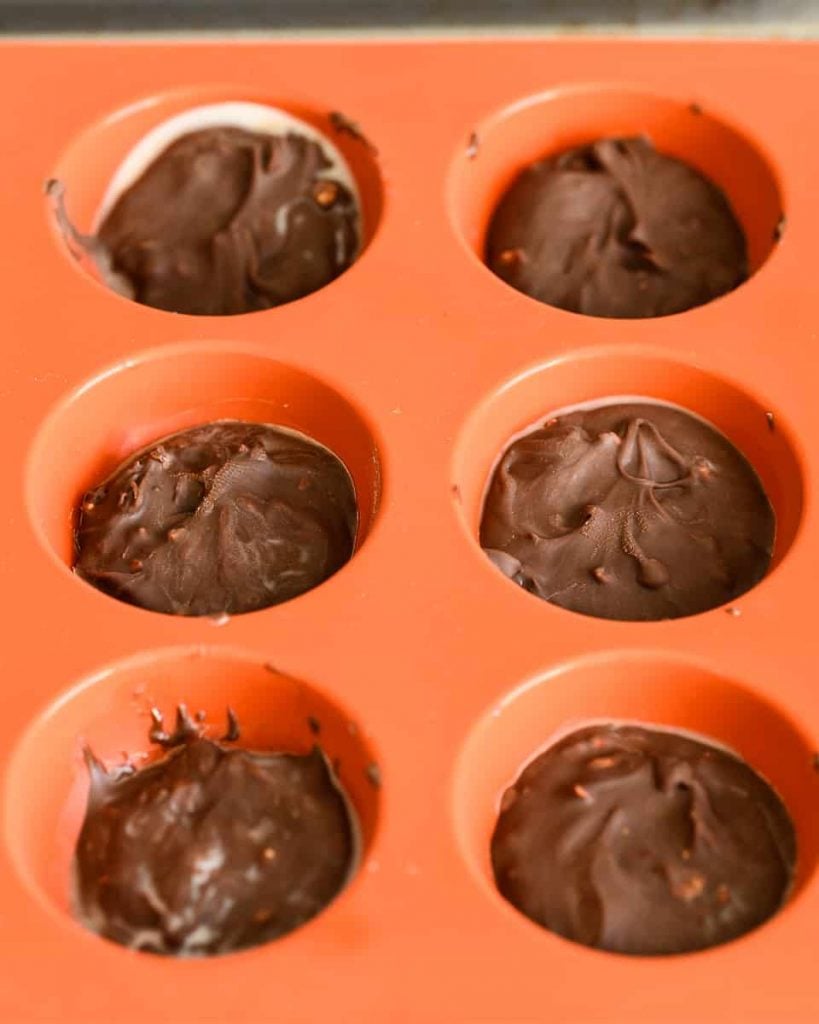 2. Scoop the cookie dough!
Start with one scoop of cookie dough. Pop it on a baking parchment lined sheet and quickly top it with a scoop of frozen vegan Nutella. Push the frozen scoop into the dough a little, to make sure it's wrapped completely in cookie dough.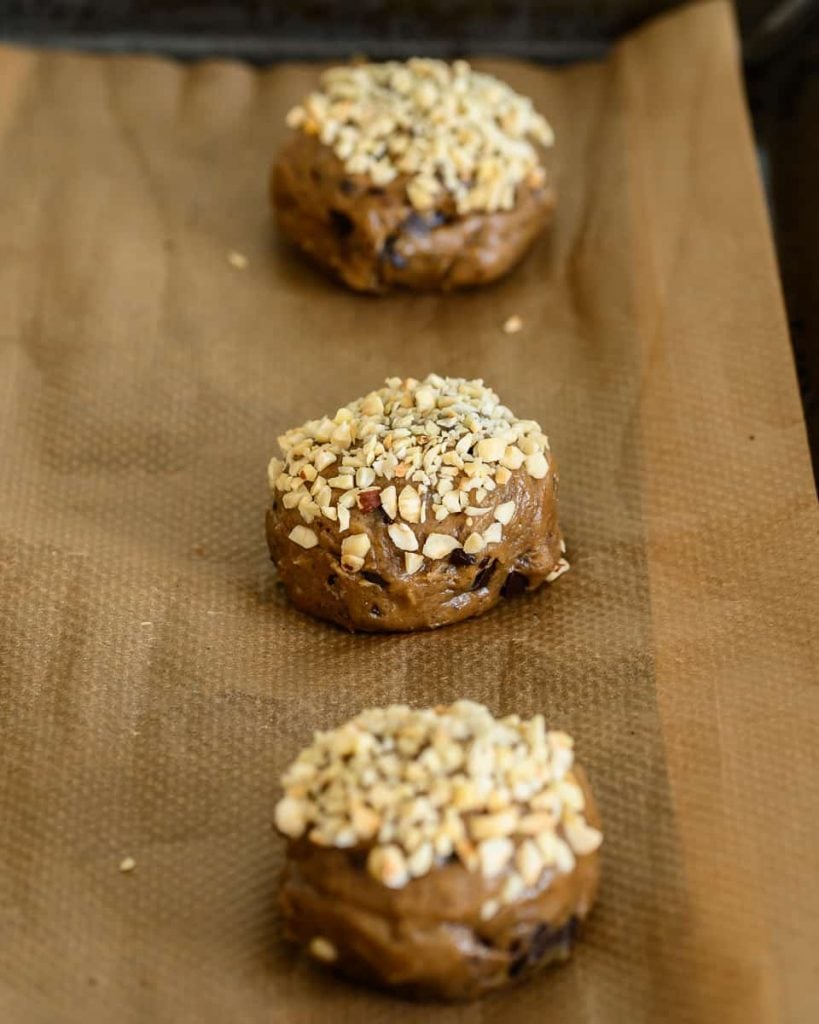 3. Scoop again!
Now do a SECOND scoop of cookie dough on top of the frozen vegan Nutella. Carefully form the ball of dough into a nice round ball with your fingers and smoosh the dough down and around the vegan Nutella. Make sure you can't see any Nutella poking out or it'll escape when you bake.
And that's it! Repeat the process until you've used all your frozen vegan Nutella and all of your cookie dough!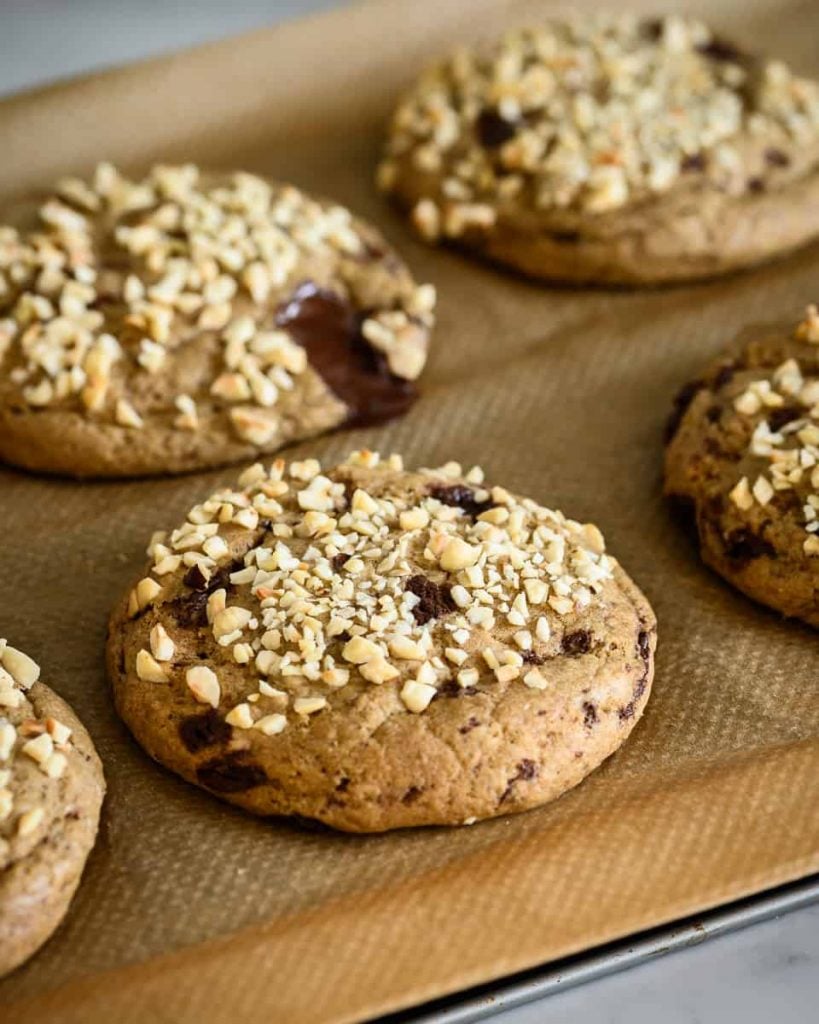 Need more cookies??
You've come to the right place! Why not try some of these fellas too: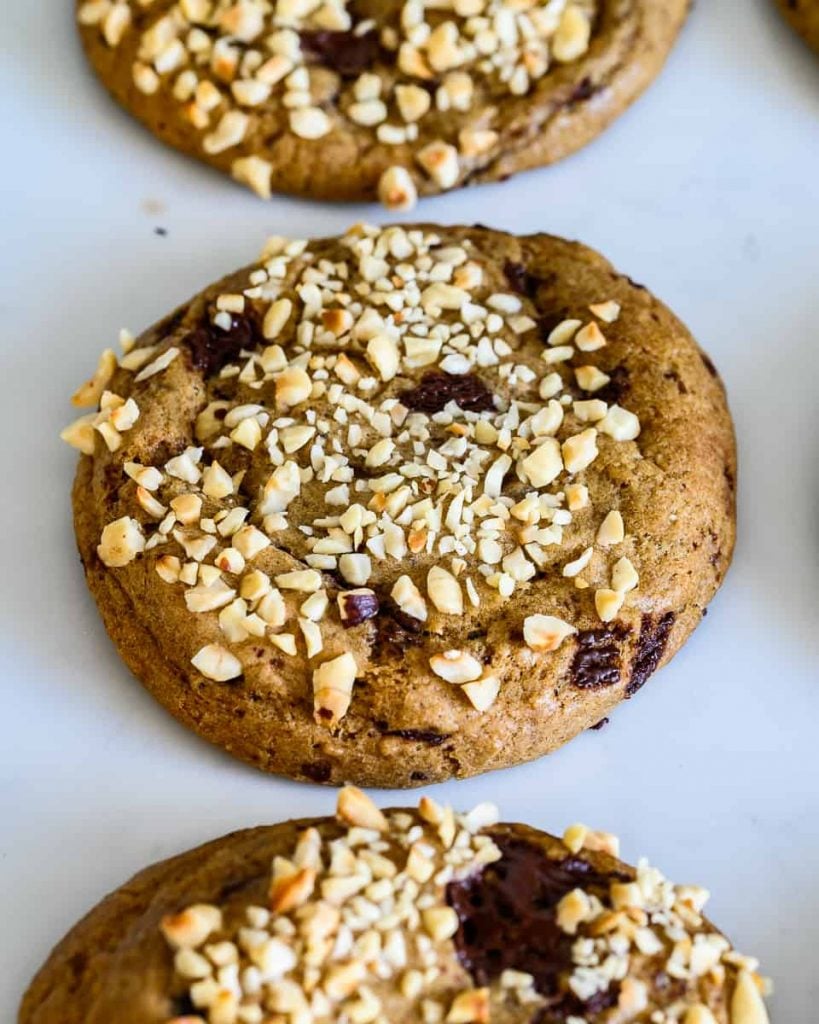 Disclosure: some of the links above are affiliate links, meaning at no additional cost to you, I may earn commission when you click through and make a purchase.
Vegan Nutella Cookies
Vegan "Nutella" cookies, packed with chocolate chips and stuffed with Vego - an insanely good vegan chocolate hazelnut spread!
Ingredients
6

tablespoon

vego

(vegan nutella)

1

tablespoon

chia seeds/linseed

((+ 3 tablespoon water))

115

g

vegan butter

((melted))

50

g

light brown sugar

50

g

dark brown sugar

75

g

caster sugar

1

teaspoon

vanilla bean paste

175

g

plain white flour

¼

teaspoon

baking powder

¼

teaspoon

baking soda

90

g

vegan dark chocolate

((minimum 60% cacao - very roughly chopped))

pinch

flaky sea salt

60

g

hazelnuts

((roughly chopped))
Instructions
Scoop out the six tbsps of Vego onto a baking tray, lined with baking parchment. If you have the silpat mould listed above, use this instead. Place in the freezer for a minimum of 3 hours.

Once the Vego is frozen solid, preheat the oven to 170c. Line a cookie sheet with baking parchment.

Place the chia seeds or linseeds into a spice grinder or high-speed blender. Pulse until the seeds are finely ground. Remove from the grinder and place in a small bowl. Top with the water and mix well. Leave to thicken.

To a medium bowl add the melted vegan butter, thickened chia/linseed, sugars and vanilla bean paste. Use a whisk to beat them together until very smooth.

In another medium sized bowl, sieve together the flour, baking powder and baking soda. Add the butter mixture to the flour mixture and beat until combined with a stiff spatula or wooden spoon.

Add the chopped dark chocolate and mix to combine. Place the cookie dough in the fridge to chill for half 30 minutes)

After 30 minutes, remove the cookie dough from the fridge and the Vego from the freezer. Working quickly (as the Vego warms very quickly) and using a ???? size cookie scoop, take a scoop of cookie dough and place it on the prepared baking sheet.

Top the scoop of cookie dough with a frozen scoop of Vego and top that with another scoop of cookie dough. Carefully push the top layer of cookie dough around the Vego to make sure it's completely surrounded with dough and everything is roughly ball shaped.

Carefully dunk the ball of dough into your chopped hazelnuts, return it to the baking sheet and sprinkle with a little flaky sea salt.

Repeat this process 5 more times. Bake the cookies at 170c for 17-20 minutes or until the hazelnuts and the surface of the cookie are starting to brown slightly.

Remove from the oven and immediately transfer the sheet of baking parchment beneath the cookies onto a wire cooling rack. Leave to cool for at least 30 minutes before serving.
Nutrition
Serving:
1
grams
Calories:
687
kcal
Carbohydrates:
86
g
Protein:
8
g
Fat:
35
g
Saturated Fat:
19
g
Cholesterol:
1
mg
Sodium:
213
mg
Fiber:
5
g
Sugar:
55
g
Love this recipe?
Let me know on Instagram!