Publised on 31/10/2023 by Richard. Last Updated on 08/11/2023 by Richard.
The most deliciously meaty tofu steak! Perfectly seared in a grill pan or a BBQ with a rich umami marinade. The easiest vegan steak and the best way to cook tofu!
This completely vegan tofu steak recipe is the ideal way to transform simple tofu into a deliciously meaty main course! It's an incredibly simple alternative to my seitan steak recipe and is packed with savoury umami flavour that will keep even the most carnivore diners satisfied!
And why not take things to the next level and serve with my vegan peppercorn sauce, some air fryer smashed potatoes and plenty of greens! Now that sounds like a proper dinner!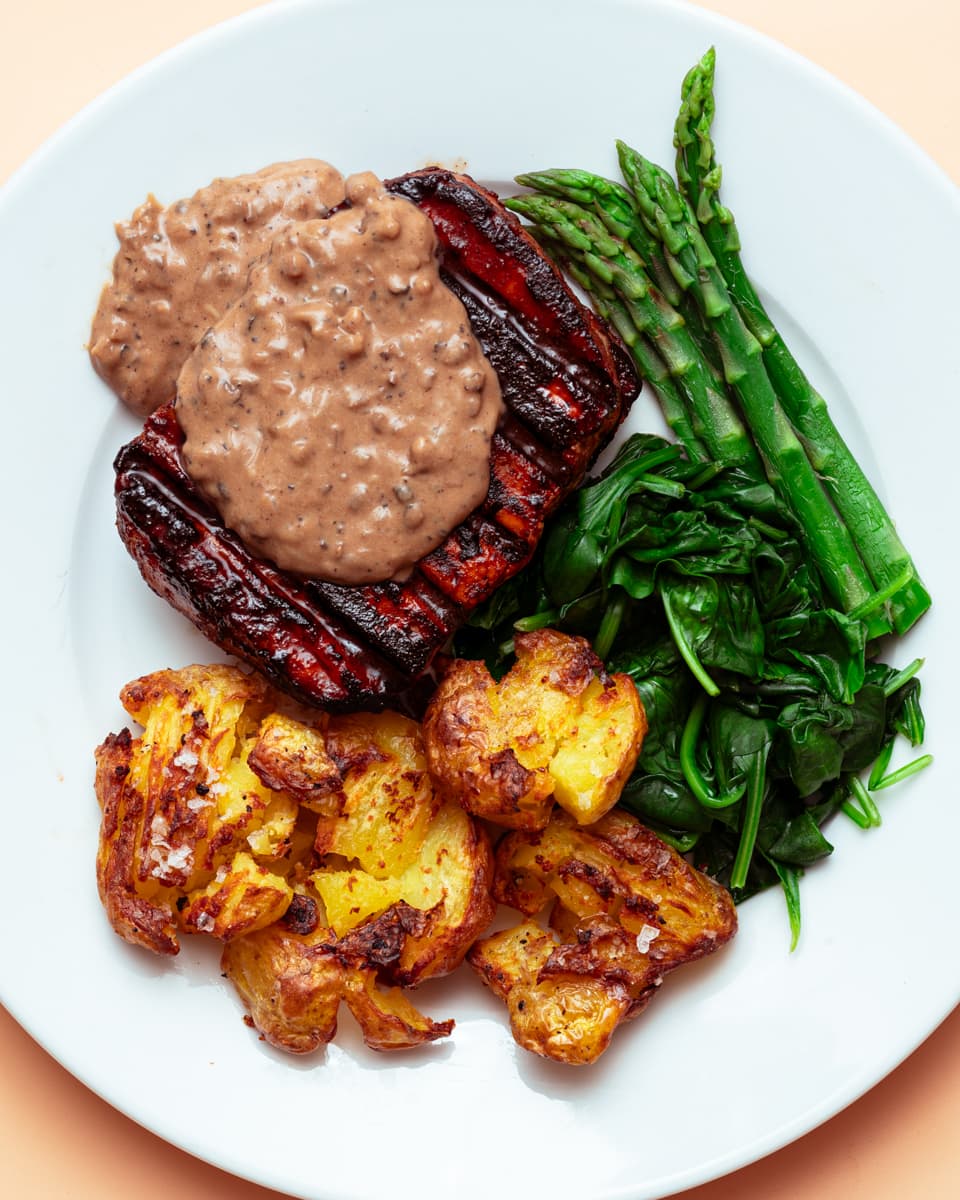 Jump to:
🧈 Tofu Steak Ingredients
This tofu steak recipe is all geared towards making an incredibly meaty mouthful that just happens to be completely vegan. As such, you'll notice many of the ingredients we're using a super umami and savoury in their flavour. There's just a handful of things you'll need and I'll list them below.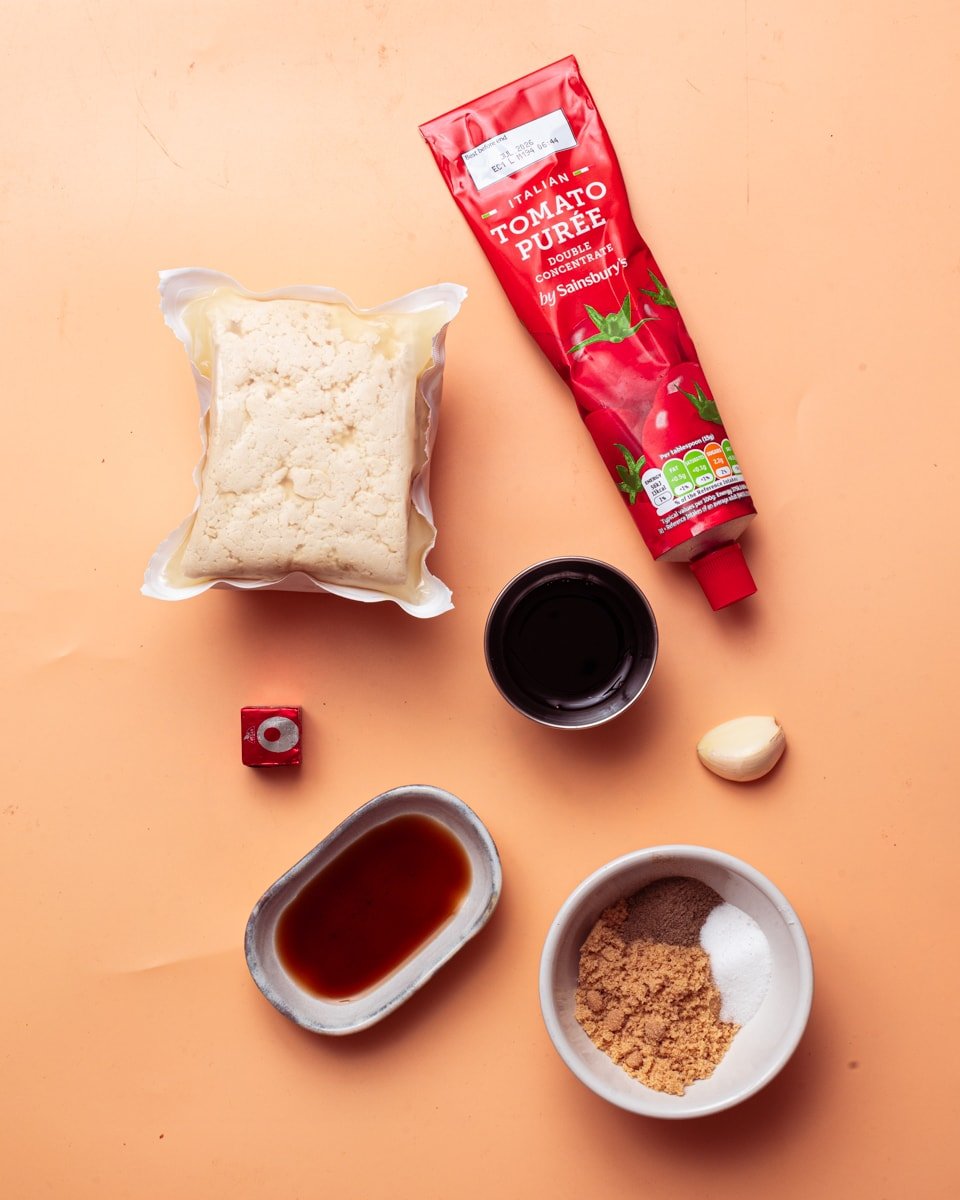 Extra firm tofu - This is a must! The texture is much meatier than medium firm tofu. Perfect for vegan steak!
Vegan stock cube - If you can get hold of a beef flavoured stock (like Oxo's vegan variety) this will make the flavour super convincing.
Light brown sugar
Tomato puree
Garlic (finely minced)
Liquid smoke - This is optional, but definitely helps to bring that seared steak vibe!
Soy sauce
Vegan Worcestershire sauce - I use Henderson's Relish. Don't worry if you can't get hold of this. It's non-essential.
Ground black pepper and fine sea salt
Vegan butter or vegetable oil - for grilling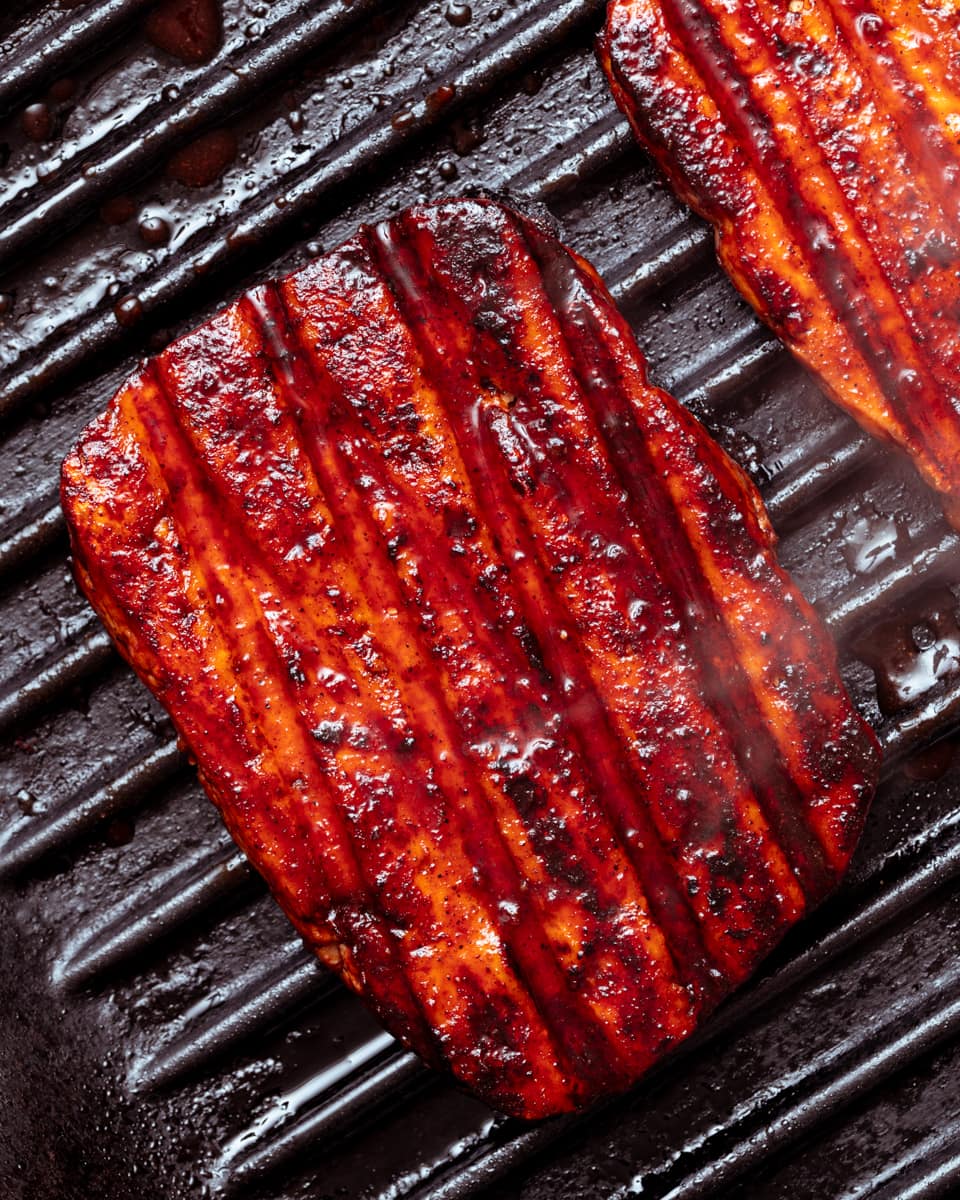 🥣 How to Make Tofu Steak
I know I always claim my recipes are relatively simple, but this one REALLY is. Other than, you know, handling a hot grill pan, I reckon a baby could do it! (If you're a baby and you're somehow reading this, I don't mean that literally. Go back to playing with your mobile please!)
Here's how to make tofu steak! (Full recipe at the bottom of the page, as always!)
Jump to Recipe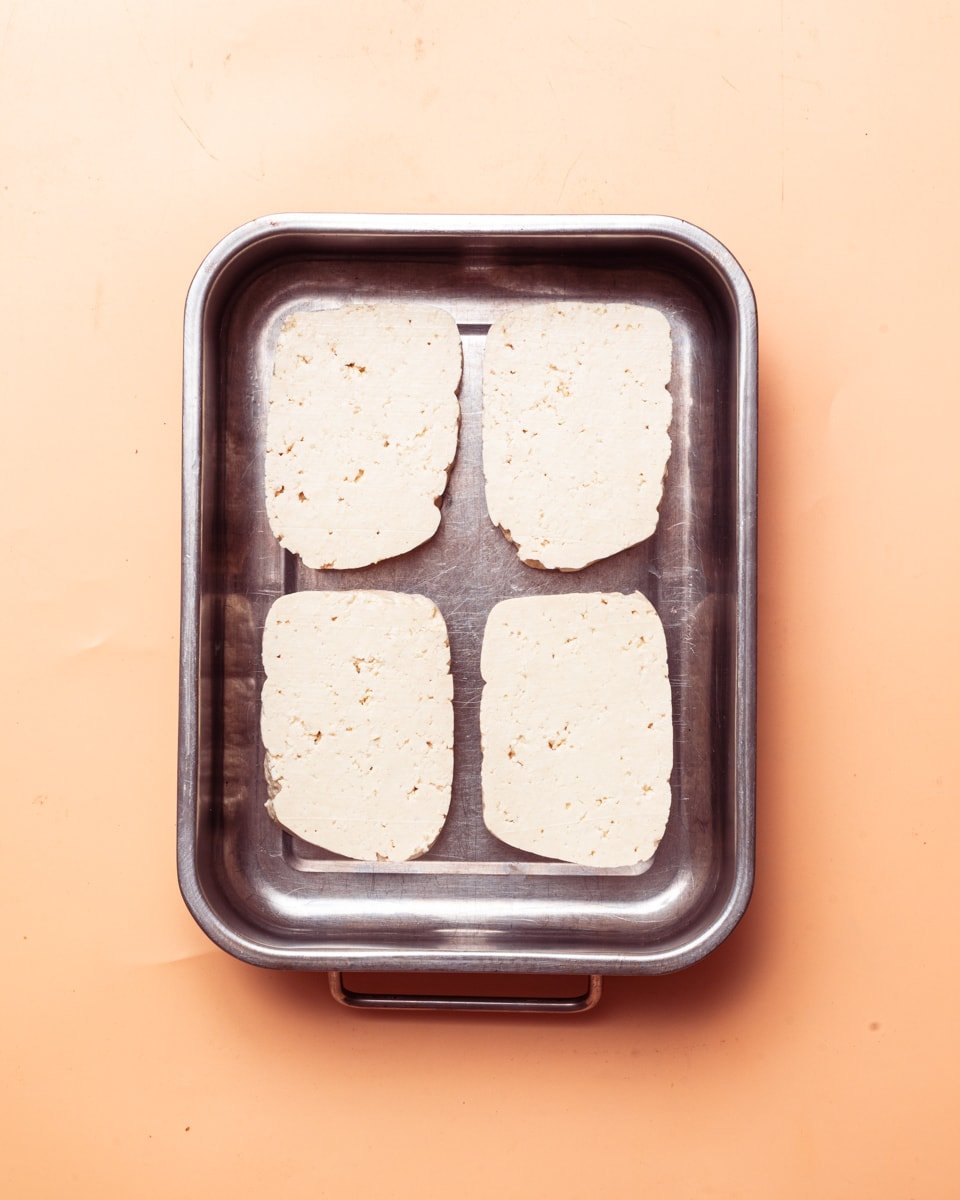 1. Firstly, slice your tofu into steak-ish shapes! I'm using a brand called Tofoo, which sells these big XL blocks of extra firm tofu. When cut into quarters, they look pretty steaky, I must say!
2. Now make the marinade! It's easy, but you have to do it in the order that the recipe states, otherwise the stock cube won't dissolve properly!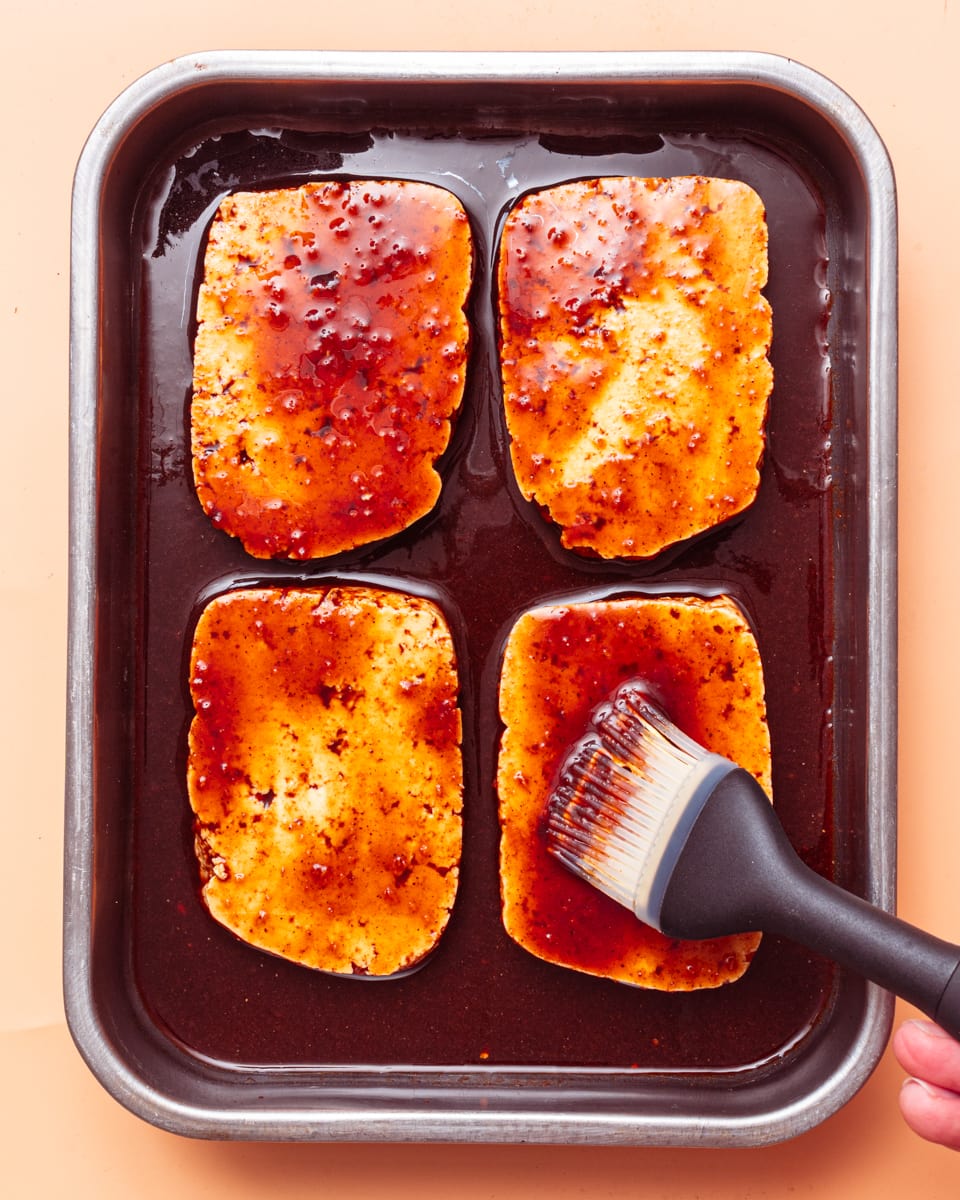 3. Now we marinate the steaks! You can do this for as little as 1 second or as long as 24 hours (or maybe even more!). The important thing is that the tofu steaks are coated in the marinade when they hit the grill pan!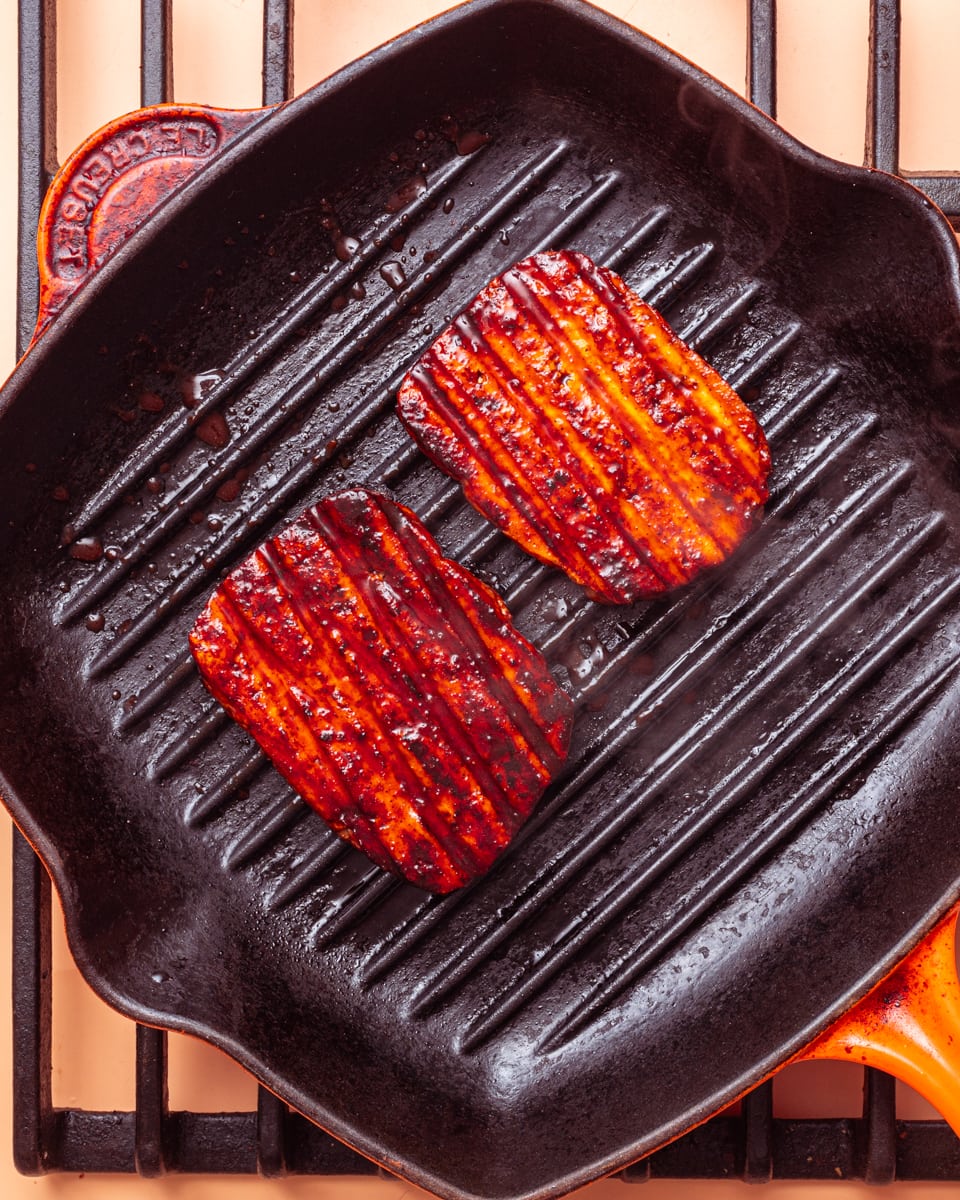 4. And that's it! Time to cook! Get some vegan butter or neutral oil in your grill pan and get it good and hot! Grill on both sides and baste with more marinade as you do. Hey presto! Tofu steaks for the vegan love of your life!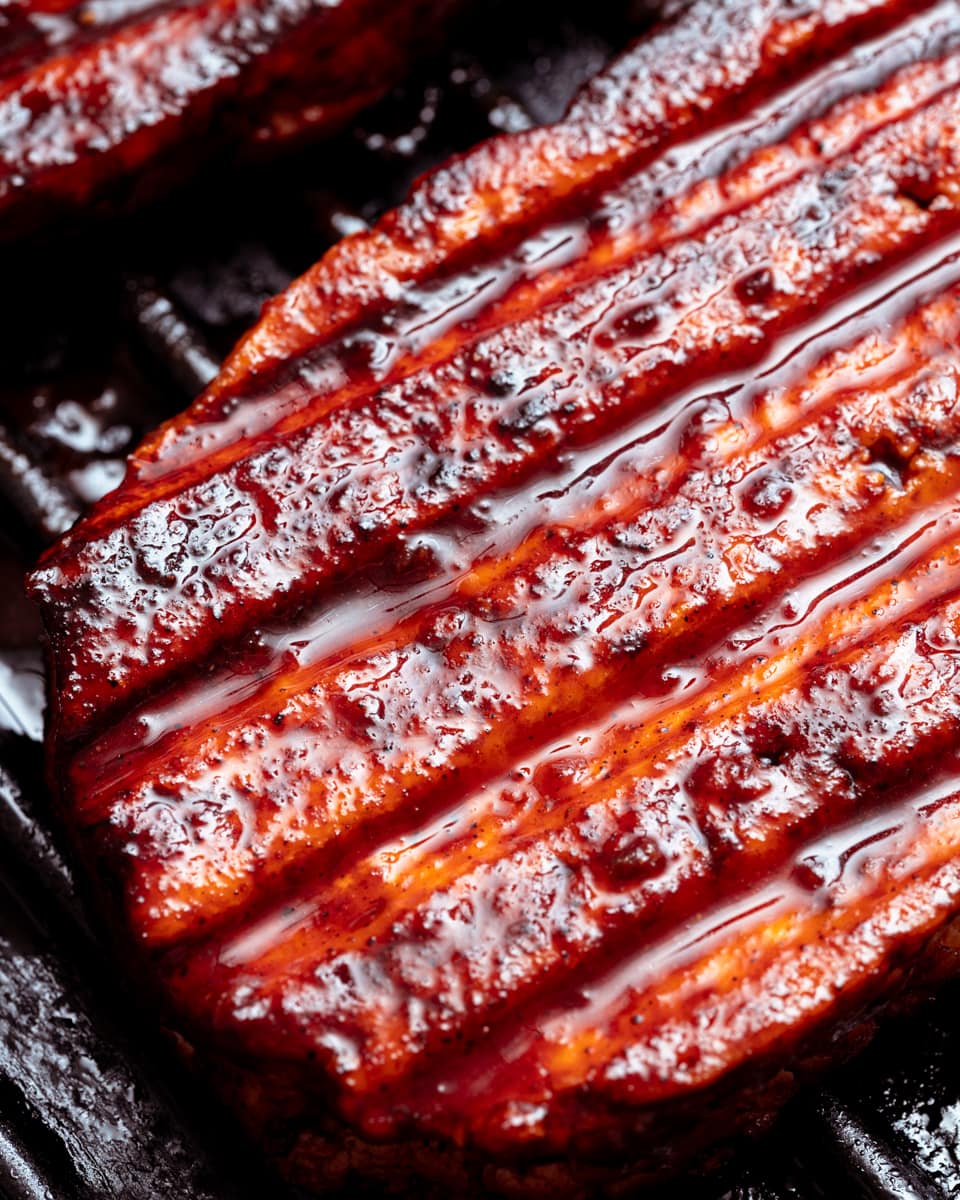 🔀 How to Serve Tofu Steak!
Listen, I'm all for letting you decide how you want to serve your tofu steaks. You do you! But I've put together some gorgina sides that I reckon you're gonna squee over. Why not serve with: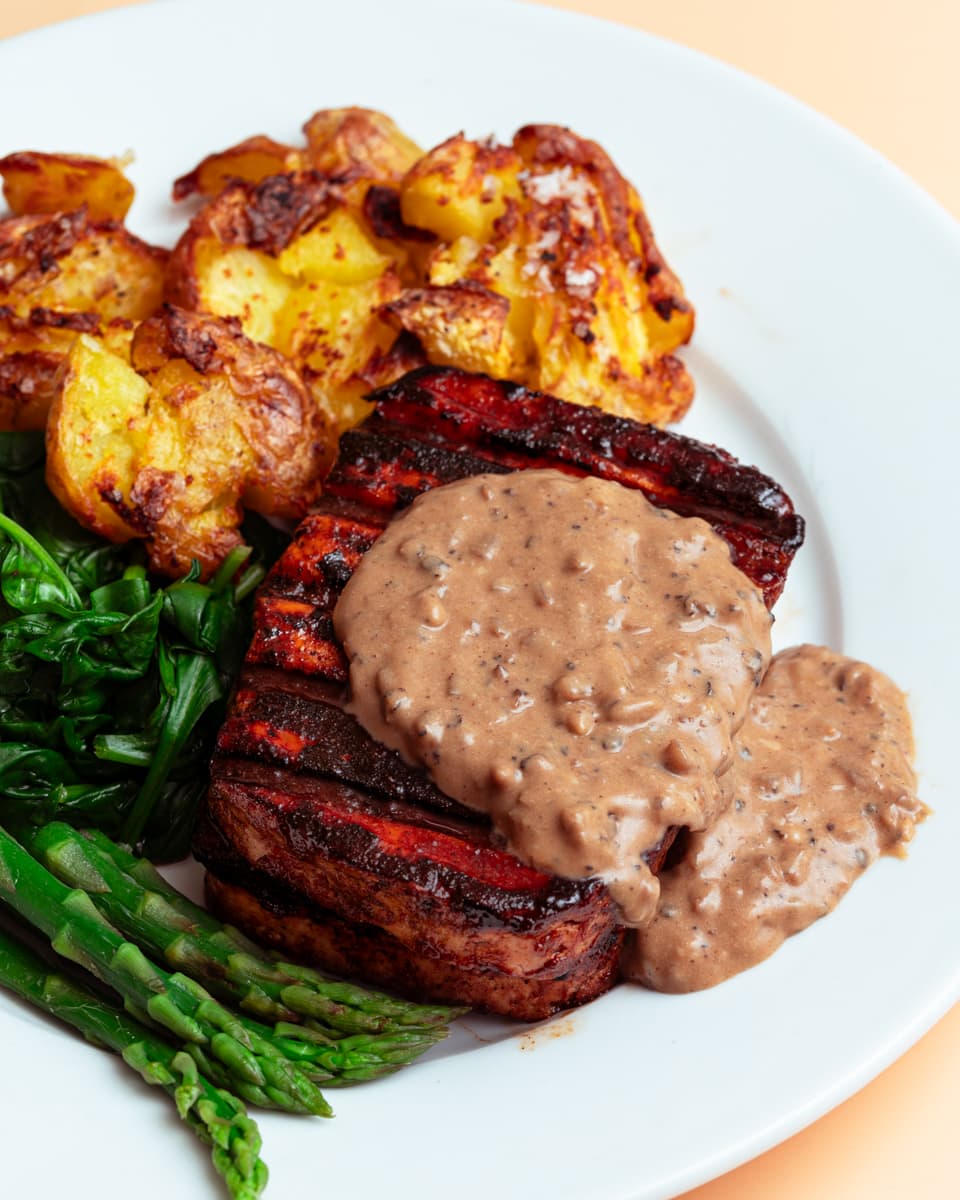 🔪 Required Equipment
You're gonna be shocked at how little stuff you need to make this delicious recipe. How wild that you're just STEPS away from perfect tofu steaks. You're gonna need:
a decent knife, to cut the tofu
a tray to marinate the steaks in
a grill pan or a BBQ to cook them on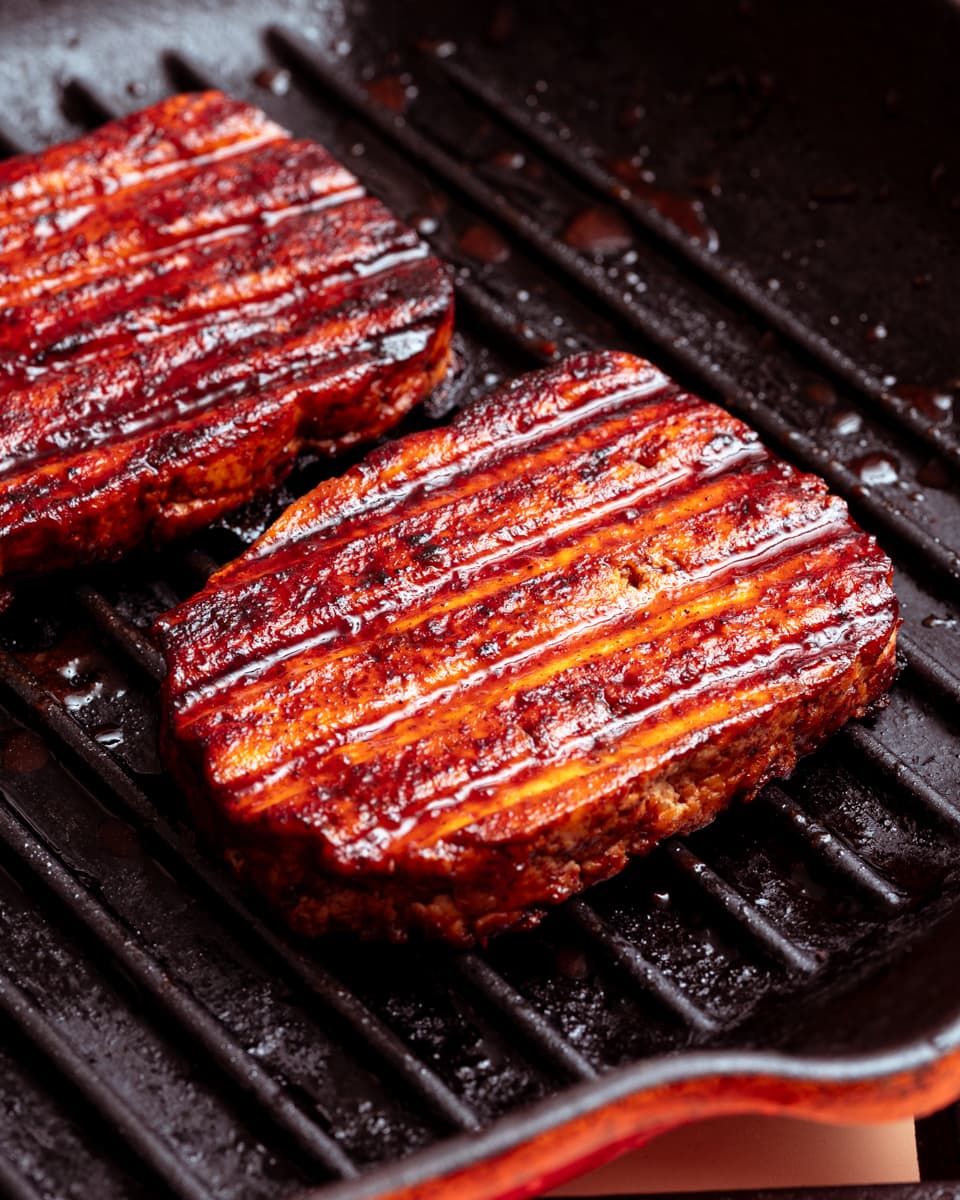 🤷‍♀️ Some Quick FAQs
Q: Can I make tofu steak in advance?
A: Yes, of course! I'd recommend preparing to the point where you marinate the tofu, covering and placing in the fridge until you're ready to cook. The searing only takes a few minutes.
Q: How to make tofu taste like meat?
A: Marinating tofu in a rich umami marinade and then searing on high heat will make it taste like meat. The longer you can marinate it for, the more meaty it will taste.
Q: What is tofu?
A: Tofu, also known as bean curd, is a popular and versatile food made from soybeans. It is a staple in many Asian cuisines and is enjoyed worldwide, especially by vegetarians and vegans as a source of plant-based protein.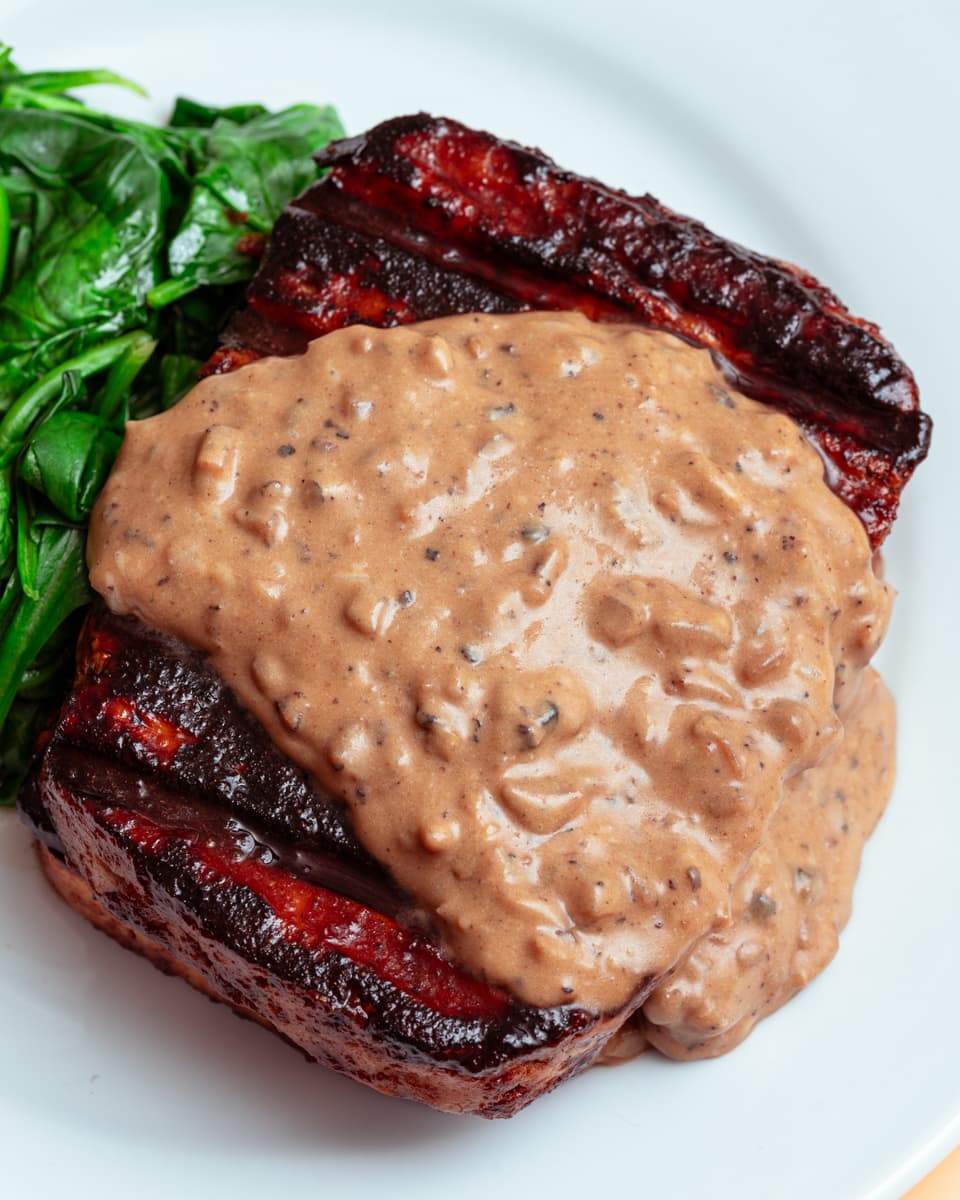 And there you have it! Looking for more ways to jazz up your tofu?? Why not try my air fryer tofu nuggets, my vegan bolognese or my tofu Philly cheesesteak!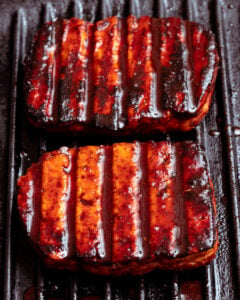 Tofu Steak
The most deliciously meaty tofu steak! Perfectly seared in a grill pan or a BBQ with a rich umami marinade. The easiest vegan steak and the best way to cook tofu!
Ingredients
450

g

extra firm tofu

1

vegan stock cube

(use a "beef" flavoured variety if you can)

4

tablespoon

boiling water

2

tablespoon

light brown sugar

1

tablespoon

tomato puree

1

clove

garlic

(finely minced)

1

teaspoon

liquid smoke

2

tablespoon

soy sauce

1

teaspoon

vegan Worcestershire sauce

(I use Henderson's Relish)

½

teaspoon

ground black pepper

½

teaspoon

fine sea salt

40

g

vegan butter or vegetable oil
Instructions
Drain and slice the tofu into 4 steak-sized pieces. Place the tofu steaks on a baking tray.

In a small bowl, whisk together the vegan stock cube, boiling water and light brown sugar.

1 vegan stock cube,

4 tablespoon boiling water,

2 tablespoon light brown sugar

Add the remaining ingredients except for the vegan butter and whisk again.

1 tablespoon tomato puree,

1 clove garlic,

1 teaspoon liquid smoke,

2 tablespoon soy sauce,

1 teaspoon vegan Worcestershire sauce,

½ teaspoon ground black pepper,

½ teaspoon fine sea salt

Pour the marinade over the tofu steaks and use a pastry brush to make sure each steak is coated on all sides.

(Optional) Cover the tofu steaks with a lid and leave to marinate in the fridge for up to 24 hours.

When you're ready to cook, heat a grill pan or frying pan over medium heat until very hot. Add the vegan butter and swirl around in the pan.

40 g vegan butter or vegetable oil

Fry the tofu steaks, two at a time, for around 3-4 minutes on each side, basting with more marinade as needed.

Once nicely browned and glossy on both sides, serve with smashed potatoes and peppercorn sauce.
Nutrition
Calories:
146
kcal
Carbohydrates:
9
g
Protein:
8
g
Fat:
9
g
Saturated Fat:
2
g
Polyunsaturated Fat:
3
g
Monounsaturated Fat:
3
g
Trans Fat:
0.04
g
Sodium:
142
mg
Potassium:
208
mg
Fiber:
0.3
g
Sugar:
7
g
Vitamin A:
404
IU
Vitamin C:
1
mg
Calcium:
43
mg
Iron:
1
mg
Love this recipe?
Let me know on Instagram!