Publised on 11/05/2019 by Richard. Last Updated on 12/10/2022 by Richard.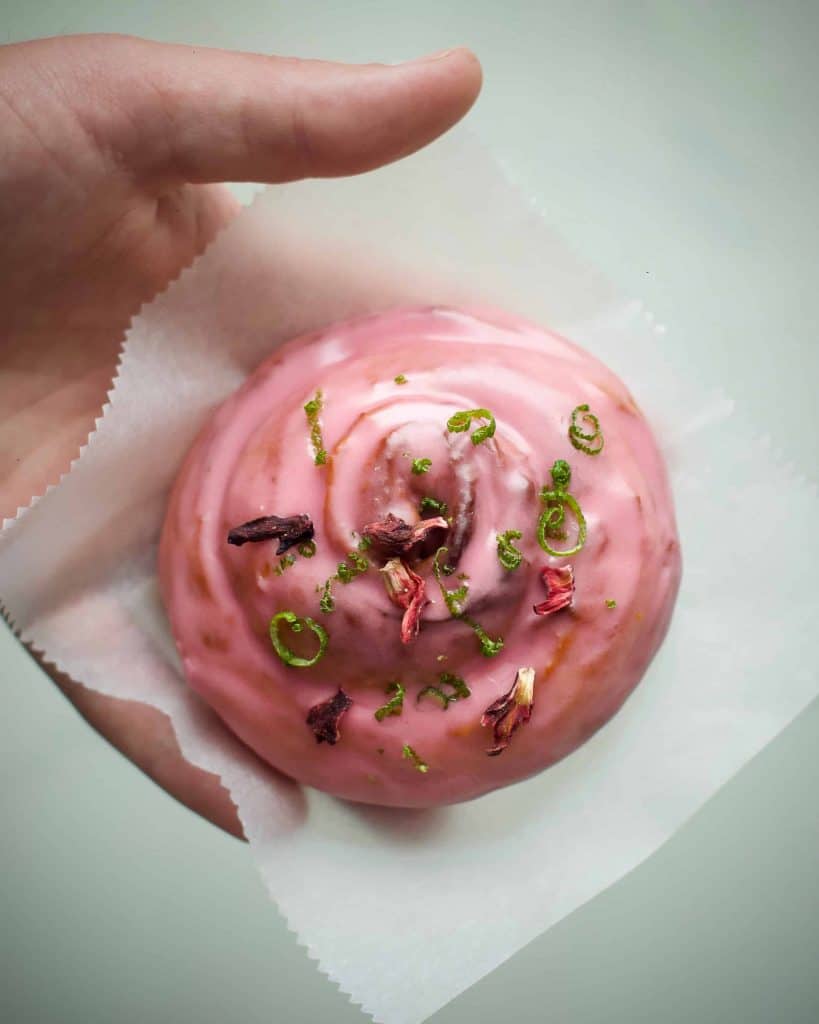 Vegan lime swirls, enrobed in a fruity hibiscus and glaze. Perfect for breakfast or for an afternoon coffee break!
---
These ain't no ordinary vegan lime swirls! These guys are jazzed right up with a beautifully zingy hibiscus glaze to give them a super fruity floral twist!
They're crazy easy to make (don't freak out about the yeast people!) and they're even easier to eat! I like to save these for my first coffee break of the day, when I sit down with an oatly flat white and a sweet treat! 
Name one thing better than a coffee and a sweet treat? Good luck!
What makes em so good?
Much like my cinnamon swirls, these guys are softer than you could ever imagine. They pull apart so beautifully and melt in the mouth. I've made these guys so many times and yet I keep craving them! 
The hibiscus and lime glaze is also totally next level! It's almost like a donut glaze except the swirl inside is baked, not fried. It's zingy and fruity!
I'm scared of yeast!
So, if you're anything like me, making these vegan lime swirls is intimidating because of the yeast factor! But please don't fret! It's actually SUPER easy! Here are some tips for dealing with this yeasted dough:
Leaving dough to hydrate (i.e. letting the flour soak up the water) is a pretty big part of successful "bread" baking. Once you've mixed all your ingredients together, cover the bowl and leave to stand for 10 minutes. You'll find the dough is much easier to work with once it's fully hydrated! 
If in doubt, prove for TOO long! I'll admit it – I'm impatient! But if you're not sure whether your dough has proved or not, it's best to leave it a little longer. In my opinion, overproved is always better than underproved! Once of the best ways to tell how much your dough has risen is to use a glass bowl and mark on the side with sticky tape where your dough started. When you come back in an hour you won't be guessing how much bigger your dough has become!
Let the gluten (and you) relax for a bit! When you knead dough for ages, the gluten becomes tense and the dough becomes hard to work with. You'll find the dough wants to spring back to its original shape when the gluten is too tense. In this case, cover the dough for ten mins and come back to it when its had chance to relax. The gluten will have chilled out and the dough will be much more malleable!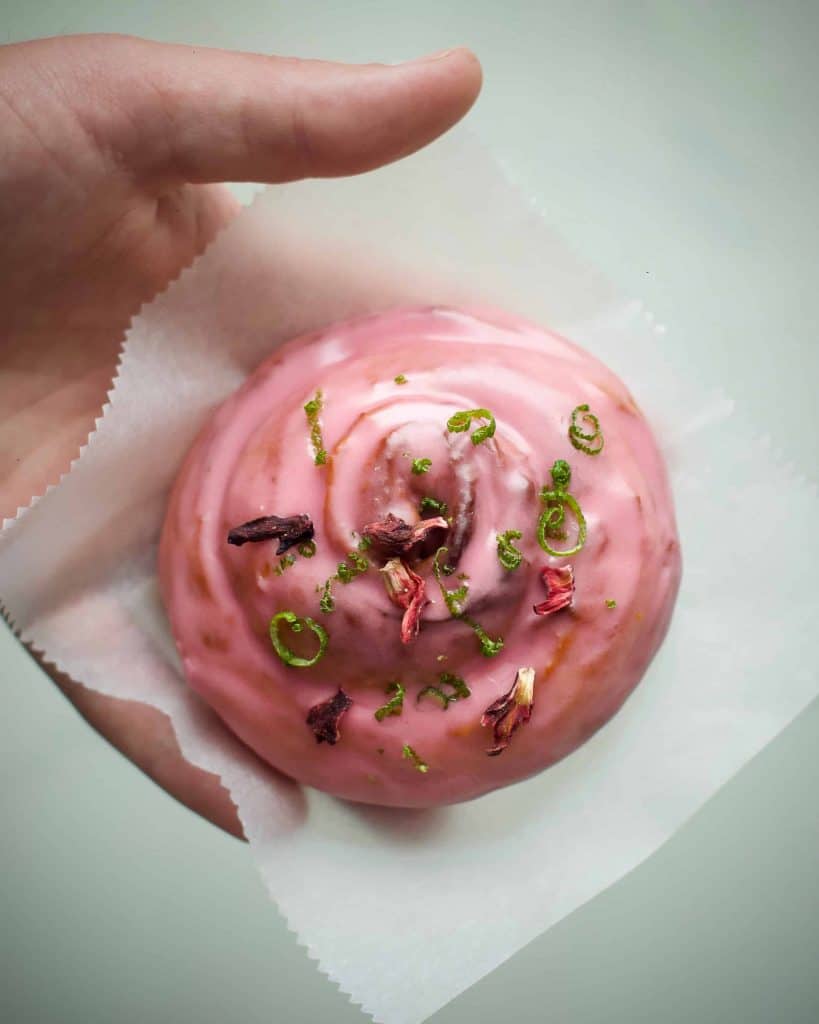 Hibiscus and Lime Swirls
Here's the second in my instalment of swirls! It's fruity and fresh with a beautifully zingy appeal! Enjoy!
Ingredients
For the Dough
480

ml

oat milk

(full fat, at room temperature)

120

g

vegan butter

(melted, I used "baking block" but any will do)

50

g

caster sugar

1

x 8g sachet of quick yeast

700

g

plain flour

1

teaspoon

fine sea salt
For the Filling
185

g

vegan butter

185

g

soft dark brown sugar

½

teaspoon

vanilla extract

Zest of 1 lime
For the Glaze
200

g

icing sugar

(sieved)

1

teaspoon

dried hibiscus petals

(or hibiscus tea)

1

tablespoon

boiling water

2

tablespoon

lime juice

1

tablespoon

oat milk

(if necessary)
For Finishing
2

teaspoon

hibiscus leaves

(or hibiscus tea)

Zest of ½ a lime
Instructions
To Make the Dough
Combine the milk, butter and sugar in a large bowl. The mixture should be around body temperature so dip your finger to test - if it feels cool, give it a super quick zap in the microwave or in a pan to warm it up slightly.

Sprinkle the yeast over the surface and leave to bloom for one minute.

Add the flour and salt, mix to combine until a sticky mess, cover and leave for an hour.

Meanwhile make the filling.
To Make the Filling
In the bowl of a stand mixer, beat the butter and sugar on high speed until smooth. Add the remaining ingredients and beat to combine. The consistency should be a nice paste. Set aside.
To Assemble
Preheat the oven to 180c. Line two baking trays with greaseproof paper.

Once the dough has proved for an hour, lightly dust a surface and turn out. The dough should not be super sticky. Knead lightly for a minute. Dust the top of the dough if necessary and pat into a rough oblong.

Using a rolling pin, roll out the dough into a rectangular sheet about 60cm wide and 25-30cm tall. Spread the dough sheet with the filling mixture right to the edges. Roll up the dough starting with one of the shorter two sides so you end up with a short fat snake.

Slice the cylinder of dough into 10 discs using a very sharp knife (or you can use strong thread or fishing twine). Place the discs of dough on the prepared baking trays, separated by about an inch. If you have english muffin rings, grease the inside and place them over the rolls (this will make sure they turn out an even circle shape, but don't worry too much if you don't have one. Just bake without).

Cover the discs with cling film or a damp cloth and leave to prove for 30 minutes. Once proved, brush the top of each disc of dough with a little soy or oat milk. Place in the oven for 25-30 minutes or until each bun is lightly golden on top.  Remove from the oven and allow to cool completely while you make the glaze.
To Make the Glaze
In a small saucepan, place the boiling water, lime juice and the hibiscus. Simmer for around 30 seconds until the red colour is released from the hibiscus. Do not allow the water to evaporate - add another tablespoon if necessary. Strain out the hibiscus and discard.

In a medium bowl, mix the icing sugar with the hibiscus water mixture. The glaze should be runny but thick enough to glaze a spoon. If the mixture is too thick to drizzle, add the oat milk and mix to combine.

Once the swirls are cooled completely, drizzle the glaze over each swirl and top with the lime zest and hibiscus petals. Serve and enjoy!
Nutrition
Serving:
1
grams
Calories:
629
kcal
Carbohydrates:
102
g
Protein:
8
g
Fat:
21
g
Saturated Fat:
5
g
Sodium:
461
mg
Fiber:
2
g
Sugar:
47
g
Love this recipe?
Let me know on Instagram!