Publised on 25/02/2020 by Richard. Last Updated on 13/11/2022 by Richard.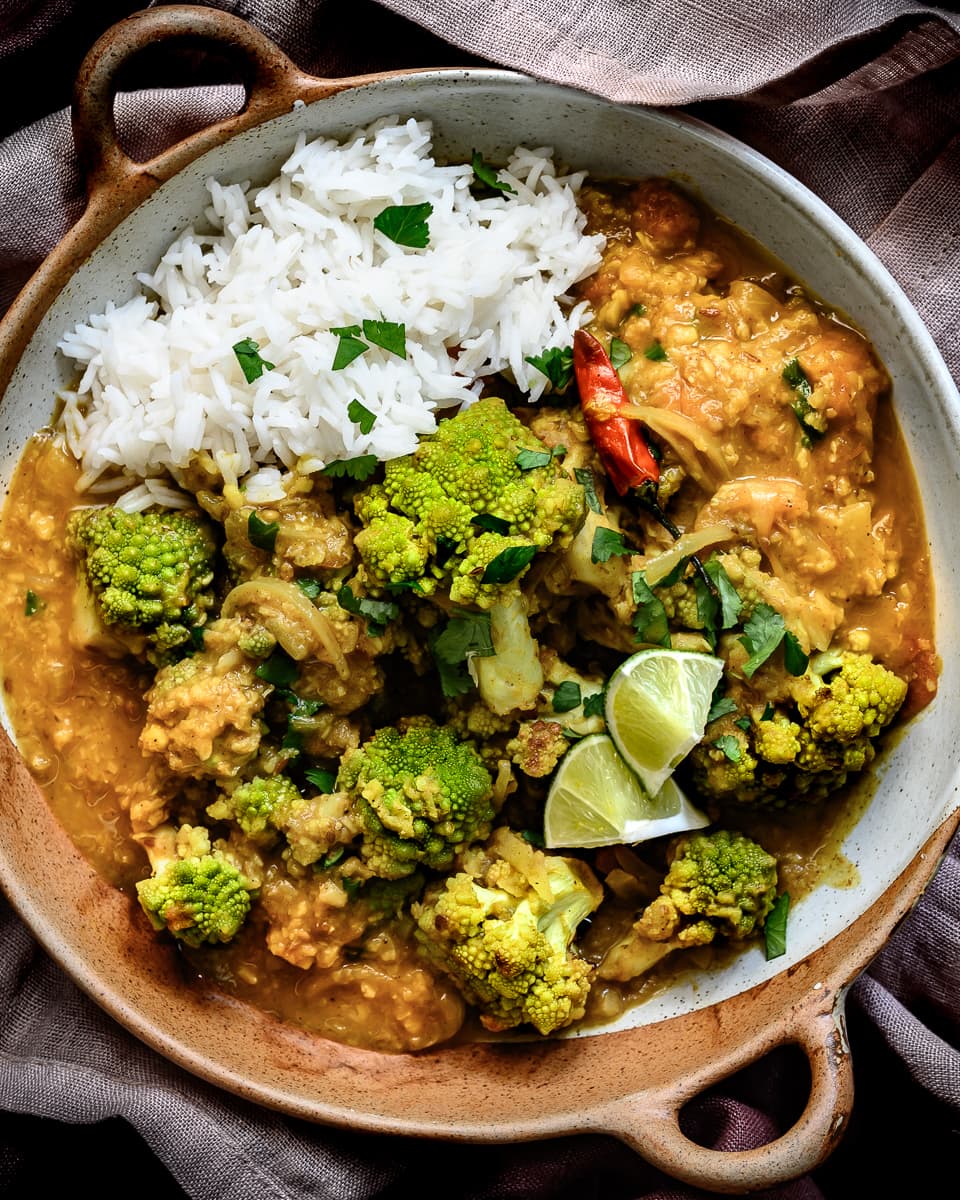 An intensely flavoursome roasted romanesco dhansak with a sweet/savoury and perfectly spiced tomato curry sauce, with a punch of lime. A delicious easy dinner packed with veggies and flavour.
---
Sometimes nothing hits the spot like a vegan curry, and this roasted romanesco dhansak is an absolute must for such occasions. It's all about big, bold, spicy flavours held together with a wonderful creaminess of cooked lentils.
The flavours are sweet, savoury and slightly sour with a kick of fresh lime juice. Quick! Cancel that takeaway order! This curry's got your name on it!
I love to make this as soon as romanesco comes into season. There's something about that intensely exaggerated cauliflower flavour which just works so well - particularly when roasted! Give it a go. Here's how!
Do I need any specific kit to make roasted romanesco dhansak?
I'd only recommend one piece of specific equipment. The rest is all basic stuff.
Stick Blender
You'll need this to blend up some of the cooked lentils which will help make your curry super smooth and creamy. Any blender with a closed lid won't work because you'll be blending hot lentils, which might make it explode!
You can grab a stick blender here!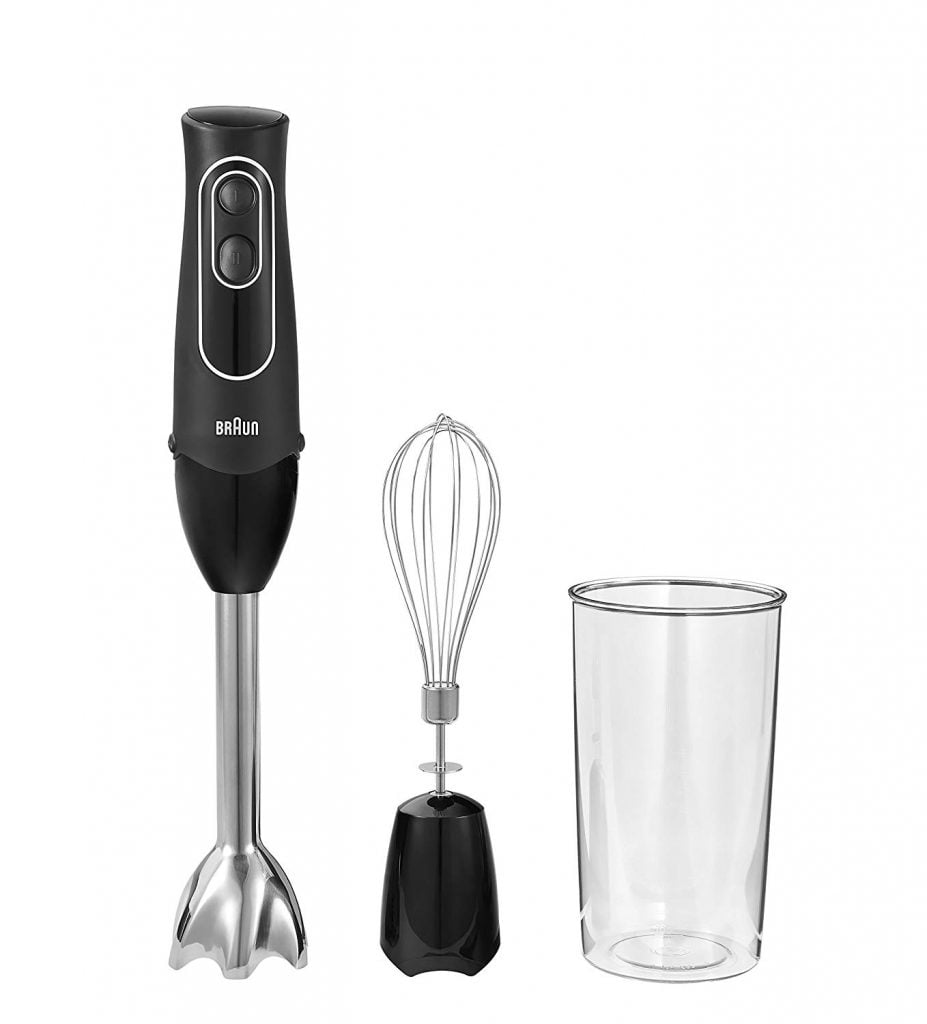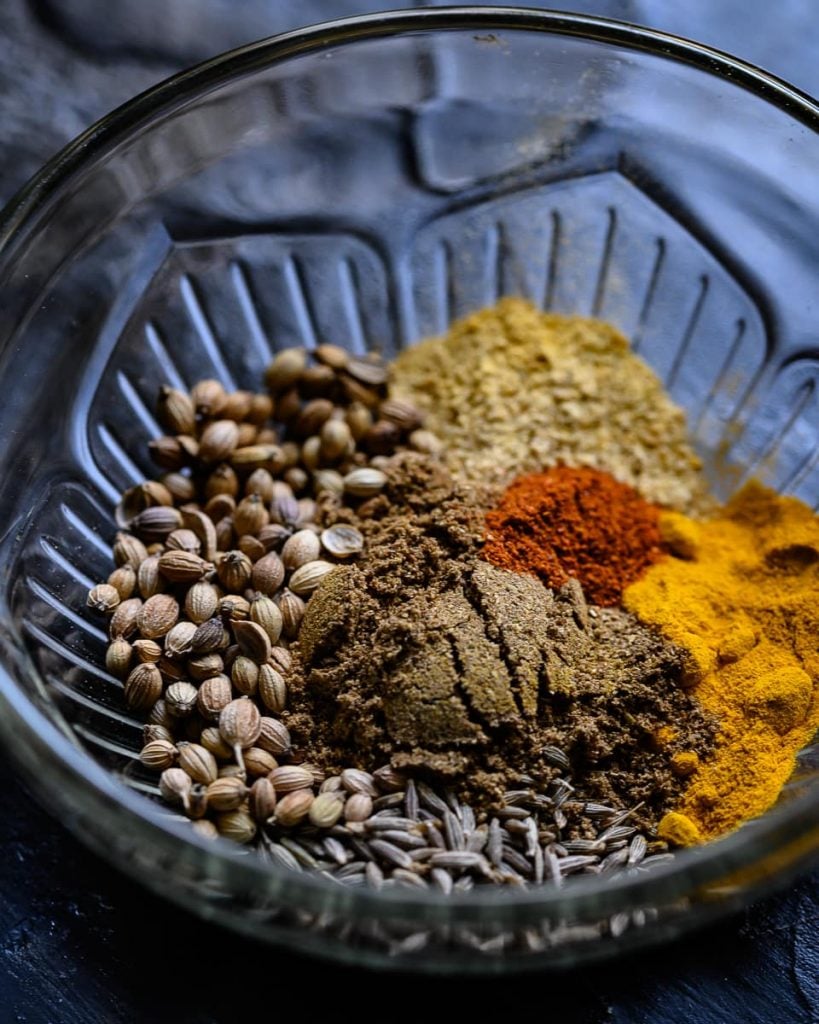 How do I make roasted romanesco dhansak?
This is a fairly easy curry which shouldn't spook too many of you. As always, the full recipe is at the bottom of this page, but you can find a breakdown of the steps involved below!
1. Roast the romanesco
I like to get the spices involved from the start, so I toss the romanesco in some cumin, ginger and garam masala before roasting. You can skip this step if you like, but I think you'll thank me for it.
Roast until the romanesco is browning slightly but still has that lovely green colour.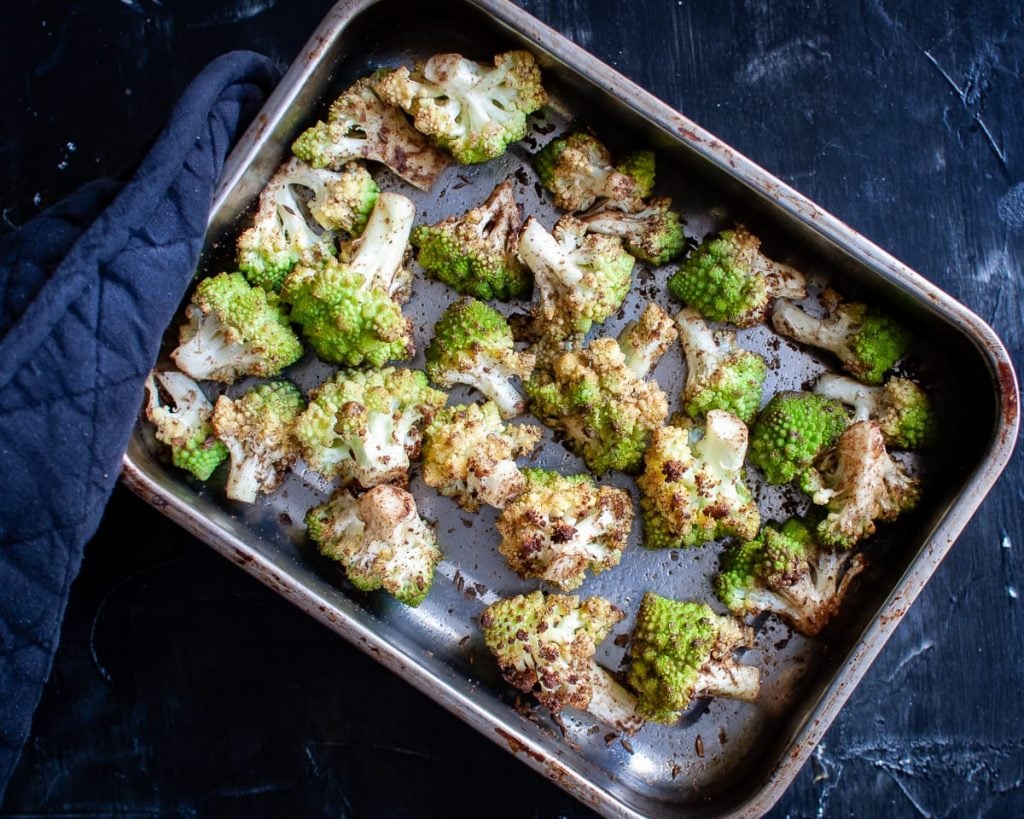 2. Cook the lentils
To keep the sauce beautifully rich and creamy, this type of curry uses well-cooked lentils. Almost any dried lentil will do the job but for that dhansak colour and flavour, I'd stick to moong dal or split red lentils.
It's also a good idea to cook the lentils with some onion and some turmeric, just for extra flavour and colour. The aim is to cook them until they're thoroughly cooked and the lentils have no real discernible shape any longer.
3. Toast your spices
I'd always recommending starting any curry by toasting your spices in the hot pan. No oil! Just spices and heat. Get them good and smoky and you're all set. Remove from the pan and grind them as well as you can.
Please don't skip this step! It'll really impact the flavour of the curry and you'll regret it 100%! Additionally, fenugreek is super bitter until toasted, so at very least, toast this guy.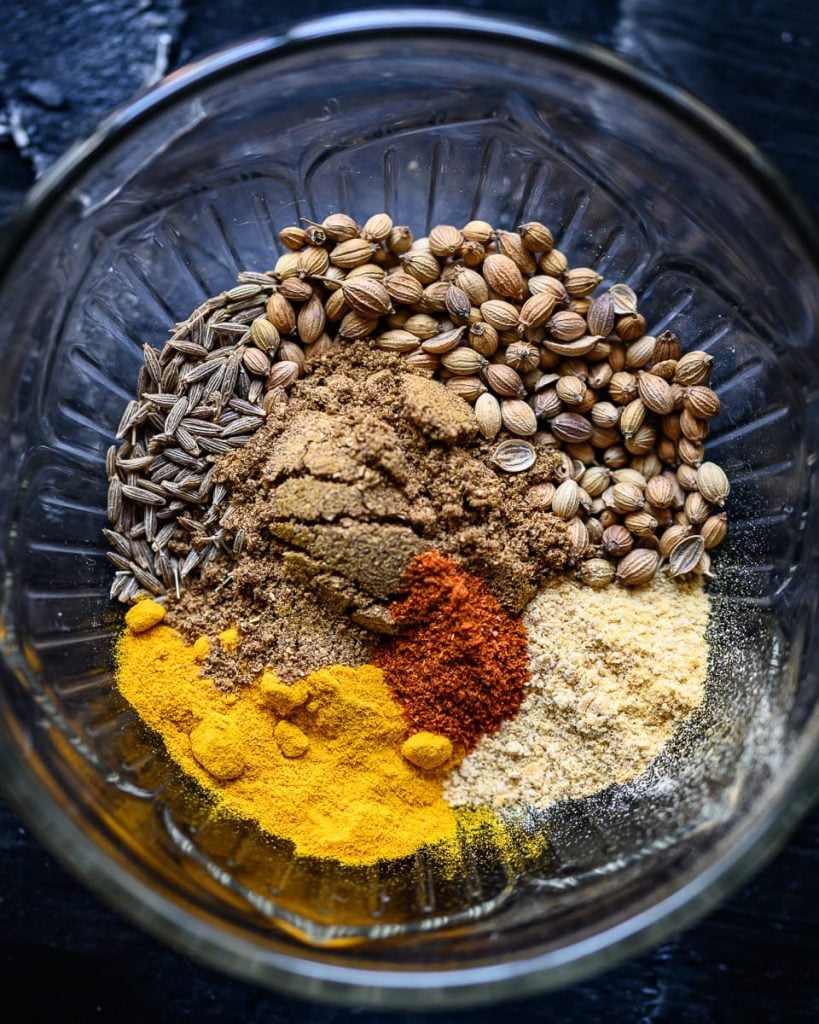 4. Start the curry
You're probably super familiar with this process, but it goes like this. Cook your onions in some oil. Add your aromatics (in this case ginger, garlic and chilli) and cook them for a few minutes.
Follow with your spices, tomatoes and a dash of sugar to boost the sweetness. Be sure to cook down your tomatoes well before moving to the next step. That bit's important!
5. Add the romanesco
It should now be beautifully roasted and browned which means it's ready for the curry! Just before you add it to the pan, make sure it's fully cooked all the way through. Pierce with a sharp knife. It should slide in very easily.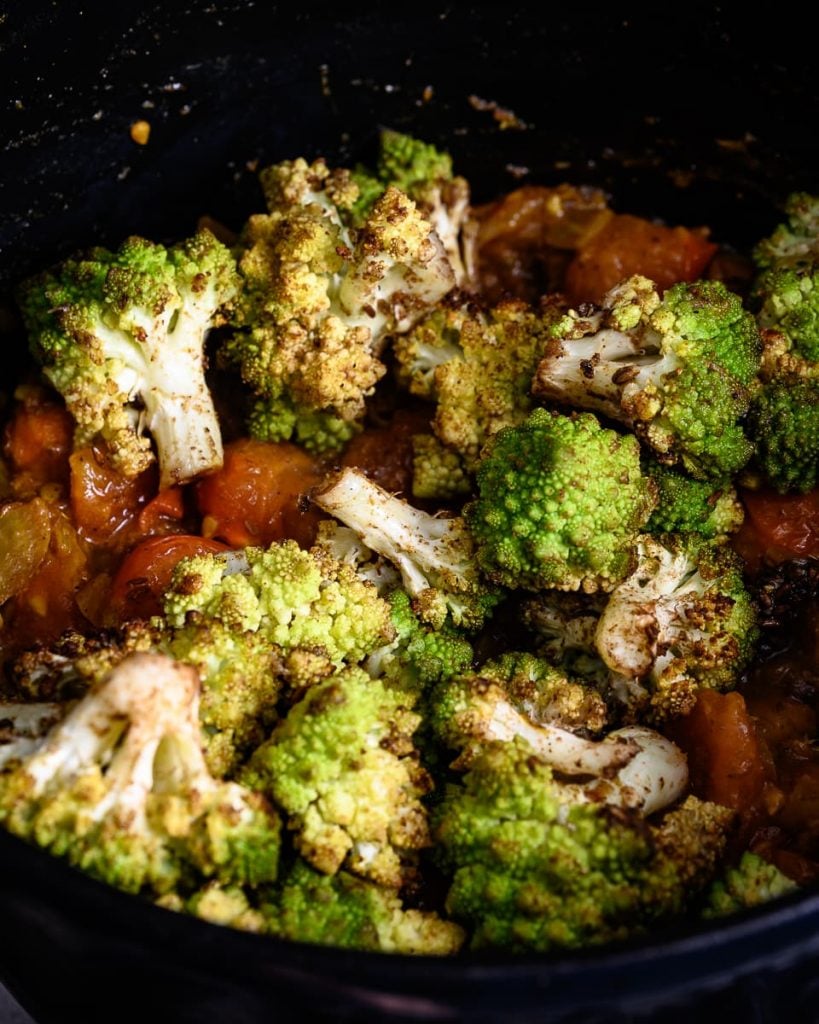 6. Add the lentils
I like to do this in two halves. The first half of lentils you add should be exactly as you cooked them. The second half should be blended until smooth. This is where the stick blender comes in handy.
This will really make a huge difference to the texture of the curry!
7. Finish and serve
I like to finish my dhansak with a good squeeze of lime juice and a handful of freshly chopped coriander. I serve mine with freshly steamed basmati rice and sometimes, if you're lucky, a hand-made roti!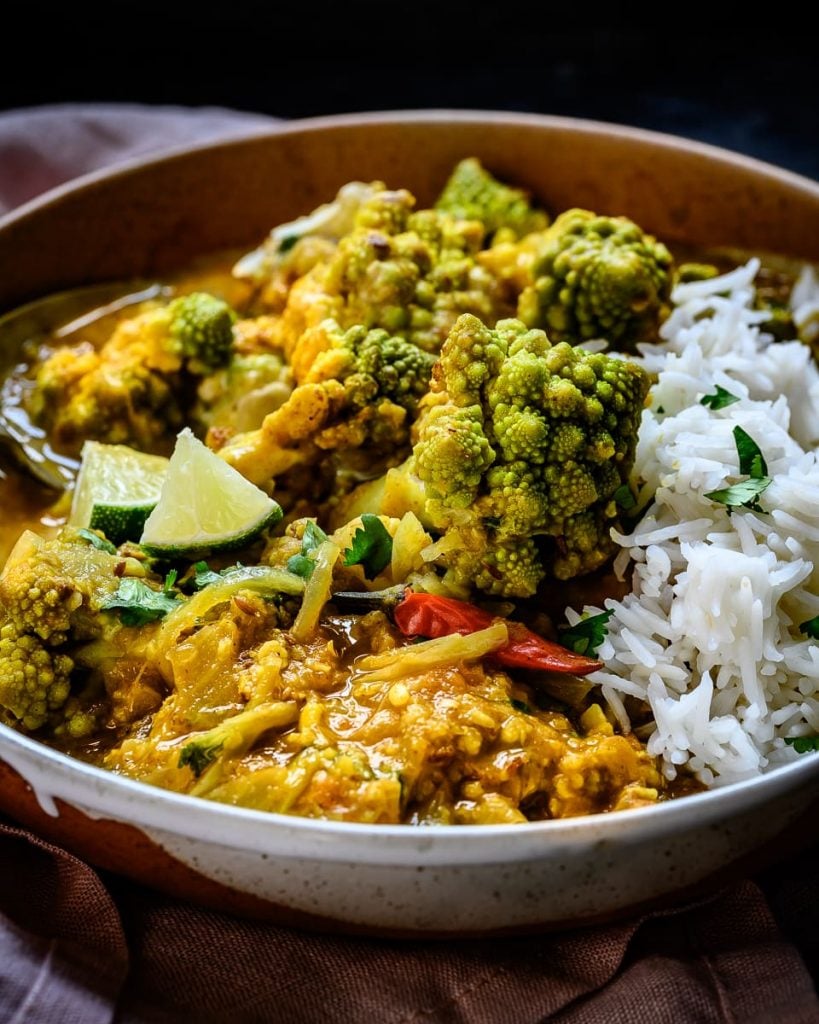 Need more Indian inspired recipes?
You've come to the right place! I'm a huge fan of Indian food, so check out some of my favourites here!
---
Please keep in mind...
I love sharing my food with you - it seriously gives me so much joy! As a result, I put a huge amount of time and energy into creating these recipes. This recipe right here is my lil baby and I wouldn't change a single thing about it. As such, I won't give advice on any ingredient swaps, substitutions, omissions or changes to the method described above (how dare you talk about my baby like that!)
But seriously, if this recipe doesn't do it for you and you want to customise it - that's cool - no probs. Put that finely honed chef's intuition to good use and tailor the recipe to suit you! Regardless of whether you make any changes or not, let us know how you get on in the comments below.
---
Disclosure: some of the links above are affiliate links, meaning at no additional cost to you, I may earn commission when you click through and make a purchase.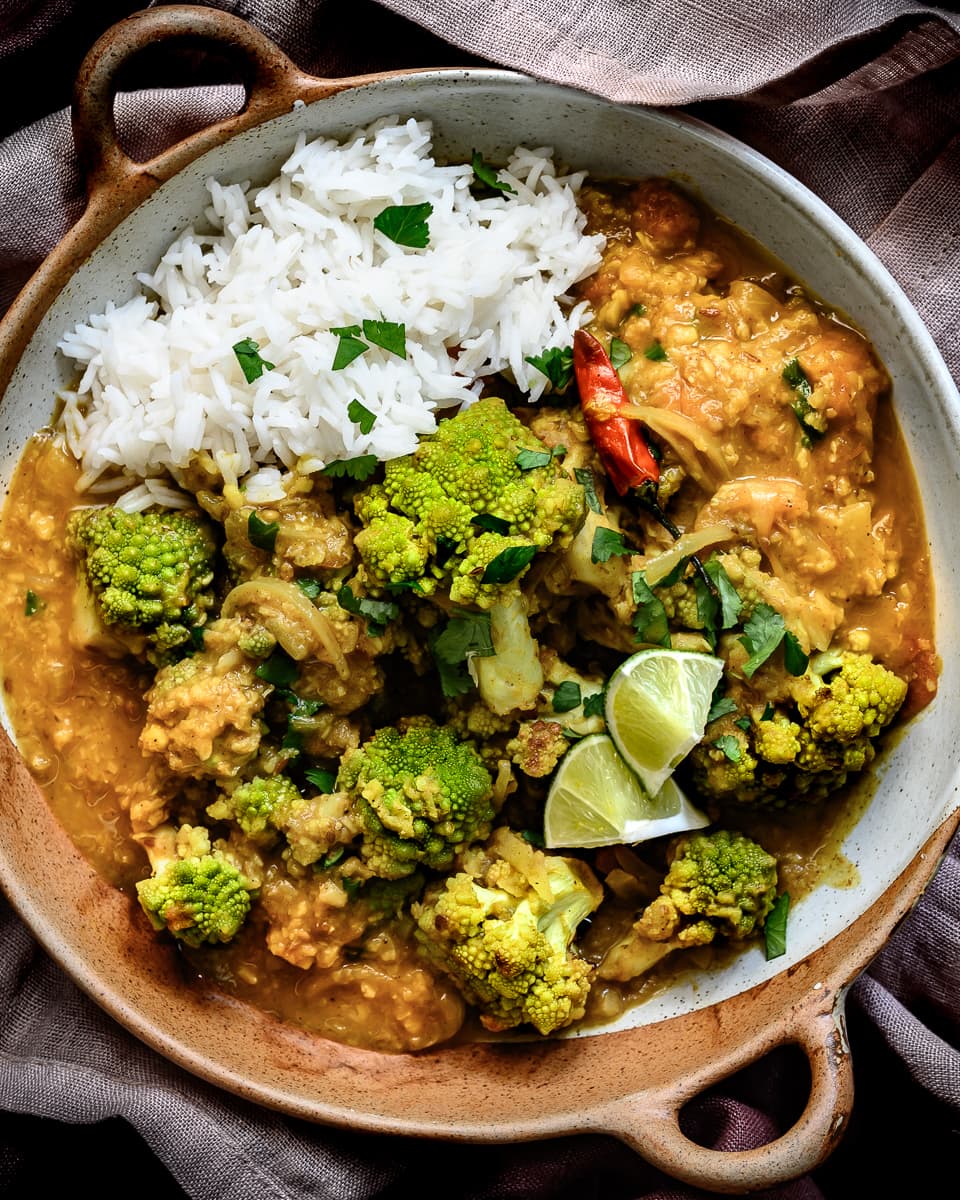 Roasted Romanesco Dhansak
An intensely flavoursome roasted romanesco dhansak with a sweet/savoury and perfectly spiced tomato curry sauce, with a punch of lime. A delicious easy dinner packed with veggies and flavour.
Ingredients
For the Roasted Romanesco
500

g

romanesco

1

tablespoon

olive oil

½

teaspoon

cumin seeds

½

teaspoon

ground ginger

¾

teaspoon

garam masala

pinch

of flaky sea salt
For the Dhansak
1

yellow onion

((large))

4

tablespoon

sunflower oil

160

g

moong dal

1

teaspoon

turmeric

1

teaspoon

cumin seeds

1½

teaspoon

coriander seeds

1

teaspoon

garam masala

½

teaspoon

fenugreek powder

¼

teaspoon

chilli powder

30

g

fresh ginger

((peeled and finely chopped or grated))

2

cloves

of garlic

((crushed finely))

2

fresh chillis

2½ to

matoes

((Chopped. If using tinned, this is one whole tin))

1

tablespoon

light brown sugar

1

lime

small bunch of fresh coriander
Instructions
To Roast the Romanesco
Preheat the oven to 180c

Break the romanesco into florets (using a paring knife where necessary). Add to a large bowl and dress with the olive oil cumin seeds, ground ginger, garam masala and a good pinch of flaky sea salt.

Place in the oven and roast for 30 minutes or until browned and cooked through. While the romanesco roasts, make the rest of the curry.
To Make the Dhansak
Halve the yellow onion. Dice one half and roughly chop the other into larger strips.

Place a medium saucepan over medium heat and add a tablespoon of the sunflower oil. Add the diced half of the onion and fry until softening and turning translucent. Add the moong dal and ½ a teaspoon of the ground turmeric. Stir to combine and cover with water. Place the lid on and bring to a simmer before reducing the heat to low.

Allow the lentils to cook, stirring occasionally, until the lentils are completely cooked and the mixture resembles a very loose porridge.

While the lentils cook, place a large saucepan over a medium heat. Before adding any oil, toast the remaining turmeric, cumin seeds, coriander seeds, garam masala, fenugreek powder and chilli powder in the dry saucepan until smoking slightly and very fragrant. Transfer the spices to a mortar and pestle or a spice grinder and grind well. Set aside.

Add the remaining 3 tablespoon sunflower oil to the hot pan, followed by the roughly chopped half of the onion. Fry until the onions are turning translucent but don't allow them to brown.

Add the ginger, garlic and chillis and stir to combine before cooking for a few minutes. Add the spices, chopped tomatoes and light brown sugar. Stir to combine. Reduce the heat to low and allow the tomatoes to cook, stirring regularly, until no longer holding their shape.

The lentils should now be cooked. Add half of the lentils to the tomato mixture and stir to combine. Remove the remaining half of the lentils from the heat and use a stick blender to puree them before adding to the curry.

Finally, add the roasted romanesco to the curry and stir to combine. Add the juice of half the lime and season to taste with flaky sea salt. Top with the chopped coriander before serving with steamed basmati rice.
Nutrition
Serving:
1
grams
Calories:
390
kcal
Carbohydrates:
45
g
Protein:
15
g
Fat:
19
g
Saturated Fat:
2
g
Sodium:
47
mg
Fiber:
10
g
Sugar:
10
g
Love this recipe?
Let me know on Instagram!