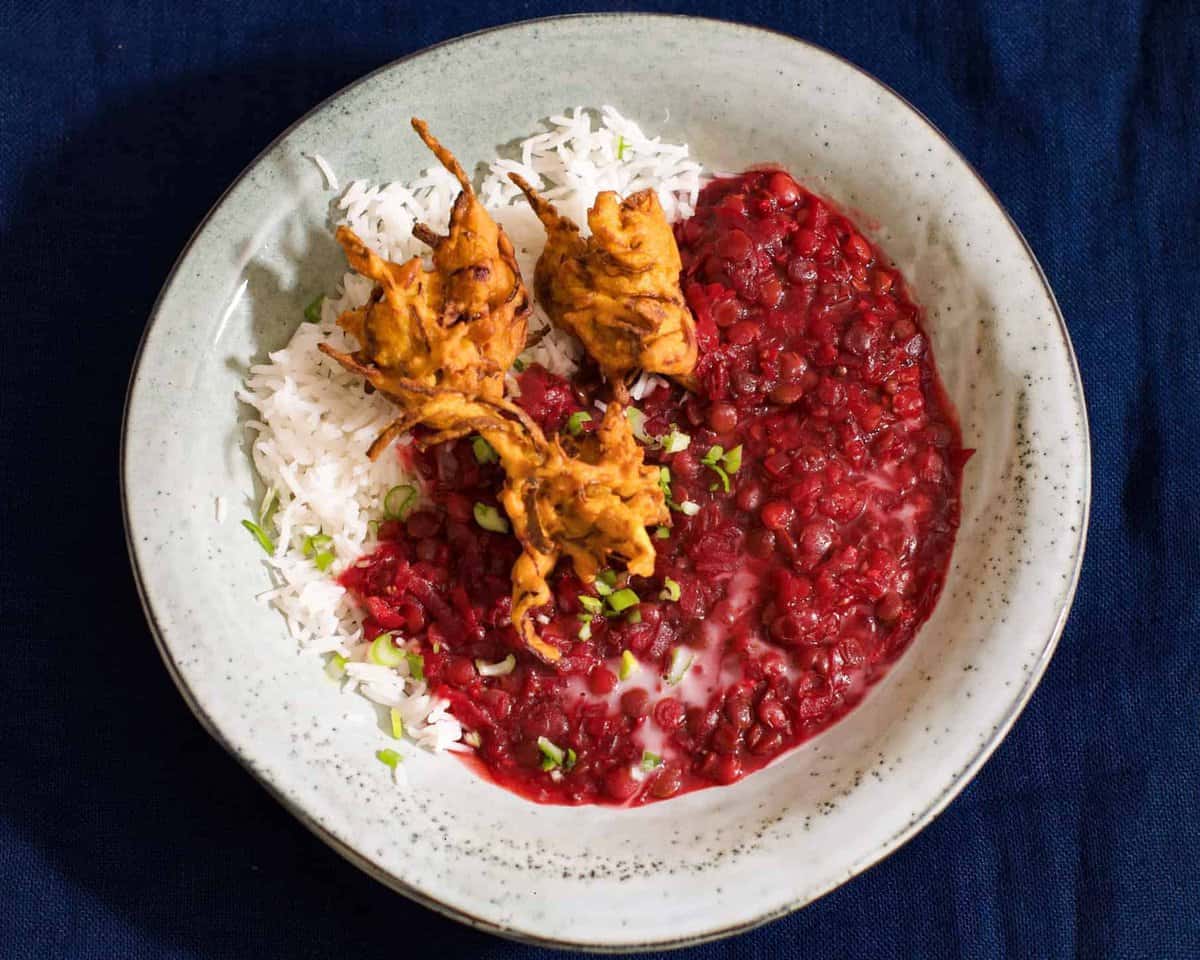 I'll keep this brief, My husband just said this was the best dinner I've ever made (he says that lots but this time he had a tear in his eye). This BEETROOT DAL with ONION BHAJJI is a game changer! You'll love it!
Makes three good portions of dal and around 15 bhajji.
Beetroot Dal with Onion Bhajji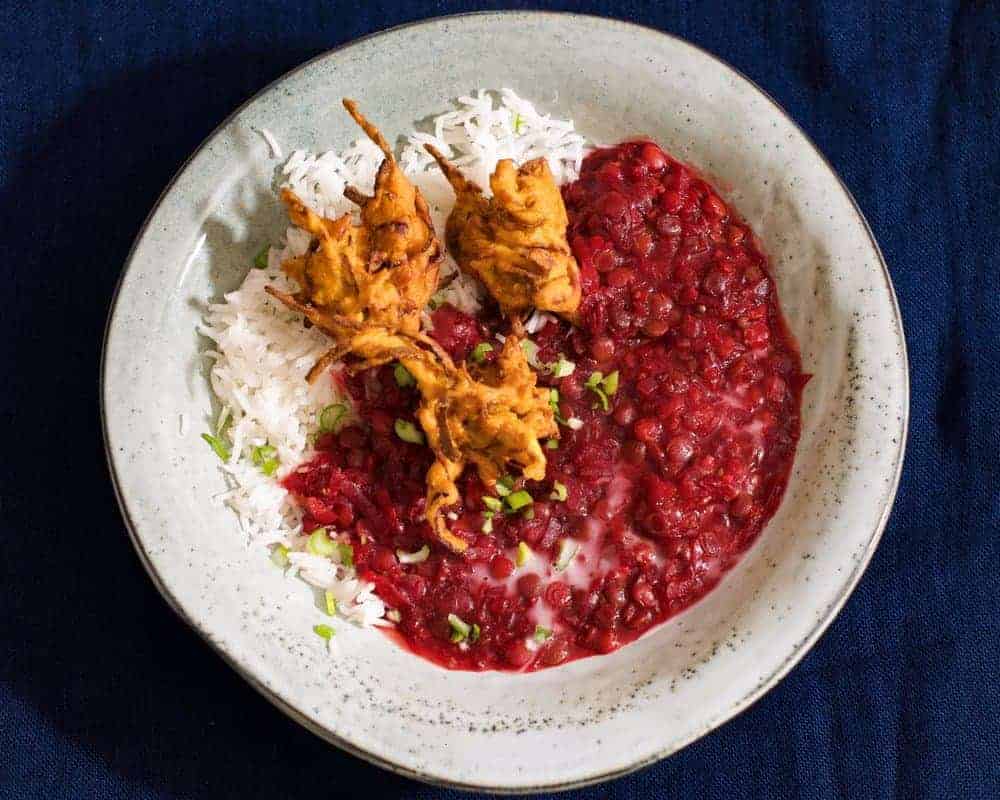 Ingredients
For the Dal
3 small beets, scrubbed
70 g moong dal lentils, dried
4 tbsp vegetable oil
1/4 tsp black mustard seeds
1/4 tsp fennel seeds
1/4 tsp coriander seeds
1 medium red onion, chopped finely
1/2 green chilli, deseeded and chopped
3 garlic cloves, minced
1/8 tsp chilli powder
1/4 tsp cumin, ground
1/4 tsp ground coriander
1/8 tsp turmeric
pinch maldon salt
300 ml vegan stock
2 tsp lime juice
For the Bhajji
2 large onions, halved and then sliced thinly, ideally with a mandolin
110 g chickpea flower
40 g rice flour
1/2 tsp ground coriander
1/2 tsp ground cumin
1/4 tsp chilli powder
1/4 tsp turmeric powder
1 tsp salt
16 tbsp water
1 litre of vegetable oil for frying
Instructions
To Make the Dal
In a saucepan, add the moong dal and bring to the boil over a medium heat. leave to boil for around 20-30 minutes or until soft and cooked through. Set aside.
Put the beets in a small saucepan of boiling water over a medium heat.
Boil for around 15-20 minutes or until a knife can be inserted into the beet very easily.
Once boiled, remove the beets and put them into a bowl of cold water to cool them down.
Once cooled, peel the beets and grate them finely. Set them aside.
In a large saucepan, add the oil. Place over medium high heat and add the seeds. Toast gently for a minute until the mustard seeds start to pop then immediately add the onion and garlic. Fry for a few minutes until the onion is turning translucent. Add the chilli, fry for a minute.
Add the grated beetroot and stir. Add the spices the salt and the lentils, along with the stock.
Cover and let simmer for around 10 minutes or until the sauce is nice and thick. Right before serving, stir in the lime juice.
To Make the Bhajji
Place a large saucepan on the hob over medium heat. Bring the oil to around 180c or until a pinch of chickpea flour bubbles gently.
Mix together the flours and the spices and salt. Toss the sliced onions in the flour mix and start adding water a few tablespoons at a time until the batter forms.
Once the oil is to temperature, pick up around 2tbsp of onion bhajji mix with two forks and lower gently into the oil. Fry for around a minute in total, flipping half way through. Remove the bhajji and rest on kitchen towel momentarily while you fry the rest of the mix. Serve a few bhajji on top of the dal with some rice on the side.
Nutrition Information:
Serving Size:
1 grams
Amount Per Serving:
Unsaturated Fat:

0g