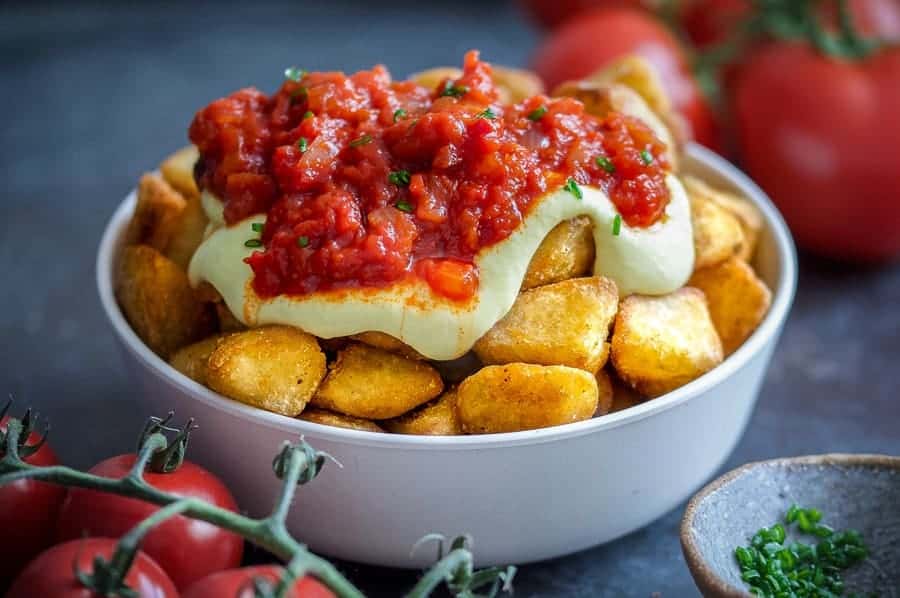 My vegan patatas bravas, served with a super creamy garlic aioli and a spicy tomato sauce are the most perfect summer side dish in the world (or at least, in España!!)
---
Vegan patatas bravas, whats that?!
This vegan patatas bravas recipe has an oddly emotional tale behind it! When I was 13 my sister went to University. Her new home was only 30 odd minutes away and she came home every weekend, but she was/is my best mate and I was just a little bit heart broken.
I'd also visit her sometimes in Manchester and we'd usually meet half-way in a shopping mall called the Trafford Centre. As (then) vegetarians and foodies, it was a pretty odd decision that we invariably chose to eat at a place called La Tasca (if you're not from UK, imagine 3/10 tapas in a mall, probably cooked from frozen). The only real reason why we ate there every time? PATATAS BRAVAS.
There was something suitably comforting about eating fried potatoes, swamped in garlic aioli and a super sweet yet sharp and spicy tomato sauce. If my memory serves me well, we'd sit down and immediately order three portions before even ordering drinks. Sure, they were about as far from authentic as you can get, but they were VERY GOOD.
So, here are my tips (and recipe) for making something MUCH closer to an actual authentic vegan patatas bravas recipe!
What's the key to perfect vegan patatas bravas?
Like most things in life, there's not just one key – but follow these rules and you'll nail this recipe!
Use a nice, waxy potato! For me, my favourite is maris piper! It's a great all-rounder and it'll give your patatas bravas a deliciously crispy, nicely browned outside.

Parboil your patatas with baking soda. Baking soda will activate the pectin in the outside of your spuds. This helps to keep everything crispy and perfect!

Once parboiled, use flaky sea salt to help scruff up the outside of the spuds. The slightly floury outside will crisp up in the frying pan like a dream!
In need of more summer holiday food?
Why not try these recipes to get you in that vacay vibe: