Publised on 21/11/2018 by Richard. Last Updated on 13/10/2022 by Richard.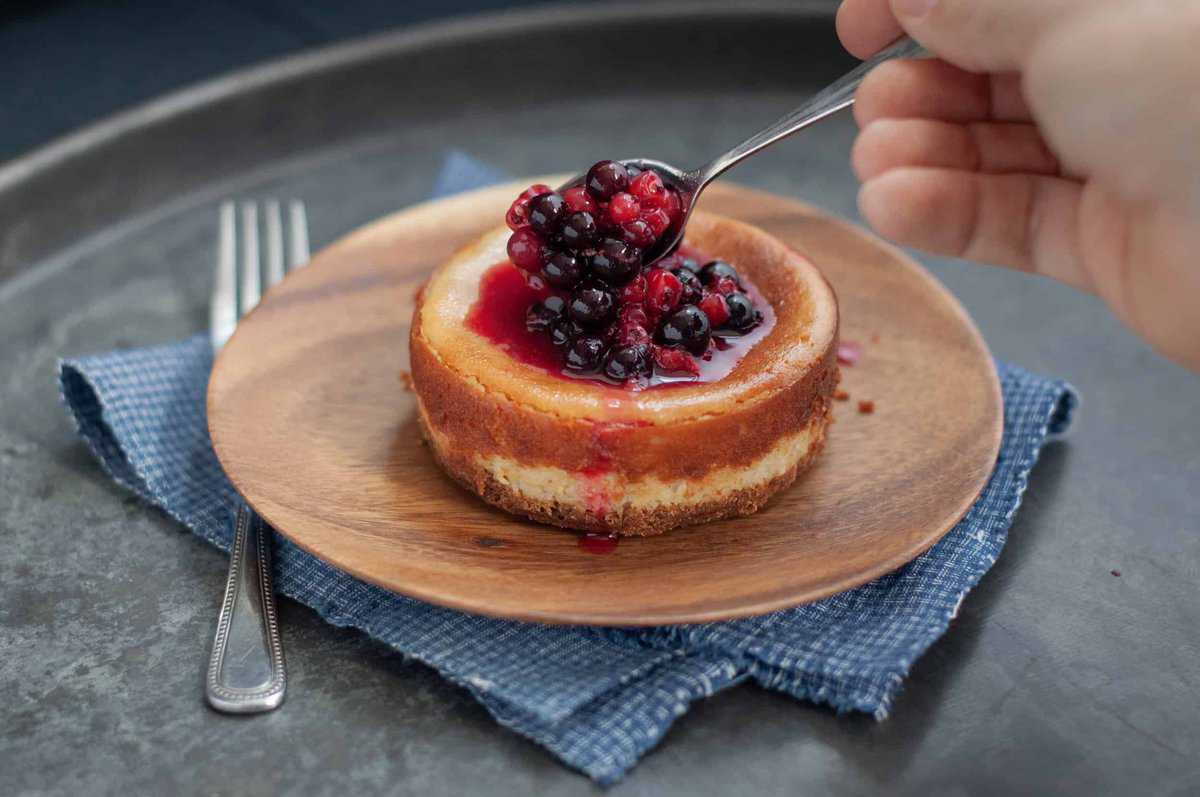 OH HI LITTLE FELLAS! These might just be the cutest non-dairy dream cakes from secular heaven I've ever seen! The silken tofu blended with the vegan cream cheese makes the texture of these dudes so freaking spot on and light. They're perfect for after a big dinner - maybe even after CHRISTMAS dinner!?
The recipe is adapted loosely from a number of sources including, our oracle and matriarch, Ms Lauren Toyota of "Hot For Food" fame. My substitution of the Speculoos crust adds a real winter vibe to the flavour while the red currants just scream "STICK ME IN A GOSH DARN CHRISTMAS STOCKING!" (Don't actually do that - the stains will never come out).
Makes two 10cm cheesecakes.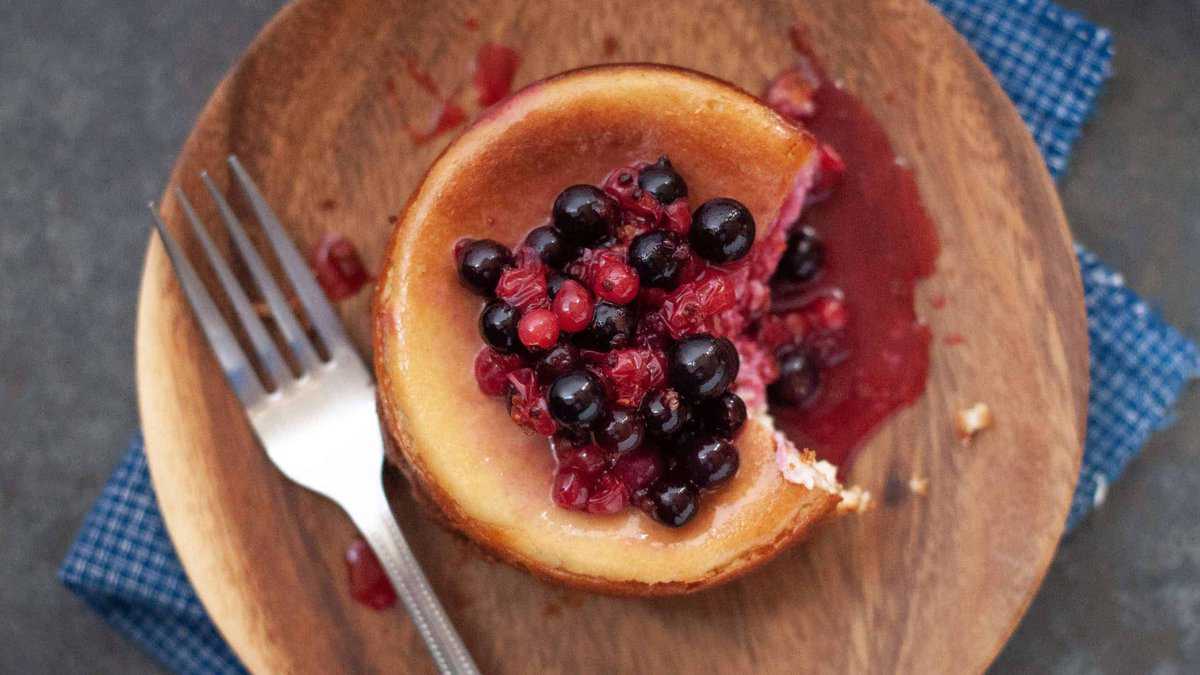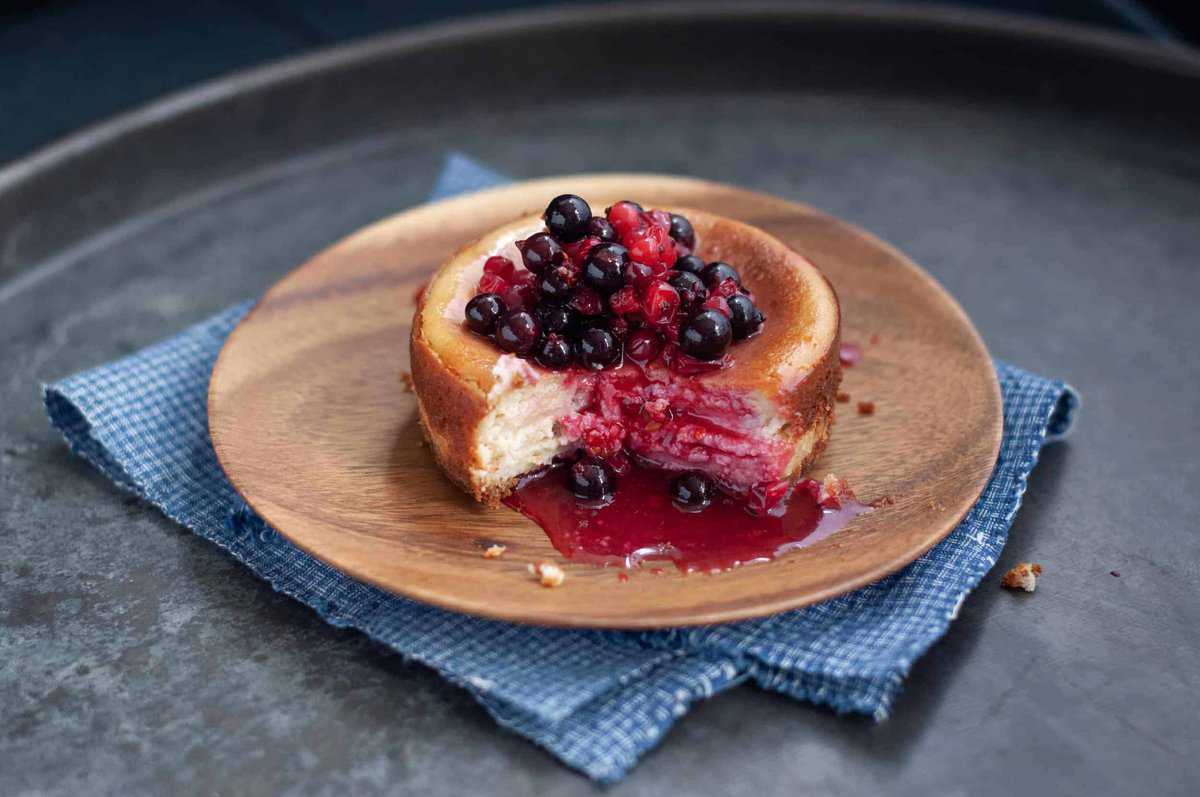 Black and Red Currant Cheesecakes
Ingredients
For the Crust
60

g

lotus/speculoos cookies

(crushed with a rolling pin or ground in a blender until fine)

15

g

vegan butter

(I use baking block or stork)

¼

teaspoon

maldon salt
For the Filling
90

g

raw cashews

(soaked in water for an hour)

140

g

silken tofu

140

g

vegan cream cheese

115

g

caster sugar

Zest of ½ lemon

3

tablespoon

lemon juice
For the Topping
45

g

red currants

(frozen or fresh)

45

g

black currants

(frozen or fresh)

1

tablespoon

lemon juice

1

tablespoon

orange juice

3

tablespoon

caster sugar
Instructions
For the Crust
Grease the inside of two 4 inch spring form cake tins. Line the bottom with baking parchment.

Place the butter in a small pan over a low heat and melt. Alternatively melt in the microwave.

In a medium bowl combine the melted butter with the cookie crumbs and the salt.

Divide the base mix into two and press into the bottom of each cake tin to form an even layer. Refrigerate for ten minutes.
For the Topping
Combine all ingredients in a small saucepan over a medium heat.

Cook until the red currants start to lose their shape and the sugar has completely dissolved.

Allow topping to cool completely.
For the Filling
In a high speed blender combine all the ingredients and blend until smooth.

Divide the mix between the two prepared cake tins.

Tap the tins lightly on the kitchen surface to release any large bubbles. Pop the bubbles on the surface with a clean toothpick.

Place in the preheated oven for 35 minutes. The tops should be just starting to turn golden brown.

Remove from the oven and allow to cook for 20 minutes. Once cool, place in the fridge for two hours minimum before removing the cakes from their tins.

Divide the topping between the two cakes and serve. A grating of fresh orange zest is a nice touch too.
Nutrition
Love this recipe?
Let me know on Instagram!