Publised on 23/02/2022 by Richard. Last Updated on 11/01/2023 by Richard.
My flawless vegan tiramisu with home-made coffee-soaked savoiardi sponge fingers and a smooth mascarpone style cream.
When I say that this vegan tiramisu is your most requested sweet recipe, I mean it (possibly second to this vegan chocolate cake). Once I got an anonymous letter in the post made from cut out bits of text (I suspect from Vegan Living Magazine) saying "ReLeaSe tHe TIrAmisU rEciPe oR eLsE!", which was mildly menacing in a Vegan Zodiac kind of way. 
I've also received several creepy phone calls in the middle of the night from an unknown number who simply says "VEGAN TIRAMISU" in a hoarse voice then hangs up. So to put all this mischief to rest, once and for all, here is your damn vegan tiramisu recipe. HAPPY NOW!?? You CAN have your vegan pancakes and eat them!
Jump to:
🧈 What is Vegan Tiramisu?
You'd BETTER be bloody happy, because this one took a LONG TIME to figure out. Sure, we've all seen vegan tiramisu recipes which are a little bit sad and I was determined not to put another one of those out into the universe. This guy had to be special! Ridiculously tasty, with vanilla-heavy vegan ladyfingers and a tangy yet super smooth mascarpone style cream holding it all together. 
Luckily for you, this recipe is ACTUALLY really easy to make (especially if you've already baked/bought your vegan ladyfingers). You don't even need to make my vegan whipped cream! So without further ado, here's how to get your vegan tiramisu journey underway! 
☕️ Vegan Tiramisu Ingredients
Here's everything you'll need to whip up the BEST vegan tiramisu on planet earth.
Espresso (or very strong coffee)
Rum or marsala
Caster sugar (aka superfine sugar in the USA)
Vegan savoiardi sponge fingers (use one batch of my recipe or use store bought)
Vegan butter (melted)
Firm silken tofu (room temperature)
Soy yogurt (plain, unflavoured and unsweetened, room temperature)
Caster sugar
Vanilla extract
🥣 Method
Looking for the full recipe? You're nearly there! Just keep scrolling to the bottom of the page! Want more of my comedy genius prose and perhaps a little extra instruction before you get cracking? Awesome! Here's a brief guide to making perfect vegan tiramisu. 
1. Soak the ladyfingers! I'm always surprised that tiramisu is filed in my brain as such a coffee-heavy dessert. There's really only one element which contains coffee and that's the syrup we use to soak our ladyfingers. But this is a great reason why you should use REALLY GOOD coffee and (if you can) fresh espresso! We whisk the coffee together with some sugar and a little rum (or leave out the rum if you're feeding children or non-drinkers obvs) and then we soak our ladyfingers one by one. Arrange the ladyfingers in a single layer on the bottom of your chosen dish (ideally around 21x15cm) and then set aside. 
2. Make the mascarpone style cream! We're literally just going to blend some melted vegan butter (for creamy velvetiness) with silken tofu (for body and bounce) and some vegan yogurt (for gentle tang). Throw in a little sugar and vanilla and you'll be shooketh at how good this stuff tastes. Just remember, your butter needs to be melted and all the other ingredients at room temp before you blend, otherwise the mixture will split. It's also essential to use "block-style" vegan butter and not soft margarine (I use "baking block" in the UK but Naturli or Miyokos vegan butters also work great!). Otherwise the mixture won't set properly in the fridge.
3. Layer it up! Now we're mostly just doing a game of repeat! You're going to build your vegan tiramisu by pouring over half of the mascarpone cream then repeating with a second layer of soaked ladyfingers. Make sure you don't pack TOO many ladyfingers into the container, otherwise you won't leave enough room for the cream (which is a very important element. 
4. Refrigerate! Look, you could TECHNICALLY eat the tiramisu immediately after layering. Just dive in with a spoon and don't tell mum. But we're adults with impulse control now (pfft speak for yourself!) and we can WAIT for our tiramisu to mature, right? All you gotta do is cover it up with either a lid or cling film and refrigerate for at least 4 hours (ideally overnight). 
🧞‍♂️ Hint
Before serving it's ESSENTIAL that you dust the top with a decent cocoa powder. No ifs and buts please, just do it! It's OPTIONAL however to ALSO sprinkle the top with finely grated chocolate. I like to do both, because who says no to extra chocolate??
🔄 Substitutions
Here's how to make this vegan tiramisu perfect for everyone - no matter what their dietary requirements may be!
Gluten Free - All the ingredients in this tiramisu are already gluten free, however the sponge fingers recipe uses regular flour. This is an easy fix though! Just replace the flour with Freee or Bob's Red Mill 1:1 blends (my favourite brands), when you make the ladyfingers!
Sugar Free - Again, easy peasy swap! Just use a sugar-free alternative like this one in place of the caster sugar.
Let me know via instagram if you make any swaps or subs.
🥞 How to Serve Vegan Tiramisu
I like to portion this guy up with a knife before diving in with my cake-slice. It helps to make sure everyone gets a decent portion and also means you can halve those ladyfingers more easily. 
Serve it cold, at fridge temperature.
If you don't finish the vegan tiramisu in one go, don't worry. Just cover it with film or reusable wrap and store in the fridge.
If you'd like to make the ladyfingers in advance, let them cool fully then store in an airtight container.
🔪 Equipment
Here's all you'll need to make my vegan tiramisu!
1 wide bowl
1 deep 21x15cm dish
High Speed Blender
1 sieve for dusting cocoa
1 grater, for grating chocolate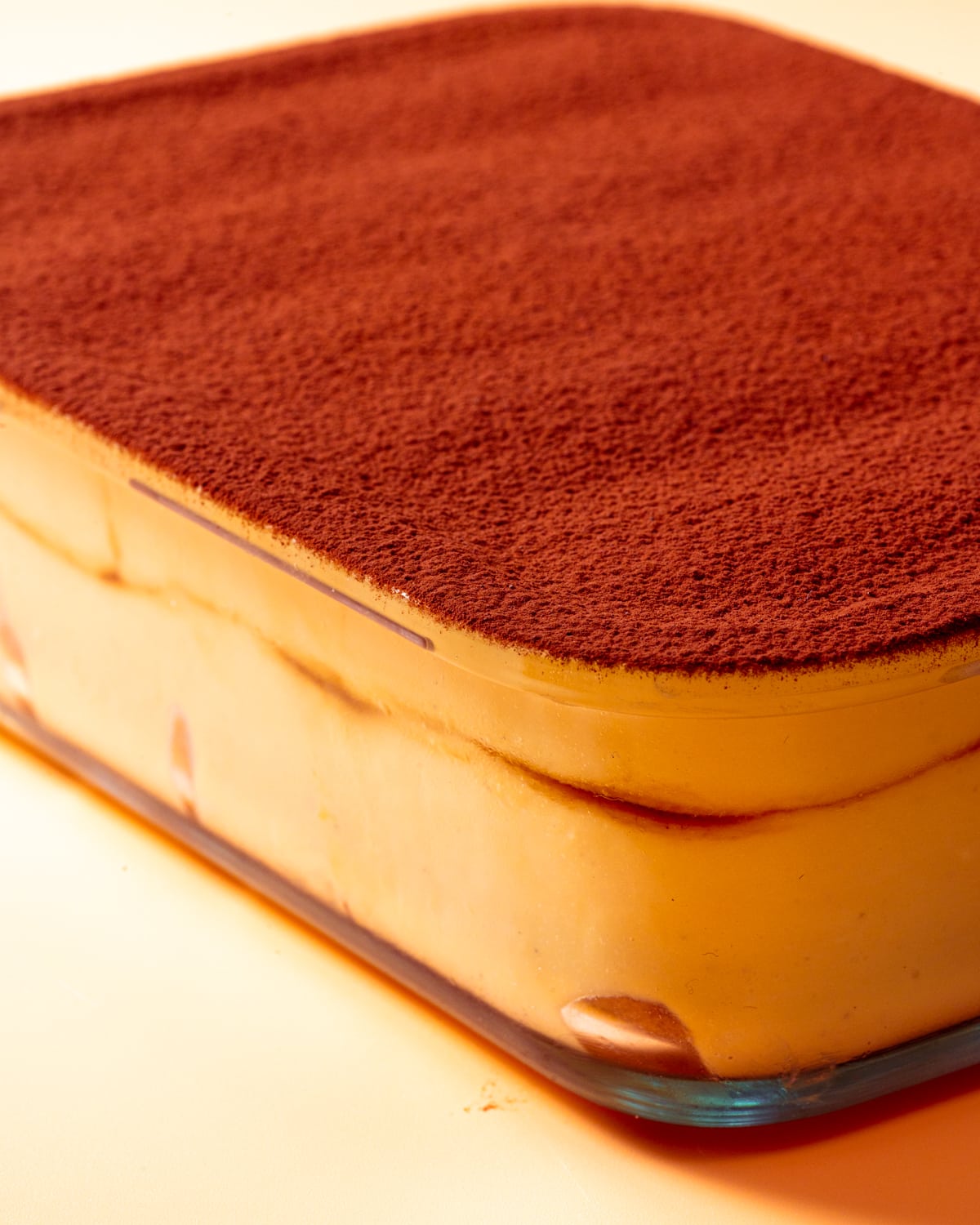 🤷‍♀️ Vegan Tiramisu FAQs
Q: Is tiramisu vegan?
A: No, tiramisu is not vegan - but this version of the recipe is! Traditional tiramisu uses mascarpone, egg and butter, but this recipe is completely vegan with no lack of flavour
Q: Is tiramisu served hot or cold?
A: Always cold! It needs to be fridge temperature or it will fall apart as you scoop it out of the dish. Definitely not hot!
Vegan Tiramisu
My flawless vegan tiramisu with home-made coffee-soaked savoiardi sponge fingers and a smooth mascarpone style cream.
Equipment
1 wide bowl

1 deep 21x15cm dish

High Speed Blender

1 sieve for dusting cocoa

1 grater, for grating chocolate
Ingredients
For the Sponge Layer
150

ml

espresso

(or very storng coffee)

2

tablespoon

rum or marsala

6

tablespoon

caster sugar

(aka superfine sugar in the USA)

12

vegan savoiardi sponge fingers

((use one batch of my recipe or use store bought))
For the Cream Layer
170

g

vegan butter

(melted)

350

g

firm silken tofu

(room temperature)

120

g

soy yogurt

(plain, unflavoured and unsweetened, room temperature)

120

g

caster sugar

1

teaspoon

vanilla extract
For Serving
2

tablespoon

cocoa powder

20

g

vegan dark chocolate
Instructions
To Make the Sponge Layer
In a wide bowl, whisk together the espresso, rum and caster sugar until no granules of sugar remain.

150 ml espresso,

2 tablespoon rum or marsala,

6 tablespoon caster sugar

One by one, dunk each savoiardi sponge finger in the coffee mixture, flip and dip again, before placing in a row on the bottom of a deep 21x15cm dish.

12 vegan savoiardi sponge fingers

Once you have a row of 5 or 6 sponge fingers (depending on the size of your dish) across the base of the dish, pause the dunking and make the cream layer.
To Make the Cream Layer
Place all the cream layer ingredients in the cup of a high-speed blender and blend until smooth. If the mixture appears to have split or doesn't quite look smooth, put the lid on the blender cup and sit it in a bowl of just-boiled water for 5-10 minutes before blending again.

170 g vegan butter,

350 g firm silken tofu,

120 g soy yogurt,

120 g caster sugar,

1 teaspoon vanilla extract

Pour half of the cream mixture over the bottom layer of soaked savoiardi sponge fingers. Give the dish a gentle jiggle to even out the cream layer and fill the cracks between the sponge fingers.

Continue dunking and arranging the remaining sponge fingers in a second layer on top of the first then top with the remaining cream mixture. Use a pallet knife or spatula to flatten off the surface then cover with cling film (making sure it's not touching the cream surface) and place in the fridge for at least 4 hours or ideally overnight.

Once ready to serve, dust with the cocoa powder and finely grate with the vegan dark chocolate.

2 tablespoon cocoa powder,

20 g vegan dark chocolate
Notes
If you can't find any vegan sponge fingers for your vegan tiramisu, you can make them from scratch. My recipe can be found here. They're easy to make and the recipe works best with these sponge fingers. Also remember that tiramisu always tastes best made with fresh espresso. Strong black coffee will also do but try your best to use espresso if you possibly can.
Don't worry about the tiramisu if it looks a bit too jiggly as you're assembling. It'll set in the fridge over time.
Nutrition
Serving:
1
grams
Calories:
525
kcal
Carbohydrates:
71
g
Protein:
9
g
Fat:
24
g
Saturated Fat:
7
g
Polyunsaturated Fat:
15
g
Trans Fat:
1
g
Cholesterol:
49
mg
Sodium:
234
mg
Fiber:
1
g
Sugar:
35
g
Love this recipe?
Let me know on Instagram!