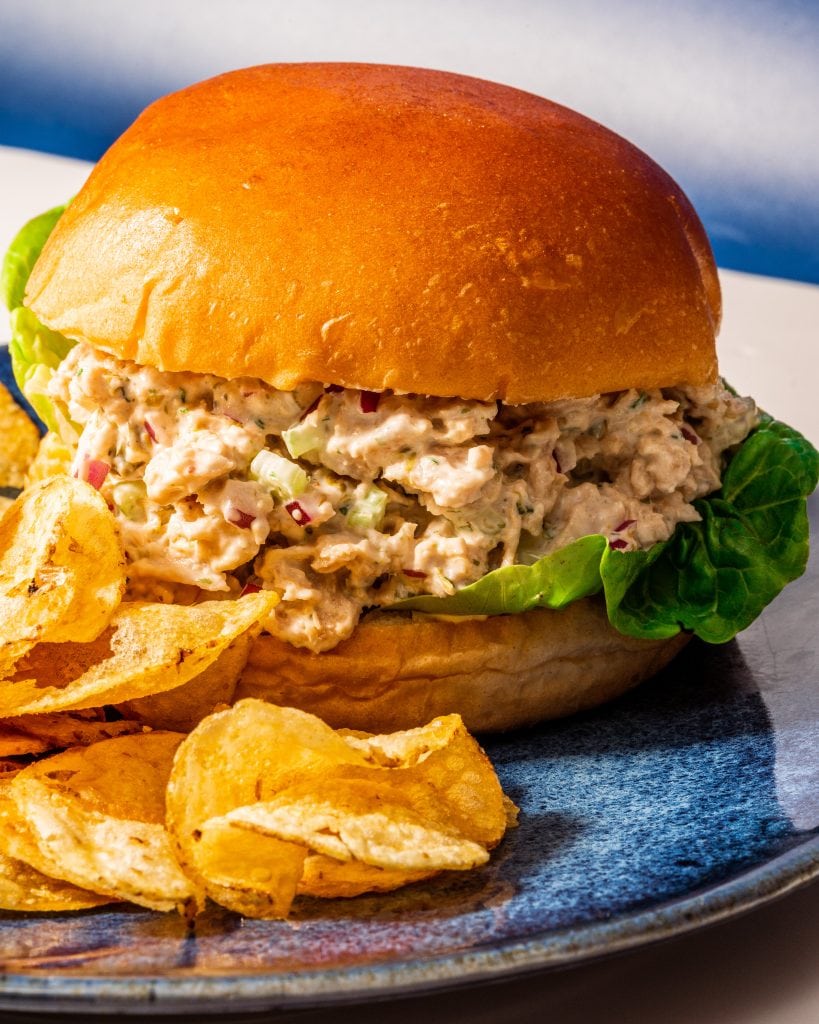 The best vegan tuna salad or vegan tuna mayo that's high protein and doesn't require chickpeas or jackfruit! Perfect for vegan tuna salad sandwiches and vegan tuna melts!
---
I've been keeping this vegan tuna salad (or vegan tuna mayonnaise or vegan tuna mayo for my fellow Brits) to myself because I like to protect the things I love most and because it truly is THE BEST vegan tuna salad. But if the last few years have taught me anything, it's that TRUE joy is found in sharing. No, not ACTUALLY sharing my food, no, I could never, but sharing my recipes, so you can make it yourself.
This vegan tuna salad or vegan tuna mayo is like no other. Most recipes use chickpeas. Some use jackfruit. I've even seen a few use banana blossom and, in the interest of fairness, I've tested them all! My favourite used to be banana blossom, but this recipe simply takes the cake (eww tuna cake).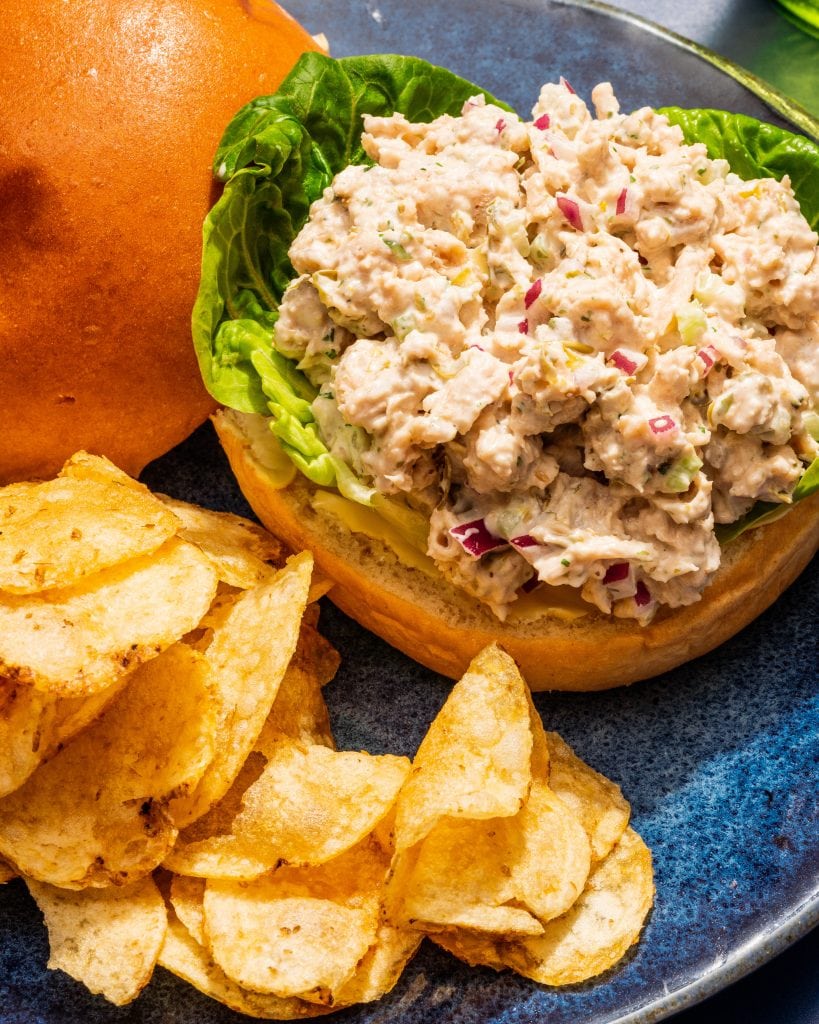 Why is this THE BEST vegan tuna salad or vegan tuna mayo??
Well, if you've been here a while, you'll know that I'm not one to shy away from hyperbole. But trust and believe, this is a damn decent take on your classic tuna salad or tuna mayo. Here's why:
It's high protein! It's made from TVP (aka soy protein) which means it's packed full of the good stuff. Banana blossom and jackfruit versions of vegan tuna salad are yum, but low protein. Don't get me wrong, this isn't suddenly a health-food blog, but it's definitely a good thing to have some simple vegan high-protein recipes to hand. 
It has BITE! In my hunt for the best vegan tuna salad or vegan tuna mayo I found that the thing they mostly lacked was BITE. You know that BOUNCE that tuna has? That sort of MEATY texture? Chickpeas just don't cut it unfortunately. This recipe cut's it VERY VERY WELL YOU'REWELCOME!
It's cheap to make! Again, I'm not exactly KNOWN for avoiding weird esoteric vegan ingredients which cost a fortune (anything in the name of GREAT VEGAN ALTERNATIVES!) but this recipe just happens to be made from cheap ingredients which MOST vegan cooks have to hand.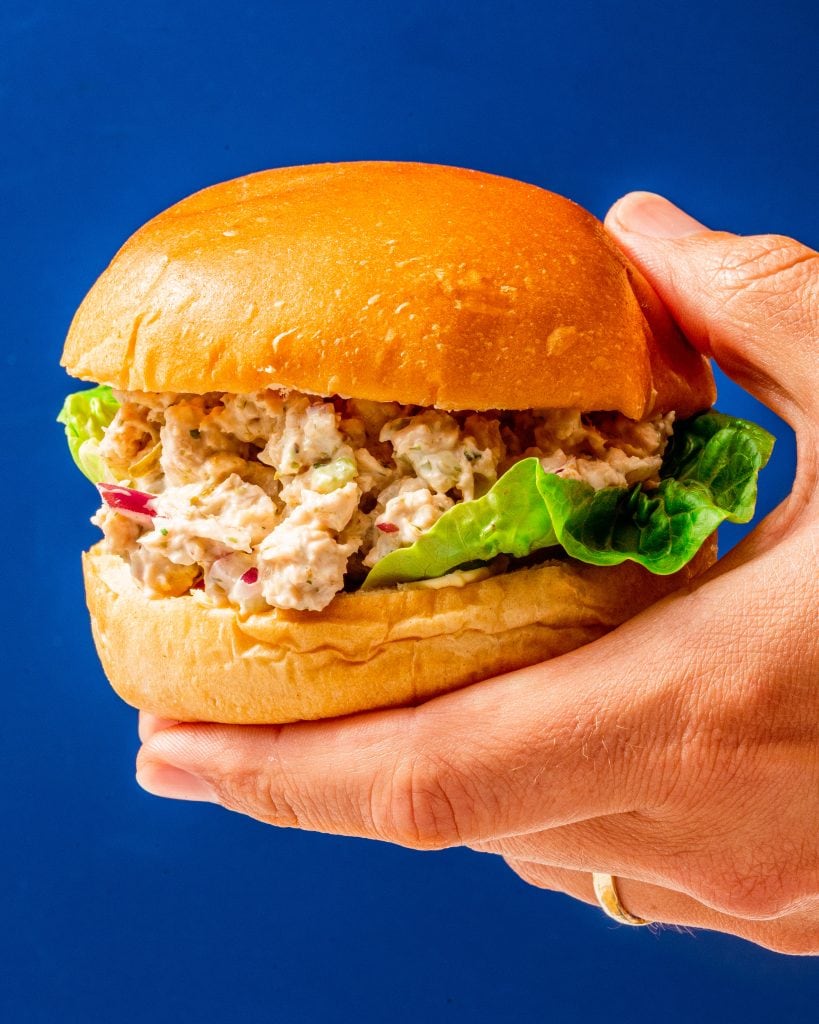 Any tips on getting PERFECT vegan tuna salad or vegan tuna mayo??
YES! I have a couple. Follow the recipe and you'll get a delicious dish, but follow these tips also and you'll reach GOD TIER VEGAN BOSS STANDARDS!
1. Kombu baby!
Kombu is my FAVE hack for perfectly fishy vibes in any of your vegan cooking! It's a type of seaweed used in making dashi: Japanese soup stock. It lends a potent fishy flavour to water when heated gently and it has a pleasantly umami kick too. In this recipe, we rehydrate our soy protein with a 3 inch piece of kombu to give it a gentle but delicious seafood flavour!
2. Use the right kind of TVP!
If you're new to TVP (textured vegetable protein or should I say "Tuna-ey Vegan Proxy") then here's the lowdown. It's a super cheap, super versatile meat substitute made from soy protein. It's usually bought dehydrated and comes in all sorts of shapes and sizes. But when it comes to making the best vegan tuna salad or vegan tuna mayo, not all TVP is created equally. Here's my ranking for the top TVP shapes to use (from best to worst) when making this recipe!
TVP "Slices" and "Chunks" – these guys are sold as flat, thin strips (usually about 1 inch squares) and marble-sized balls respectively. They are my top choice for this recipe. Once rehydrated, they replicate the flaky fibrous nature of tuna REALLY WELL and break or blend up perfectly. 
TVP "Curls" – these are sold as irregular shaped strips and are often used to replicate chicken. They're great and will also make super delicious vegan tuna, but being smaller and chunkier, you'll get fewer of those long flakes you get in real tuna. 
TVP "Mince" – this stuff resembles mince or ground and is perfect for lasagna or bolognese, but not vegan tuna salad. Please, don't even try it. You'll just end up with mush!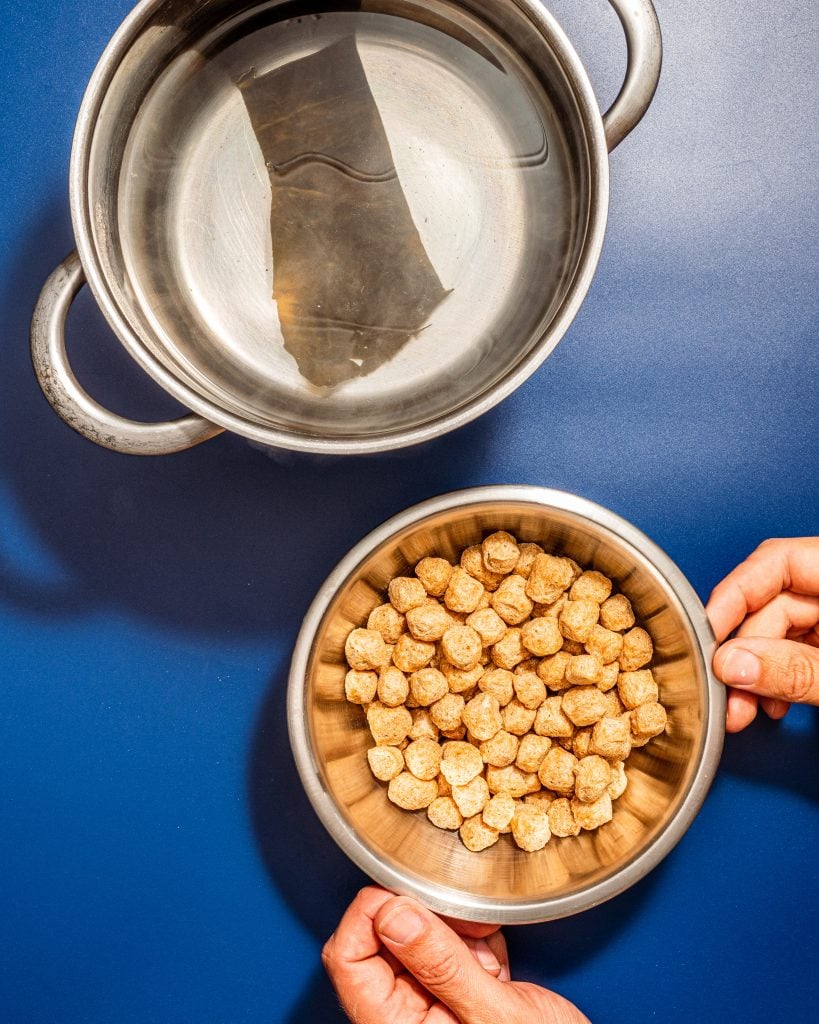 2. Get all the moisture out!
So now that you've got the perfect TVP for my PERFECT vegan tuna salad you gotta COOK it correctly! Ordinarily when rehydrating TVP you just have to soak it in freshly boiled water for a few minutes. I find that this still results in slightly tough TVP – we don't want TOO much bite. For that reason I recommend that you BOIL the TVP for a few minutes. This is also a good opportunity to get some flavour in the stuff, so throw some kombu and shiitake in there – WHY NOT!
But most importantly, once your TVP has cooled, you want to make sure that you remove AS MUCH of the soaking water as possible. Nobody likes wishy washy wet vegan tuna salad, so be sure to use a cheesecloth or nut milk bag (or even just a clean teatowel) to wring out all the moisture. It's also the point where we break up the pieces of TVP into tuna-like flakes. We're ALMOST THERE!
3. Use decent vegan mayo!
Obvs mayo is a huge part of tuna salad (hence why us weirdo brits love to call it "Tuna mayo") so be sure to pick a good one! My all time fave is Hellmans vegan mayo (not sponsored – just a fact). It tastes IDENTICAL and doesn't turn all gross and watery when mixed with the veggies in this recipe.
And that's it!
If you love sweetcorn in your tuna salad, why not throw some in?? If you love gherkins in there, bosh some of those guys in too! This recipe is super simple and so easy to customise, so go for it sis!
Need some more vegan fish recipes!?
You got it pal!! Why not give these baddies a try!?
Vegan Fish Tacos (with Banana Blossom!)