Publised on 12/06/2019 by Richard. Last Updated on 12/10/2022 by Richard.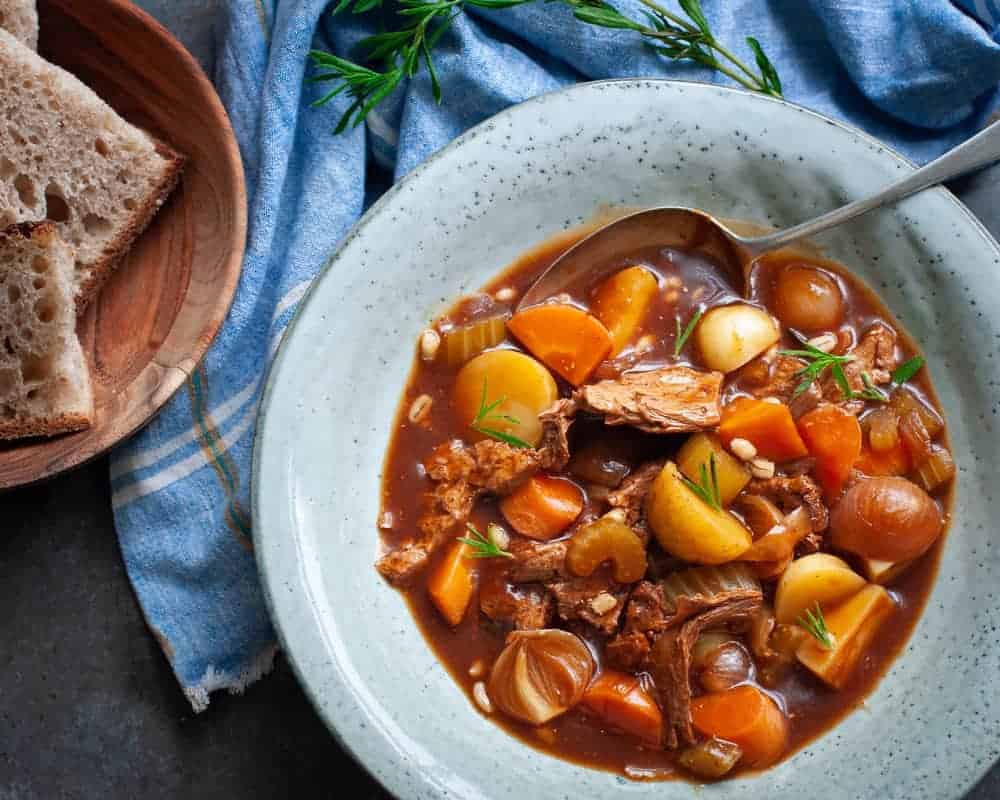 Vegan scouse made with soy protein, packed with veggies and tender barley. It's my vegan take on traditional "Scouse" stew!
---
This vegan scouse is a veggie and "beef" stew made with soya protein, loads of veggies and pearl barley is a winter feast like no other. It's so moreish and super satisfying - I swear it could cure a cold!
This is almost exactly the kind of vegan scouse my Mum would serve me when I was home from school with the flu. It has a very special place in my heart! It's satisfyingly savoury and the big chunky veggies really feel nutritious and delicious!
It also makes for an amazing summer stew! Best served on a long evening and best consumed by a fire (ideally by the sea!). Stick some vegan scouse in a wide flask next time you head to the sea-side and it will really warm your soul!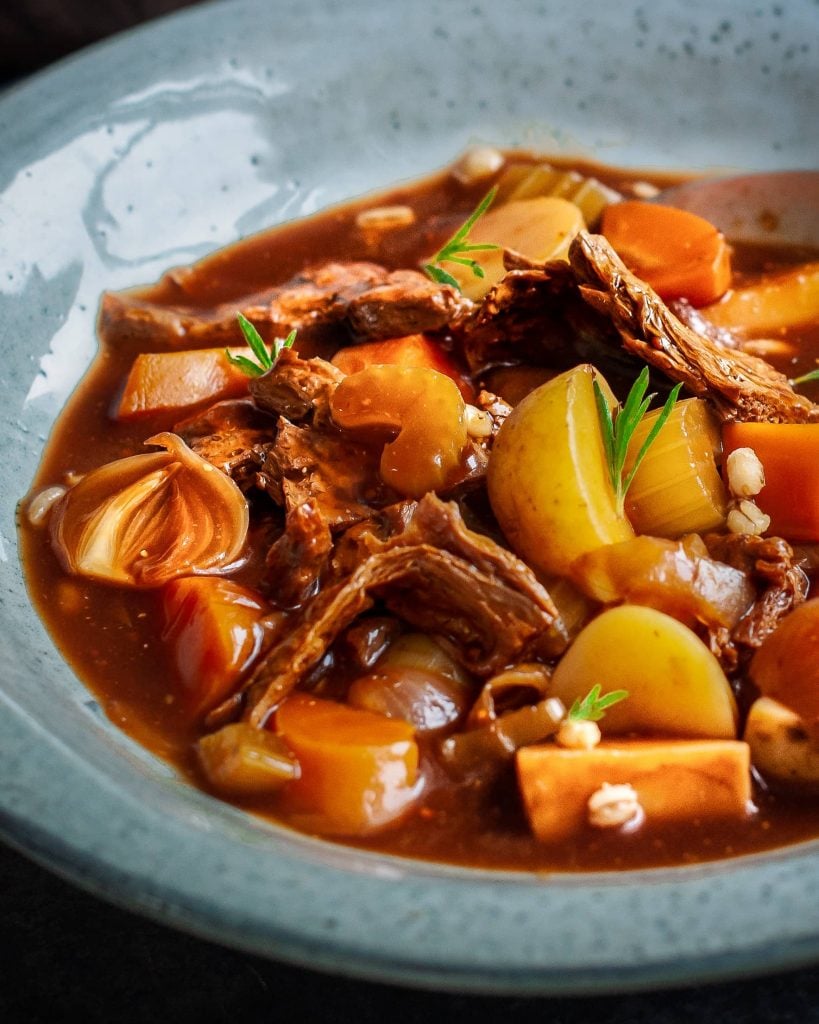 Where does "vegan scouse" come from?
As you might have already guessed, I'm from Liverpool - and so is this stew! For everyone outside the UK, people from Liverpool are known as "Scousers". This name comes from a Norwegian stew which has been eaten in the city for hundreds of years, so vegan scouse is essentially a beef-free stew!
Liverpool was historically a super, SUPER important port in the UK. This meant the population was inevitably multi-cultural before "multi-cultural" was even a word. The inner city, unfortunately, was also a place of extreme poverty for a very long time. My Mum grew up in the slums of central Liverpool and can even remember sleeping under newspapers to keep warm as a kid. The combination of thrifty home-cooks and a high number of Scandinavian sailers meant that Lobscouse (or lapskaus in Norwegian) became a super popular and cheap dish.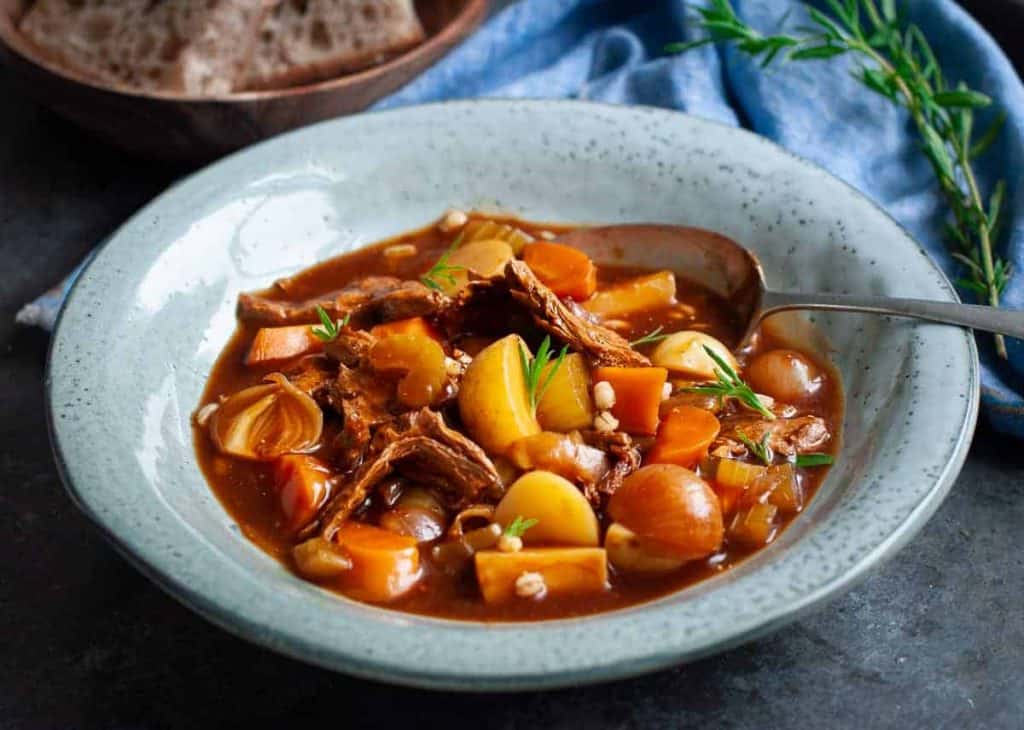 What even IS "vegan scouse"??
This vegan beef stew (aka vegan scouse) mostly consists of stewed vegetables in a rich sauce and traditionally involves either lamb or beef. As a kid (back when I was vegetarian) I was always served "Blind Scouse", a variation which replaces the meat for lentils or beans. Blind scouse, so I'm told, was much more common than Lobscouse since it was much cheaper to make! We ate some variation of vegan scouse pretty much every week throughout my childhood, so it really has a nostalgic vibe for me.
Anyway, history lessen over - I want to pay homage to my hometown today by sharing my (rather modernised) vegan beef stew "Scouse" recipe.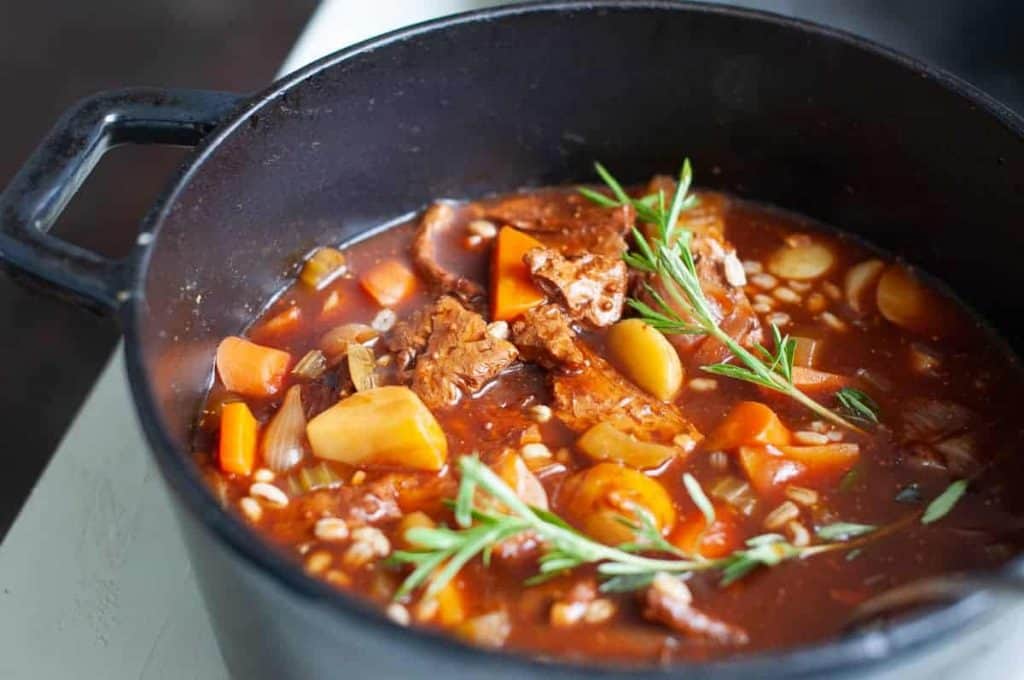 How should I serve it?
This vegan beef stew is amazing as a stand-alone dish - or as a starter. It's so seriously packed with veggies that it really is a filling dish. It's perfectly warming for a cold rainy day and should ALWAYS be served with a "cob" of bread and a generous topping of sauerkraut or even my miso pickled cauliflower.
If you want to copy my mum exactly, why not top with a big spoonful of shredded pickled beetroot!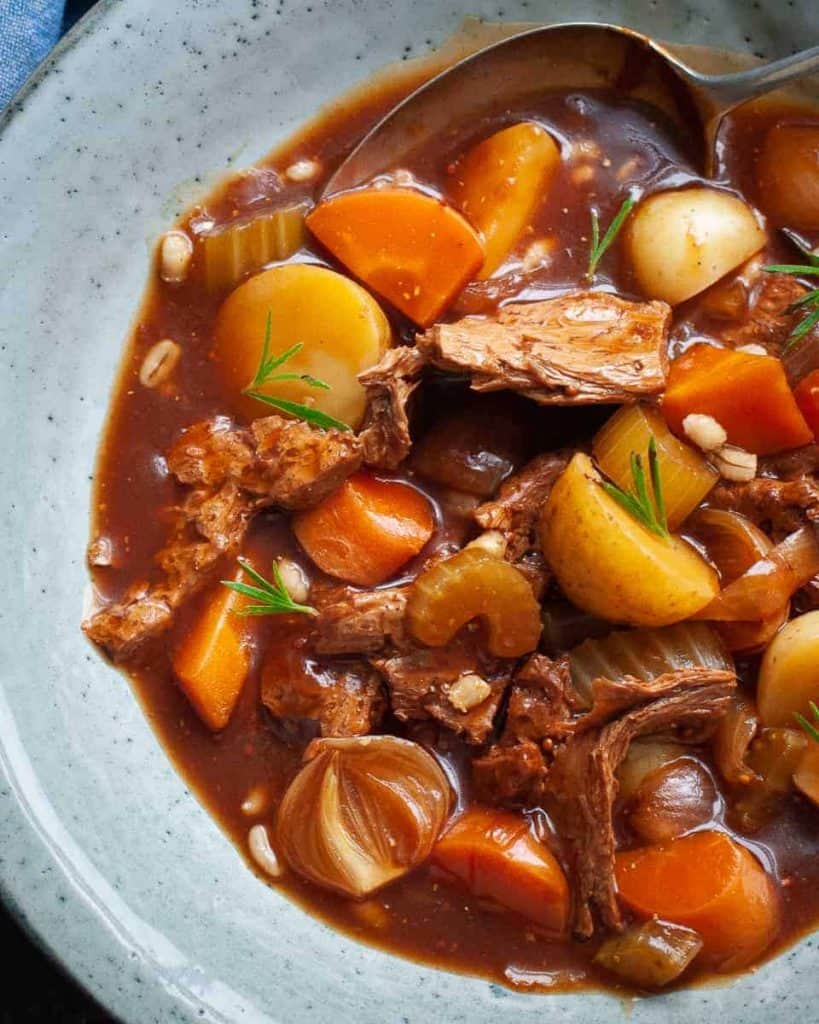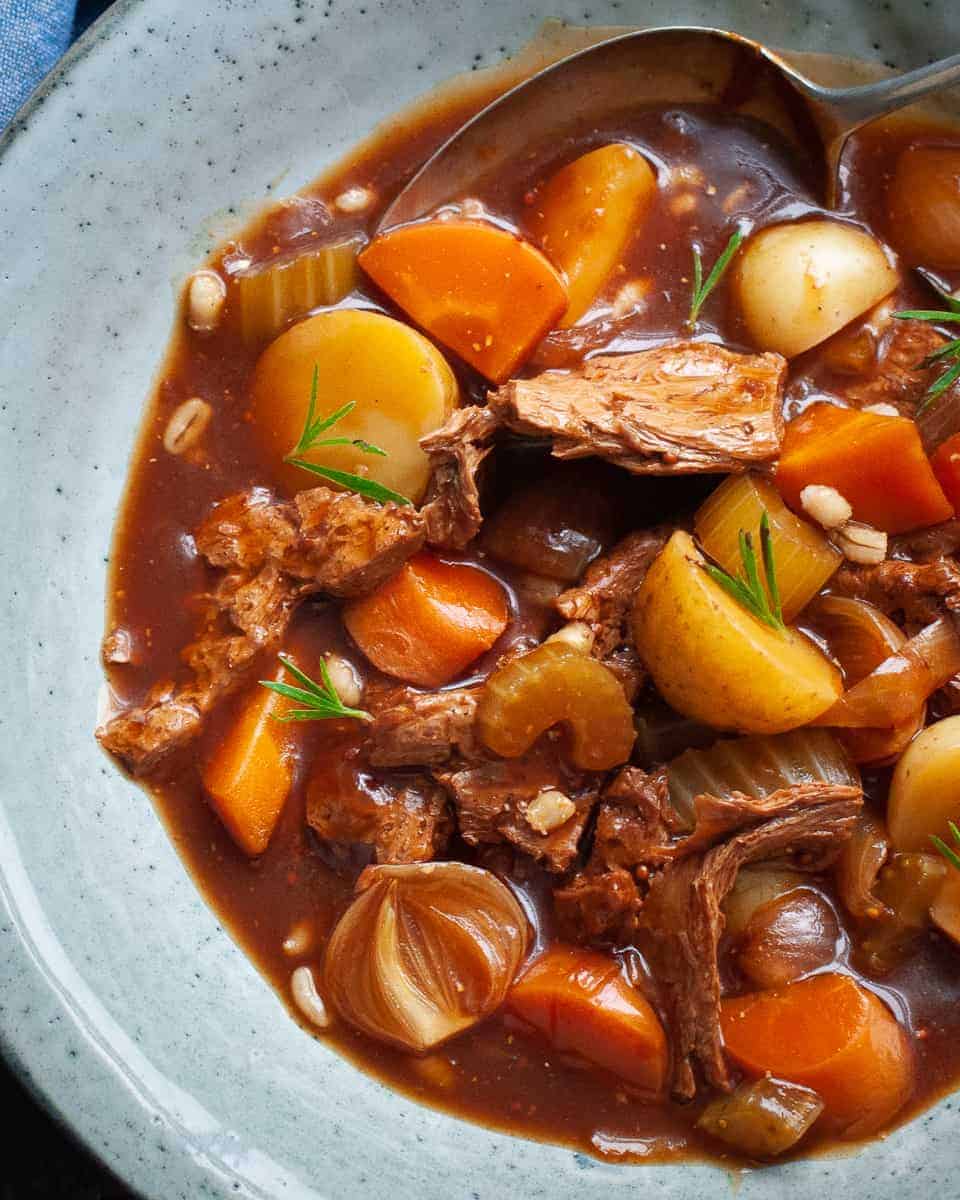 Let me know what you think!
This recipe really has a special place in my heart and I'd love to know what you think! Please leave a comment or rating on the recipe below - I promise I'll pass on any nice messages to my mum! If you're after a vegan beef roast, I have that recipe for you too!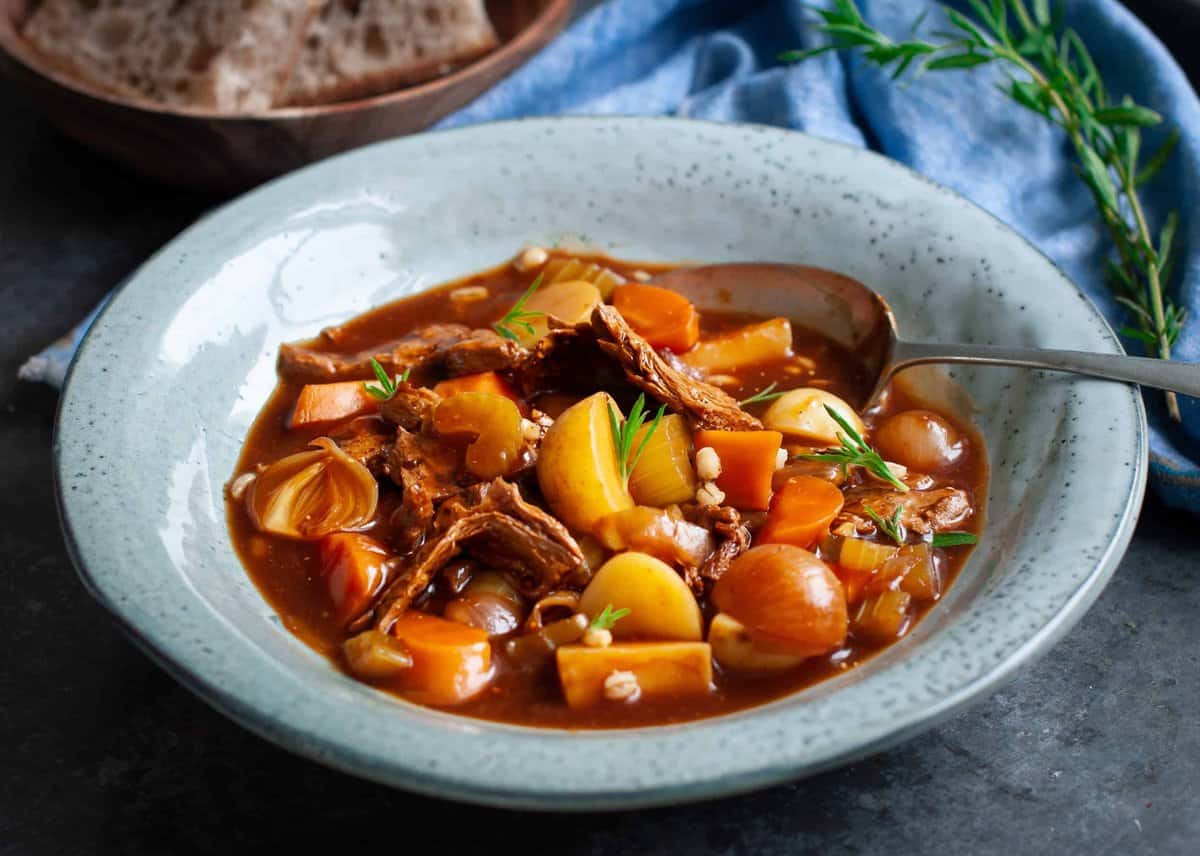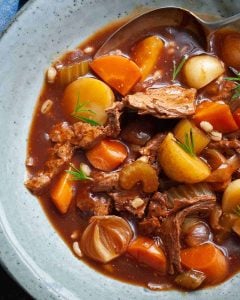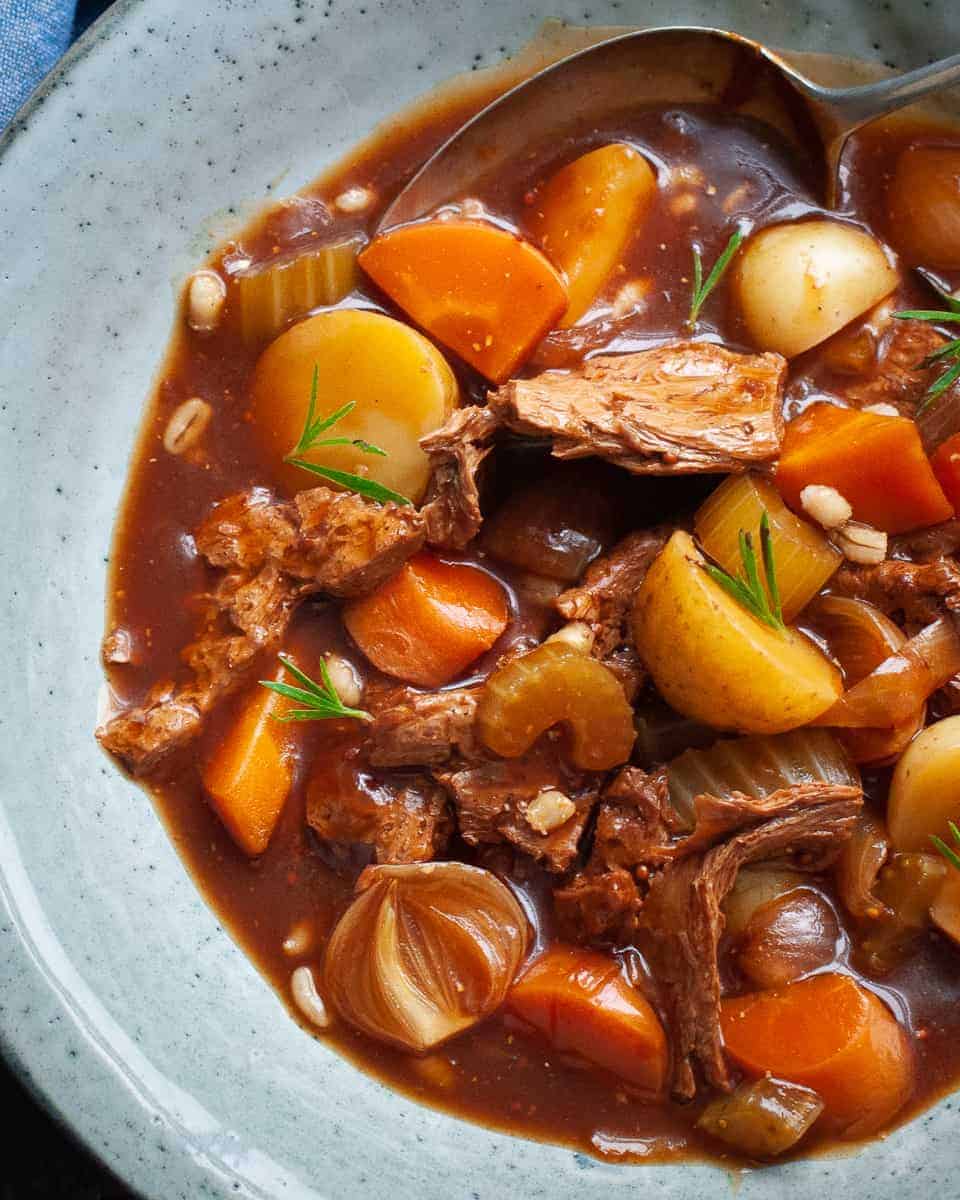 Vegan "Beef" and Barley Lobscouse Stew
Vegan beef stew made with soy protein, packed with veggies and tender barley. It's my take on traditional scouse stew!
Ingredients
50

g

pearl barley

1

teaspoon

vegan bouillon powder

75

g

dehydrated vegan "beef" strips

((you can find these in asian supermarkets, amazon, or you can use the hydrated version which comes in a can. This recipe also works great with my favourite meat substitute "Oumph!" which is sold by Tesco in the UK))

5

pearl shallots

((peeled and halved))

½

yellow onion

2

cloves

of garlic

((crushed))

2

tablespoon

dark soy sauce

2

celery sticks

((sliced into ½ cm crescents))

2

large carrots

((halved and sliced into ½ cm crescents))

10

new potatoes

((halved))

50

ml

vegan white wine or light ale

1

tablespoon

tomato puree

1

tablespoon

brown rice miso paste

1

tablespoon

balsamic vinegar

3

bay leaves

1

litre vegetable stock

1.5

tablespoon

corn flour

2

stems of either thyme

((oregano, winter savoury or summer savoury - any is fine!))
Instructions
Start by cooking your pearl barley. Place the barley in a small saucepan with the bouillon powder and cover with boiling water. Place over a medium heat and bring to the boil. Reduce to a simmer until barley is swollen and tender (around 10 minutes). While the barley is cooking, rehydrate the beef strips.

Place the beef strips in a large mug or a bowl. Cover with boiling water, top with a lid or small plate and leave to hydrate for 10 minutes. Once hydrated, pour through a sieve, discard the soaking water and, with a spoon, squeeze out most of the excess water in the beef. Set aside.

In a large saucepan or cast-iron dutch oven over medium heat, place the oil, followed by the onion and the shallots. Sautee for a few minutes before adding the garlic. Continue to cook for a further minute or so, being careful not to burn the garlic. Add the rehydrated beef strips followed immediately by the soy sauce and fry for another few minutes, stirring constantly.

Add the celery, carrots and potatoes and stir well to combine. Follow with the red wine then stir and allow some of the liquid to cook off. Follow with all the remaining ingredients apart from the corn flour and the fresh herb sprigs. Bring everything to a boil then reduce to a simmer and cover with a lid. Allow the stew to simmer for approximately 15 minutes, stirring occasionally. After 15 minutes, test a potato by pricking with a fork. If it slides in easily then everything's cooked, if not, give it another 5 minutes with the lid on.

Once all the vegetables are cooked, place the cornflour in a small bowl and whisk in 3 tablespoon cool water until you have a smooth white liquid. Pour the liquid into the stew and stir well. The sauce will thicken very quickly so just keep stirring until it's almost perfect then turn off the heat. The sauce should be glossy and coat all of the vegetables nicely. Once the pearl barley is cooked, drain it, rinse it and add it to the stew. Give everything a good stir to combine then top with a few sprigs of fresh herbs. I serve mine with some red cabbage sauerkraut.
Nutrition
Serving:
1
grams
Calories:
266
kcal
Carbohydrates:
51
g
Protein:
13
g
Fat:
1
g
Saturated Fat:
1
g
Cholesterol:
1
mg
Sodium:
669
mg
Fiber:
9
g
Sugar:
8
g
Love this recipe?
Let me know on Instagram!