Gooey, chewy peanut butter stuffed cookies, packed with dark chocolate and a touch of flaky sea salt. The most indulgent vegan cookie out there!
---
Alright, it's been a while since I posted some cookies up in this joint, so why not kick things back off with these VEGAN PEANUT BUTTER STUFFED COOKIES?? It might SEEM like I put that recipe title in caps as some sort of hopeful SEO hack, but actually it's because I've just eaten three cookies on my own and SUDDENLY FEEL LIKE I COULD CLIMB A MOUNTAIN!!
Do YOU want to feel like you can climb a mountain!?!? Then keep reading sis! (NB: these cookies will NOT help you climbing any mountains, please only attempt mountain climbing with the assistance of a trained professional or a responsible goat).
Talk to me about these damn fine cookies…
Look, I don't want to claim that I INVENTED the peanut butter stuffed cookie (as we all know, that was Thomas Jefferson) but I AM preeeetty damn good at making them! Here's what makes these guys better than any other recipes you might see on someone's stupid food blog:
That sweet/salty balance baby! Gotta use that flaky sea salt with care because with great power etc etc.
The PB filling. Some people just shove straight PB up in the cookie dough. That's illegal and will result in all the oils from the PB leaking out and making your cookies soggy. AVOID!
I MADE the recipe. That doesn't mean anything in reality unless you think I'm a nice guy in which case you may feel a mild placebo effect after consumption.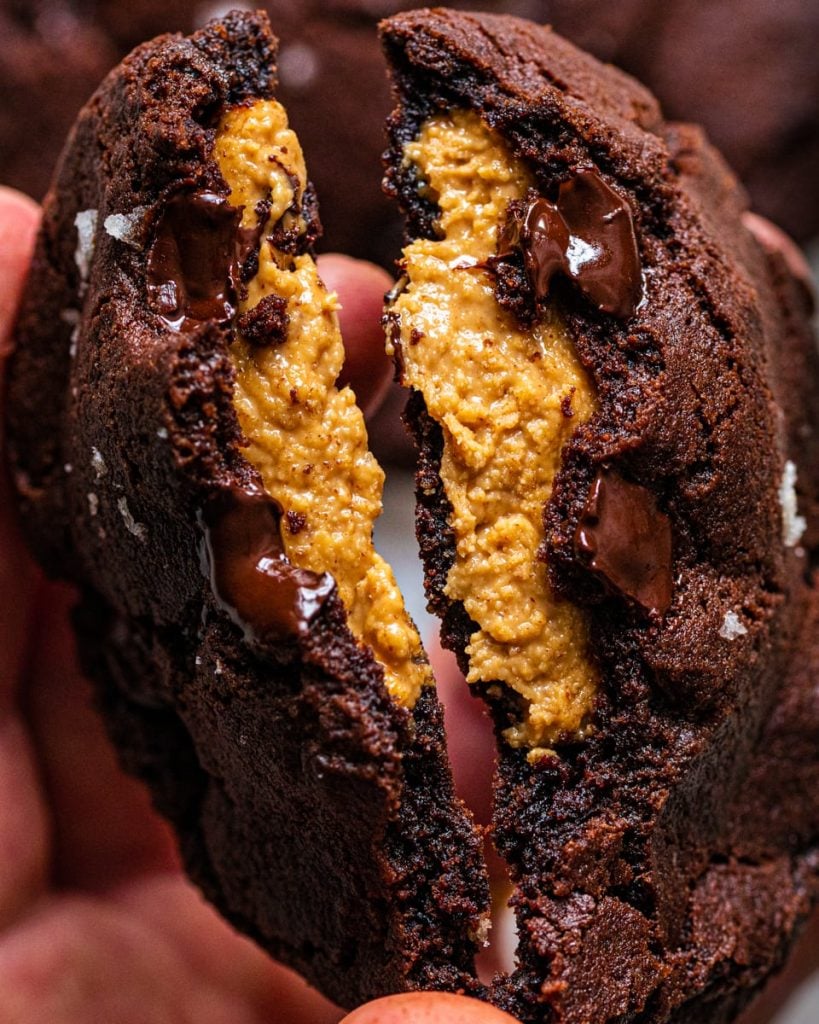 A couple PRO tips for making VEGAN PEANUT BUTTER STUFFED COOKIES!
Yeah I'm a pro: PRO-crastinator! Still! I got mad skills in the cookie department, so read EVERY WORD below and DO NOT scroll to the recipe otherwise you'll be transported to Jumanji and hunted down by an imperialist ass hole with a shotgun who's actually a metaphor for your grumpy father.
CREAM that butter binch!
Back in the day, I read many recipes which included creaming butter and invariably I'd do a little chuckle like this "mbheh!" then never actually follow the instructions. Here's my tip.
FOLLOW (clap emoji) THE (clap emoji) INSTRUCTIONS (clap emoji)
Creaming butter isn't just a funny phrase. It's important. Long story short, it makes your cookies lighter and chewier by softening and aerating the butter WHILE simultaneously giving your sugar time to dissolve completely. Give it a good 3-5 minutes on medium speed and if you're doing it by hand, good luck with that RSI baybeh.
Freeze that PB!
Stuffing liquid peanut butter into soft cookie dough sounds so stressful I'm going to call an ambulance. DON'T DO IT!
Firstly, we're going to make a PB filling by beating together PB, icing sugar and flaky sea salt (oh hey again gurl, you flaky cow).
Secondly, you'll find the WHOLE process A LOT easier if you let your PB filling freeze before stuffing it! half an hour should do it. Ph and make sure you use a decent PB which is 100% peanuts – no added oils or sugar or what not. No shade on Skippy, it just won't work in this recipe.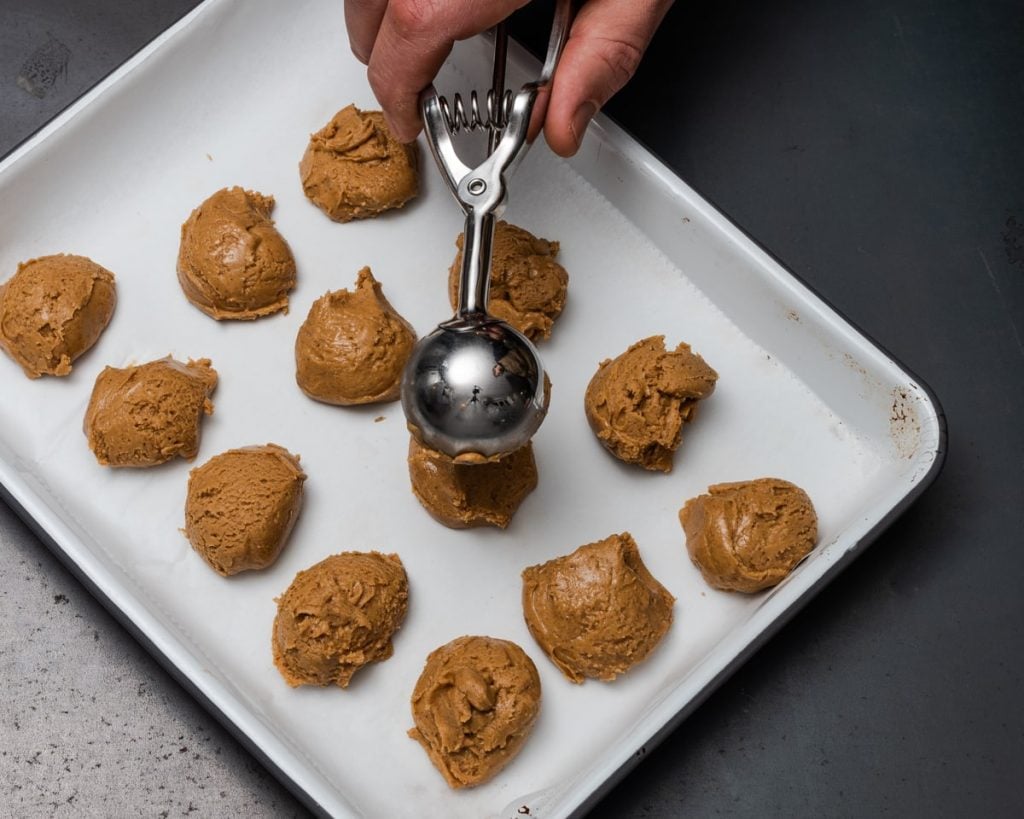 Don't overwork the dough!
As with all cookie dough, the less you work it, the better it'll turn out. You don't want a tough cookie – literally!
From the point you add your flour, keep mixing to a minimum. Just beat gently until everything is fully combined AND THEN STOP! You'll thank me later.
When adding your chocolate chips, just fold em in nice and gentle like. You're gonna have perfect vegan peanut butter stuffed cookies in NO time!
Funny Story
Well, not actually funny, but interesting nonetheless. Last time I posted a recipe, I asked you all to comment JANE FONDA on my latest instagram post so that I could see how many of you ACTUALLY read this thing. I was GAGGED to see how many of you make it to this point. SOme of you came for me and suggested I just write less in my blog posts, so I thought maybe an explanation is required.
It's a really funny, totally hilarious, not overused joke that food bloggers love to write their life story before a recipe which is actually just one ingredient. As a reader, I understand how annoying this is. Believe it or not, I also sometimes use internet recipes from blogs too! BUT LET ME TELL YOU, there's a reason for the lengthy intros.
So what's it all about??
Firstly, it's about search engines. Google uses an algorithm which takes into account the content of a page when deciding which recipe makes it to the top of the search results page for any given search term. One particular thing they take into account is page length! If your page contains an amazing cookie recipe but very little text outside of the ingredients and method, then google will rank you super low on the list because it assumes your page is less relevant to actual users.
The other reason is ad placement! If your blog is your main source of income (like it is for me) you gotta make room for those ads gurl! Like them or not, ads mean that my recipes (and many others) are completely free for you. You don't need to buy a recipe book, or a magazine, or even buy your way pasta a paywall. THEY'RE FREEE. Less text on your page = less room for ads = less revenue = debt collectors at my door (what can you dooo for meee??).
Anyway, long story long, THANK YOU for reading my blog posts. Most of you don't realise how important this is to me and how it LITERALLY means I can keep doing a job I love.
To show that you're a beautiful, overachieving, wonderful soul and that you've ACTUALLY READ THIS MASSIVE RANT, let's do that thing again! Head to my latest post and comment "CAROL BURNETT". Roll on the confusion!
Need some more cookie recipes?!
Then you came to the right place! Why not give these bad boys a try!?
Vegan Double Chocolate Coconut Oatmeal Cookies