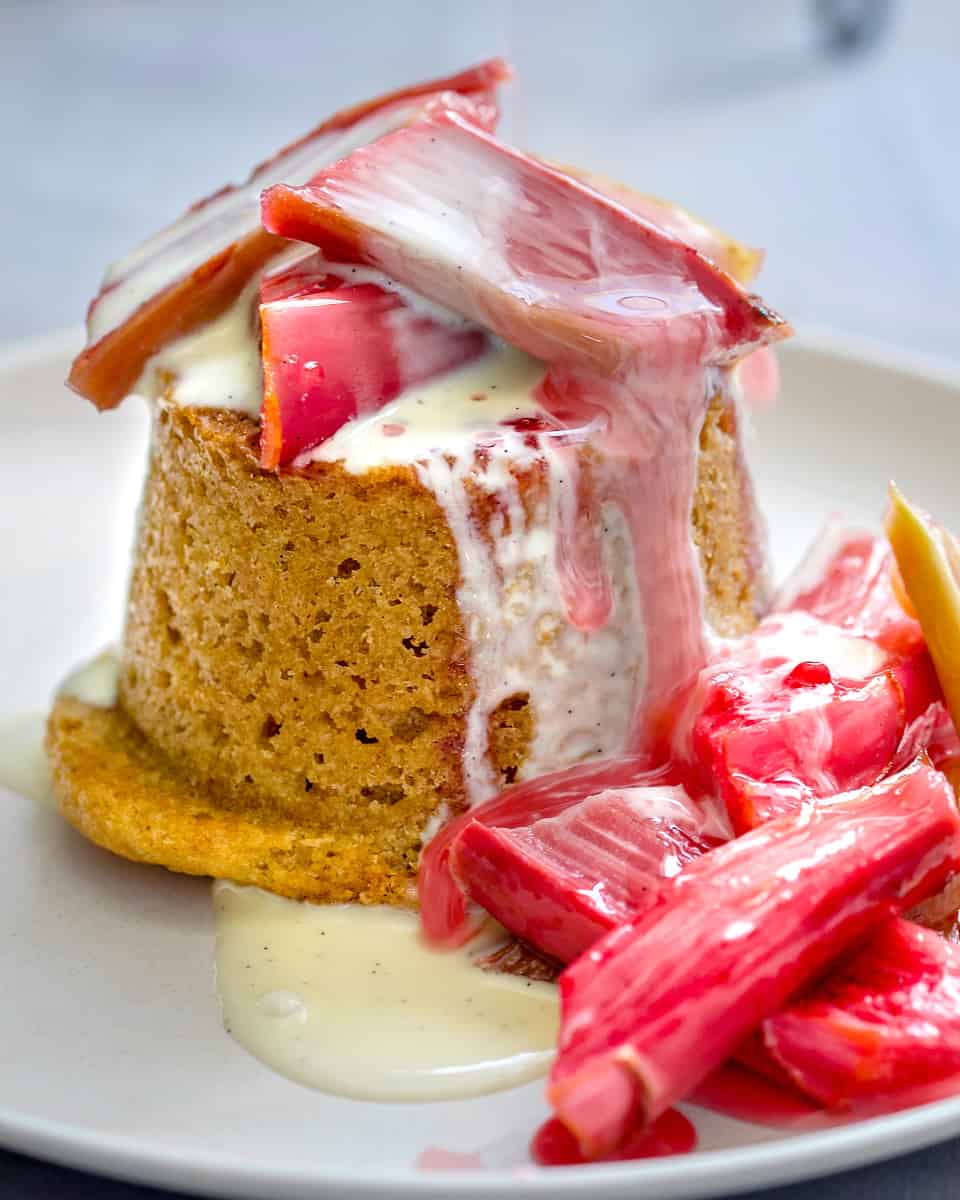 The lightest ginger cake with roasted rhubarb and hints of bright orange zest. Perfect individual sponges, ideal for an easy dessert served with custard or vegan ice cream.
---
Bingo: dessert from the heavens – vegan ginger cake with roasted rhubarb! It has a little fiery kick with a super delicate texture and the roasted rhubarb just brings it all together!
I recently whipped up this take on vegan ginger cake for my amazing in-laws. They were coming to stay and I had a vivid memory that at least one of them was an enormous rhubarb and ginger fan. Needless to say, they now like me better than their OWN son (ok, maybe not QUITE…yet).
Why Ginger and Rhubarb?
Back when I used to run an ice cream company, one of my best sellers of all time was ginger and rhubarb. I used to make a ginger ice cream with a combo of fresh and dried ginger then swirl big ribbons of roasted rhubarb syrup into the frozen ice cream. It was delicious!
I wanted to covert that experience into a vegan cake! Luckily, I had some rhubarb to hand, which my mum had grown, and had just finished developing an amazing vegan sponge recipe. Everything came together like it was FATE!
There's a third flavour involved here too, which isn't mentioned in the title of this dessert. It's orange! I find that orange zest just lifts the flavours involved to the next level. As rhubarb cooks, it loses a lot of its acidity, which is what makes it so deliciously sharp and tart. The orange zest helps to re-introduce this, leaving us with a fully rounded tasting dessert!
Once cool thing about roasting rhubarb is that it sort of doesn't matter what it looks like. This means you can easily make use of frozen rhubarb. Rhubarb season is between April and June, but I really recommend picking and freezing as much as you can. If you slice before you freeze, you're never more than 30 mins away from a delicious dessert!
Any specific ingredients?
Just a few! If you're new here, you might not be familiar with these guys, but you're gonna thank me for introducing you!
Psyllium Husks

These guys are acting as our egg replacer. They're these tiny little dried seed shells which are ridiculously high in fibre. They bind beautifully when hydrated and hold the batter together just like egg would. If for some reason you don't want to use these guys, flax/linseed does the same thing, but just up the measurements form tsp to tbsp as these seeds aren't as effective as psyllium husks.
You can grab psyllium husks here!
Vanilla Bean Paste

I use this stuff like every day! It's so much easier to work with than fresh vanilla (and marginally less expensive). It's essentially really high quality vanilla extract with the little tiny black vanilla pods left in, which gives a nice visual once added!

You can grab vanilla bean paste here!
Need some more winter desserts?
Why not try some of these fellas!?
Disclosure: some of the links above are affiliate links, meaning at no additional cost to you, I may earn commission when you click through and make a purchase.