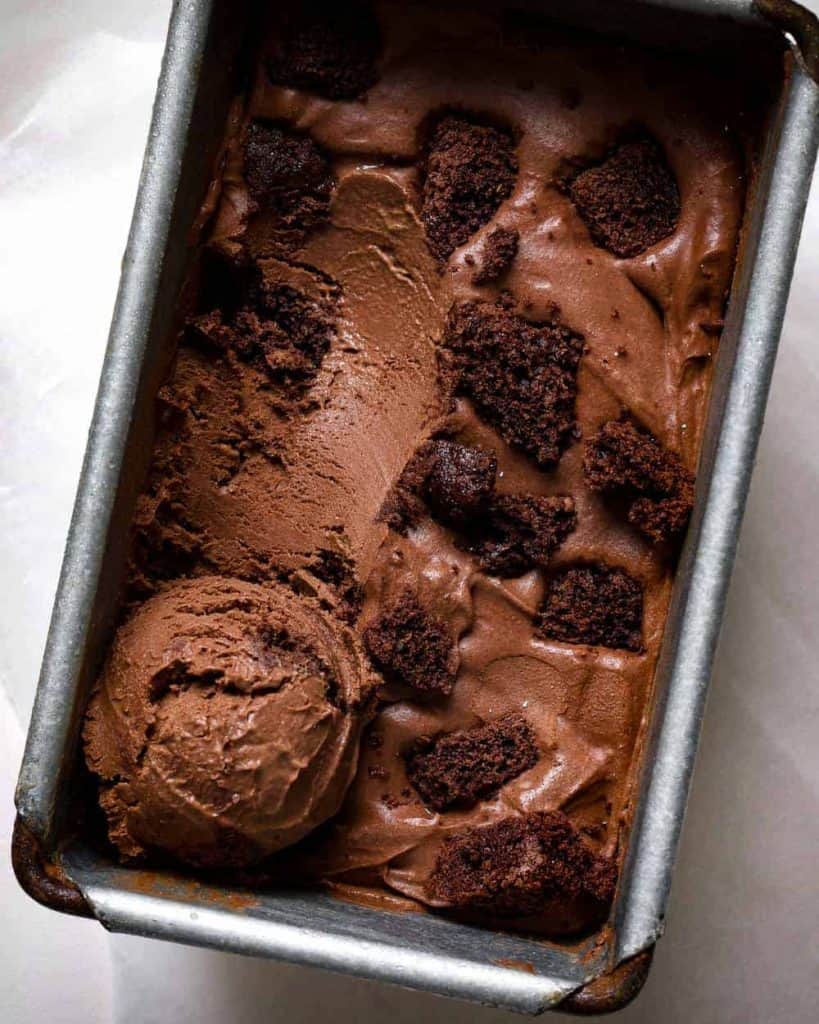 Vegan chocolate ice cream, packed with chunks of moist fudge cake. It's bitter-sweet and beyond creamy! It's your new favourite ice cream.
---
Death by choc – but frozen!
This vegan chocolate ice cream is fudgy, cakey and creamy – it's THE chocolate lovers ice cream. I'm talking super bitter sweet chocolate with chunks of delicious fudge cake throughout. I've been working on this for a MINUTE now (this must be recipe iteration number 10) but I think I'm finally happy.
For years I'd swear that I didn't like chocolate ice cream, but ironically, I've started craving the stuff since I went vegan! So it was inevitable that I developed this recipe!
What does it taste like!?
I like my vegan chocolate ice cream like I like my men: Nice and bold but slightly bitter! It has an extra little kick of espresso too, just for that rich darkness! The texture is SUPER rich, so this ice cream works best as a stand-alone dessert, rather than as a scoop on top of a pie or something!
Any ingredient notes??
Just one ingredient note – there really is no substitution for the condensed coconut milk. It is MAGICAL, so please don't skip it. It isn't hard to find, you just need to look in the right places. I use Nature's Charm – I got mine from a super provincial health food shop in the tail end of England, so I'm sure you can get it anywhere! For US readers, I have bought this stuff from Wholefoods, so you guys shouldn't have an issue finding it. If all else fails, try amazon!
Enjoy responsibly, this chocolate ice cream will CHANGE THINGS in your BODY AND MIND!
Need more chocolate??
Why not try these guys!: