If I've got time to make an interesting lunch, chances are I'll make dumplings. Not because I'm some fancy smancy foodie who just LOVES spending time in the kitchen (although, guilty as charged) but because I'm OBSESSED with dumplings. I also find that whenever order dumplings at a restaurant I'm never satisfied with the quantity. I always want, like, eight to ten more dumplings. The best thing about this recipe is that you can MULTIPLY it by twenty, or just eat all 12 dumplings to yourself.
This recipe calls for pickled mustard greens. They're one of my fave things to buy from the Chinese supermarket and I try to have some in the house at all times. Chop them finely and you'll love the acidity they bring to the dumpling, even before you've dunked in the black vinegar dipping sauce!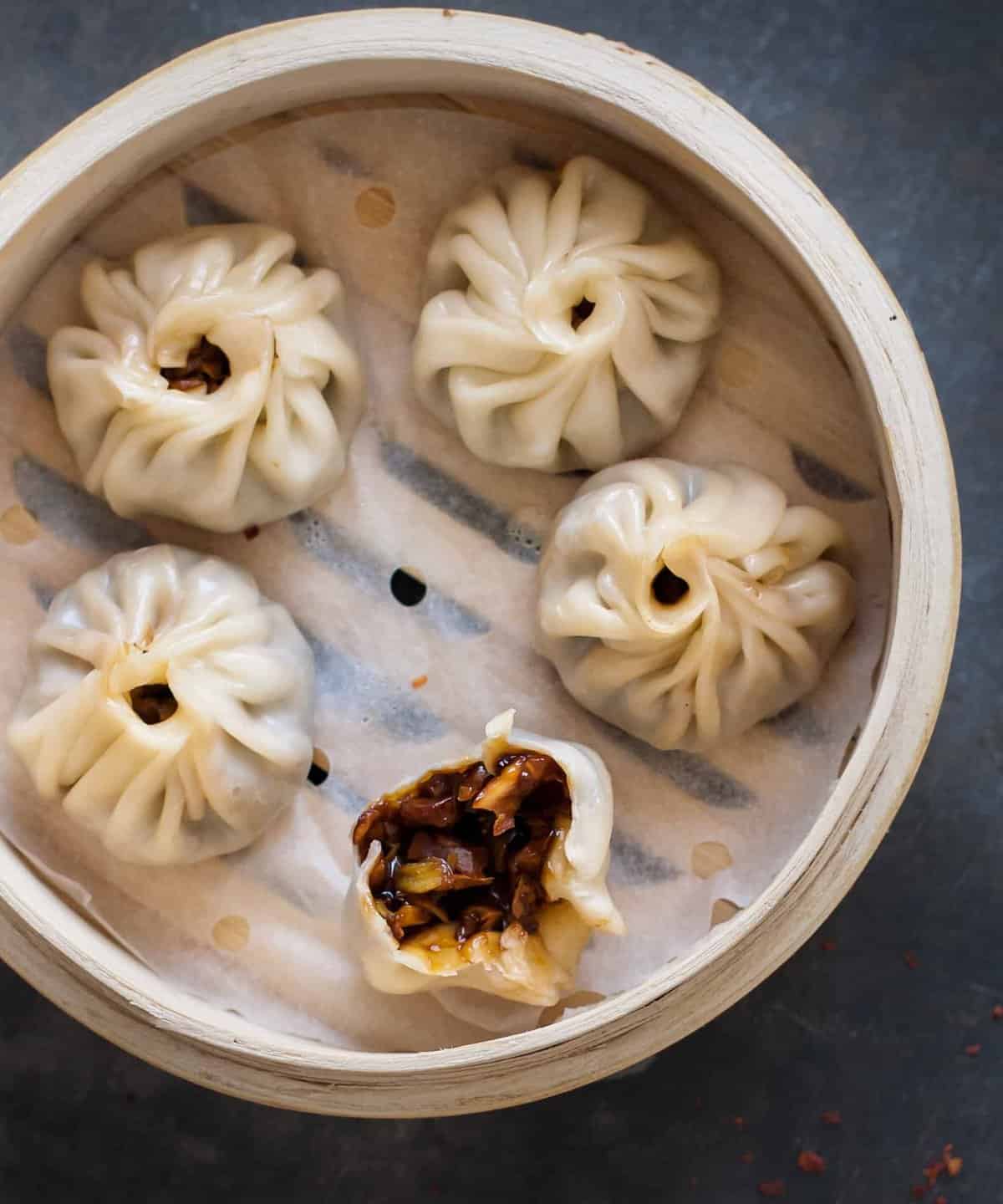 Ingredients
For the Dumplings
12

circles of dumpling pastry

4

large

dried shiitake

1

spring onion

finely chopped

1/2

bulb pickled mustard greens

finely chopped – the kind you find in international supermarkets in plastic vacuum packs

2

tbsp

dark soy sauce
Black Vinegar Dipping Sauce
2

tsp

Chinese black vinegar

1

tsp

light soy sauce

1/2

tsp

shaoxing rice wine

Pinch

chilli flakes

I use gochugaru

1/2

tsp

toasted sesame oil

pinch

white sesame seeds

greens of a spring onion

finely chopped
Instructions
To Make the Dipping Sauce
Combine all the ingredients in a small bowl and mix. Set aside.
To Make the Dumplings
Rehydrate the shiitake in a mug of boiling water for minimum 20 minutes. Once rehydrated, dice the shiitakes very finely.

Heat a medium frying pan with a little vegetable oil. Add the diced shiitake, spring onion and chopped pickled mustard greens.

Fry on medium heat for a few minutes before adding the soy sauce and stirring well. Once most of the liquid has evaporated, remove the pan from the heat and set aside an allow to cool for about 15 minutes before filling the dumplings.

Fill each dumpling with around a tablespoon of the filling mixture. I followed this video when folding my pastry but feel free to use your own method.

Turn on a steamer to high or set a bamboo steamer over a pot of boiling water. Line the layers of the steamer with perforated greaseproof paper and fill each layer with dumplings. Steam for around 5-8 minutes.

Serve alongside the bowl of dipping sauce and go crazy!