Publised on 16/09/2022 by Richard. Last Updated on 30/11/2023 by Richard.
My perfect seitan roast is the ideal vegan beef for your next Sunday lunch! All the flavour of a roast dinner, except with vegan meat!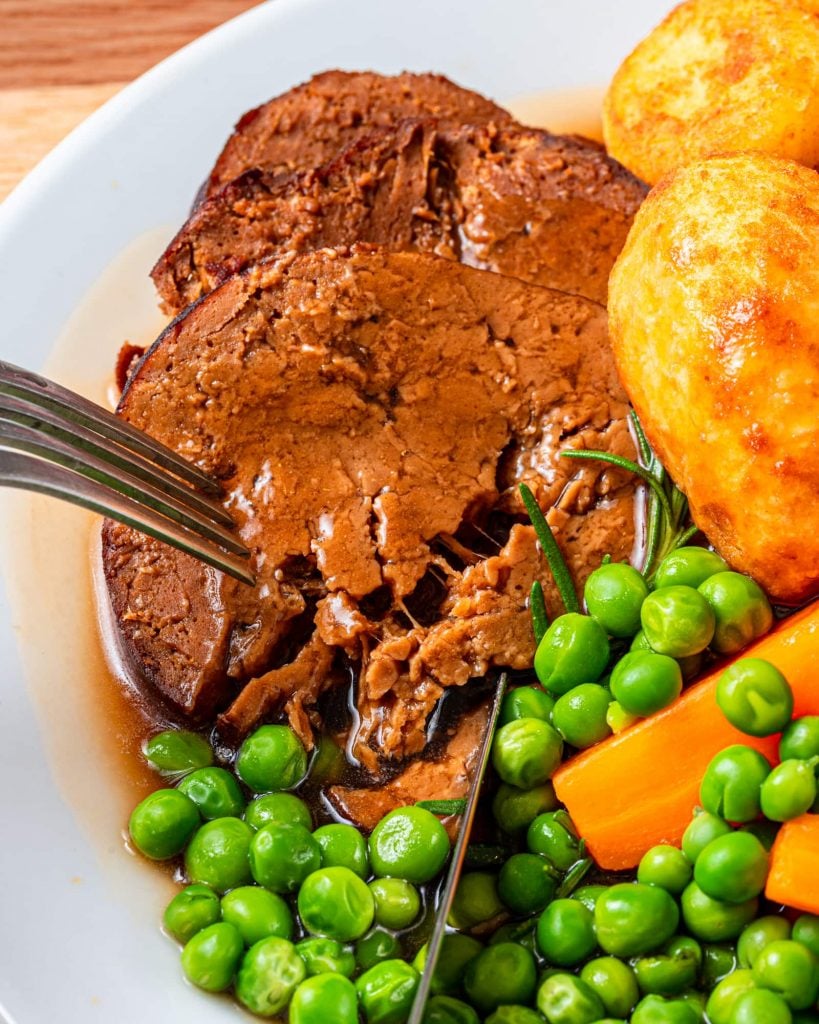 Unlike a bunch of bloggers, I love developing vegan meat recipes, so I set myself the challenge to make the perfect vegan beef or seitan roast which would fulfil all of your roast dinner requirements.
Jump to:
It had to be meaty, and big enough to be the centrepiece of a big family dinner. I also needed it to be satisfyingly convincing, for vegans who miss a classic roast, but also not alienating and scary for people who hate fake meat.
And here is where we arrived! In my opinion this is the best seitan roast out there. I cook this vegan beef in a whole bunch of flavours which are reminiscent of a big slap-up family dinner. Onions, herbs, garlic and roast veggies.
Plus, since we made this vegan meat from scratch, we even made sure all those flavours are INSIDE the meat. Thanks to the INGENIOUS ingredients we use to make it.
😮 Never made vegan beef before?
If you've never made vegan meat from scratch before, I can imagine this recipe might be pretty daunting.
But don't worry!
Once you have the technique down and all the ingredients to hand, you'll sail through the process and have a deliciously succulent vegan beef roast on your hands in no time. (Time to get those vegan Yorkshire puddings on, am I right??)
If you'd rather start with some other vegan meat recipes, to get used to the process, you can try my vegan chicken here or my vegan bacon here or alternatively try my vegan turkey roast!
The great thing about this vegan beef is that you can use it in a bunch of other recipes - like my vegan chilli!
❓ What is seitan?
A lot of people assume that the idea of vegan meat is new thing - invented by millennials in a lab somewhere - but that's definitely not the case.
Seitan originates in China and has been documented since the 6th Century. It's made from wheat protein (otherwise known as gluten) It's a vegan meat substitute and can be used to simulate all kinds of meat, including chicken, bacon and of course beef.
Seitan's mild flavour is a huge bonus to us vegans. This sounds like bad vibes, but it's not! It means that we can adjust our recipes and marinades to make our seitan taste like pretty much anything.
For this recipe, we're going for a vegan beef vibe, so we will use lots of earthy, meaty, umami flavours to bring the authenticity: think dark soy sauce, mustard and marmite!
We're also going to roast the vegan beef like a pot roast, inside a dutch oven packed with flavoursome veggies, vegan stock and plenty of reminiscent herbs and spices.
Even if you've made seitan before, you may find the process for my vegan beef a little unusual, so if you have the time, I'd recommend reading the steps below to familiarise yourself with the steps.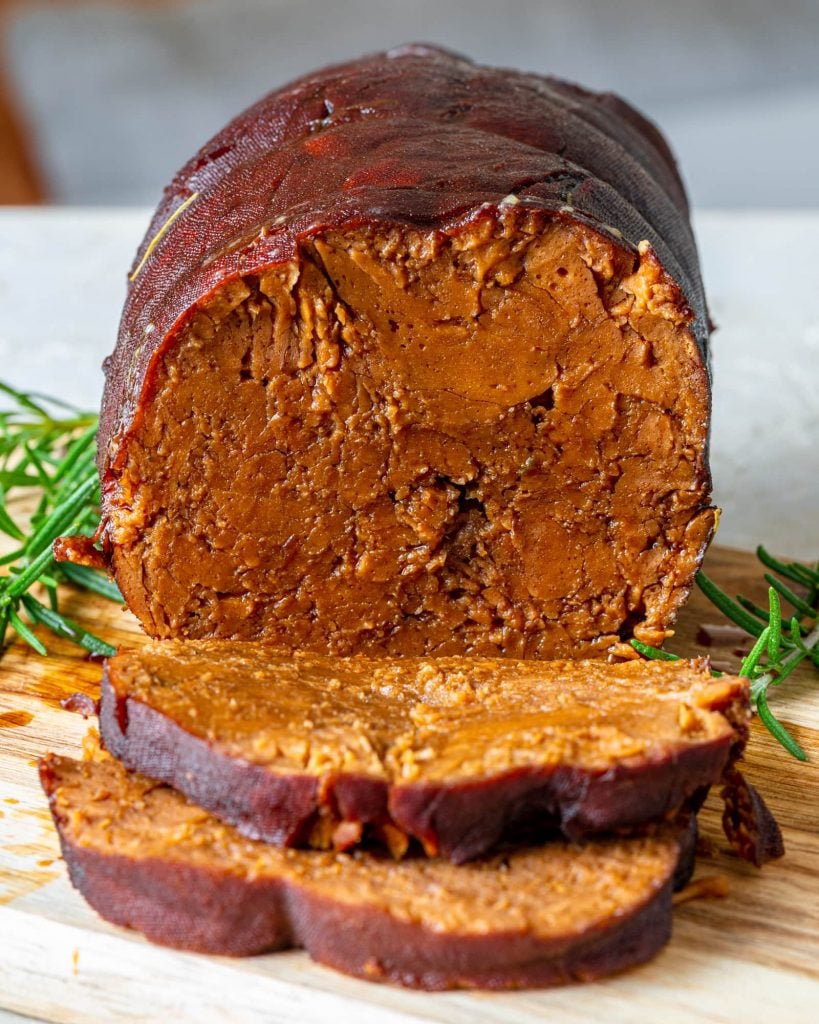 🥣 Ingredients
Silken tofu: This smooth, creamy ingredient acts like a binder to hold everything together.
Cooked beetroot: Boosts the color and adds a subtly sweet, earthy flavor. But don't stress if beets aren't your thing - you can totally skip them.
Vegetable oil: A slick of oil brings richness and helps bind this baby together. Melted vegan butter can also do the trick if that's what ya got.
English mustard: Brings a tangy, spicy flavor to the party! Dijon is a fine stand-in if you don't have English mustard.
Vegan beef stock powder: Uh-huh honey, this is bringing that savory, meaty flavor to impress your guests. In a pinch, splash in more soy sauce instead.
Nutritional yeast: Taking this seitan flavor to the next level with cheesy, savory notes.
Fine sea salt: Seasons this seitan to perfection. Any old table salt can pinch hit if sea salt's not around.
Rice vinegar: Provides the perfect punch of acidity to balance flavors.
Dark soy sauce: Bringing rich, savory flavor to the seitan party. Regular soy sauce can come on in if you don't have dark.
Vital wheat gluten: This protein-packed powder gives seitan its wonderfully meaty texture.
Vegetable suet: Adds rich flavor and a dose of fat!
For the Broth:
Black peppercorns, mustard seeds, bay leaves, thyme, rosemary: Aromatic spices and herbs that flavor up the broth.
Vegetable stock: Provides the delicious liquid base to cook up the seitan.
Vegan beef stock powder: Extra boost of savory, meaty flavor. Amp up the soy sauce if you lack this powder.
Dark soy sauce: Bringing more deep, rich flavor to the broth. Regular soy is a fine fill-in.
Fine sea salt: Seasons the broth to taste.
Marmite: Whips up savory, yeasty flavor for the broth.
Light brown sugar: Balances and rounds out flavors. Skip it if you don't have it!
Garlic, onion, carrot, celery: Veggies lend their flavors to make a tasty poaching broth.
👨🏼‍🍳 How do I make this vegan beef seitan roast?
As always, the FULL RECIPE for my vegan beef roast is at the bottom of the page – feel free to skip down there and get cracking if you're familiar with making your own vegan meat.
Alternatively, here's a step by step breakdown!
1. Blend up your vegan beef wet ingredients
This is our first chance to get our vegan beef nice and, well, BEEFY! We're going to include some cooked beetroot in our wet ingredients to make sure our seitan turns out the right colour.
Seitan tends to lean towards a light brown kinda grey colour. We want a rich deep brown with earthy red tones, and beetroot makes that a reality baby!
We're also going to use English mustard here. Not only because of its association with beef but also because it's a great emulsifier. This means it'll stop the fat content of the seitan from splitting and leaking out of the roast.
2. Blend up the seitan
Now we will add the key ingredient which makes everything turn into seitan. It's called vital wheat gluten and is the powdered form of wheat protein.
Some people like to make seitan by literally washing flour until all the carbohydrates are washed away and you're only left with the protein. But this process is LONG and rather boring, so I use store-bought vital wheat gluten instead.
Typically, people knead seitan dough to give it a meaty texture. We won't be doing that. Again, it's hard work and never really results in a truly meaty texture. We are going to use a blender or food processor instead.
The blades of the food processor cut through the dough and align all the strands of wheat protein in nice neat lines, giving our seitan a super meaty texture. You can divide the dough into multiple portions and blend separately, if your blender struggles.
3. Divide and roll the seitan
Next we divide the seitan dough into four portions and roll them into rough cylinders. We're going to push these cylinders together into one fat roast shape.
This makes layers of seitan and fat, which will ultimately become fibrous and meaty once cooked.
4. Wrap the seitan
When cooked, seitan expands like bread. This is our least favourite thing about seitan. Remember we're making vegan beef, not bread!
So to stop this from happening, we wrap the seitan tightly in muslin or cheese cloth and bind it with chef's twine. This stops it from expanding while it cooks and makes sure we end up with a meaty texture, instead of a bready one.
Use string instead of chef's twine, if you don't have any. Just make sure it's made from natural fibres, as we will cook the seitan while it's bound.
5. Roast the vegan beef
This is our next shot to get a bunch of extra flavour inside the vegan beef. We put the seitan in a dutch oven or casserole with a lid and cover the seitan with a super flavoursome broth and a bunch of veggies and herbs.
The muslin or cheesecloth allows the flavour to soak into the vegan beef but prevents it from expanding.
The idea is to keep the seitan roast half submerged in the broth while it roasts, then flip it half-way through the cooking process.
6. Unwrap and roast again
Yep, we roast the seitan again, but this time with no muslin. This allows the exterior of the vegan beef to crisp up and caramelise.
Be sure to baste the outside with the remaining broth before roasting. The vegan beef is now done!
7. Slice and serve
And that's it! You're now ready to serve! I like to serve mine as part of a full roast dinner with roast potatoes, carrots and peas.
Oh, and don't forget gravy! Gotta have gravy!
It's also a great alternative for cold cuts the next day - or you can make a brilliant vegan meatloaf sandwich with caramelised onions! YUM!
As always, it helps me MASSIVELY if you can rate and review this recipe below. This blog is here because people like you actually use it and cook these recipes!
Alternatively, take a picture and pop it on instagram! You can follow me here if you don't already, or use the hashtag #schoolnightvegan when you post!
📒 Recipe Card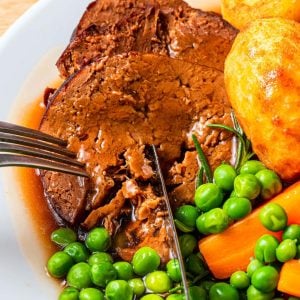 Vegan Beef - Seitan Roast
My perfect seitan roast is the ideal vegan beef for your next Sunday lunch! All the flavour of a roast dinner, except with vegan meat!
Ingredients
For the Seitan
300

g

silken tofu

200

g

cooked beetroot

(from a jar or plastic packet)

55

g

vegetable oil

(or melted vegan butter)

30

g

English mustard

(or dijon)

1

tablespoon

vegan beef stock powder

(see ingredient notes below)

2

tablespoon

nutritional yeast

1 ¼

tablespoon

fine sea salt

1

tablespoon

rice vinegar

(white wine vinegar or apple cider vinegar)

2

tablespoon

dark soy sauce

440

g

vital wheat gluten

120

g

vegetable suet

((see ingredient notes below))
For the Broth
1

teaspoon

black peppercorns

1

teaspoon

mustard seeds

3

bay leaves

4

sprigs of fresh thyme

4

sprigs of rosemary

1 ½

litres

vegetable stock

(boiling hot)

1

tablespoon

vegan beef stock powder

((see ingredient notes below))

3

tablespoon

dark soy sauce

1

teaspoon

fine sea salt

2

teaspoon

marmite

( or alternative yeast extract)

2

tablespoon

light brown sugar

1

head of garlic

(sliced in half)

1

onion

(quartered)

1

carrot

(quartered)

2

stalks

celery

(quartered)
Instructions
Preheat the oven to

170

°C

. 

To make the seitan, place all the seitan ingredients except for the vital wheat gluten and vegetable suet in a high-speed blender and blend until completely smooth. If your mixture isn't quite smooth, pass it through a fine mesh sieve to remove any chunks.

300 g silken tofu,

200 g cooked beetroot,

55 g vegetable oil,

30 g English mustard,

1 tablespoon vegan beef stock powder,

2 tablespoon nutritional yeast,

1 ¼ tablespoon fine sea salt,

1 tablespoon rice vinegar,

2 tablespoon dark soy sauce

Return the blended mixture to the blender and add the vital wheat gluten. Blend until you have a rough dough then stop the blender and leave to rest for 10 minutes. Blend again for at least 2 minutes or until the seitan is lumpy, stretchy and very gummy.

Add the vegetable suet to the blender and pulse a few times until the suet is evenly distributed throughout the seitan.

Remove the seitan from the blender and divide into 4 portions. Roll each portion into a rough cylinder then push all four cylinders together into one fat cylinder.

Place the seitan on a large sheet of muslin or cheesecloth and wrap it very tightly. Tie up the wrapped seitan with chef's twine or natural string as through it were a regular joint of meat.

Place the seitan joint in a large dutch oven and add all the broth ingredients. Cover with a lid and place in the oven to roast for one hour. After an hour, lift the lid and rotate the seitan so the opposite side is submerged in the broth. Add enough boiling water to top up the broth to half-way up the side of the seitan. Cover with the lid again and roast for another hour.

1 teaspoon black peppercorns,

1 teaspoon mustard seeds,

3 bay leaves,

4 sprigs of fresh thyme,

4 sprigs of rosemary,

1 ½ litres vegetable stock,

1 tablespoon vegan beef stock powder,

3 tablespoon dark soy sauce,

1 teaspoon fine sea salt,

2 teaspoon marmite,

2 tablespoon light brown sugar,

1 head of garlic,

1 onion,

1 carrot,

2 stalks celery

Remove the dutch oven from the oven and carefully remove the seitan. Use scissors to snip the twine and unwrap the muslin. Return the seitan to the broth in the dutch oven. Use a brush to baste the top of the seitan and place back in the oven for a further 20 minutes without the lid.

Serve the seitan sliced thinly with roast potatoes, vegetables and gravy.
Notes
1. Vegan beef stock powder DOES exist and it's great! I like Massel brand best! If you can't find it, just get a decent veggie or mushroom stock powder instead.
2. Vegetable suet is used a lot in puddings in the UK. Steamed puddings use it to keep them moist. We're using it to help make the vegan meat more realistically "fatty" and fibrous. It looks like this.
Nutrition
Calories:
470
kcal
Carbohydrates:
28
g
Protein:
62
g
Fat:
13
g
Saturated Fat:
2
g
Polyunsaturated Fat:
7
g
Monounsaturated Fat:
2
g
Trans Fat:
0.1
g
Sodium:
4234
mg
Potassium:
505
mg
Fiber:
3
g
Sugar:
11
g
Vitamin A:
2306
IU
Vitamin C:
4
mg
Calcium:
151
mg
Iron:
5
mg
Love this recipe?
Let me know on Instagram!
WANT MORE VEGAN MEAT!?
Why not try: