Publised on 13/03/2019 by Richard. Last Updated on 12/10/2022 by Richard.
Vegan dan dan noodles with a bumper kick of Szechuan pepper and subtle Chinese 5 spice. Made creamy with peanut butter and tahini, these are some seriously addictive noodles!
---
Hands-down, my fave vegan dan dan noodles recipe in the world - even if I say so myself!
I can afford to brag because this recipe is almost entirely based on the epic Freddie Janssen (aka @freddielookatme) recipe for Dan Dan Noodles with minced pork.

She's a genius and, unlike me, is an actual trained chef. Therefore her recipe was honourably challenging and included making the Szechuan chilli oil from scratch, along with the pickled mustard greens (she's a pickle pro).
Tricky but worth it!
Needless to say, I've cute a few corners, but that doesn't mean this vegan dan dan noodles recipe is easy.

For starters there are a few ingredients on here which you'll have to get from your local oriental food market. I've made a few notes on the key ingredients below.

But, if you stick with it, I guarantee you that this recipe will blow your mind. It's insanely comforting and actually not a hot spicy as you'd imagine.
The Szechuan spice if much more interesting than straight chilli - it's tingly rather than burny, so you'll be able to get through a good trough of noodles before having to wipe your brow! Enjoy!
Any magic ingredients?
The ingredients list for these vegan dan dan noodles is pretty involved, but you should be able to find everything with relative ease at any good Chinese supermarket or on Amazon if needs be!

Here are some ingredients which really need to feature in the recipe.  
Pickled Mustard Greens: I bought these instead of making them. Use the LINLIN brand which comes in a plastic sachet rather than a jar or a can.


Szechuan Chilli Oil: I use the LAOGANMA brand stuff in the jar with a red lid and a picture of a nice, rather worried lady on the front. There are many varieties of this stuff but the best for this recipe is the one with "kohlrabi, peanuts & tofu in chilli oil". It's technically not Szechuan chilli oil but it does the trick, especially as we're adding more peppercorns later on.


Szechuan Pepper Corns: These guys look like normal pepper corns but with a hint of a rusty red colour. You really need to grind them up good before you cook with them. This recipe calls for quite a lot of Szechuan pepper corns so feel free to halve the amount if you're feeling a bit spooked. 
Chinese Black Vinegar: I use this stuff all the damn time because it's so delicious. It tastes like a hybrid between rice vinegar and balsamic, with a really nice dark 3D flavour. Again, you'll get this from any good Chinese supermarket.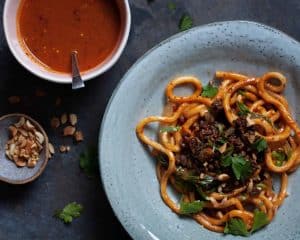 Dan Dan Noodles
Ingredients
For the Mince
1

tablespoon

vegetable oil

5

cm

piece of fresh ginger

(peeled and finely chopped)

4

garlic cloves

(minced)

100

g

chopped pickled mustard greens

(see note above)

200

g

vegan mince

(I use naturli or the stuff from the fresh meat aisle, rather than frozen stuff, but either work well)

1

teaspoon

hoi sin sauce

1

teaspoon

five spice powder

2

tablespoon

light soy sauce

1

tablespoon

Shaoxing wine
For the Sauce
3

tablespoon

tahini

1

tablespoon

peanut butter

2

tablespoon

Szechuan peppercorns

(toasted in a dry pan and roughly ground)

2

teaspoon

Chinese black vinegar

100

ml

Szechuan chili oil

(see note above)

2

tablespoon

dark soy sauce

1

tablespoon

granulated sugar
To Serve
2

x 200g packs udon noodles

100

b bok choi

2

tablespoon

peanuts

(toasted and chopped)

2

spring onions

(finely chopped)

1

tablespoon

black sesame seeds
Instructions
To Make the Mince
Heat the oil in a large frying pan or wok over medium-high heat.

Add the ginger, garlic and pickled mustard greens and stir-fry for a few minutes.

Break the mince up with your hands as you drop it into the pan. Fry until lightly browned.

Add the hoisin sauce, five-spice, soy sauce, and Shaoxing wine. Stir well.

Cook for another few minutes, until most of the liquid has evaporated. Set aside.
To Make the Sauce
In a large bowl, combine all the ingredients. Set aside.
To Make the Noodles
Cook the udon according to instructions. When cooked, remove the noodles from the pan using a spaghetti claw. Retain the water. If you like, you can toss the noodles in a little vegetable oil to stop them from sticking, but if you work relatively quickly this isn't necessary.

Stir around 150ml of the noodle water into the sauce ingredients. Stir to combine.

Return the noodle water to the hob over a medium heat and use it to cook the bok choi. If there's not enough water remaining, top the pan up with some fresh boiling water.

Once the bok choi is cooked, drain the water off.

Add the noodles to the bok choi and mix. Add the sauce (as much or as little as you like.

Plate up the noodles. Top with the mince and sprinkle with peanuts and spring onion.
Nutrition
Love this recipe?
Let me know on Instagram!