Publised on 19/04/2021 by Richard. Last Updated on 03/10/2022 by Richard.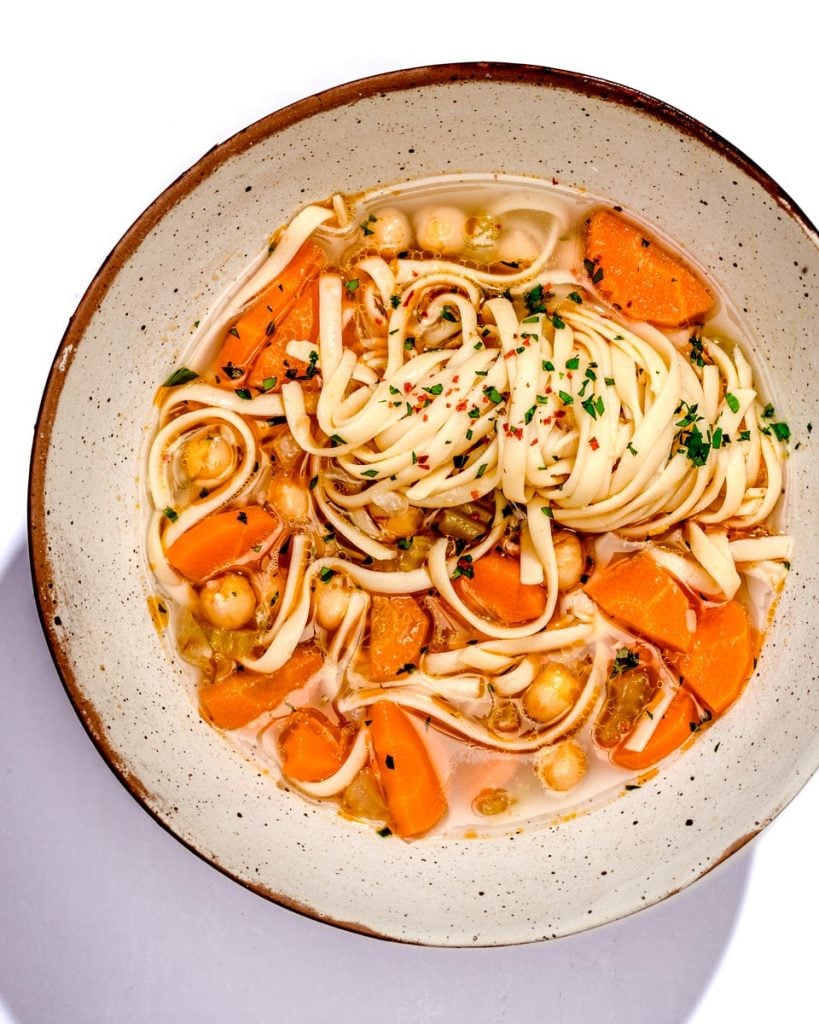 Easy, nourishing chickpea noodle soup with a perfectly satisfying broth, all whipped up in minutes using only one pot!
---
Know anybody who needs cheering up with a nice hot bowl of chickpea noodle soup?? I'm pretty sure you do! When I'm poorly or down in the dumps and bummed out, I GENUINELY can't think of anything I'd like to slurp down more than this guy. It's nourishing and packed full of veggies including protein-rich chickpeas but it's also NOODLE-Y AF and will give your belly a big hug.
What's even better, it's a one-pot recipe and is an absolute doddle to make, so whether you're making it for yourself of your housemate who just got dumped, it'll be ready in a pinch with minimal clean-up!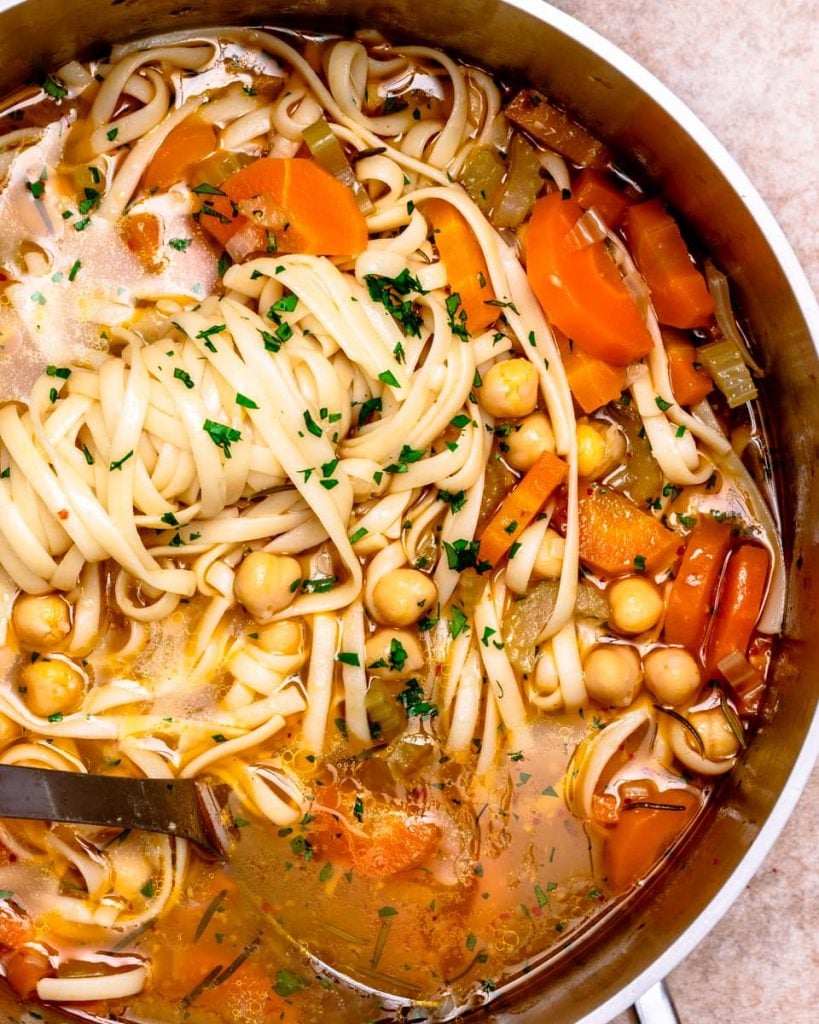 Chicken vs Chickpea Noodle Soup
Yes, yes, I know - there are SCORES of grandmas out there, flipping their wigs because we've chose to deviate from the classic chicken noodle soup. But don't worry, nobody's going to be disappointed by this dish, I guaran-damn-tee it (also this is a vegan blog Nanna, get a grip!). Here's why chickpeas are better than chicken:
Zero death of chickens! - Yes, believe it or not, chickpeas aren't ACTUALLY made out of chicks. They're a type of pulse. So you can enjoy this soup without being responsible for any bird murders (aka burders).
They've got nice numbers! - Chickpeas are some of the most protein rich pulses out there and only contain 2.6g of fat per 100g (compared to 14g in the same weight of chicken). I'm not a nutritionist, and I eat LOTS of fat, but many of you care about this kinda stuff, so do with that information what you will!
They're actually delicious! - They work so well in this chickpea noodle soup because they're a great texture, in amongst those slurpy noodles and tender veggies. So satisfying!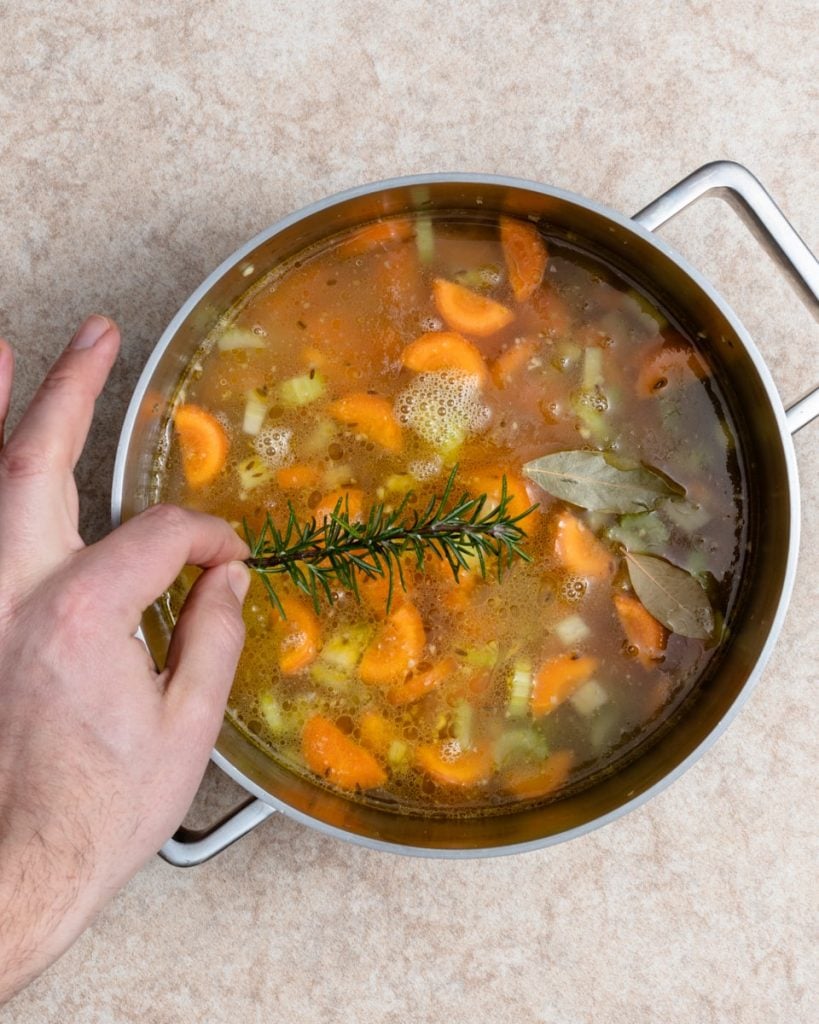 How Do I Make Chickpea Noodle Soup!?
As always, the full recipe is at the bottom of this page (if you're a scroller not a reader, then SEE YA!) but here's a little illustrated step-by step for this recipe!
Sautee the Mire Poix
Funny story - as a rebellious teenager I considered having "MIRE POIX" tattooed across my knuckles. YEAH - I LIKE CLASSIC FRENCH COOKING - AND IT'S NOT A PHASE! DEAL WITH IT MUM!!
If you're not as cool as 18 year old me and you've never heard of a mire poix, don't worry. It's just a fancy name for frying onions, celery and carrots together. It's a sort of magical French combo that makes everything taste better. The trick is to fry it for long enough that your kitchen smells almost buttery - which is weird considering we're just dealing with a pan of veggies! Don't fry for too long though, or your carrots will become too soft and will break down in the soup.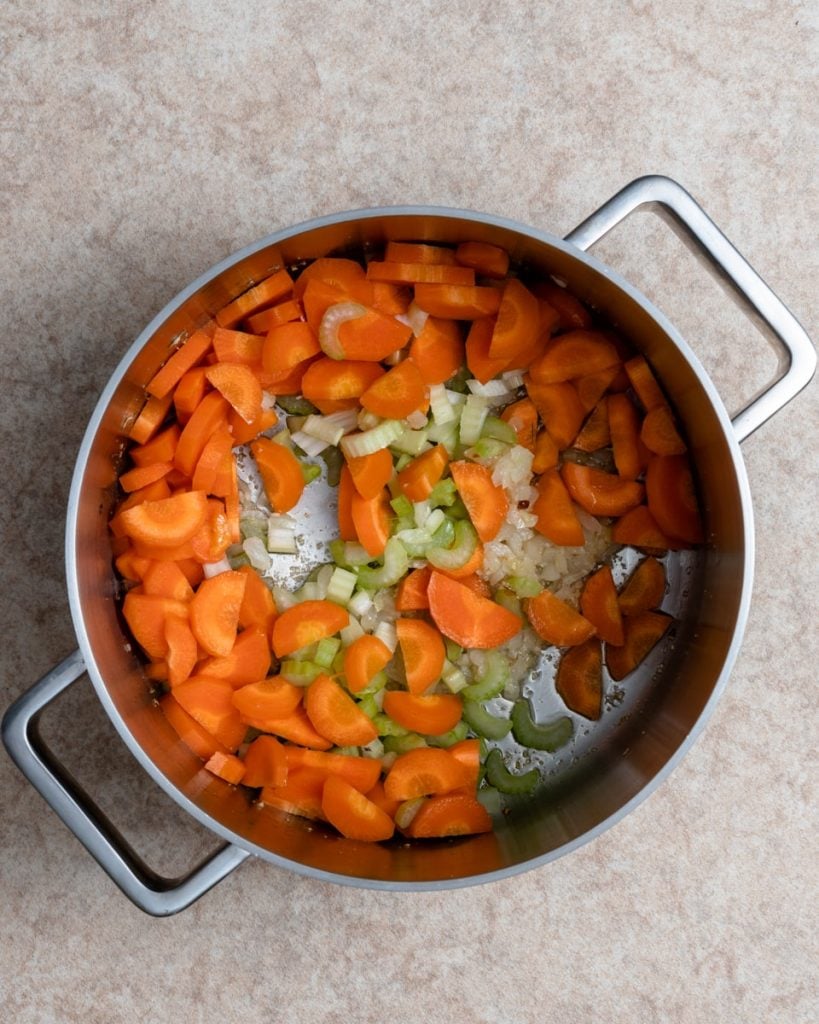 Broth it Up!
Here's where things get brothy! At this stage you can use a decent veggie stock, or you can use bouillon granules (which is what I recommend in the recipe). I like to use a vegan "chicken" stock which I find in my local Asian supermarket, mostly because it's delicious but partly because it's translucent. Many bouillon powders are coloured with turmeric, but I want this to be a nice, clear broth.
If you think I'm being finicky over nothing, then by all means use whichever stock you like. Just know that you're uninvited to my halloween party and the theme is "my favourite vegetable" so you really shot yourself in the foot there.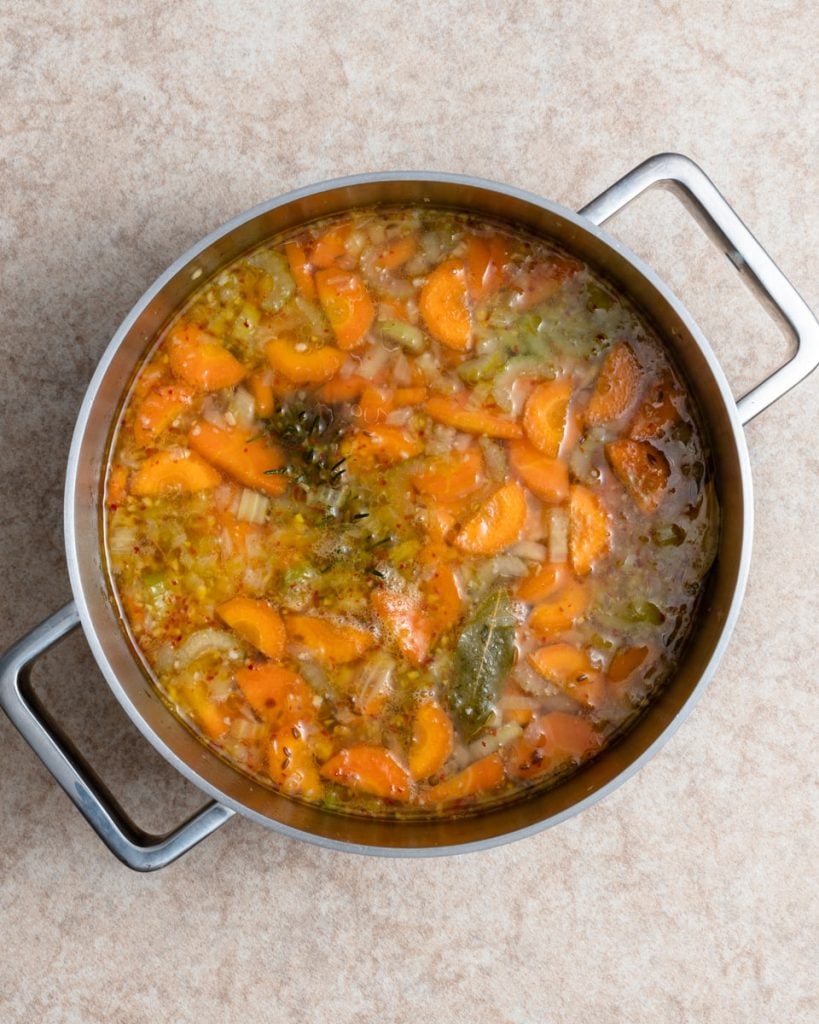 Put the Chickpea in the Noodle Soup and Shake It All Up
Here's where we add the chickpeas and the noodles! It feels very strange still to describe pasta as "noodles", even though that's essentially what they are. It's a very American way of phrasing things, which I'm actually OK with. Another Americansim is leaving out the word "and" in recipe titles. for instance, if chickpea noodle soup were an English thing, it'd be called "chickpea AND noodle soup". I'm not going to SAY that this makes English people better than American people, no! I'd never do that! I choose to passive-aggressively IMPLY those things instead. SMILEY FACE EMOJI TO SHOW I'M JUST JOKING!
I digress - put the chickpeas and the pasta in the soup. The end.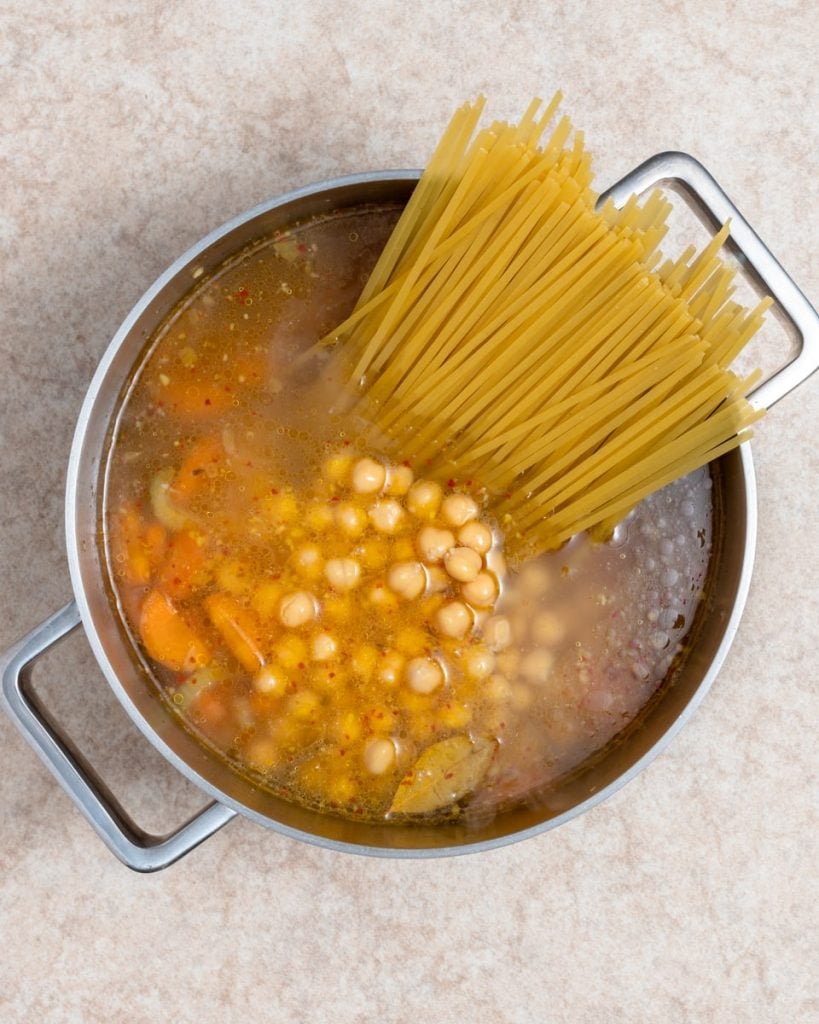 And THAT'S IT!
The pasta cooks in the soup, the veggies go beautifully tender and the broth is this gorgeous slurpy consistency that will blow your socks off. Many people might choose to leave out the chilli flakes and the cumin seeds, and that's ok. If you're satisfied with a less-than perfect chickpea noodle soup experience then YOU GO GLEN COCO!
And hey! You made it to the end! For plus 10 vegan points, head to my instagram and leave the comment "Greta Garbo" on my latest post. It lets me know how many of you ACTUALLY READ THIS BLOODY DRIVEL! Thank you, love you very much. 
Oh, one more thing, if you'd like to add some vegan meat to this recipe, it's a perfect opportunity to use my vegan chicken!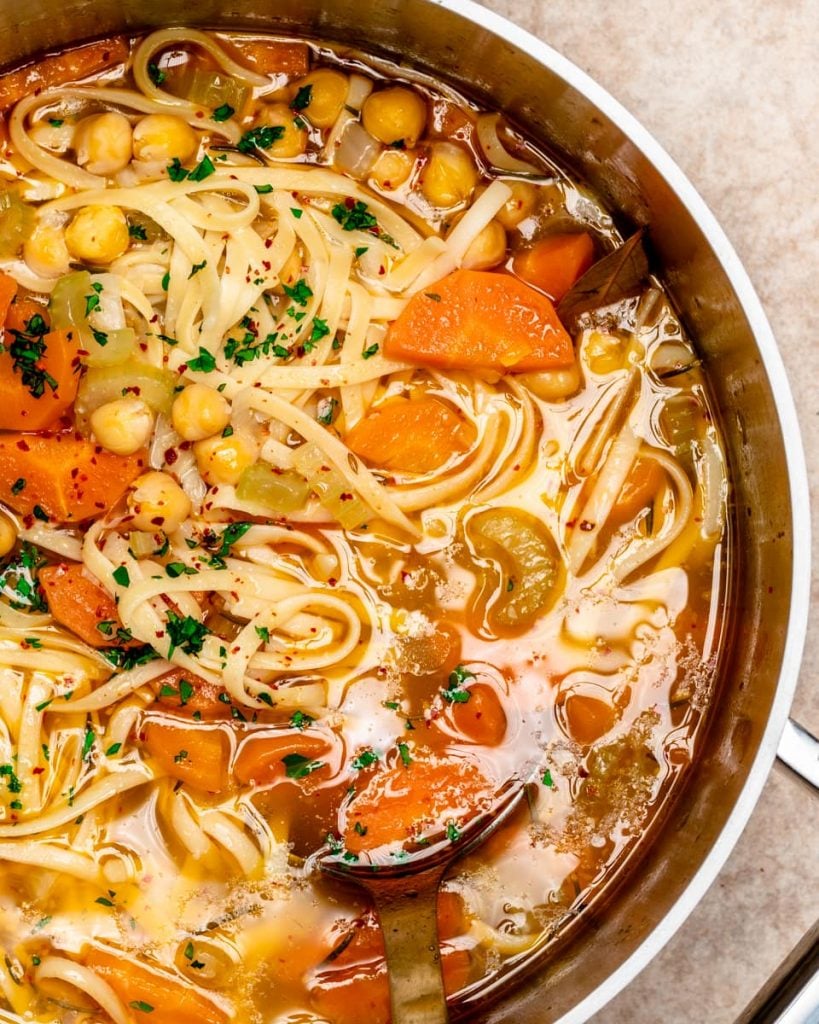 Need some more easy recipes?!
You got it sis!! Why not give these bad boys a try!?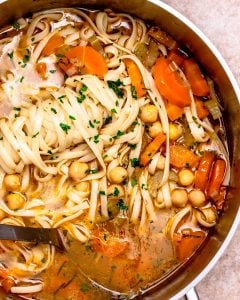 Chickpea Noodle Soup (One Pot!)
Easy, nourishing chickpea noodle soup with a perfectly satisfying broth, all whipped up in minutes using only one pot!
Ingredients
1

tablespoon

olive oil

½

an onion

(finely chopped)

4

cloves

of garlic

(crushed)

2

large carrots

(peeled, halved lengthways and cut into ½cm semicircles)

2

stalks

of celery

(diced)

½

teaspoon

cumin seeds

2

tablespoon

vegan mushroom or "chicken" bouillon

1.5

L

boiled water

400g

tin

chickpeas

(drained)

1

sprig

rosemary

1

bay leaves

½

teaspoon

crushed red pepper flakes

180

g

spaghetti

(or your favourite pasta)

salt and ground black pepper

1

tablespoon

fresh parsley

(finely chopped)
Instructions
Place a large saucepan over medium heat and add the olive oil. Bring to temperature.

Add the onion and fry for two minutes. Add the garlic and fry for another minute. Don't let the garlic or onion brown.

Add the carrot, celery and cumin seeds and stir to combine. Fry for a further 5 minutes, stirring occasionally, until everything smells sweet and buttery. If the veggies start to catch and burn, add a splash of water.

Add the remaining ingredients except for the spaghetti and bring to a simmer. Add the spaghetti and, once soft, stir to separate the noodles. Cover with a lid and reduce the heat to medium/low. Cook for 5-10 minutes or until the noodles and carrots are cooked through. Season with salt and black pepper to taste.

Serve with a sprinkle of the fresh parsley.
Nutrition
Calories:
381
kcal
Carbohydrates:
65
g
Protein:
15
g
Fat:
7
g
Saturated Fat:
1
g
Cholesterol:
1
mg
Sodium:
33
mg
Potassium:
513
mg
Fiber:
10
g
Sugar:
8
g
Vitamin A:
5216
IU
Vitamin C:
5
mg
Calcium:
79
mg
Iron:
4
mg
Love this recipe?
Let me know on Instagram!