Publised on 29/08/2022 by Richard. Last Updated on 20/11/2022 by Richard.
My delicious vegan omelette - ready in a flash for a quick lunch or breakfast! Made without chickpeas, so the texture is smooth, creamy, light and fluffy!
---
This one's been a long time coming - my vegan omelette! I used to ADORE an omelette back in the day - the ease of it all! An instant meal! But I promise you this is ALMOST as easy and definitely just as versatile! I like to fill my vegan omelette with melty vegan cheese and fresh baby spinach, so that's exactly what I've done here!
Alternatively you can fill your omelette with sauteed mushrooms, grilled veggies or even vegan ham with some melty vegan cheese!
I've tried a whole bunch of vegan omelettes and they've all had a similar issue: chickpeas or chickpea flour! Don't get me wrong - I love chickpea flour and use it all the time in various dishes, but it's a flour after all, and tends to give things a floury, grainy texture. It also has a very conspicuous flavour which is difficult to mask and definitely not reminiscent of egg!
So I did away with it completely. Yep! Just got rid! This meant I needed to work with a much thicker batter, so the main body of this vegan omelette comes from extra firm tofu. I also replaced the chickpea flour with rice starch and potato starch.
Why rice starch and potato starch?
Rice and potato starch work really well in this vegan omelette recipe because they have such a mild flavour (unlike chickpea flour). The rice starch helps the batter to firm up in the frying pan and also makes the edges turn nice and crispy! The potato starch gives the batter an egg-like texture once cooked and helps to keep things moist and light rather than dry and crumbly.
I really wouldn't recommend using any other starches, as these two do the job so wonderfully. You can buy both from online wholefoods suppliers or from your local Asian supermarket. If you really really must swap the starches, you may use corn starch instead of the potato starch, but you'll definitely notice a difference in texture.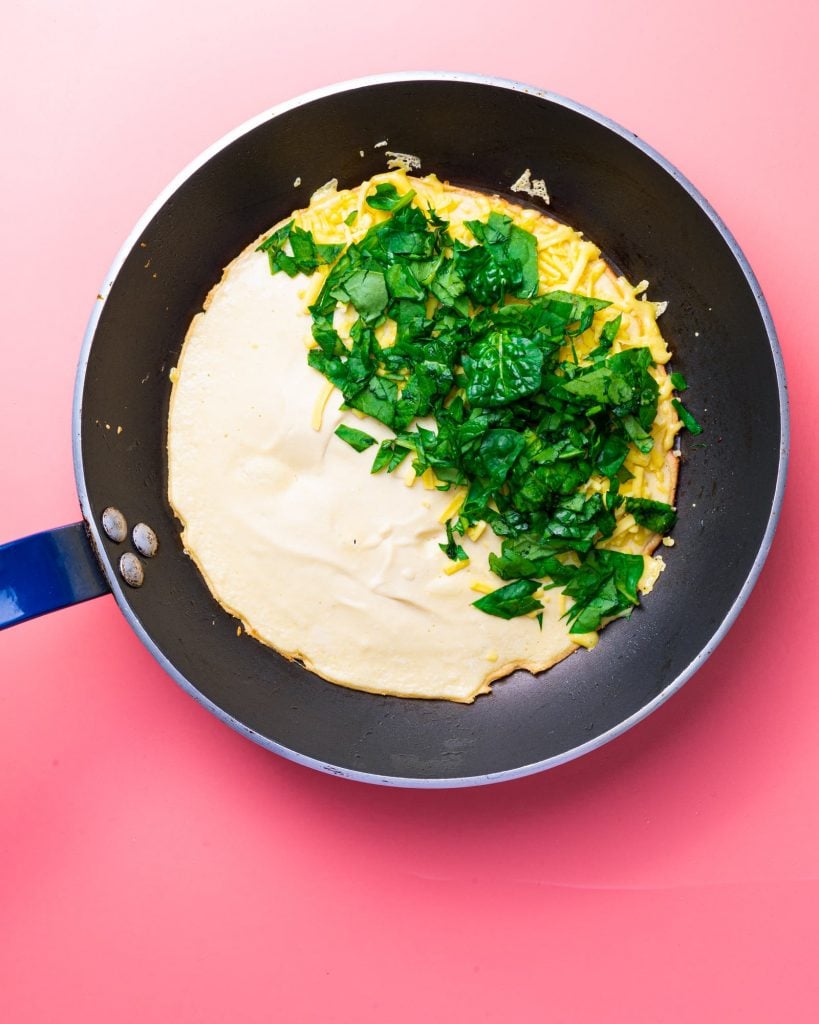 What should I fill my vegan omelette with??
This is where things get really fun. Firstly, this vegan omelette batter is so delicious that you can simply make a classic french omelette with cheese and chives. Rolled up, it'll result in a delicious little snack! For a more substantial meal, try filling with grilled mushrooms and vegan cheese!
This batter even works great for a Spanish style omelette! Pour over vegetable in a frying pan, top with vegan cheese and place under the grill until cooked through and golden on top.
Can I make in advance?
Once cooked, I'd recommend eating these vegan omelettes immediately. However, you can indeed make the batter in advance and store in the fridge until you're ready to use. The mixture will keep for a day or two in the fridge and may even develop in flavour over that time!
A note on tofu!
This vegan omelette recipe only works with EXTRA firm tofu. Not firm, not soft and definitely not silken. It gets its light fluffy texture from the extra firm tofu, so we mustn't skip this ingredient or make subs! I like to use Tofoo brand tofu as it's already pressed and super bouncy, which makes it perfect for this recipe!
And that's it! This vegan omelette is the ideal vegan breakfast or brunch or even lunch is now within your grasp! ooooh! Aahhhh! The world is your oyster!
As always, it helps me MASSIVELY if you can rate and review this recipe below. This blog only exists because people like you actually use it and cook these recipes, so it would mean a massive amount to me if you could let others know that you rate this recipe or that you're just excited to make it!
Alternatively, take a picture of your vegan omelette and pop it on instagram! Be sure to tag me though – I can't wait to see how you use this recipe!
Vegan Omelette (no chickpeas!)
My delicious vegan omelette - ready in a flash for a quick lunch or breakfast! Made without chickpeas, so the texture is smooth, creamy, light and fluffy!
Ingredients
180

g

extra firm tofu

(drained)

120

ml

soy milk

(unflavoured and unsweetened)

2

tablespoon

coldpressed rapeseed oil

(or vegetable oil)

4

tablespoon

rice starch

(also known as rice flour - see recipe note below)

1.5

tablespoon

potato starch

Pinch

turmeric

(optional)

½

teaspoon

fine sea salt

2

teaspoon

vegan butter

Pinch

kala namak

(optional)

100

g

baby spinach

40

g

vegan shredded cheese

Fresh chives

(finely chopped)

Pinch

ground black pepper
Instructions
Place the extra firm tofu, soy milk, rapeseed oil, rice starch, potato starch, turmeric (if using) and fine sea salt in the cup of a blender. Blend until smooth, scraping down the sides as needed.

180 g extra firm tofu,

120 ml soy milk,

2 tablespoon coldpressed rapeseed oil,

4 tablespoon rice starch,

1.5 tablespoon potato starch,

Pinch turmeric,

½ teaspoon fine sea salt

Place a medium frying pan over medium heat and add 1 teaspoon of the vegan butter. Once melted, add half of the blended omelette mix and spread into an even layer. Cover the pan with a lid to allow the omelette to cook for a few minutes.

Once the surface of the omelette is cooked, remove the lid and sprinkle the surface with a pinch of kala namak. Top one half of the omelette with half of the vegan cheese then top with half of the spinach.

Pinch kala namak,

100 g baby spinach,

40 g vegan shredded cheese

Carefully, fold the omelette over the filling using two spatulas then return the lid to the pan. Lower the heat and cook for a further minute to allow the vegan cheese to melt and the spinach to wilt.

Carefully slide the omelette out of the pan and onto a plate. Top with the fresh chives and some freshly ground black pepper before serving. Repeat with the second half of the ingredients.

Fresh chives,

Pinch ground black pepper
Notes
1. The starches in this recipe are (unfortunately) necessary for its success. The rice starch (also known as rice flour) and potato starch are also not interchangeable or suitable for substitution as they behave very uniquely. Also, be sure not to use glutinous rice starch. It needs to be regular rice starch which will help the omelette to hold together and go crispy on the edges.
2. While hot, the omelette is rather fragile. It won't be quite as robust as an egg omelette. Be careful when you fold the omelette over and when you serve the omelette as it may break. For a lovely realistic folded omelette you must practice a little care.
Nutrition
Calories:
381
kcal
Carbohydrates:
28
g
Protein:
12
g
Fat:
25
g
Saturated Fat:
4
g
Polyunsaturated Fat:
12
g
Monounsaturated Fat:
4
g
Trans Fat:
0.02
g
Sodium:
943
mg
Potassium:
575
mg
Fiber:
3
g
Sugar:
3
g
Vitamin A:
5112
IU
Vitamin C:
19
mg
Calcium:
181
mg
Iron:
3
mg
Love this recipe?
Let me know on Instagram!
WANT MORE BREAKFAST!?
Why not try:
Vegan Tofu Scramble