Publised on 03/10/2019 by Richard. Last Updated on 13/11/2022 by Richard.
The silkiest, smoothest vegan mac and cheese recipe you've ever tried. Packed with flavour, the sauce works on all pastas, not just your standard macaroni!
---
This vegan mac and cheese recipe has been a long time coming - I know! I teased this recipe about six months ago on my instagram stories and y'all went just a TINY bit nuts!
I've been working on it ever since to try and get this recipe as CLOSE TO PERFECT as I possibly can (what can I say? I'm a mac n cheese nerd!) and I think we're finally here!
What makes this vegan mac and cheese so good??
I'm not gonna tell you that this vegan mac and cheese recipe is hands down the simplest recipe you've ever followed, but it's pretty damn easy! If you're used to making mac and cheese from a box, then be prepared for a little extra work! If you're ok with that, then let's crack on!
Here are some of the ingredients which makes this mac and cheese pasta perfection!
White Miso Paste

White miso packs a similar umami punch to its sister, brown rice miso! The benefit of white miso though is that it won't affect the colour of your cheese sauce too much!

It helps to notch that cheesy, sweet/saltiness dial up to 12, so don't skip this fella!

You can grab white miso paste here!
---
Nutritional Yeast
AKA Hippy Dust, AKA Nooch, AKA Goldfish Food. This stuff is CRAZY essential for making anything taste like cheese, especially this vegan mac and cheese! It's super nutty in its flavour, so to get a full tangy cheese profile I like to combine it with a sharp ingredient like vinegar or lemon juice.

You can grab nutritional yeast here!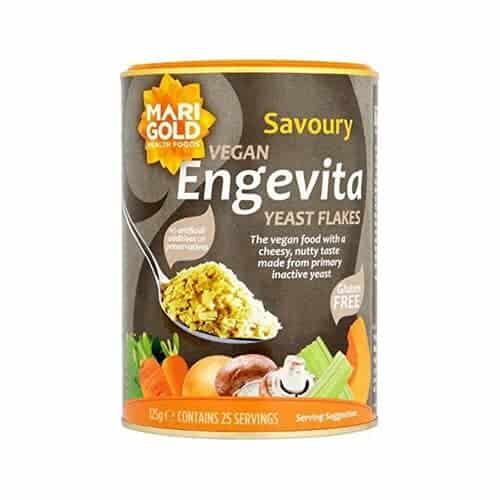 Onion Powder

You'll have seen me using garlic powder LOTS in practically every recipe, but for this one I've doubled up! Onion powder adds a super concentrated onion flavour without adding loads of extra water content.
It's also great for this recipe because sometimes fresh onion doesn't blend down super smooth. Onion powder does! It also combines with nutritional yeast to create a REALLY cheesy flavour.
You can grab onion powder here!
---
Potato Starch and Tapioca Starch
Starches are super essential for creating a crazy glossy, thick creamy sauce. These two starches in particular do two different things.
Potato starch helps to make the sauce really thick and smooth. The tapioca starch makes everything a little stretchy and stringy, like my vegan mozzarella recipe!

You can grab potato starch and tapioca starch here!
How do I make it!?
It's mega simple! I've broken down the process into a few steps for you below, but you can find the full recipe at the bottom of this page!
1. Boil the carrot!
Yep! Carrot! I've been perpetually dissatisfied with using turmeric to achieve a cheesy yellow colour, as many vegan mac and cheese recipes do! The yellow you get from turmeric is way too vivid.
Instead, this recipe starts with a boiled carrot which will later be blended up with all the other ingredients. It gives a really mild yellow colour which doesn't look like someone's highlighter pen broke in the blender!
2. Combine the ingredients!
This is one of those recipes with an ingredients list as long as your arm. Don't be scared! Just whack them into the cup of a high speed blender and set aside.
Be sure to soak your cashews for a good few hours before using. You want them to be super soft so they blend up nice and smooth!
3. Blend it good!
The fun (noisy bit!) comes next! Blend up all your sauce ingredients until you've got a crazy smooth, runny sauce. You'll need to make sure you use a high speed blender for this.
I've mentioned this before but it's really crucial for this recipe to use a good blender like a ninja or a nutribullet, otherwise you'll end up with a chunky, lumpy sauce rather than a glossy, golden sauce!
4. Cook it up!
Your sauce, now that it's nice and smooth, needs to be cooked up. This helps it to thicken and turn beautifully glossy! Make sure you're mixing it constantly while it cooks or it will become lumpy!
Once the sauce is cooked, just add your cooked pasta and you're ready to go!
Need more comfort food??
Why not try some of these other guys - perhaps as a main meal to serve with your vegan mac and cheese??
---
Disclosure: some of the links above are affiliate links, meaning at no additional cost to you, I may earn commission when you click through and make a purchase.
Vegan Mac and Cheese
The silkiest, smoothest vegan mac and cheese recipe you've ever tried. Packed with flavour, the sauce works on all pastas, not just your standard macaroni!
Ingredients
For the Pasta
350

g

macaroni

((or your fave pasta!))

pinch

sea salt
For the Sauce
65

g

cashews

((raw unsalted))

70

g

carrot

((about 1 medium carrot, diced))

3

tablespoon

nutritional yeast

1½

teaspoon

flaky sea salt

½

teaspoon

onion powder

½

teaspoon

garlic powder

2

tablespoon

potato starch

((1 tablespoon corn starch also works well as a replacement))

1

tablespoon

tapioca starch

300

ml

water

300

ml

plant milk

1

teaspoon

white miso

1

teaspoon

rice vinegar

((white wine or cider vinegar works too))

½

teaspoon

agave syrup

2

tablespoon

rapeseed oil

((cold pressed))
Instructions
To Make the Pasta
Fill a large saucepan with water. Add the salt and bring to a boil.

Add the pasta and cook until al-dente, stirring occasionally.

Once cooked, drain the pasta and drizzle with a little oil to stop it form sticking together. Set aside.
For the Sauce
Soak the cashews in just boiled water for a minimum of 2 hours. The longer you soak, the smoother the mac and cheese will be.

Fill a small saucepan with boiling water and place over medium heat. Add the carrots and boil for around 20 minutes or until soft and well cooked. Drain and discard the water. Place the carrots in the cup of a high speed blender.

To the cup, add the remaining sauce ingredients.

Drain the soaked cashews and give them a rinse under the tap. Add to the cup along with the other ingredients. Blend on high speed until very smooth.

Transfer the sauce to a medium saucepan and place over a medium/low heat. Stirring or whisking constantly, heat the sauce until it begins to bubble and becomes thick and glossy. If the sauce becomes lumpy, don't worry, just blitz it with a stick blender.

Stir the sauce through the cooked pasta and serve. I like to serve mine with a sprinkle of chipotle chilli powder or smoked paprika.
Nutrition
Serving:
1
grams
Calories:
454
kcal
Carbohydrates:
67
g
Protein:
16
g
Fat:
14
g
Saturated Fat:
2
g
Sodium:
793
mg
Fiber:
5
g
Sugar:
5
g
Love this recipe?
Let me know on Instagram!