Vegan salted caramel brownies with the most fudgy, gooey texture you've ever tasted. Packed with dark chocolate and rivers of real salted caramel, these are your new fave brownies!
---
Seriously fudgy brownies!
Vegan salted caramel brownies have been on my make-list for absolutely AGES! I have a pretty intense relationship with salted caramel but combine it with super fudgy vegan brownies and I'm ALL YOURS!
Those of you who lived in London in the last 5 years and enjoyed the odd baked good will have probably stumbled across my dear friend Chloe Timms, AKA Fatties Bakery. Chloe and I shared a production kitchen together for a good few years and I ate more than my fair share of her RIDICULOUS salted caramel baked goods. My favourite was her "Goldmine" brownies.
Why so fudgy!?
If you like a cakey, spongey brownie, these are not for you. Goldmine brownies are STUFFED with salted caramel and are so fudgy they're almost indecent. They're perhaps the most indulgent treat ever. I've missed them terribly since Fatties Bakery closed down.
So many people get away with a floury, dry brownie which looks ok from above, but in cross-section it's clearly not got the fudge factor! These vegan salted caramel brownies are not only completely plant-based but also the fudgiest, most gooey brownies ever! You're gonna need a spoon – you've been warned!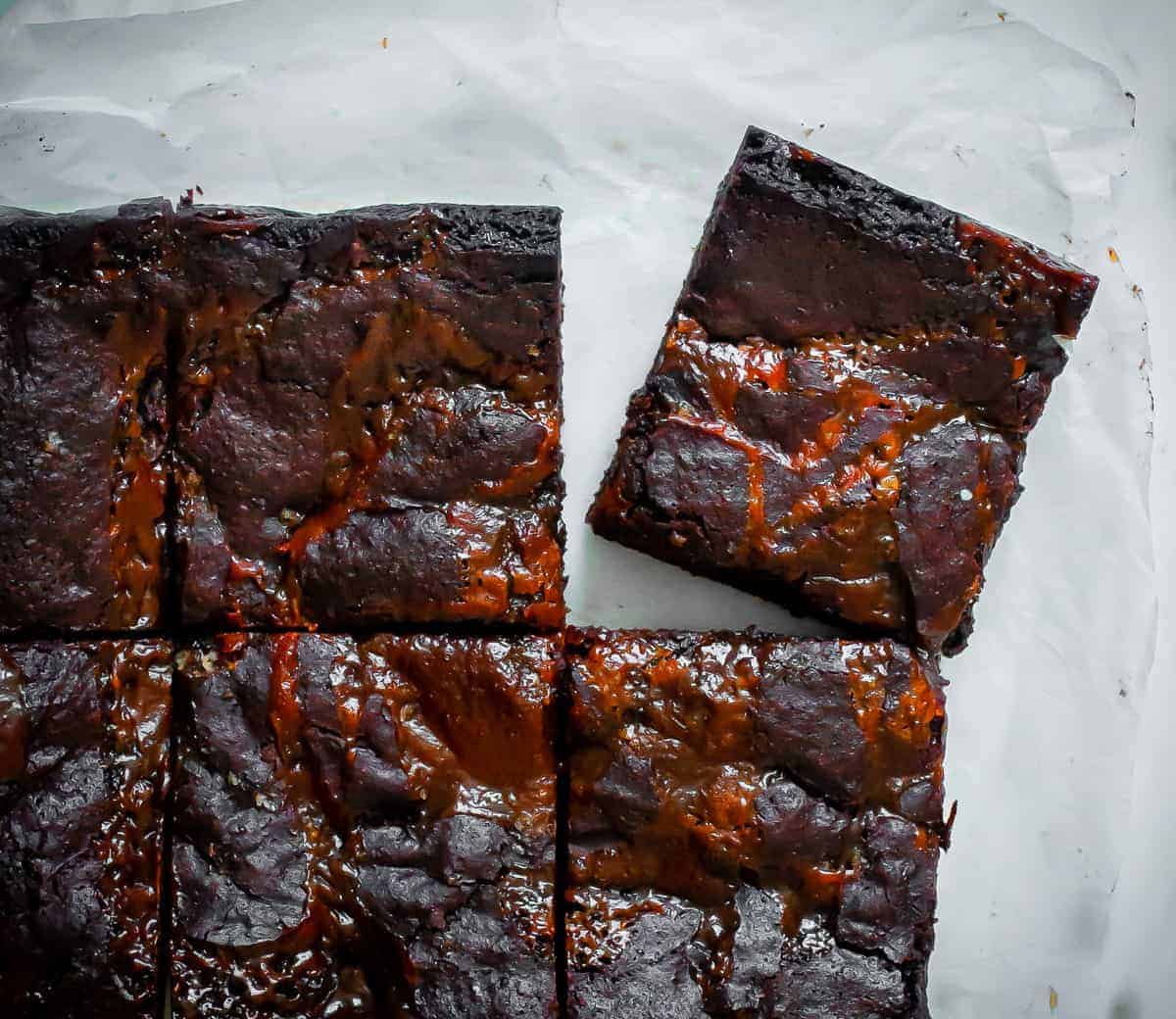 That caramel though..!
The thing I've struggled to develop is the vegan salted caramel sauce in this brownie recipe. This is a REAL salted caramel sauce – not made with brown sugar and dates – I'm talking real caramelised, smoky sweet molten sugar.
When you make traditional caramel you use double cream to keep everything liquid and to introduce fat. It's been tricky to find a replacement for double cream but I'm glad to say I've finally cracked it! I use a blend of cashew cream and coconut cream which keeps everything at JUST the right consistency and flavour!
Want to up the ante!? Try a brownie with my delicious cashew milk ice cream!