Publised on 11/05/2019 by Richard. Last Updated on 13/11/2022 by Richard.
Vegan salted caramel brownies with the most fudgy, gooey texture you've ever tasted. Packed with dark chocolate and rivers of real salted caramel, these are your new fave brownies!
---
Seriously fudgy brownies!
Vegan salted caramel brownies have been on my make-list for absolutely AGES! I have a pretty intense relationship with salted caramel but combine it with super fudgy vegan brownies and I'm ALL YOURS!
Those of you who lived in London in the last 5 years and enjoyed the odd baked good will have probably stumbled across my dear friend Chloe Timms, AKA Fatties Bakery. Chloe and I shared a production kitchen together for a good few years and I ate more than my fair share of her RIDICULOUS salted caramel baked goods. My favourite was her "Goldmine" brownies.
Why so fudgy!?
If you like a cakey, spongey brownie, these are not for you. Goldmine brownies are STUFFED with salted caramel and are so fudgy they're almost indecent. They're perhaps the most indulgent treat ever. I've missed them terribly since Fatties Bakery closed down.
So many people get away with a floury, dry brownie which looks ok from above, but in cross-section it's clearly not got the fudge factor! These vegan salted caramel brownies are not only completely plant-based but also the fudgiest, most gooey brownies ever! You're gonna need a spoon - you've been warned!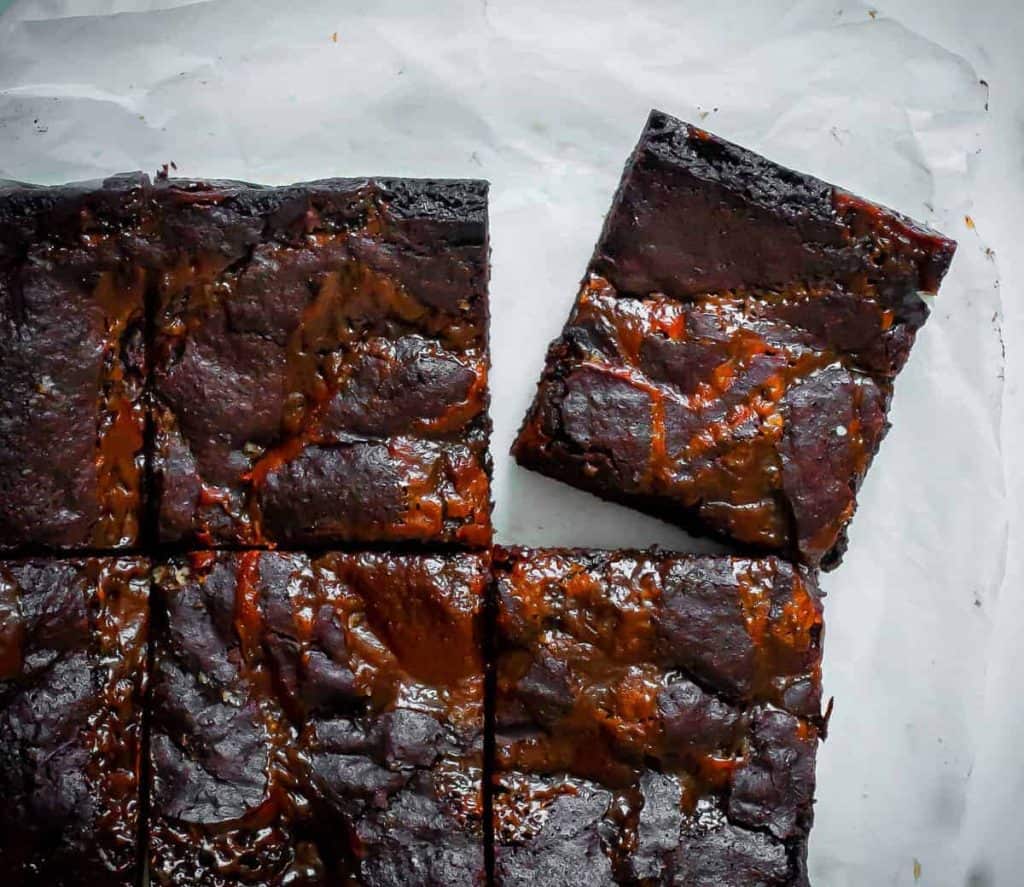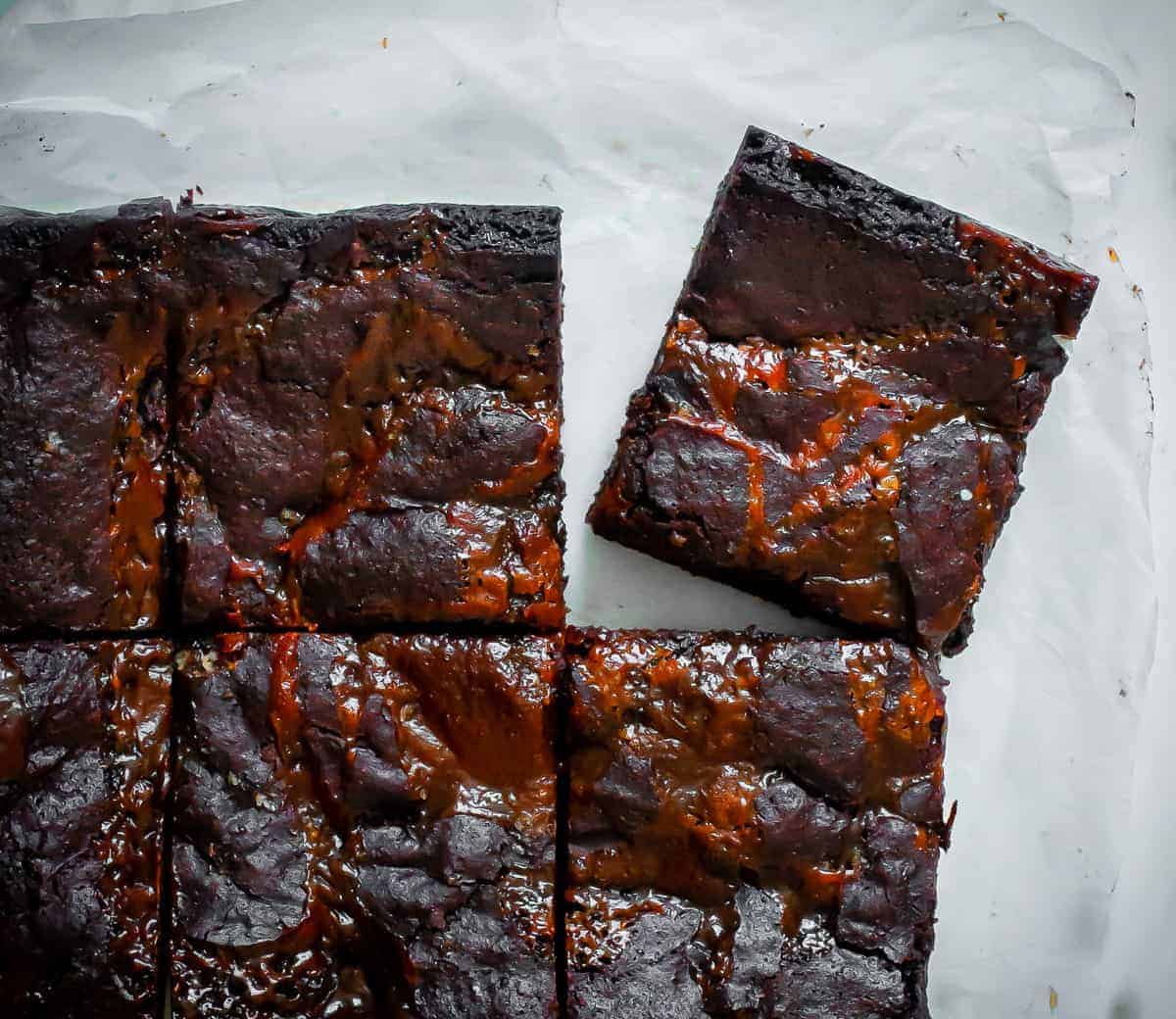 That caramel though..!
The thing I've struggled to develop is the vegan salted caramel sauce in this brownie recipe. This is a REAL salted caramel sauce - not made with brown sugar and dates - I'm talking real caramelised, smoky sweet molten sugar.
When you make traditional caramel you use double cream to keep everything liquid and to introduce fat. It's been tricky to find a replacement for double cream but I'm glad to say I've finally cracked it! I use a blend of cashew cream and coconut cream which keeps everything at JUST the right consistency and flavour!
Want to up the ante!? Try a brownie with my delicious cashew milk ice cream!
Vegan Salted Caramel "Goldmine" Brownies
These goldmines are STUFFED with salted caramel and are so fudgey they're almost indecent. They're perhaps the most indulgent treat ever.
Ingredients
For the Salted Caramel
45

g

raw unsalted cashews

80

g

boiling water

200

g

caster sugar

100

g

coconut cream

((the solid white stuff at the top of a can of refrigerated coconut milk))

½

teaspoon

vanilla bean paste

pinch

flaky sea salt
For the Brownies
2

teaspoon

psyllium husk powder + 7 teaspoon water

((alternative use 2 tablespoon ground flax seed with 5 tablespoon water))

175

g

vegan butter

100

g

dark cocoa powder

1

tablespoon

espresso powder

300

g

caster cugar

57

g

plain flour

¾

teaspoon

fine sea salt

4

tablespoon

soy milk

100

g

vegan dark choc chips

((most chocolate over 64% cocoa is dairy free))

200

g

vegan salted caramel
Instructions
To Make the Salted Caramel
In the cup of a high speed blender, place the cashews and the boiling water. Leave to soak for 30 minutes.

Once soaked, blend until very, very smooth.

In a small bowl, measure out your coconut cream and 60g of your cashew cream.

In a medium, high-sided saucepan over medium/low heat, place the caster sugar. Stirring constantly, heat until the sugar is completely melted and is turning a nice golden brown (don't worry if it smokes slightly). Remove from the heat and add the coconut cream. The mixture will splutter and spit so be careful. Stir gently until the coconut cream is combined. Pour in the cashew cream and add the salt and vanilla. Stir well.

Return to a low heat and simmer gently for a minute or two. Remove from the heat and set aside. Allow to cool to room temperature. Once cool, place in the fridge to chill for an hour.
To Make the Brownies
Preheat the oven to 170c. Line a 20 x 10cm brownie tray with baking parchment.

In a small bowl, mix the psyllium husk powder with the water and set aside.

In a medium saucepan over low heat, add the vegan butter and allow to melt completely.

To the bowl of a stand mixer fitted with the paddle attachment, add the cocoa powder and the espresso powder and mix well. Add the melted butter along with the caster sugar and the psyllium egg mixture and beat well.

In a medium bowl, combine the flour and the salt. Add half of the flour mixture to the stand mixer and beat until combined. Add half of the soy milk and beat until combined. Add the remaining flour mixture and beat until combined followed by the remaining soy milk.

Remove the bowl from the stand mixer and add the chocolate chips. With a silicone spatula, mix until the chocolate chips are evenly distributed.

Pour or spoon ⅔ of the brownie batter into the prepared baking tray. Spoon ⅔ of the cooled caramel on top of the batter (it's best not to spread out the caramel, just allow it to sit in evenly spaced wells across the batter). Top with the remaining third of brownie batter and spread out to just about cover the layers below.

Drizzle the remaining caramel on top and sprinkle with a few pinches of flaky sea salt.

Place in the oven and bake for 35 minutes. The edges should be quite firm but the centre will be quite jiggly when you remove it form the oven.

Place on a cooling rack and allow to cool fully to room temperature. Once cooled, chill in the fridge for at least 2 hours. (I know it's tempting to eat straight away but I promise you, these taste so much better when chilled).

Once chilled slice into 6 and serve!
Nutrition
Love this recipe?
Let me know on Instagram!