Publised on 19/06/2019 by Richard. Last Updated on 12/10/2022 by Richard.
Vegan pastrami slices made from roasted celeriac. Perfect for a plant-based reuben sandwich or served as a carving board with your fave pickles!
---
Having never eaten pastrami before, making these vegan pastrami slices was a rather interesting process. I've been to Katz deli in New York - spiritual home of the Reuben. But being a vegetarian at the time my choices were limited. Now I'm vegan I doubt there's anything there I could eat - but that's cool - because I'VE GOT THE NEXT BEST THING!
What's it taste like!?
This recipe uses a whole roasted celeriac for the basis of the pastrami. It's marinated just right and even gets those crispy "burnt ends" like real pastrami. But the most exciting thing is the texture - it's SO tender and delicate - you won't believe it until you've tried it!
It's pretty much essential to serve this stuff with some sort of pickle. Whether it's sauerkraut, on a reuben or my miso pickled cauliflower as part of a carving board. Oh and don't forget the mustard! Vegan pastrami never tasted so good!
Alright, this is a pretty LONG recipe for a simple sandwich filler. But here's the deal. It's not just any sandwich filler. It's INCREDIBLE. I seriously mean it, if Katz Deli did vegan sandwiches, I reckon it would contain about a hundred slices of this stuff.
I have to give a major shout out to Derek Sarno and the guys over at Wicked Healthy. They were the first people I ever spotted using celeriac in this way. It's such an exciting way to make a fully plant-based meal without any meat substitutes, which actually tastes BONKERS good. My recipe is a little different from Derek's, but feel free to try them both and see which you prefer. I LOVE THEM BOTH THE SAME BUT IN DIFFERENT WAYS!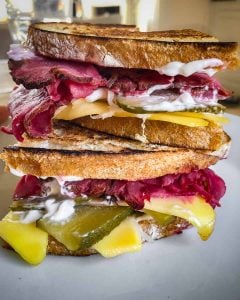 Celeriac "Pastrami" Slices
Alright, this is a pretty LONG recipe for a simple sandwich filler. But here's the deal. It's not just any sandwich filler. It's INCREDIBLE.
Ingredients
For the Celeriac
1

leek

(roughly chopped)

¼

bulb fennel

(roughly chopped)

2

red onions

(quartered)

2

cloves

garlic

(crushed with the flat of a knife)

2

bay leaves

1

full celeriac

(scrubbed well but not peeled)

2

tablespoon

extra virgin olive oil

salt and pepper

450

ml

vegetable stock

1

tablespoon

liquid smoke

1

tablespoon

brown miso

85

ml

white wine

2

tablespoon

dark soy sauce
For the Marinade
50

ml

roasting juice

100

g

peeled cooked beetroot

(the vacuum packed stuff is fine, if you dont have time to cook it yourself)

½

teaspoon

old bay seasoning

½

teaspoon

garlic powder

½

teaspoon

onion powder

2

teaspoon

soy sauce

150

ml

water
Instructions
Make the Celeriac
Preheat the over to 180c.

In a cast iron dutch oven with a lid, place the leek, fennel, onions and garlic.

Rub the outside of the celeriac with the oil and season liberally with salt and pepper. Place in the centre of the stock pot with the other vegetables.

Pour in the stock, liquid smoke, miso, white wine and soy sauce. Place the lid on and pop it in the oven for a total of 1.5 hours, turning half way through.

Once cooked, remove the celeriac from the oven. A skewer should insert easily through the centre.

Set aside to cool, reserving the liquid remaining in the dutch oven.
Make the Marinade
Roughly grate the cooked beetroot into a small, deep plastic tupperware container.

Into the same container, place all the remaining ingredients and mix well. Leave to stand for 10-20 minutes until the liquid is a beautiful dark red.

Strain out the solids from the marinade using a fine mesh sieve and discard. Reserve the liquid.
To Finish
When cool (after about 30 min) remove the celeriac from the pot and slice using a mandolin into 3mm slices

Carefully set the sliced celeriac into the tub of marinade and leave to marinate for 10 minutes.

Remove the slices from the marinade and lay them on a piece of kitchen towel to absorb the excess liquid.

Arrange on a BEAUTIFUL rye bread sandwich with your fave vegan cheese, vegan mayo, sauerkraut, pickles and wholegrain mustard!
Nutrition
Serving:
1
grams
Calories:
112
kcal
Carbohydrates:
16
g
Protein:
3
g
Fat:
4
g
Saturated Fat:
1
g
Sodium:
744
mg
Fiber:
3
g
Sugar:
5
g
Love this recipe?
Let me know on Instagram!