Publised on 16/12/2019 by Richard. Last Updated on 13/11/2022 by Richard.
Super simple but crazy delicious vegan french toast. It's bursting with cinnamon and nutmeg - it's crispy outside and custardy inside! It's peak vegan breakfast!
---
I've been perfecting my vegan french toast for literally YEARS! This vegan french toast recipe really speaks to the America-phile in me. The best french toast I ever had was from a place called Gracies Diner in up-state new york. We had fried green tomatoes, scrambled eggs and a side of french toast.
You can find my take on scrambled eggs and now, EXCLUSIVELY FOR YOU, here's my take on french toast!
Why vegan french toast?
This has been one of my fave breakfast treats for many, many years. It was one of those things I pined for after I went vegan and then beat myself up for once I figure out how easy it is to make a vegan version! Figuring out how to make vegan brioche has been a bit of a revelation, and quickly led to this recipe! Having access to a sweet, enriched bread has meant I can make SO MANY of my favourite dishes.
But don't worry if you're not ready to bake a whole brioche loaf yet - This recipe works perfectly with bakery white bread - or even with store bought vegan brioche - if you can find it!
What does it taste like?
It tastes almost EXACTLY like what I remember non vegan french toast tastes like! The texture is beautiful - with a gently caramelised outside which has just enough crispness to it.
The spices are delicate and the kala namak (our old mate from the tofu scramble recipe) brings a really gentle "eggyness" which is hard to beat. The rice flour should be familiar too – it helps to thicken the custard and cooks up almost exactly like an egg-based custard.
Top it with some maple syrup, or vegan creme fraiche and some fresh fruit and you've got yourself a weekend breakfast with bells on!
Any specific equipment or ingredients?
Just a couple! These guys are what makes this recipe damn near perfect, so do try not to skip them. If you don't already have these to hand, you can grab them online via the affiliate links below.
I push these guys quite a lot, but I promise you they're worth it. If you want a really, really smooth custard for your vegan french toast and not something which feels like scrambled eggs, I'd recommend using one of these.
---
This is one of my favourite vegan wonder ingredients. It smells (and tastes) almost exactly like eggs. The odour is super powerful until cooked, but then it becomes a super mellow vibe which just helps to make vegan custards VERY convincing.
You can grab Kala Namak here!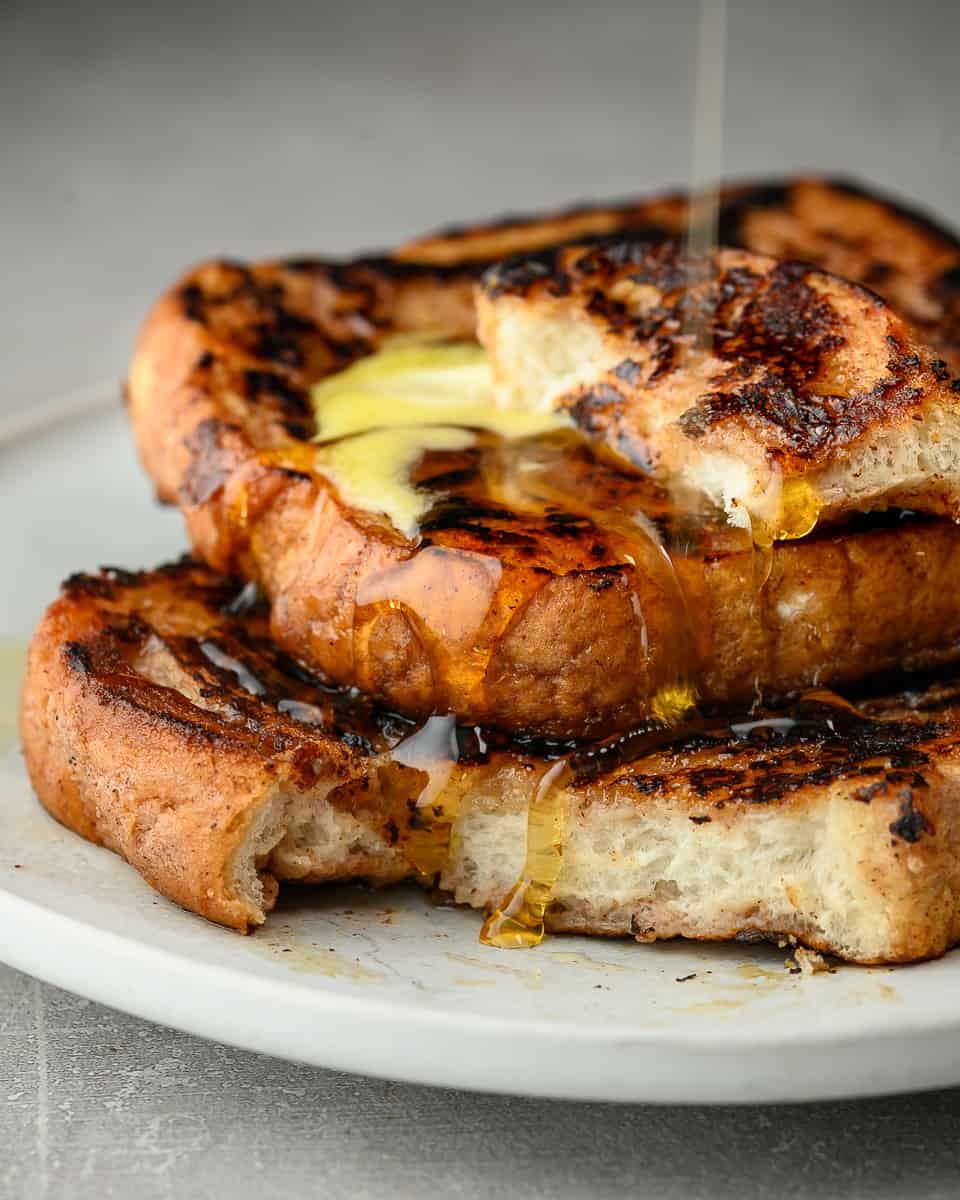 How do I make vegan french toast?
As per yoosh, the full recipe is below, but if you like to have a walk-through of the process before we get started, keep on readin'!
1. Slice the bread!
Technically this is supposed to be stale bread. I've tried making vegan french toast with both fresh and stale and it works great either way. The french call it "Pain Perdu" which means "Lost bread". If you want to do things by the letter, I'd recommend slicing your bread the day before, leave it to firm up and use the next day.
Make sure your bread is nice and thick - I recommend ¾ inch thick. Regular sliced white bread is too thin and won't get that deliciously custardy middle.
2. Blend your custard!
Literally couldn't be easier - just stick all your ingredients in a high-speed blender and whizz em up. If you don't have a high-speed blender, a stick blender will also work just great - the important thing is that you have a super smooth, loose custard with no discernible chunks of tofu in there.
The uncooked custard can tend to smell mighty eggy. This is because Kala Namak (or black salt) has a strong sulfur smell when raw. Once it's cooked, I promise you it'll be perfectly balanced.
3. Dunk your bread and heat your pan!
I like to take my pan to about medium heat for vegan french toast. Get some vegan butter in there and leave it to melt. Meanwhile, dunk your slices of bread in the blended custard. I like to tip the custard out onto a baking tray or casserole dish to make life easier.
Depending on the size of your dish, I'd recommend dunking two slices of bread at a time. Flip them over and dunk the other side. You want them to feel considerably heavier than when they went in, but remember to leave some custard for the remaining slices.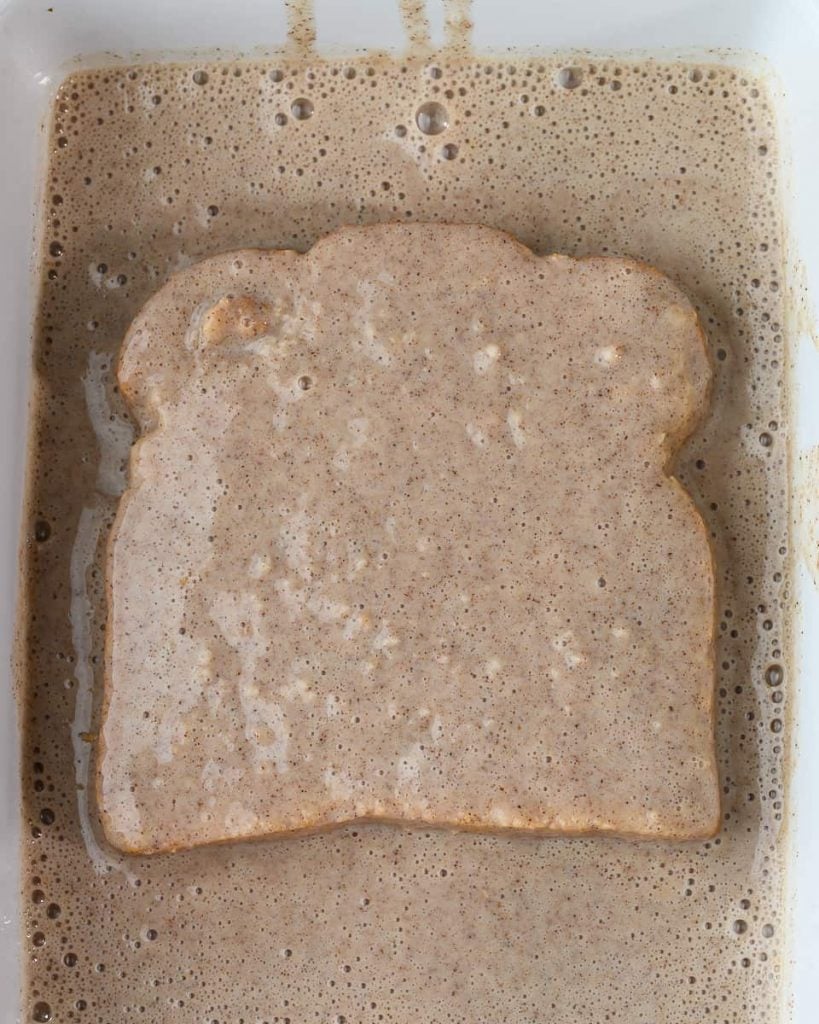 4. Fry 'em up!
With your pan nice and hot, fry up the dunked pieces of bread. Don't be tempted to flip them for a good minute or so. The longer you wait, the less likely the toast is to stick to the pan. Oh, and make sure you use a good non-stick pan!
Fry the other side and remove from the pan.
5. Dress and serve!
I've not included any serving ingredients below because this recipe is more than delicious on its own, but I would definitely advise serving with Oatly creme fraiche and some nice fresh blueberries. Also, if you have a sweet tooth or are a sucker for authenticity, feel free to drizzle with maple syrup. Enjoy!
If you're after more vegan breakfast items, why not try my vegan tofu scramble, my vegan bacon and my vegan omelette!!
Disclosure: some of the links above are affiliate links, meaning at no additional cost to you, I may earn commission when you click through and make a purchase.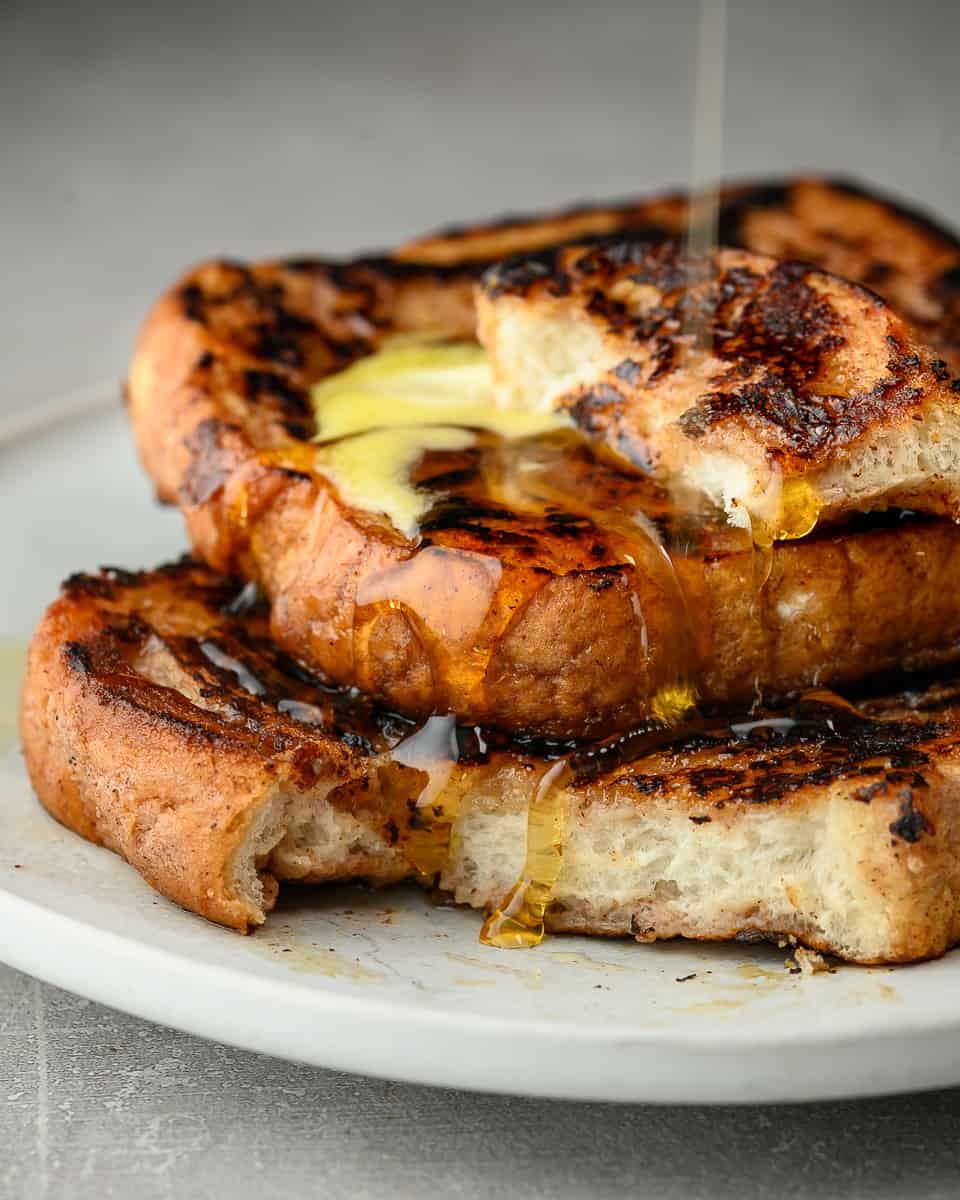 Classic French Toast
Super simple but crazy delicious vegan french toast. It's bursting with cinnamon and nutmeg - it's crispy outside and custardy inside! It's peak vegan breakfast!
Ingredients
150

g

silken tofu

6

tablespoon

caster

2

tablespoon

rice flour

⅛

teaspoon

kala namak

150

g

soy milk

½

teaspoon

vanilla

⅛

teaspoon

nutmeg

¼

teaspoon

cinnamon

4 ¾

inch

slices vegan brioche

((or white bloomer))

1

tablespoon

vegan butter
Instructions
In a high speed blender, combine all the ingredients apart from the brioche and butter. Blend until completely smooth. Pour the mixture into a shallow baking tray or roasting dish. This is your "custard". Don't worry if it smells overly eggy, this is the kala namak. The fragrance and flavour will diminish once it's cooked.

Place a medium frying pan over a medium/high heat and add half of the butter - bring to temperature until the butter is completely melted and spluttering. Meanwhile place a slice of brioche in the "custard" and allow it to soak for around 30 seconds before flipping and soaking the other side.

Place the soaked brioche in the frying pan and fry for a good 30 seconds before lifting a corner to check if its done. It should have a nice mottled brown pattern, just like normal french toast. Flip over and fry the other side. When cooked on both sides, remove from the pan and place on some kitchen towel. Repeat the process with the remaining slices, adding the other half of the butter to the pan after the second slice.

Serve with vegan creme fraiche (I use oatland your favourite berries, with a good drizzle of maple, agave or date syrup. I also like to dust with icing sugar right before serving.
Nutrition
Serving:
1
grams
Calories:
152
kcal
Carbohydrates:
25
g
Protein:
3
g
Fat:
4
g
Saturated Fat:
1
g
Sodium:
58
mg
Fiber:
1
g
Sugar:
20
g
Love this recipe?
Let me know on Instagram!