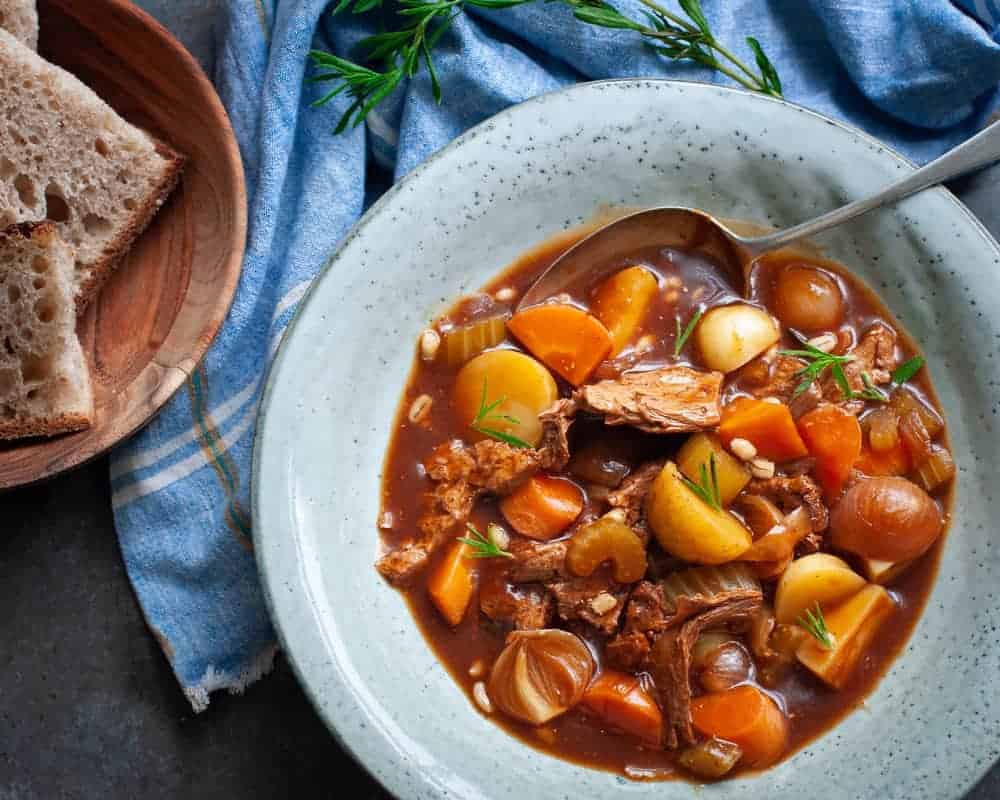 Vegan beef stew made with soy protein, packed with veggies and tender barley. It's my vegan take on traditional "Scouse" stew!
---
This vegan beef stew made with soya protein, loads of veggies and pearl barley is a winter feast like no other. It's so moreish and super satisfying – I swear it could cure a cold!
This is almost exactly the kind of stew my Mum would serve me when I was home from school with the flu. It has a very special place in my heart! It's satisfyingly savoury and the big chunky veggies really feel nutritious and delicious!
It also makes for an amazing summer stew! Best served on a long evening and best consumed by a fire (ideally by the sea!). Stick some in a wide flask next time you head to the sea-side and it will really warm your soul!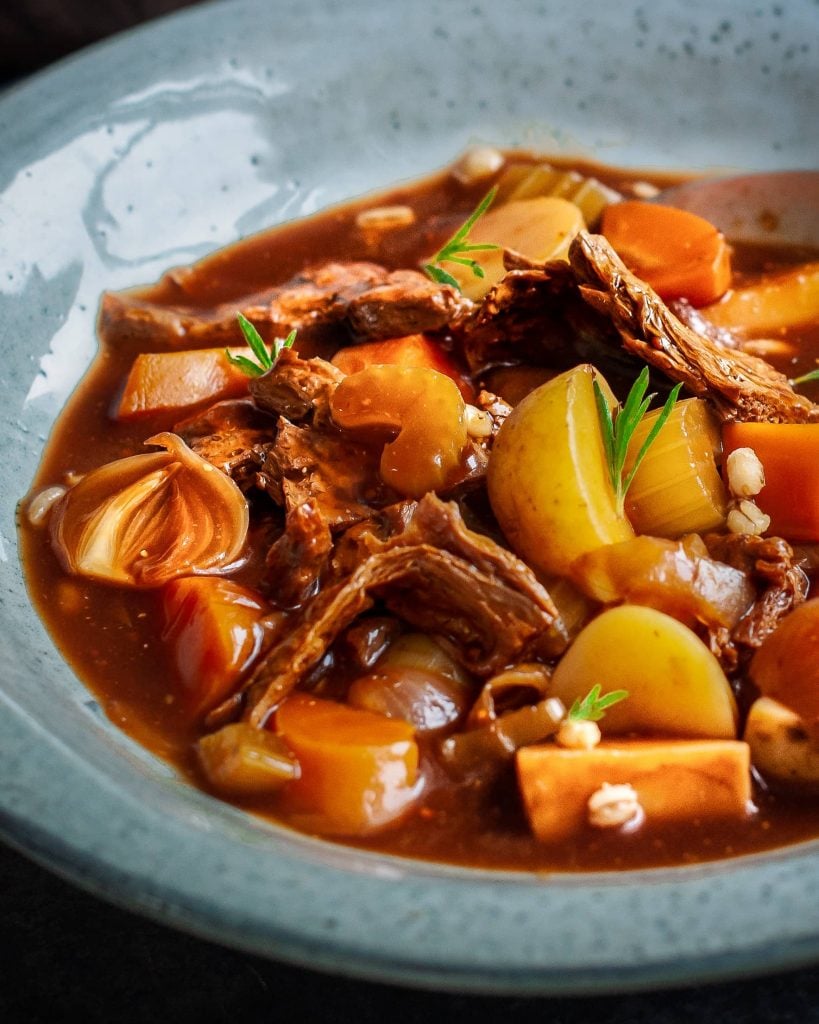 Where does "scouse" come from?
As you might have already guessed, I'm from Liverpool – and so is this vegan beef stew! For everyone outside the UK, people from Liverpool are known as "Scousers". This name comes from a Norwegian stew which has been eaten in the city for hundreds of years.
Liverpool was historically a super, SUPER important port in the UK. This meant the population was inevitably multi-cultural before "multi-cultural" was even a word. The inner city, unfortunately, was also a place of extreme poverty for a very long time. My Mum grew up in the slums of central Liverpool and can even remember sleeping under newspapers to keep warm as a kid. The combination of thrifty home-cooks and a high number of Scandinavian sailers meant that Lobscouse (or lapskaus in Norwegian) became a super popular and cheap dish.
What even IS "scouse"??
This vegan beef stew (aka scouse) mostly consists of stewed vegetables in a rich sauce and traditionally involves either lamb or beef. As a kid (back when I was vegetarian) I was always served "Blind Scouse", a variation which replaces the meat for lentils or beans. Blind scouse, so I'm told, was much more common than Lobscouse since it was much cheaper to make! We ate some variation of scouse pretty much every week throughout my childhood, so it really has a nostalgic vibe for me.
Anyway, history lessen over – I want to pay homage to my hometown today by sharing my (rather modernised) vegan beef stew "Scouse" recipe.
How should I serve it?
This vegan beef stew is amazing as a stand-alone dish – or as a starter. It's so seriously packed with veggies that it really is a filling dish. It's perfectly warming for a cold rainy day and should ALWAYS be served with a "cob" of bread and a generous topping of sauerkraut or even my miso pickled cauliflower.
If you want to copy my mum exactly, why not top with a big spoonful of shredded pickled beetroot!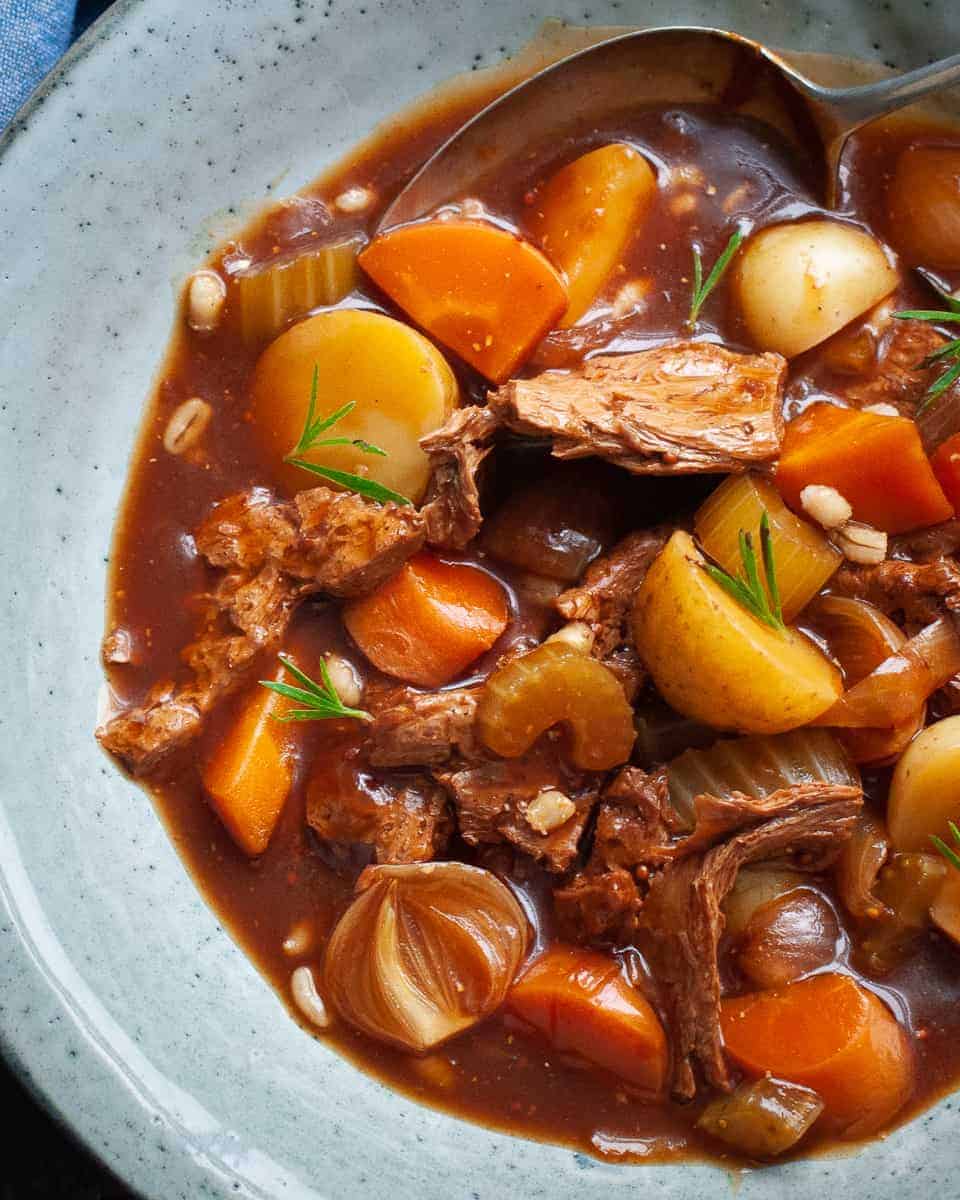 Let me know what you think!
This recipe really has a special place in my heart and I'd love to know what you think! Please leave a comment or rating on the recipe below – I promise I'll pass on any nice messages to my mum!