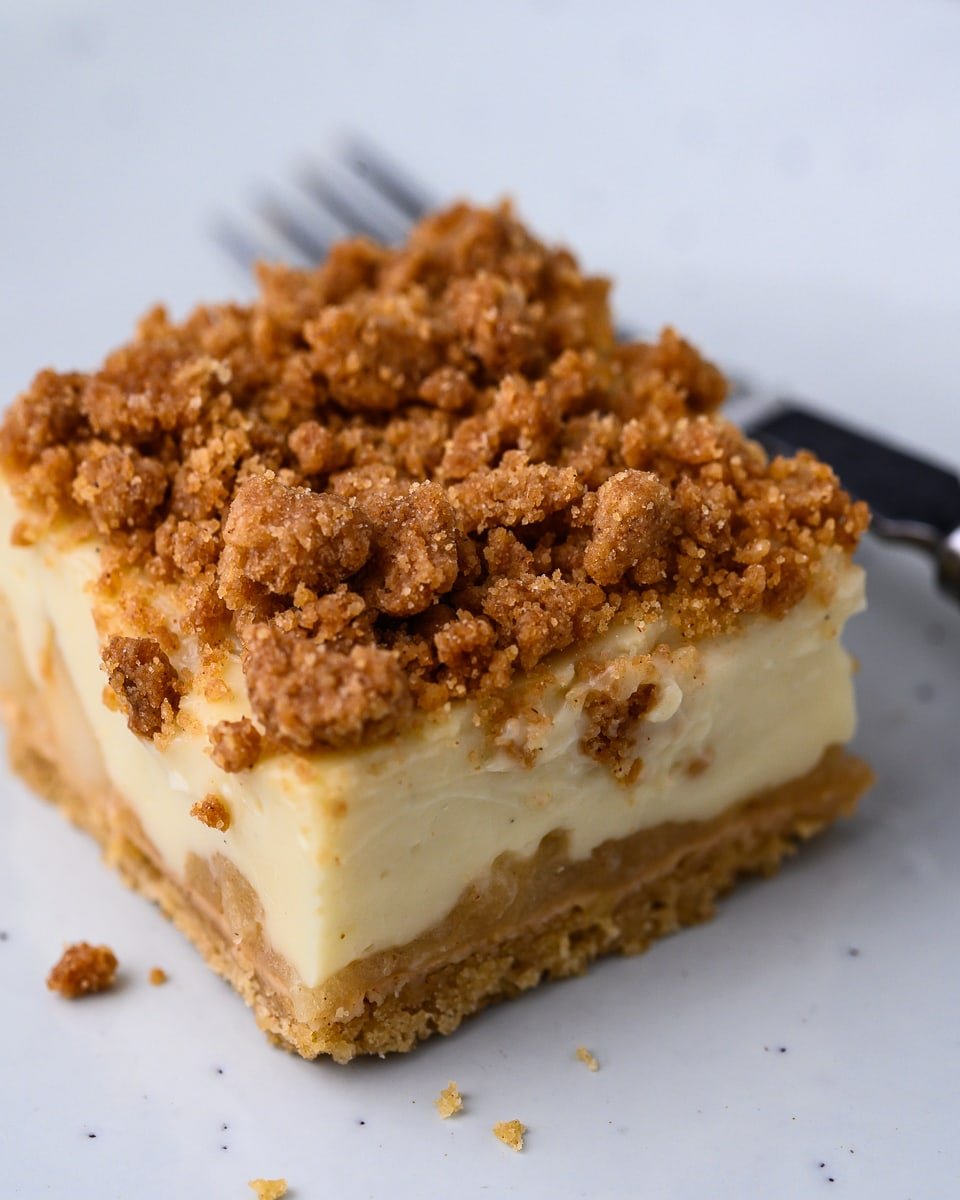 Delicious, autumnal vegan apple crumble custard bars. Crisp, biscuity base with sauteed apples, vanilla custard and a buttery crumble topping. They're bonkers delicious!
---
It's the perfect combo of my two fave desserts: vegan apple crumble custard bars! I like to think these guys are what you'd get if you hulk smashed together an apple crumble and a vanilla custard slice.
They're a beautifully crisp, golden, spiced biscuit base with a layer of sauteed brown sugar apples, topped with vanilla custard and finally sprinkled with more crispy crumble topping. What could be better?? I could genuinely eat these all day long, so stick around to find out how to make em!
What makes em so GOOD!??
The short answer is me! I'M exclusively responsible for what makes these good. Because not only did I invent them, but I also invented the following things:
apple crumble
vanilla custard slices
ovens
grape scented gel pens
Just kidding. What makes them so good is THAT TEXTURE BABY! They're the perfect balance between crisp, crumble biscuit base and topping, smooth velvety vanilla custard and perfectly cooked apples. Also, everyone knows that everything which can be sliced into neat little squares tastes better – don't fight me!
Vegan Apple Crumble Custard Bars in FOUR EASY STEPS!
What CAN'T you do in four steps?? These guys are easy! Just break em down into their constituent parts and you'll nail it! The full recipe, as always, is at the bottom of this page but here are a few tips you should know before you start!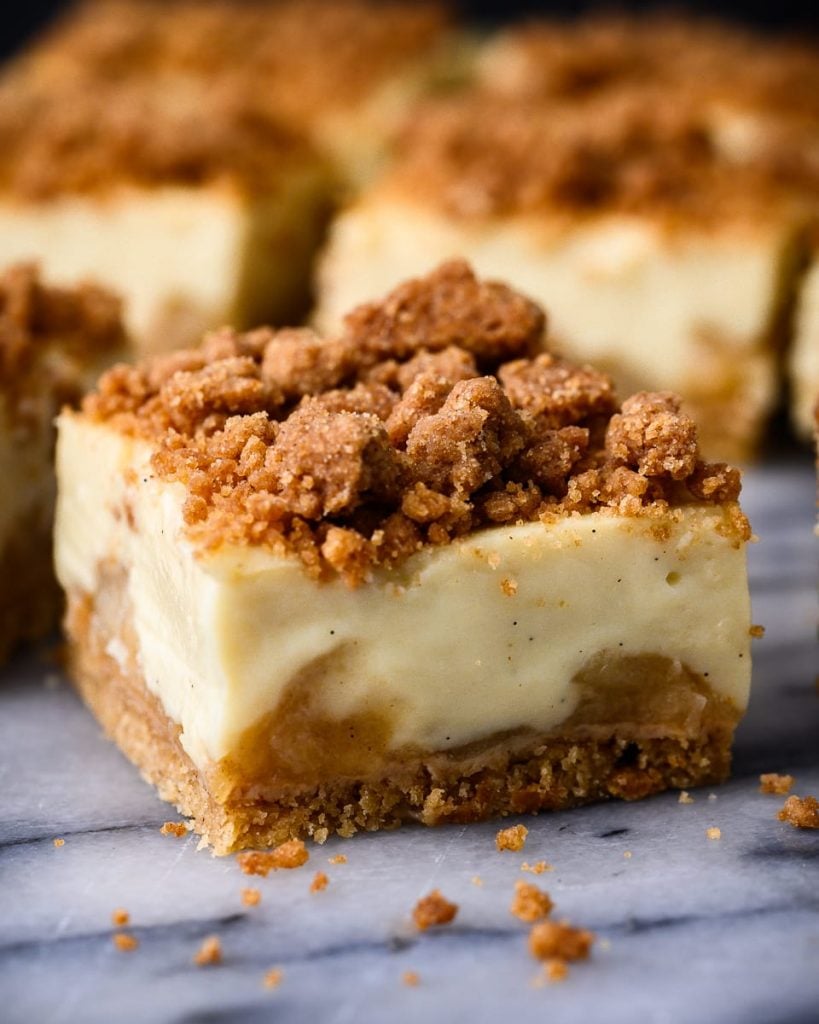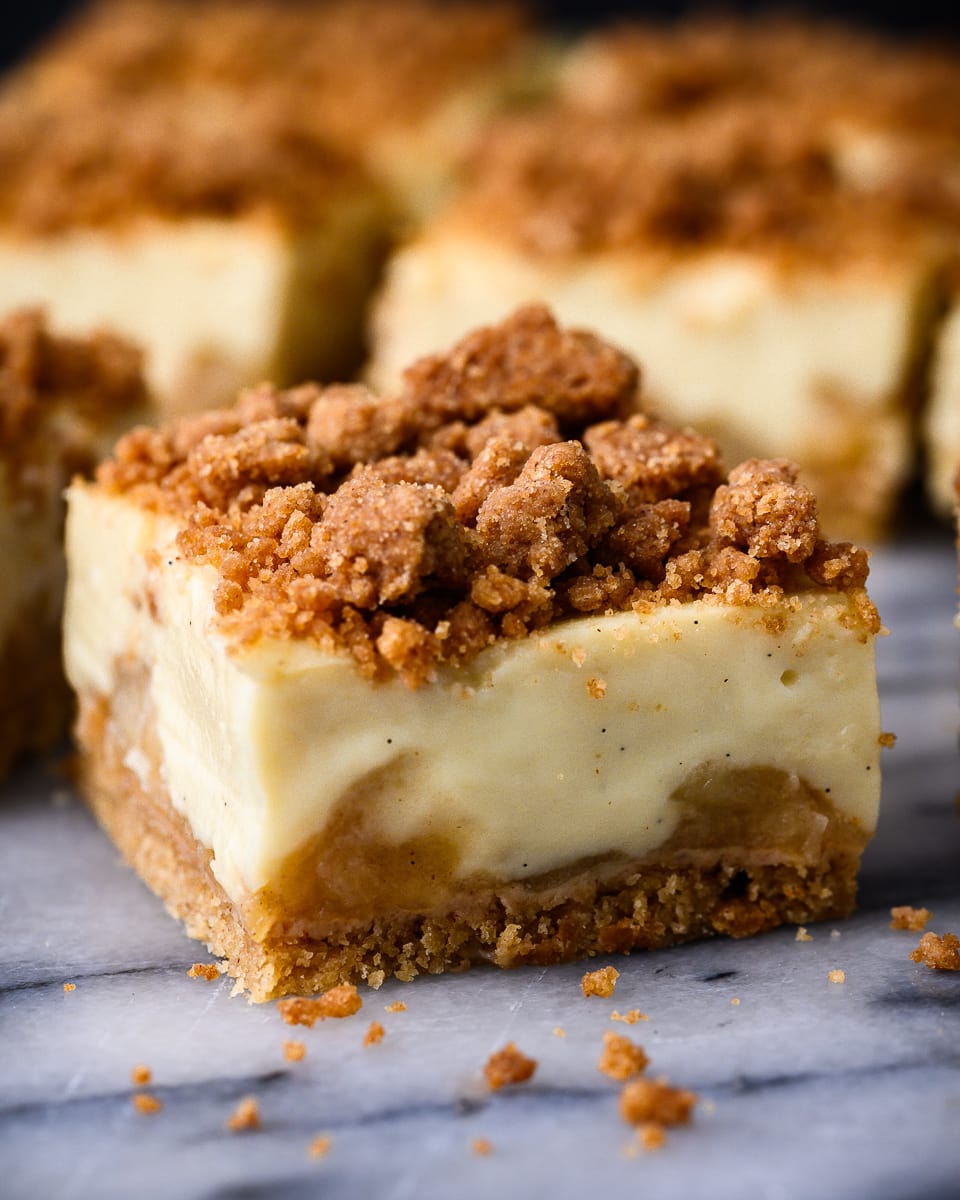 1. Start with the Crumble!
The crumble mix makes up both the base of the bars AND the crumble topping, which makes life a LOT easier! My one tip is to use your hands as little as possible. The more you use your hands, the more you'll warm up the vegan butter which will result in a tough, not-very-crumbly crumble.
I like to use two knives or a pastry cutter to cut together the flour and the vegan butter. You can also use a food processor but be careful not to over process the mix.
Bake the base and crumble topping separately until golden brown and set aside to cool fully.
2. Prepare the Apple Layer
For the layer of sauteed apples, be sure to use baking apples. Bramley apples work great but you can also use granny smith or any particularly tart, firm apple. If you choose a tender, sweet apple you'll find they lose their shape too quickly and won't retain any acidity once cooked.
Also be sure to cool your cooked apples thoroughly.
3. Make the Vanilla Custard
To make the custard we need to heat it in two stages. The first stage we heat the oat milk, sugar and vanilla together in a saucepan. This allows the sugar to dissolve fully which helps to keep the custard super smooth and avoid a gritty mouthfeel. It also gives the vanilla time to infuse into the milk, which is particularly important if you're using fresh vanilla pods.
Next you're going to mix together the coconut milk and the corn flour before adding to the saucepan and cooking until thick. This again helps the custard to stay nice and smooth because the corn flour can be whisked into the coconut milk before hitting the hot oat milk. It also stops the corn flour from thickening too quickly which will also ruin the texture of the custard.
4. Assemble the Bars
Once everything is cooked and cooled, it's time to assemble!
Spread the apples over the crispy base, making sure they're evenly spread. Follow with the custard, making sure it's not hot when you pour or spoon it over. Spread the custard into a flat layer. Finally top with the crumble topping and place in the fridge to set completely.
Once set after a good 3-4 hours, remove from the fridge and slice into squares. I think you get a decent portion if you slice into 12 or 16 squares, but this is up to you.
It's that easy! You've got some DELIIICIOUS looking vegan apple crumble custard bars ready to scoff! Share em with your pals OR DONT! I don't care!
Need more DESSERT??
Then you came to the right place! Why not give these bad boys a try!?
Vegan Coconut and Lemon Cake
Vegan Ginger Cake with Roasted Rhubarb
Blackberry Hand Pies