Publised on 21/10/2021 by Richard. Last Updated on 17/10/2022 by Richard.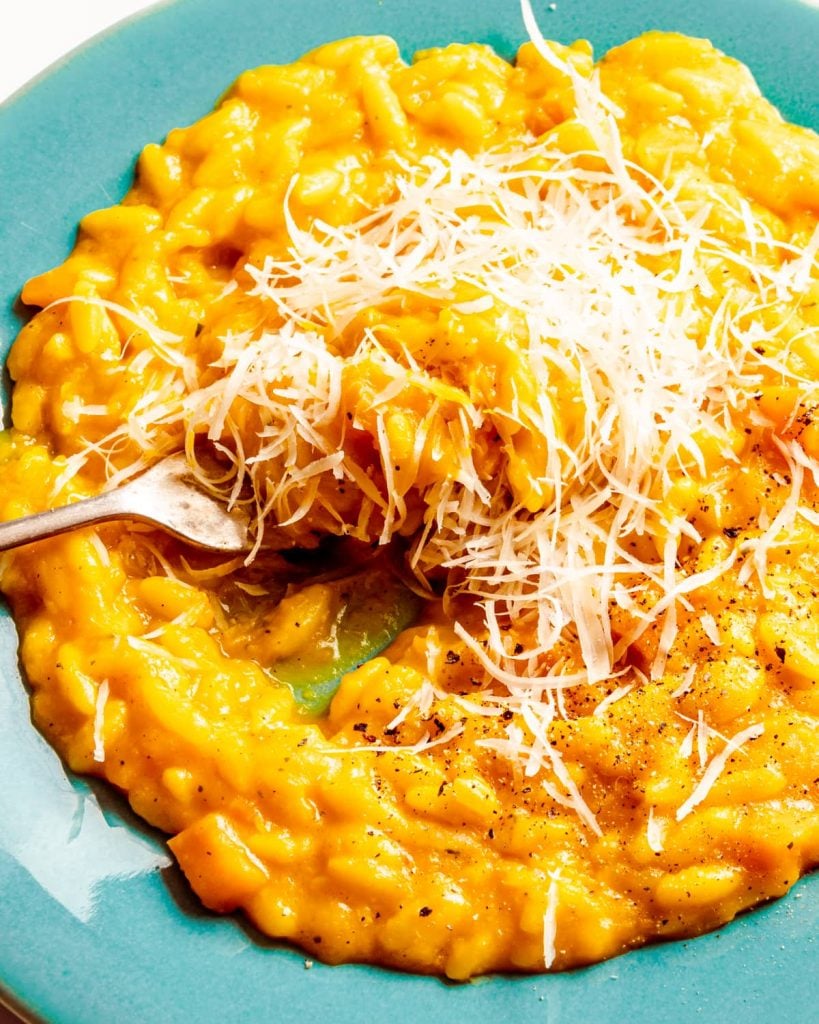 Velvety smooth one pot pumpkin orzo, packed with flavour and gorgeous autumnal vibes! Ideal for a lazy fall dinner!
---
Look, this one pot pumpkin orzo is for EVERYONE, but there are TWO types of people out there who truly deserve it. There are the die-hard pumpkin spice latte gang (who have received enough shade to last a century), and then there's everyone whose first queer crush was Jack Skellington. I, folks, belong to the latter group.
I cannot TELL you what a proto-queer Tim Burton stan I was as a kid and OBVIOUSLY all TRUE Tim Burton stans live on a diet of pumpkin and salty liquorice (dont @ me! I don't make the rules!). So here's a recipe for anyone belonging to EITHER of those two groups. My one pot pumpkin orzo!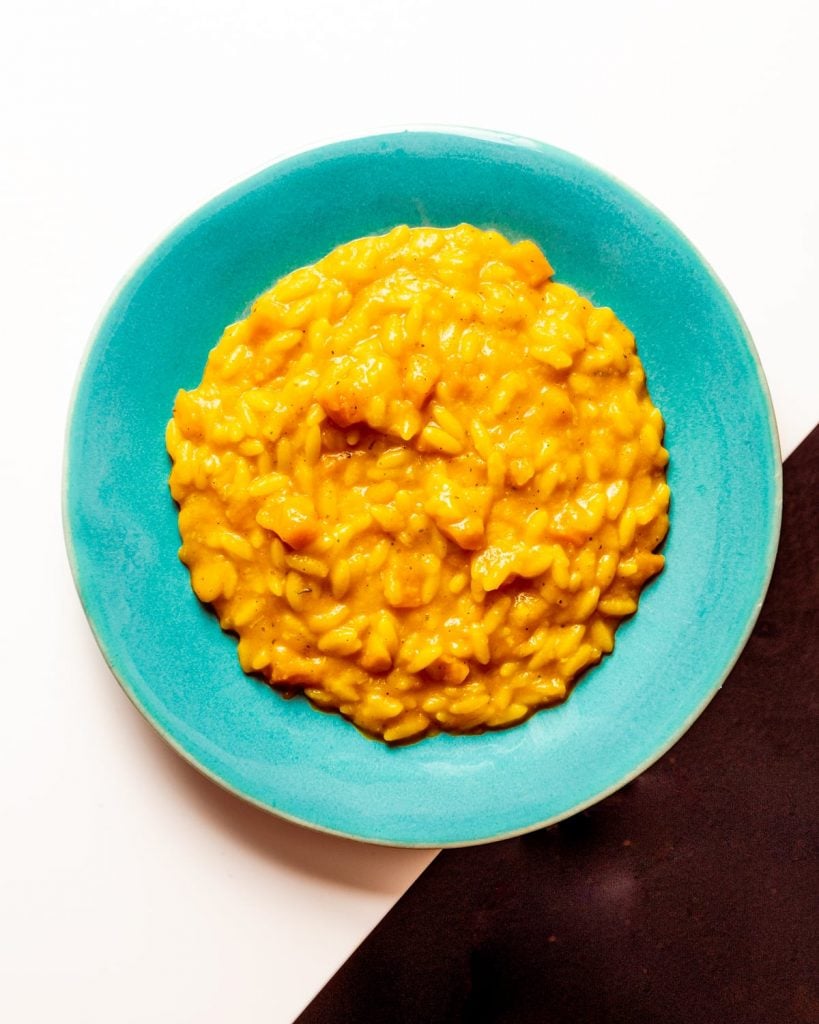 What's Going on Here Then!?
It's really quite simple - definitely no need to freak out - it's just THE MOST DELICIOUS ORZO RECIPE KNOWN TO HUMAN KIND! Here's why I love it so much and why I think it's the perfect vessel for carrying pumpkin to your organs:
IT'S VERY EASY! There are zero complicated or advanced techniques involved in this process and once you've fried the onion and garlic it's literally hands-free! Just pop it in the oven and bake until it's all glossy and creamy!
NO SPECIALIST INGREDIENTS! Besides the pumpkin, I reckon you already have all the ingredients in your cupboard. Not that I've been snooping around your pantry or anything...
PERFECT FOR LEFTOVERS! If you can't finish it all in one sitting (MWAHAHA PATHETIC MORTAL!) then you can just pop it in the oven again the next day and you'll get a whole other level of flavour and crispy baked pasta vibes!
One Pot Wonder, you say!?
Yep, I've really done some leg-work on this one! the key to a one-pot pumpkin orzo recipe is getting EXACTLY the right amount of liquid involved. It's also crucial (IMO) to have some of that liquid as white wine. I don't actually drink booze, but in cooking it can be super transformative! It adds a whole other dimension to this dish turns up the flavour dial to 11.
So make sure that when you start cooking your onion and garlic, you use an oven safe pot with a tight-fitting lid. The lid is crucial because you don't want to let too much steam escape.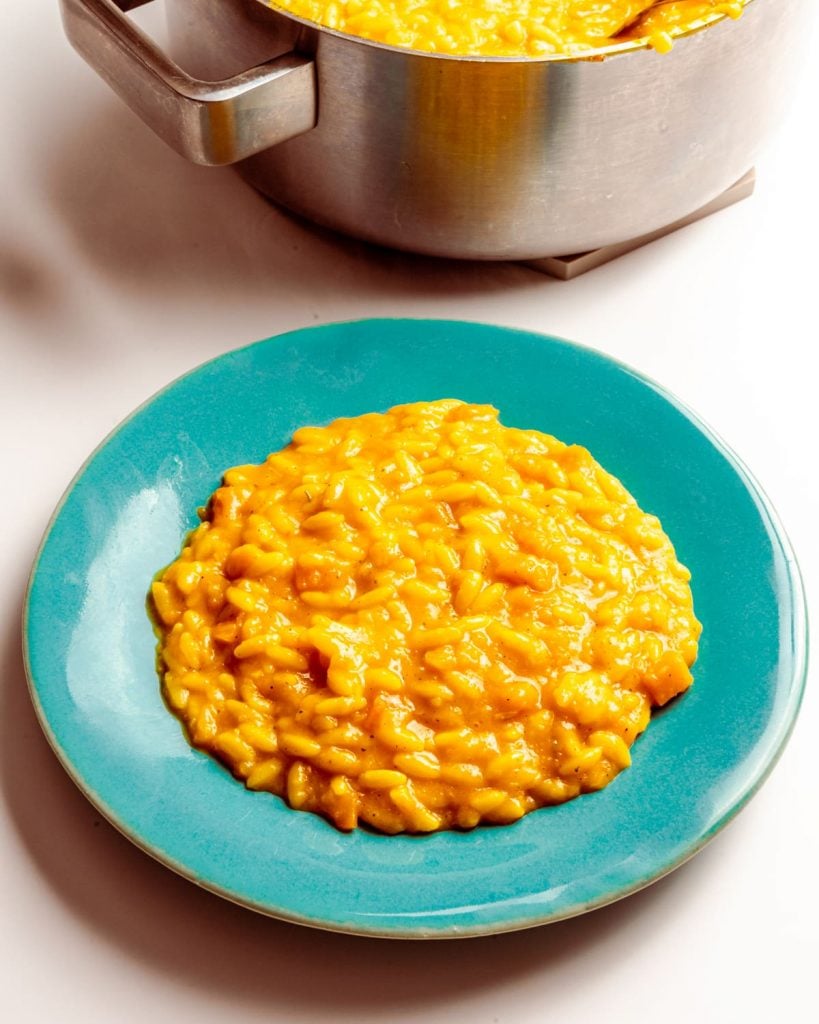 So How Do I Make One Pot Pumpkin Orzo??
As always, full recipe is below, but here's a lil step by step walk-through for you!
1. Halve, peel and de-seed your pumpkin
Use a sharp knife and PLEASE mind your fingers! I will NOT be rushing you to A&E at 8pm on a school night young lady - not again!!! Also, lots of people love roasting pumpkin seeds. I understand this is a fun zero waste tactic but I also won't be upset if you just throw them in the compost since I SIMPLY CANNOT ABIDE the idea of pumpkin seeds as a snack. Don't fight me on this, but THEY'RE NEVER CRISPY! IT'S A WASTE OF TIME.
ahem. A quick note on pumpkins. Please don't use carving pumpkins for this recipe. They're not grown for eating - they taste like farty water, which some people might be into, but not me. Use a nice cooking pumpkin or honestly ANY WINTER SQUASH! Yep, this recipe even works with butternut squash!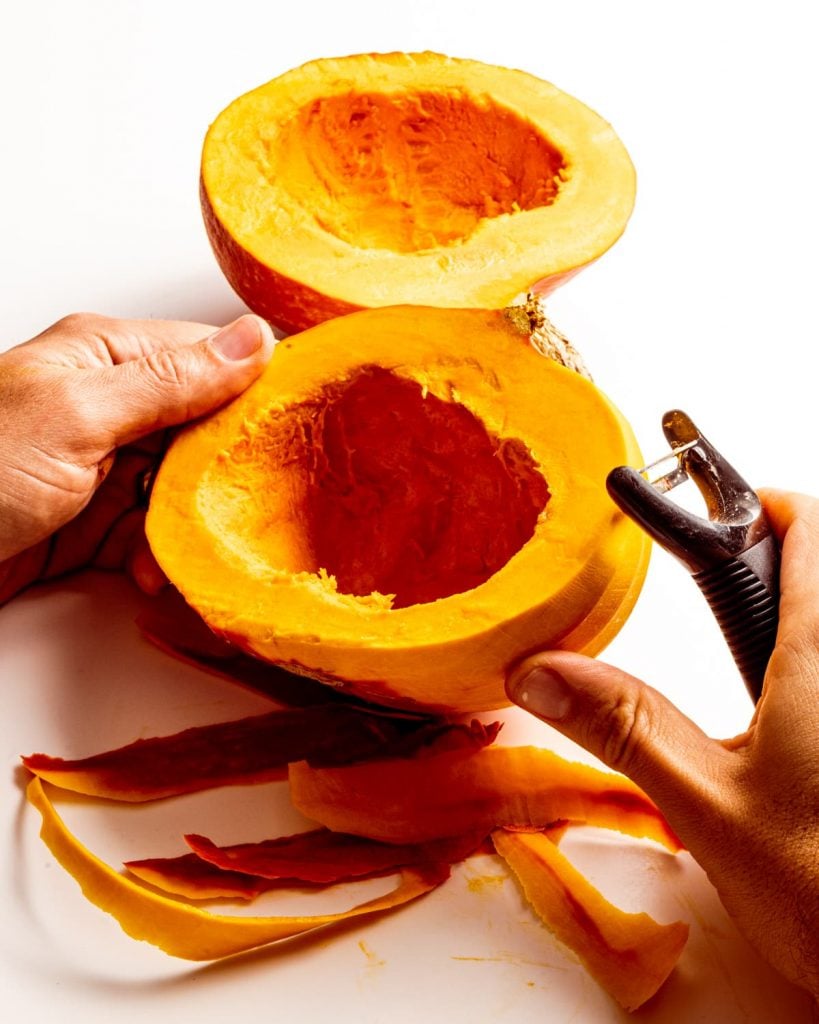 2. Cube one half, grate the other
For both orzo and risotto, I like a variation of textures. This is why I grate one half of my pumpkin and cube the other. You want to keep those cubes small, ideally around ½ a centimetre, but who's measuring? The idea is that they're big enough not to just dissolve into the pasta but they're not so big that they don't cook through in the oven.
For the grated half, use a box grater (rather than a microplane) otherwise you'll be at it for hours.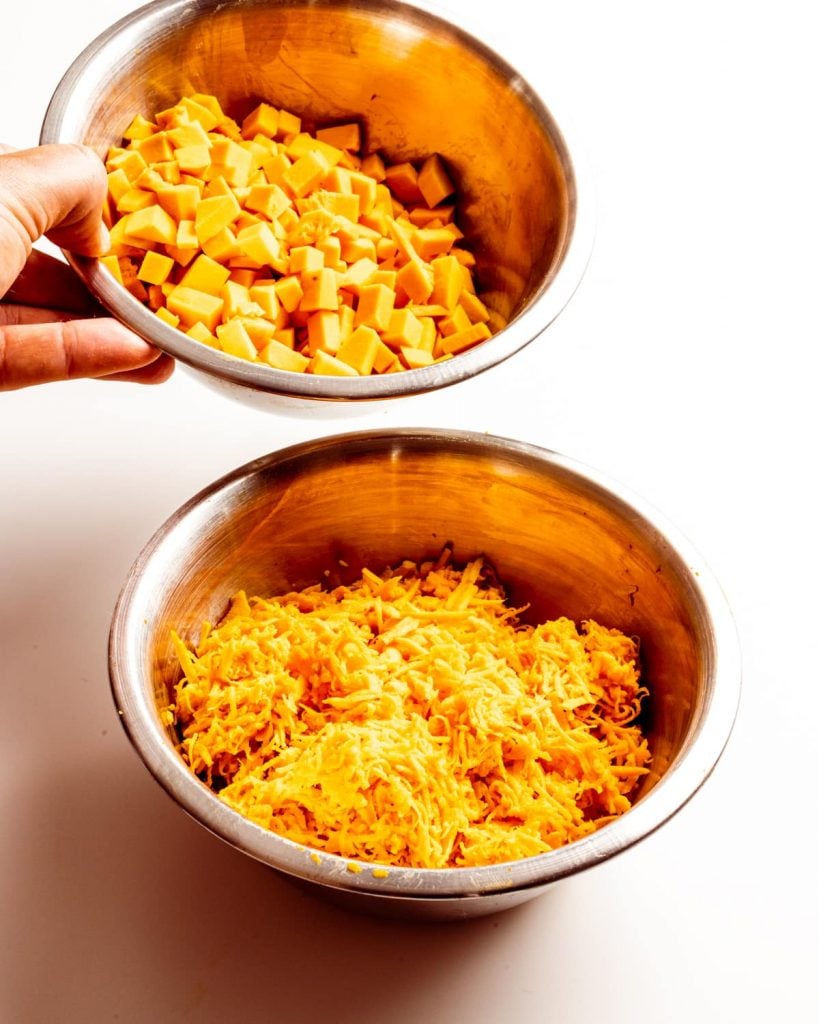 3. Fry off your onion and garlic then add EVERYTHING
Keep things low and slow here, we don't want to burn the garlic or brown the onions. Just get em good and soft then add EVERYTHING ELSE! It's going to look like a lot of stuff in the pan, but don't worry. Just cover it with the stock and wine and hope for the best.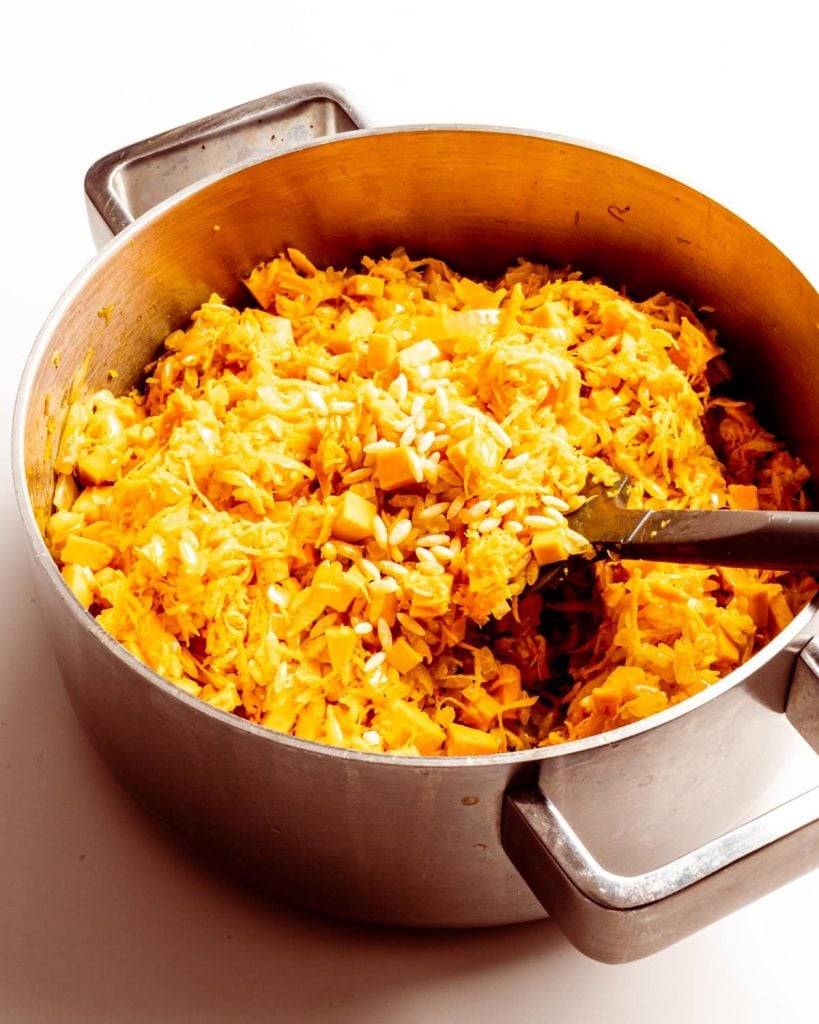 4. Bake it good!
I found the baking process took between 35-40 minutes. IF you like your orzo a little less saucy and a little more chunk, thrown an extra 5 minutes on the end of that. Just remember, KEEP THE LID ON the whole time! If you remove the lid all the good moisture will escape and you'll be left with burnt orzo. I simply won't tolerate disobedience on this front - nod if you understand!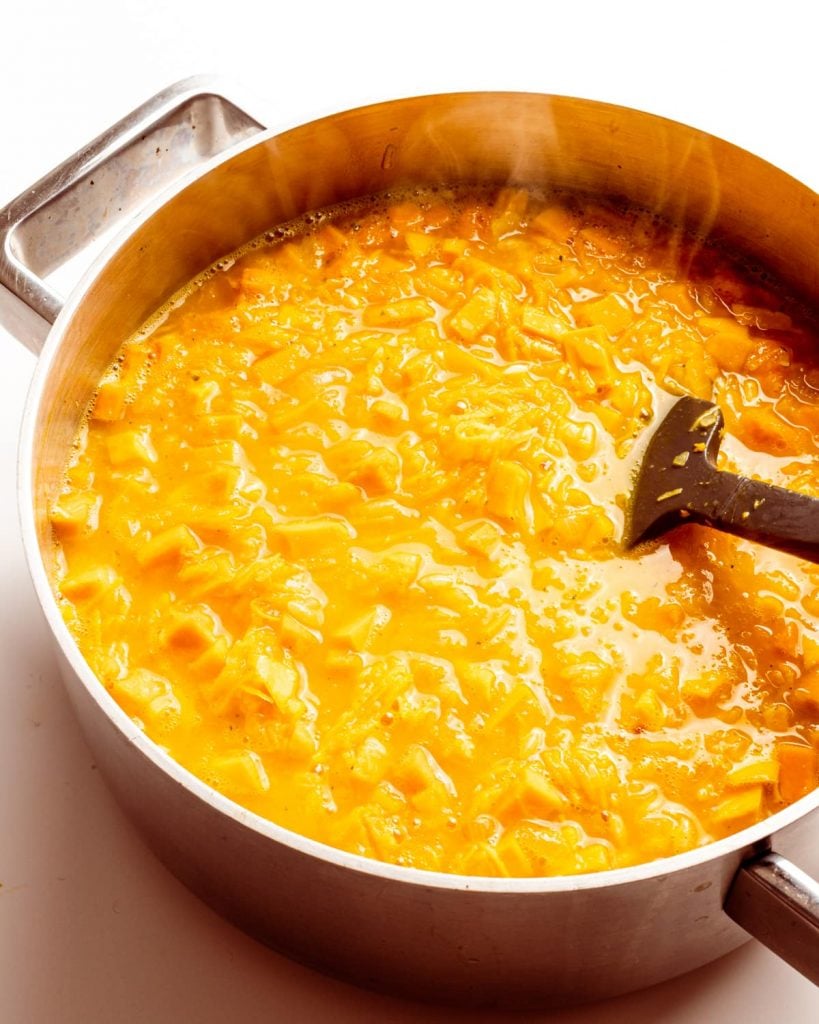 5. Add a little vegan butter
I love this part - it just adds a little extra gloss to the dish and you'll thoroughly enjoy stirring it in. If you have a child who loves to "help" with the cooking, this is the part they'll probably want to "help" you with. Don't let them. It's a tactic to rob you of the last remaining small joys in life. Keep this for yourself. Stir the pot, friend, stir it all by your damn self.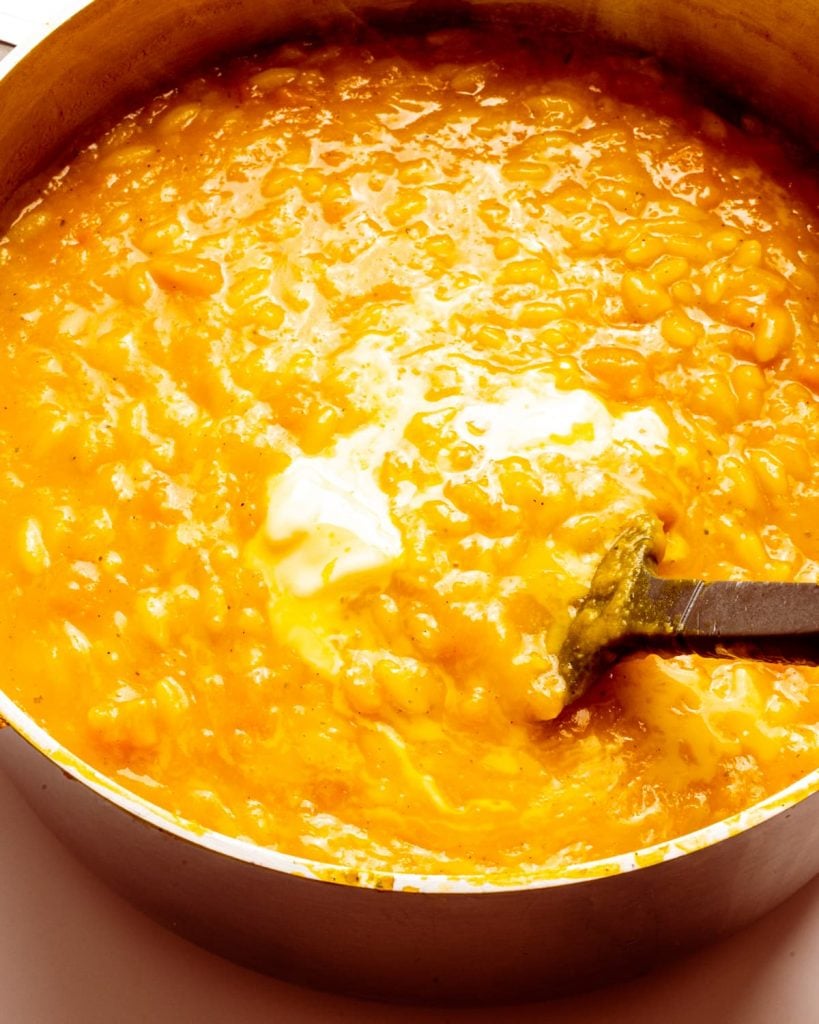 6. Serve with pepper and vegan parm
And that's it! Dinner is served. I say this recipe serves 4, but those are pretty decent portions. If you're serving this as a starter, make that 6. Or if you're a recently single person on a cold winters night, it's a handy individual serving, just use a spoon.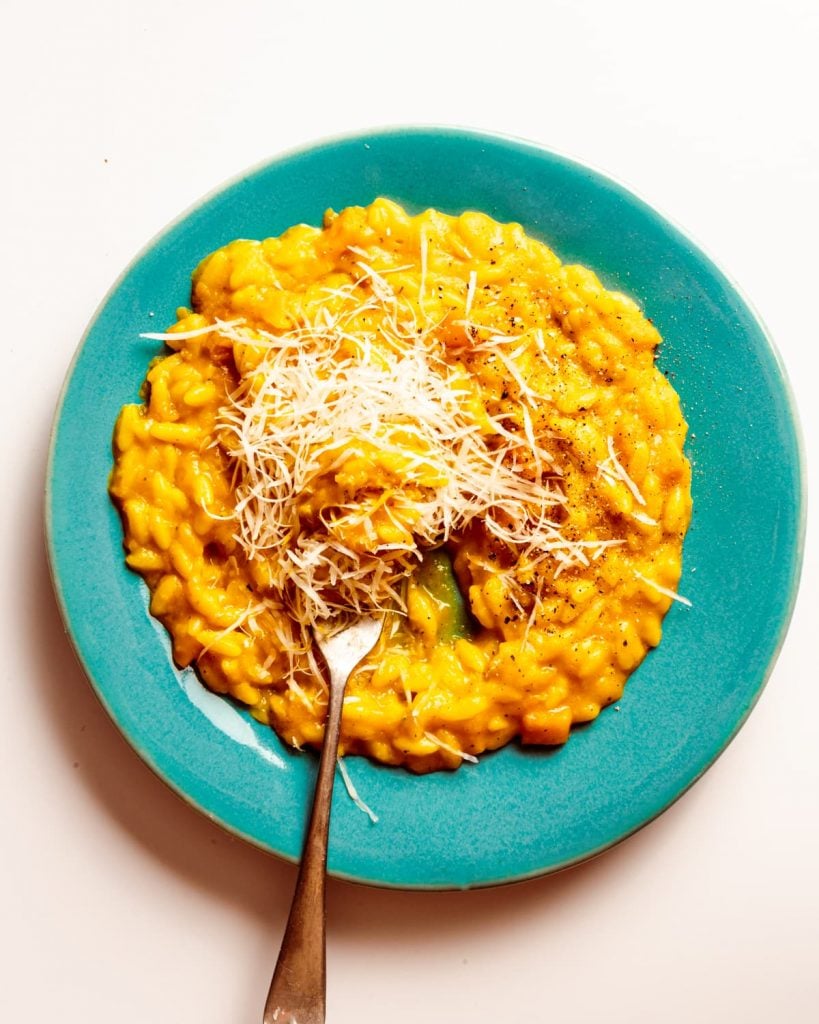 And THAT's how you make one pot pumpkin orzo!
It really couldn't be easier! If you like the look of this recipe (whether you've tried it or not) give it a 5 star rating down below! It helps me to rank higher on google and therefore reach more people with my recipes! THANK YOU FRIEND!
Need some more PASTA recipes??
You got it pal!! Why not give these baddies a try!?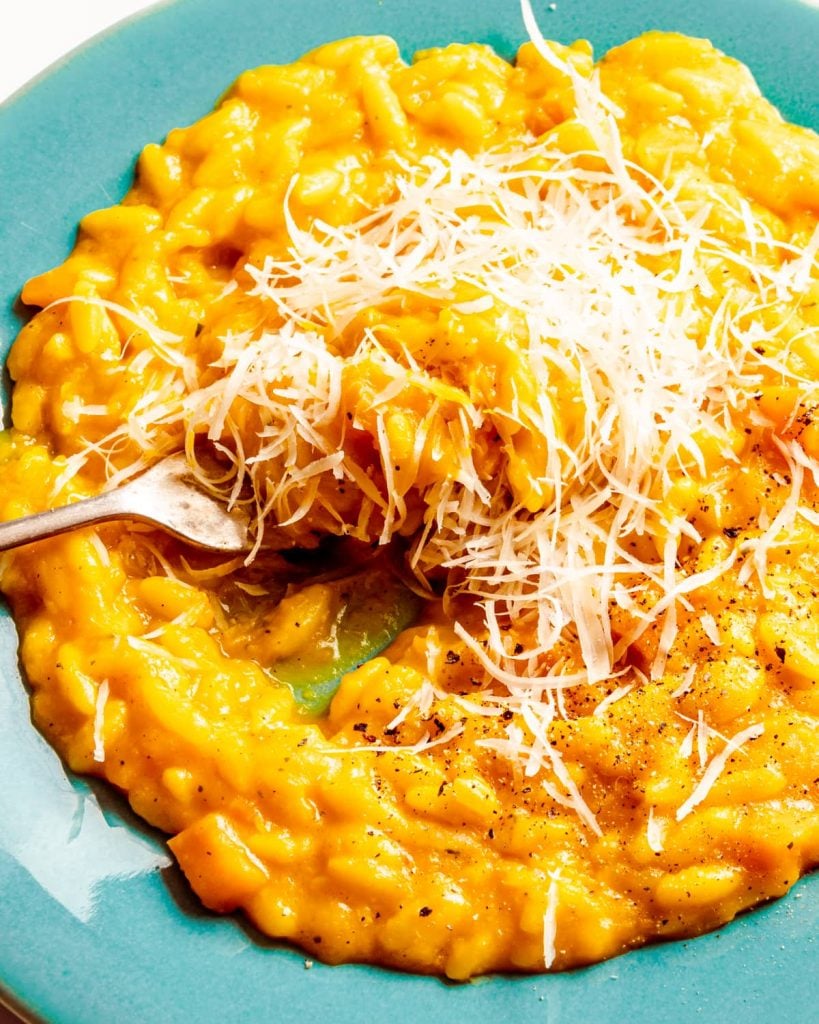 One Pot Pumpkin Orzo
Velvety smooth one pot pumpkin orzo, packed with flavour and gorgeous autumnal vibes! Ideal for a lazy fall dinner!
Ingredients
1

kg

pumpkin

(or squash)

3

tablespoon

olive oil

1

onion

(peeled and finely diced)

3

cloves

of garlic

(peeled and finely minced)

250

g

orzo

800

ml

vegetable stock

200

ml

dry white wine

(make sure it's vegan)

salt and pepper

25

g

vegan butter
Instructions
Preheat the oven to 180ºc / 355ºf (fan).

Halve, peel and de-seed the pumpkin. Chop one half of the pumpkin into small cubes. Use a box grater to grate the other half. Set aside

Place a large saucepan over medium/low heat and add the onion. Fry for a minute then add the garlic. Fry until the onion is softened but do not let the garlic brown.

Add the orzo, vegetable stock, dry white wine and both the cubed and grated pumpkin. Stir to combine and bring to a gentle simmer.

Remove from the heat, cover with a tight-fitting lid and place in the preheated oven. Bake for 35-40 minutes.

Remove from the oven and season with salt and pepper to taste. Add the vegan butter and stir to combine. Serve with more black pepper and your favourite vegan parmesan.
Nutrition
Serving:
1
grams
Calories:
491
kcal
Carbohydrates:
70
g
Protein:
11
g
Fat:
16
g
Saturated Fat:
3
g
Polyunsaturated Fat:
12
g
Trans Fat:
1
g
Sodium:
851
mg
Fiber:
4
g
Sugar:
12
g
Love this recipe?
Let me know on Instagram!