Publised on 12/04/2019 by Richard. Last Updated on 12/10/2022 by Richard.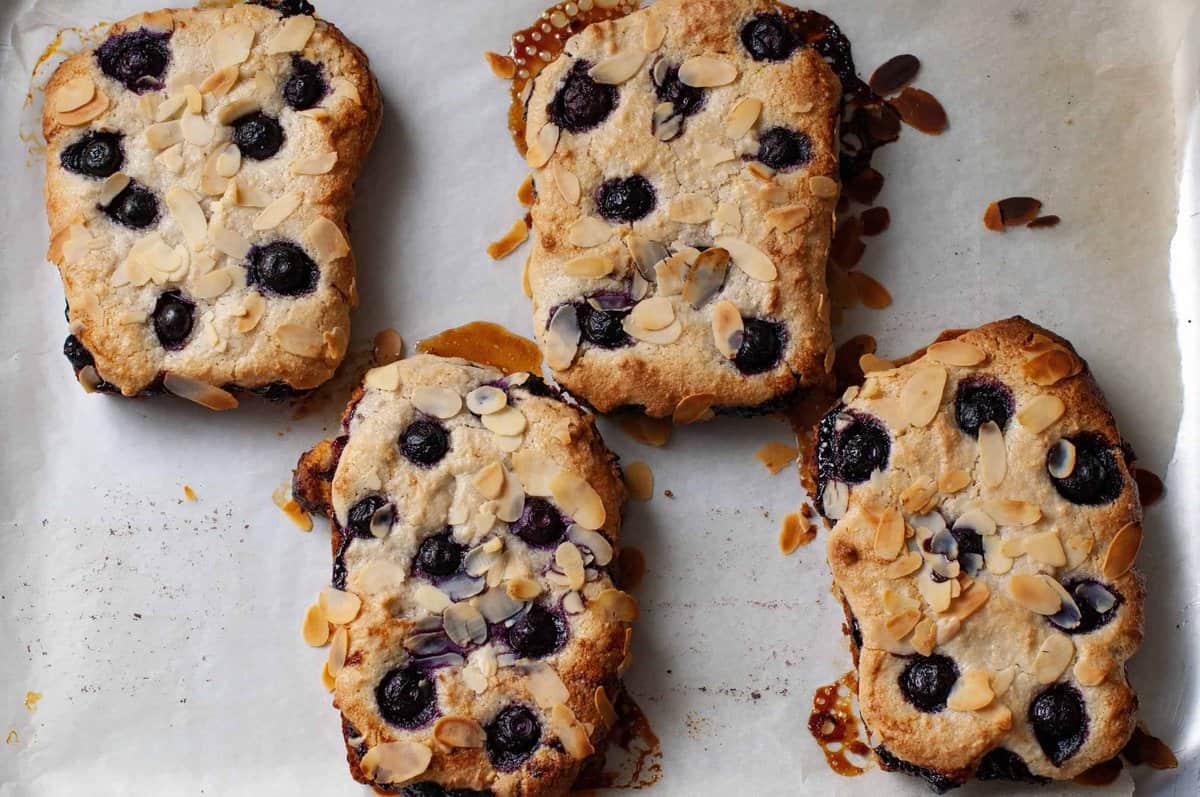 Never had a bostock? They're like a bakewell meets a french pastry meets a frangipane tart! This recipe works with basically any berry and loads of other fruits. You can even swap the ground almonds for desiccated coconut and you'll get something closer to a manchester tart!
Traditionally a bostock is made using brioche bread, but IMO this is a WAY better version. You'll need a loaf of my lemon blueberry loaf cake, which is super easy to make. Yes, it's much sweeter but the sharpness of the berries cuts right through. They're perfect with a cup of coffee for your afternoon "fika".
NOTE: this recipe calls for aquafaba. If you've never heard of it, don't worry! It's just a fancy name for that water you pour away when you drain a can of chickpeas (yes, it's insane but it works). Turns out it has a super similar protein content to egg white and behaves very similar when cooked (you can even make meringue). For this recipe, you need chilled aquafaba so make sure you place a tin of chickpeas in the fridge for a few hours before you make the recipe.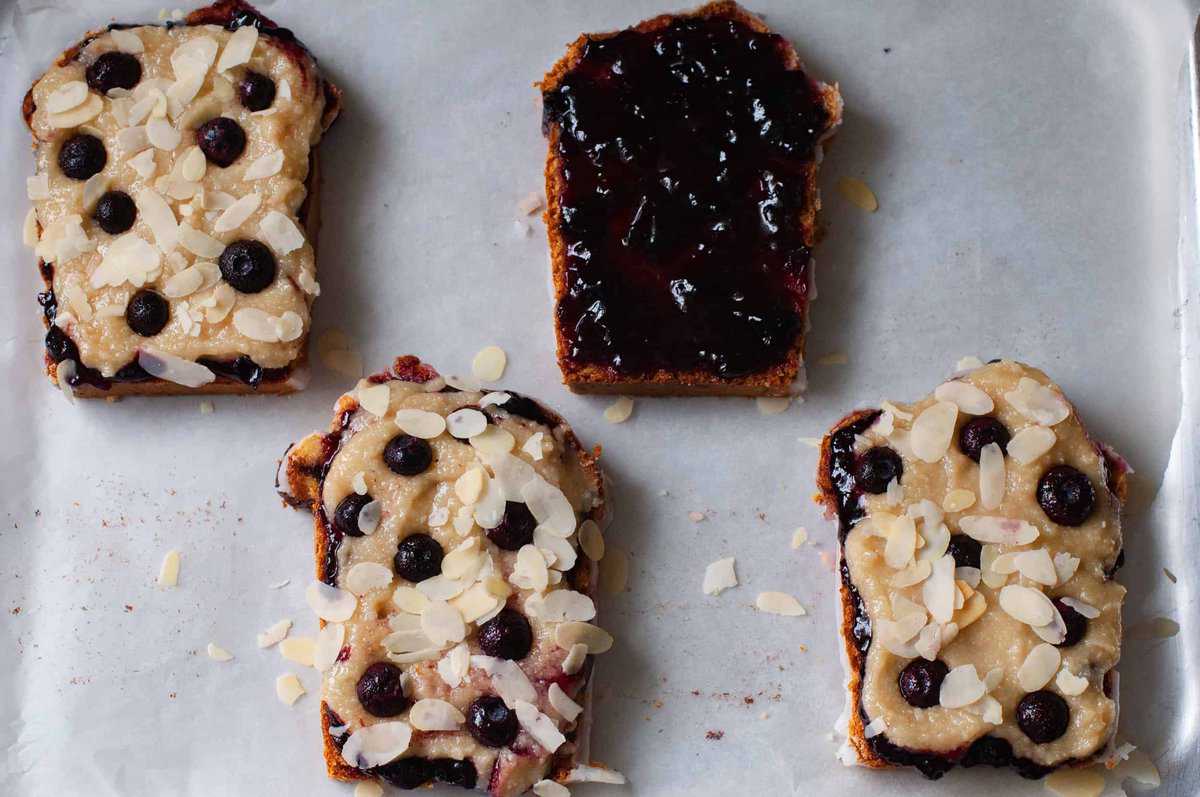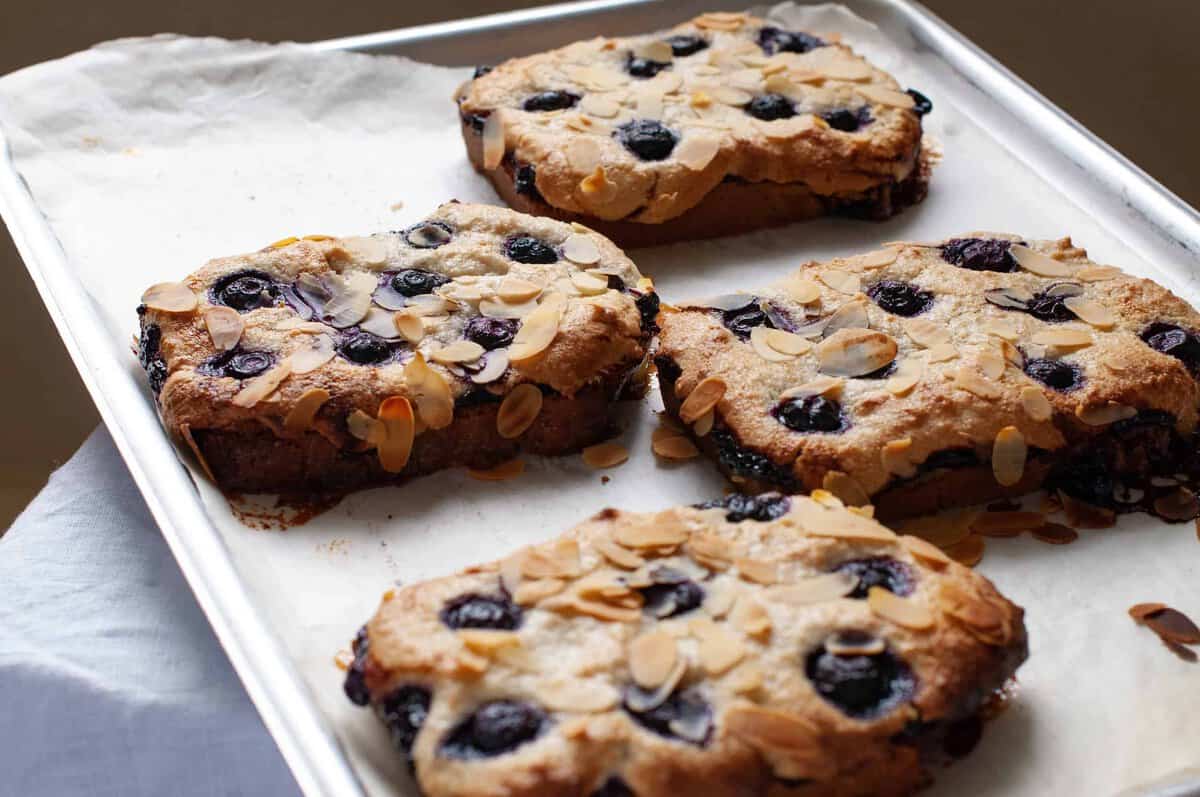 Blueberry and Lemon Bostocks
Never had a bostock? They're like a bakewell meets a french pastry meets a frangipane tart!
Ingredients
For the Bostocks
4

thick slices of blueberry and lemon loaf cake
For the Lemon Glaze
Juice of 1 lemon

1.5

tablespoon

caster sugar
For the Frangipane
40

ml

vegetable oil

75

g

caster sugar

25

g

plain flour

½

teaspoon

almond extract

3

tablespoon

aquafaba

(see ingredient note above)

120

g

ground almonds
To Finish
4

tablespoon

blueberry jam

24

frozen blueberries

4

teaspoon

flaked almonds

1

teaspoon

icing sugar
Instructions
Make the Lemon Glaze
In a small saucepan combine the lemon juice and the sugar. Simmer over low heat until the sugar has dissolved and the volume has reduced by half. Allow to cool slightly.

Lay the slices of cake on a parchment lined baking tray. Using a pastry brush, glaze each slice of cake evenly. The glaze should be syrupy but thin enough to soak into the cake.
Make the Frangipane
In the bowl of a stand mixer fitted with the whisk attachment, combine the oil and sugar. Beat on high speed for a minute.

Add the flour and almond extract. Whisk briefly to combine.

Add the aquafaba one tablespoon at a time, whisking well between each addition. After the final addition, scrape down the sides and beat again for a minute. The mixture wont increase in volume like meringue but it should be lovely and smooth and glossy.

Remove the bowl from the machine and fold in the ground almonds with a spatula.
Assemble the Bostocks
Preheat the oven to 180c.

Divide the jam between the four slices of cake and spread evenly right to the edge of each slice.

Divide the frangipane batter between the four slices and top roughly (it can be quite tricky to work with but a wet teaspoon should make it easier to spread). You don't have to spread right to the edge, in fact it can be nice to leave some jam visible around the edges.

Divide the berries between the four slices and press lightly into the frangipane, making sure they're still visible. Top with a sprinkle of flaked almonds and place in the oven for 25-30 minutes until the frangipane is puffy and browning on the edges.

Remove from the oven and allow to cool completely. Sprinkle with icing sugar and serve.
Nutrition
Love this recipe?
Let me know on Instagram!