Publised on 25/03/2020 by Richard. Last Updated on 25/03/2020 by Richard.
Stunningly moist (yeah I said it) vegan double chocolate coconut oatmeal cookies! They're rich, indulgent and ready in a flash!
---
Take a deep breath before you say this one - because it's a mouthful - vegan double chocolate coconut oatmeal cookies! Show me one person who's not STOKED about that combo and I'll show you a sad, sad person (in need of a cookie). 
They're the perfect blend of a moist, chewy centre - a crispy, crunchy exterior with a hint of coconut flavour. Plus, they contain oats which means they're legally a breakfast food (in my house anyway!).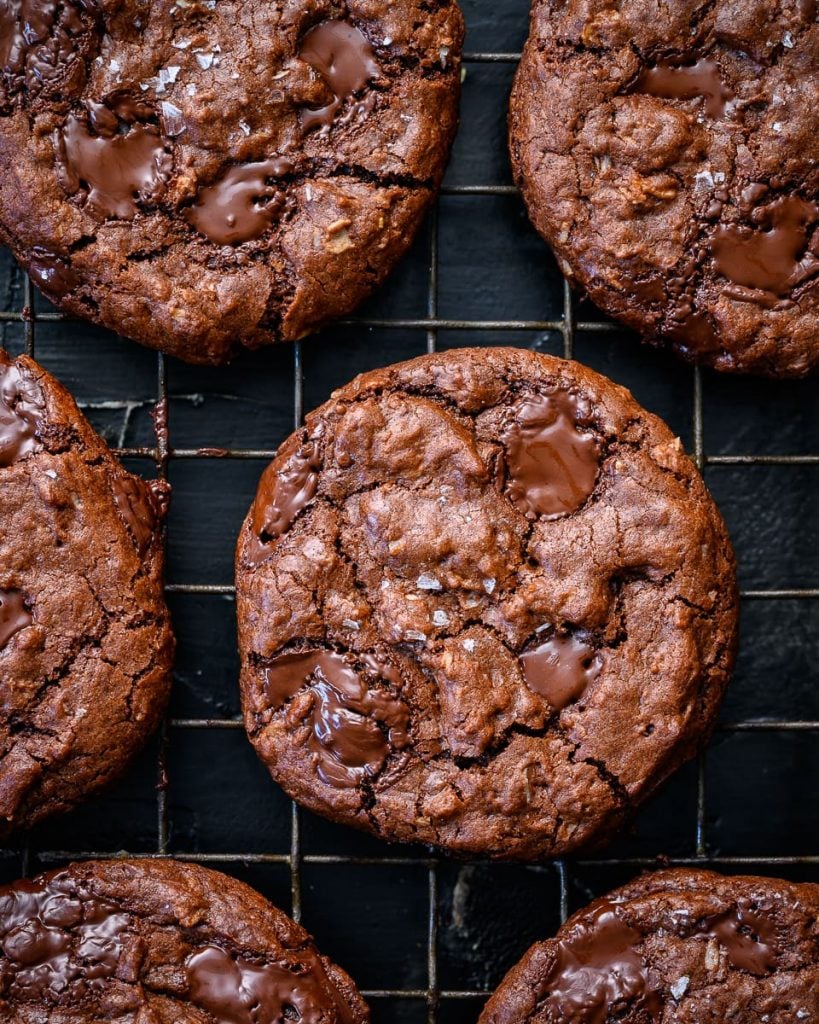 Why coconut AND oatmeal??
Here's where the origin story of these vegan double chocolate coconut oatmeal cookies gets honest. These guys are a little bit of a coincidence. At time of writing, we're currently in lockdown in the UK thanks to the Covid-19 virus. We can't pop out to the shops easily and the other day we ran out of sweet treats. 
Instead of panicking, I decided to see how many of my half-used bags of ingredients I could get into these cookies. This is how we ended up with chocolate, coconut AND oatmeal in these damn fine cookies. Oh, and trust me, you won't be disappointed in the flavour!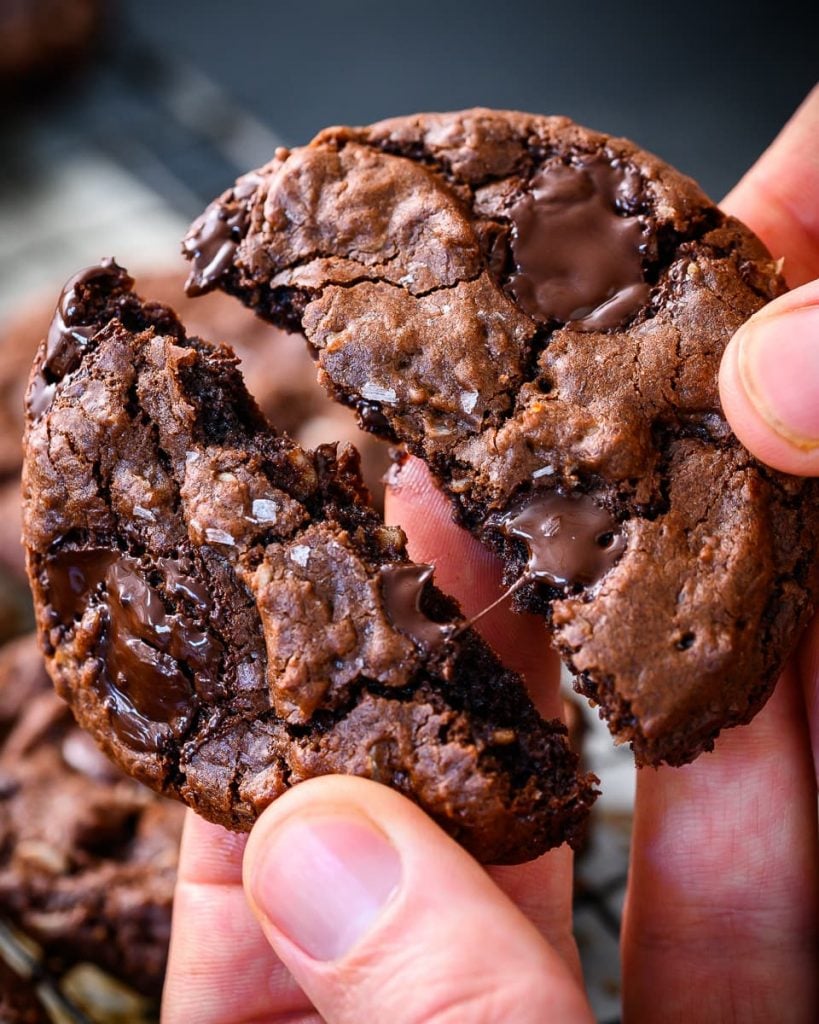 Some top tips for baking these bad boys!
These guys couldn't be easier to bake, but here are a few top tips for getting perfect cookies!
1. Aim for a super smooth dough!
This recipe uses coconut oil which, if not used properly, can result in greasy cookies. You need to make sure the oil is emulsified before adding the dry ingredients to the dough in order to avoid a cookie oil slick! The good news is, it's super easy!
The purpose of the soy milk in this recipe is to emulsify the sugar/oil mixture. Soy milk naturally contains lecithin which acts as a fantastic emulsifier and brings everything together in a smooth, glossy paste! Once you hit this stage, it's time to add your dry ingredients!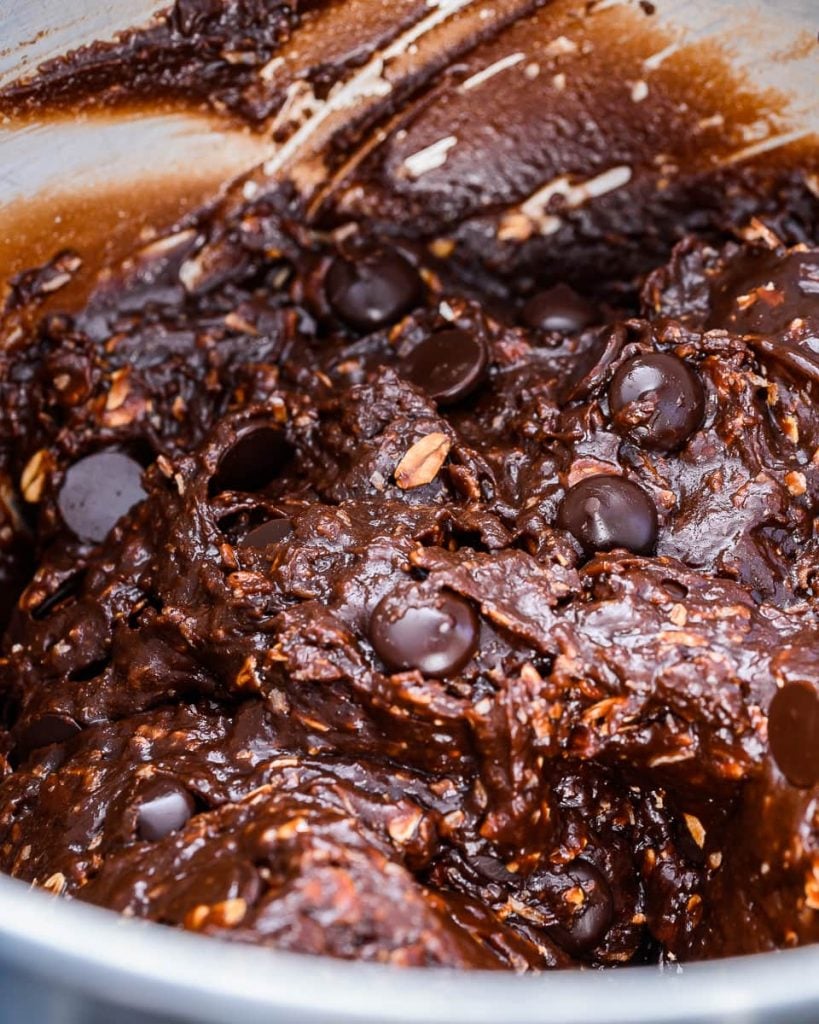 2. Scoop and bake, straight away!
Some cookies bake better when the dough is rested for a while. Some are even better when the dough is refrigerated or frozen! But not these cookies! These guys should be scooped and baked almost as soon as you've combined all the ingredients!
Have your cookie scoop ready and your oven pre-heated and ready to go! Perfecto!
3. Give the a tap!
When your cookies come out of the oven, they'll appear large and puffy. This is fine if you're making a soufflee - but we want nice, moist, chewy cookies, so we want to deflate them, nice and gently. 
Once the cookies come out of the oven, give the tray a few little taps on the counter to knock the air out of them. You'll find this hugely improves the texture!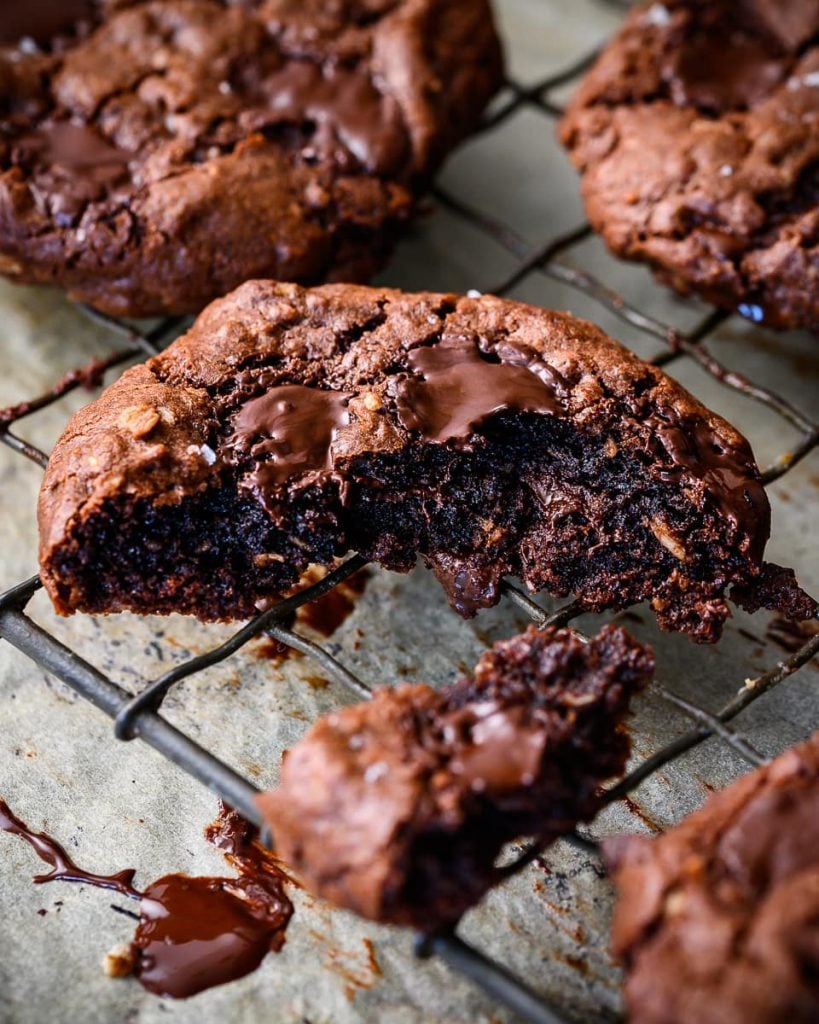 4. Be patient - let them cool!
Everybody loves warm cookies - and these vegan double chocolate coconut oatmeal cookies are DAMN FINE when warm. But seriously, if you want to taste them at their best - LET. THEM. COOL! For at least 15 minutes!
Fresh from the oven, these guys are basically still liquid inside - especially with all that melted chocolate. So let them cool on a wire rack before diving in! You'll thank me for it later!
Need more cookies??
You've come to the right place! Check these bad vegan dudes out!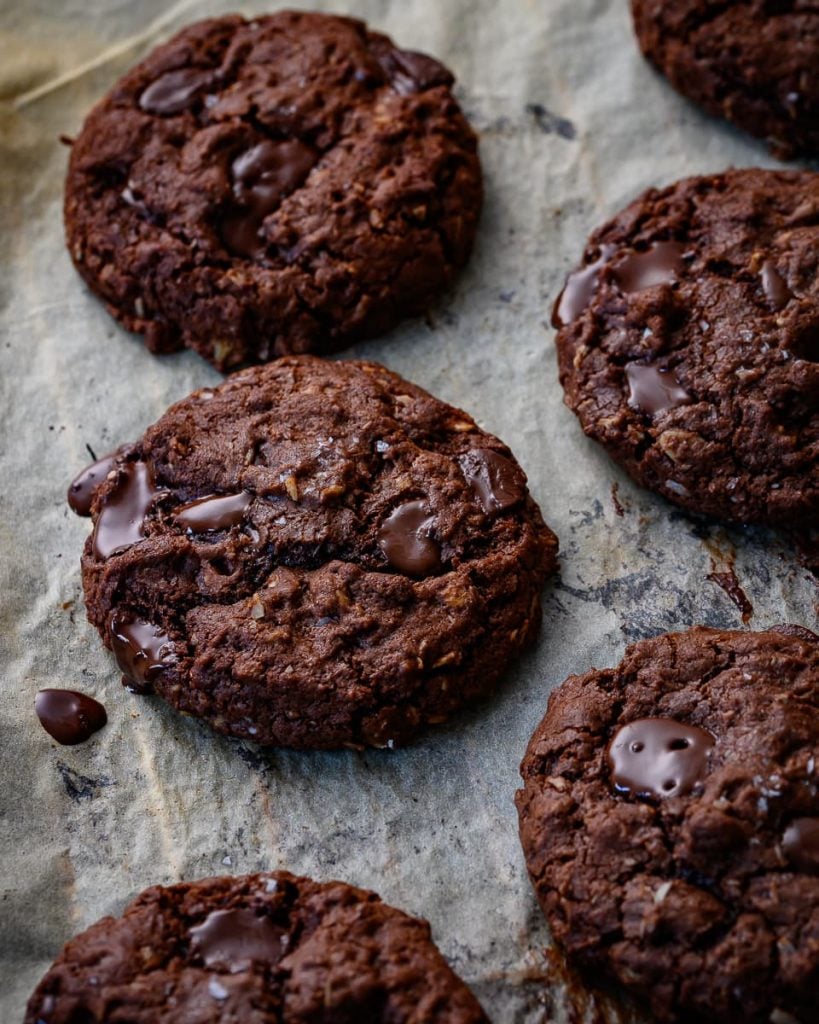 PLEASE KEEP IN MIND…
I love sharing my food with you – it seriously gives me so much joy! As a result, I put a huge amount of time and energy into creating these recipes. This recipe right here is my lil baby and I wouldn't change a single thing about it. As such, I won't give advice on any ingredient swaps, substitutions, omissions or changes to the method described above (how dare you talk about my baby like that!)
But seriously, if this recipe doesn't do it for you and you want to customise it – that's cool – no probs. Put that finely honed chef's intuition to good use and tailor the recipe to suit you! Regardless of whether you make any changes or not, let us know how you get on in the comments below.
Vegan Double Chocolate Coconut Oatmeal Cookies
Stunningly moist (yeah I said it) vegan double chocolate coconut oatmeal cookies! They're rich, indulgent and ready in a flash!
Ingredients
1

tablespoon

psyllium husks

((ground in a blender or spice grinder))

5

tablespoon

water

50

g

soft, light brown sugar

50

g

soft, dark brown sugar

100

g

caster sugar

1

teaspoon

vanilla bean paste

((or extract - never essence))

115

g

coconut oil

50

g

vegan margarine

45

g

dark cocoa powder

4

tablespoon

coconut milk powder

½

tablespoon

espresso powder

4

tablespoon

soy milk

200

g

plain white flour

70

g

rolled oats

1

teaspoon

bicarbonate of soda

1

teaspoon

baking powder

1½

teaspoon

fine sea salt

35

g

desiccated coconut

200

g

dark chocolate chips

pinch

flaky sea salt
Instructions
Preheat the oven to 170c. Line two baking trays with greaseproof paper or reusable silicone mats.

In small bowl, combine the ground psyllium husks with the water and whisk well. Set aside to thicken.

In the bowl of a stand mixer add the sugars and vanilla bean paste.

In a small saucepan, add the coconut oil and vegan margarine. Place over low heat until fully melted. Once melted, whisk in the cocoa powder, coconut milk powder and espresso powder until smooth.

With the stand mixer on low speed, pour the oil and cocoa powder (etc) mixture over the sugar mixture. Once all the oil mixture is added and incorporated, increase the mixer speed to medium/low and add the soy milk 1 tablespoon at a time. The mixture should come together into a smooth, glossy paste. Stop the mixer once you reach this stage.

In a separate bowl, combine the flour, rolled oats, bicarbonate of soda, baking powder, fine sea salt and desiccated coconut. Whisk well to combine.

With the mixer on low speed, add the flour mixture. Beat until just combined (do not overwork). Stop the mixer and add the chocolate chips. Beat briefly until the chips are fully incorporated.

Using a cookie scoop, portion out the dough into balls. The size of balls will depend on your scoop but I get between 12 and 16 cookies from this recipe. Arrange the balls of dough on the baking sheets with a good few cm between each ball to allow for some spreading. Top each cookie with a tiny sprinkle of the flaky sea salt and place in the preheated oven for 12 minutes.

After 12 minutes is up, remove the cookies from the oven and carefully transfer the baking parchment/silicone mat to a wire cooling rack. Allow to cool for at least 15 minutes before serving.
Nutrition
Calories:
310
kcal
Carbohydrates:
36
g
Protein:
4
g
Fat:
18
g
Saturated Fat:
14
g
Cholesterol:
1
mg
Sodium:
333
mg
Potassium:
207
mg
Fiber:
3
g
Sugar:
18
g
Vitamin A:
134
IU
Vitamin C:
1
mg
Calcium:
69
mg
Iron:
1
mg
Love this recipe?
Let me know on Instagram!