Publised on 13/05/2020 by Richard. Last Updated on 12/10/2022 by Richard.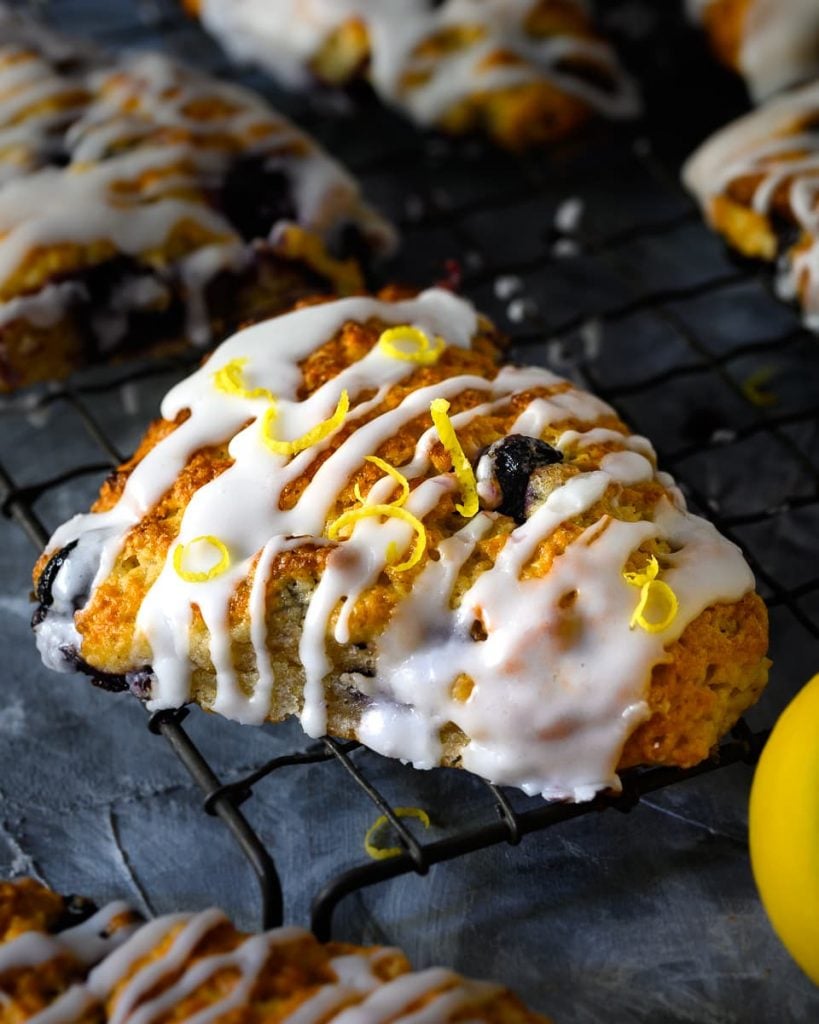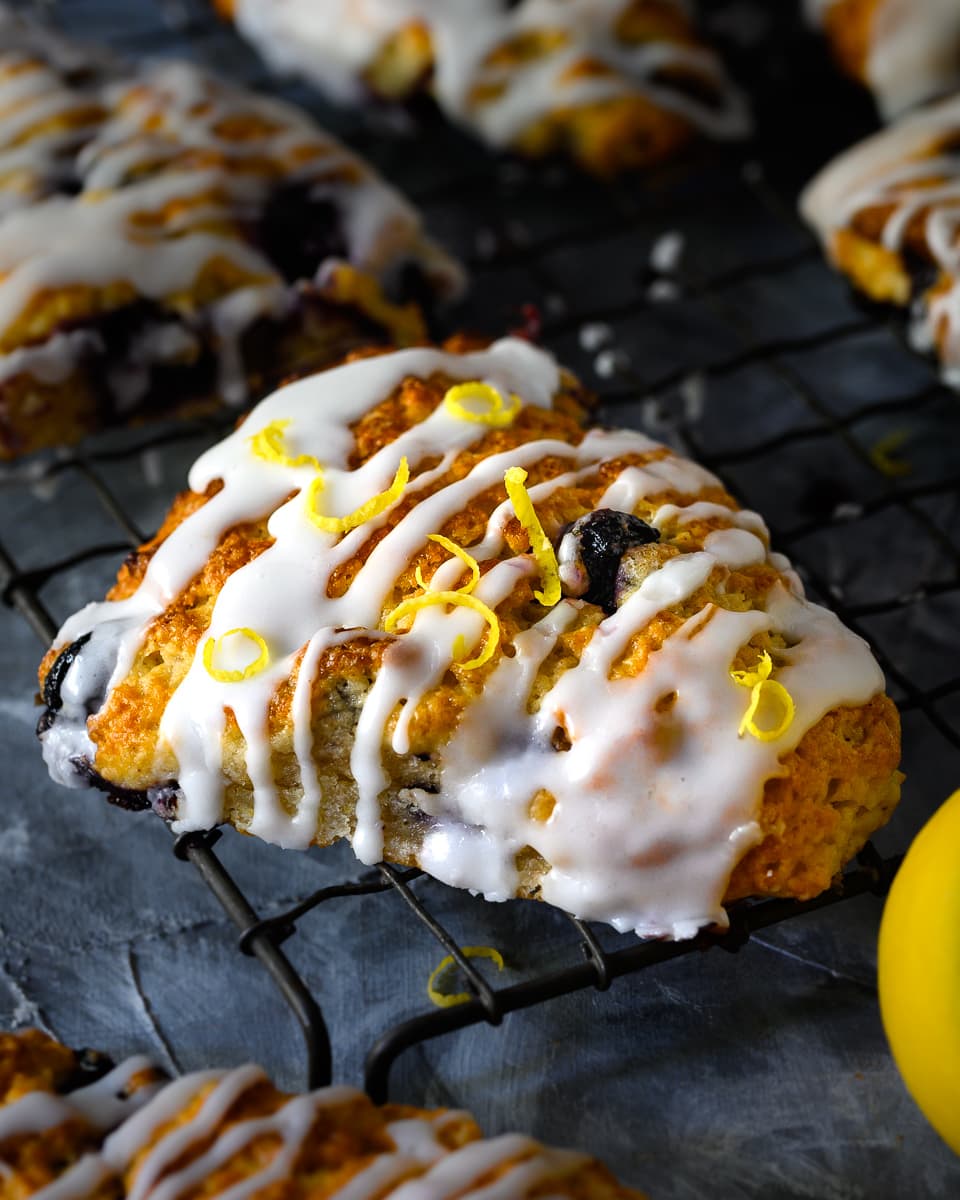 Insanely delicious vegan blueberry and lemon scones, glazed with a sweet lemon icing. These ain't your Nanna's scones, and they don't need jam and cream!
---
There's a funny story about these vegan blueberry lemon scones and a Mam-of-little-faith. My Mam is a huge wildlife gardener and opens her garden to the public each year to help spread the word about what you can do the protect the flora and fauna of your neighbourhood. 
Every year she recruits a gang of friends and family to help out with the day and we all bring cakes to sell and raise money for charity. One year I brought these vegan blueberry lemon scones and she practically laughed in my face. (Ok, I'm deliberately making her sound like a mean person here, which she's not, but it's important to have a villain, for literary effect).
She was concerned that the majority of the senior citizen visitors would turn their noses up at my "American-style" scones, in favour of her old fashioned English scones (the plain kind, served with jam and cream). Having tried MY vegan blueberry lemon scones before on numerous occasions I wasn't concerned - I knew I was about the slam-dunk-the-funk out of the competition.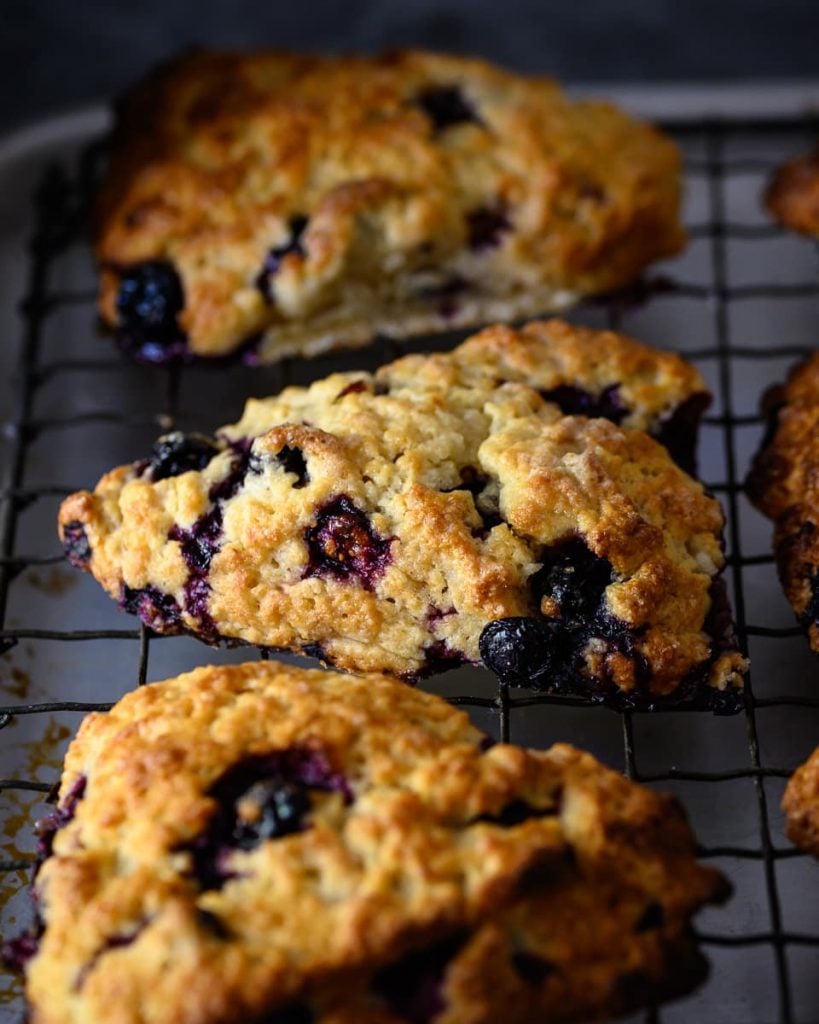 Never one to shy away from a challenge - Mam waged a bet: "whoever sells the least scones washes the teacups at the end of the day". We shook on it. Within an hour, my vegan blueberry lemon scones were SOLD THE EFF OUT and hers were sat out there like MERE wasp-food. However, because I'm a exemplary son, however, I still washed the teacups. 
All aspects of this story were exaggerated and embellished but my point stands - why would you want a basic-bish scone when you can have a glazed, fruity, zingy vegan blueberry lemon scone?? Ask yourself THAT, Mam!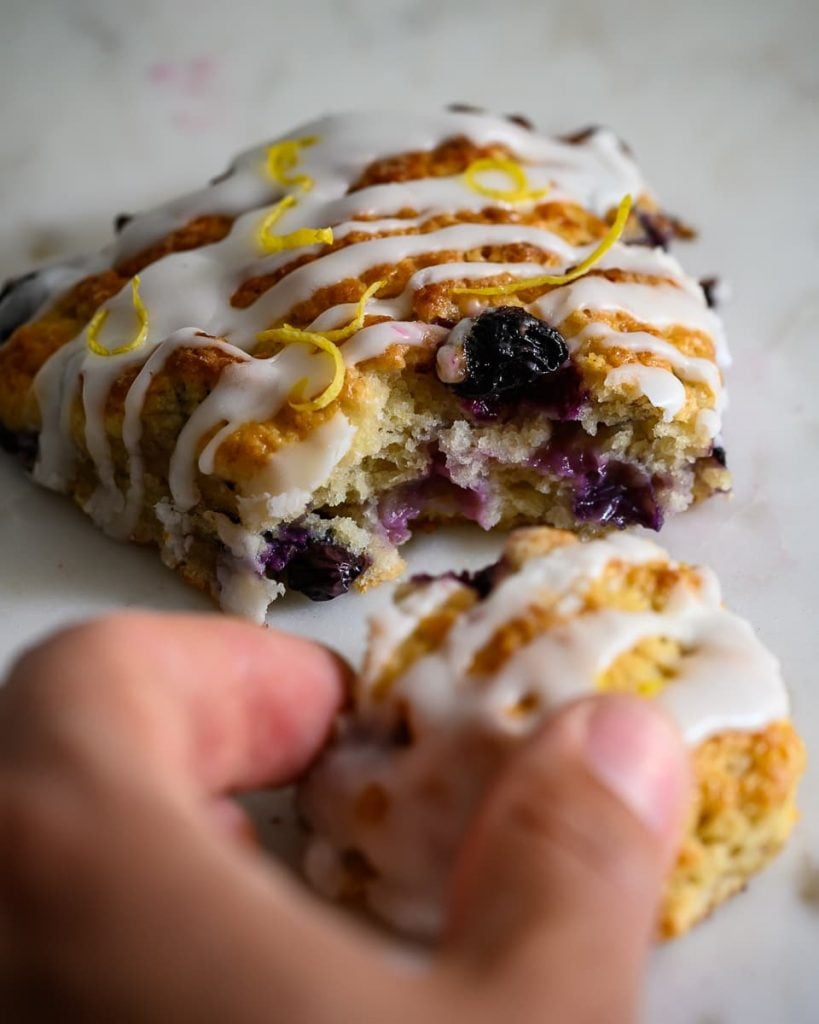 How to Make em!
As always there's a full recipe at the bottom of this page, but here's an illustrated step-by-step with some extra tips. Don't worry - these vegan blueberry lemon scones are super hands-off, so no specialist techniques required!
1. Mix Your Dry Ingredients
Starting with a nice big bowl, mix together your flour, sugar, baking powder, sea salt and lemon zest. We're using self-raising flour in this recipe because it's all I could get hold of when developing these scones (thanks COVID-19...). If you can't get hold of self raising flour, just use the same amount of plain flour and add an extra:
1 teaspoon bicarbonate of soda (baking soda)
1 teaspoon baking powder
2. Add your vegan butter
For this recipe you really gotta use vegan block-style butter. I like to use Naturli brand in the UK, but if you're in the states you can use Miyokos. Be sure to freeze your butter for at least an hour before you use it. This way the scones will be super light and flaky. If the butter melts, it'll activate the gluten in your flour and you'll end up with a tough set of scones (that's not a euphemism!). 
This also means you should be using a dough cutter if you have one. If not, use two knives to chop the butter into the dough. The idea is that you don't use your hands as they'll warm everything up. You can also just use a food processor and pulse everything together until you have a coarse, sandy texture. 
3. Add Your Wet Ingredients
Your wet ingredients for this recipe include vegan yogurt, some thickened psyllium husks, lemon juice and vanilla extract. Some notes on the yogurt: try to use unsweetend! So many vegan yogurts are flavoured with vanilla and packed with extra sugar. You want to use a completely unsweetened, unflavoured vegan yogurt. I use Alpro but there's no reason why a coconut or oat milk yogurt wouldn't work. 
About the psyllium husks: if you don't have any, don't worry! You can use flax/linseed instead, just be sure to convert the measurement in the recipe from teaspoon to tablespoon when converting from psyllium to flax (this includes the water you'll be using to hydrate them with). Also, remember that psyllium loves to clump together. Before you add it to the dry ingredients, be sure to mix it into the yogurt REALLY well. This'll make for super light, delicate scones!
4. Add the Blueberries
Here they come! The stars of the showwwww! Whack those blueberries into the dough and mix until JUST combined. I know people say that in recipes a lot, but I really mean it. The more you mix this batter, the tougher your scones will be. If you get this part right, people will be IN AWE of how fluffy and light your scones are (again, not a euphemism). 
I like to use fresh blueberries over frozen for this recipe, and here's why. Frozen blueberries often "leak" when you add them to a dough or batter. By this I mean that their colour tends to run into the dough and affect the overall final appearance. Technically EITHER will work, so use what you got, but if you use fresh blueberries you WILL notice a much nicer colour contract between the scone dough and the blueberries.  
5. Shape the Scones
The dough will be very wet and sticky (and that's a good thing!) which means shaping the scones can be a messy affair. My tip is to do as little as possible. 
Turn the dough out onto a lightly-floured surface or a baking tray lined with baking parchment. Push into a rough circle and use a sharp knife to slice the circle of dough into 8 wedges, like a pizza! Separate the wedges by a few cm (they WILL spread and grown - guaranteed) and place in the fridge to chill for 20 mins. Oh and don't forget to pre-heat your oven to 200c/390f (fan).
6. Brush, Dust and Bake the Vegan Blueberry Lemon Scones
Once chilled, whip those bad boys out and get them ready for baking. Brush them in a little plant milk or (even better) plant cream if you have any! Then take a few teaspoon of the most coarse sugar you have (I used granulated) and sprinkle on top. Place in the preheated oven and bake for around 25-30 minutes. 
When done, they should be puffed and golden brown on top.
7. Cool, Glaze and Serve!
Once baked, you'll need to let the vegan blueberry lemon scones cool for a good 30 mins before glazing them. Take them out of the oven but don't move them off the baking tray - they'll still be very soft to the touch. Leave the tray on a wire cooling rack. 
While cooling, whisk together the icing sugar (confectioners sugar) and lemon juice until smooth. Drizzle over the scones and leave to set for a few minutes. 
Serve the scones with a steaming hot cup of coffee with your PM WFH break!
Need More Easy Bakes??
I get it - sometimes you wanna bake but you don't want a panic attack! Don't worry - I got you! Try these recipes:
Banana Hazelnut Scones
Vegan Apple Fritters (easy and yeast-free!)
Blackberry Hand Pies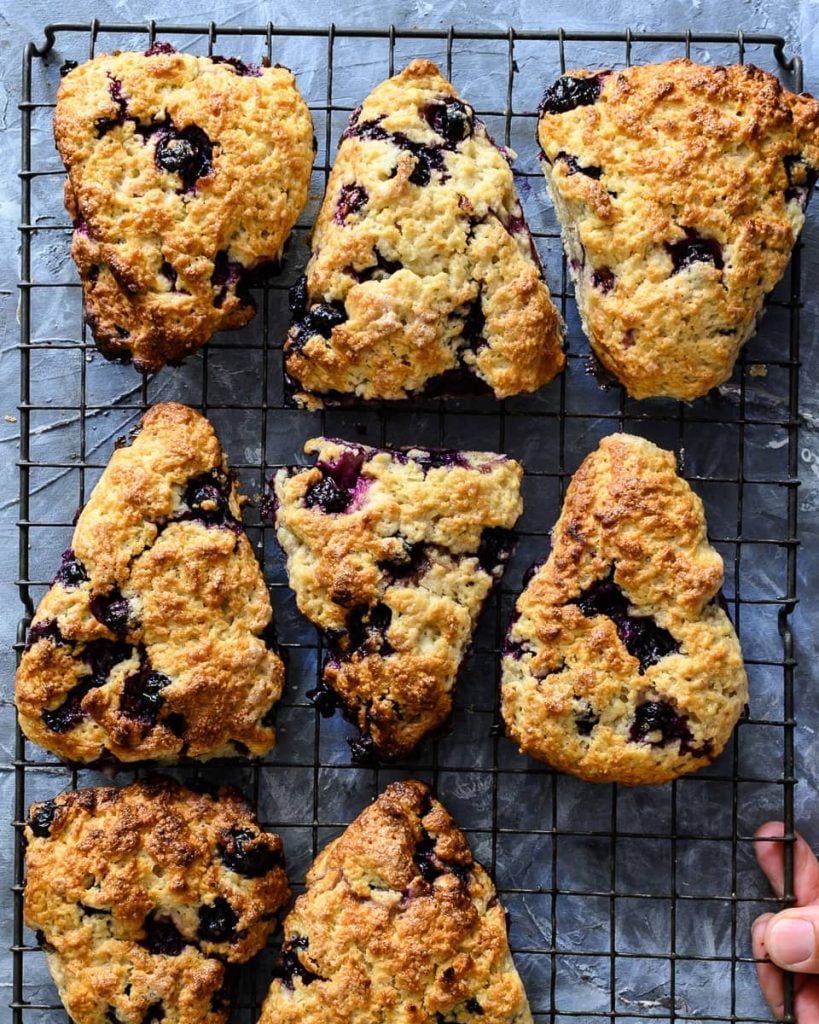 OH, AND KEEP IN MIND
I love sharing my food with you – it seriously gives me so much joy! As a result, I put a huge amount of time and energy into creating these recipes. This recipe right here is my lil baby and I wouldn't change a single thing about it. As such, I won't give advice on any ingredient swaps, substitutions, omissions or changes to the method described above (how dare you talk about my baby like that!)
But seriously, if this recipe doesn't do it for you and you want to customise it – that's cool – no probs. Put that finely honed chef's intuition to good use and tailor the recipe to suit you! Regardless of whether you make any changes or not, let us know how you get on in the comments below.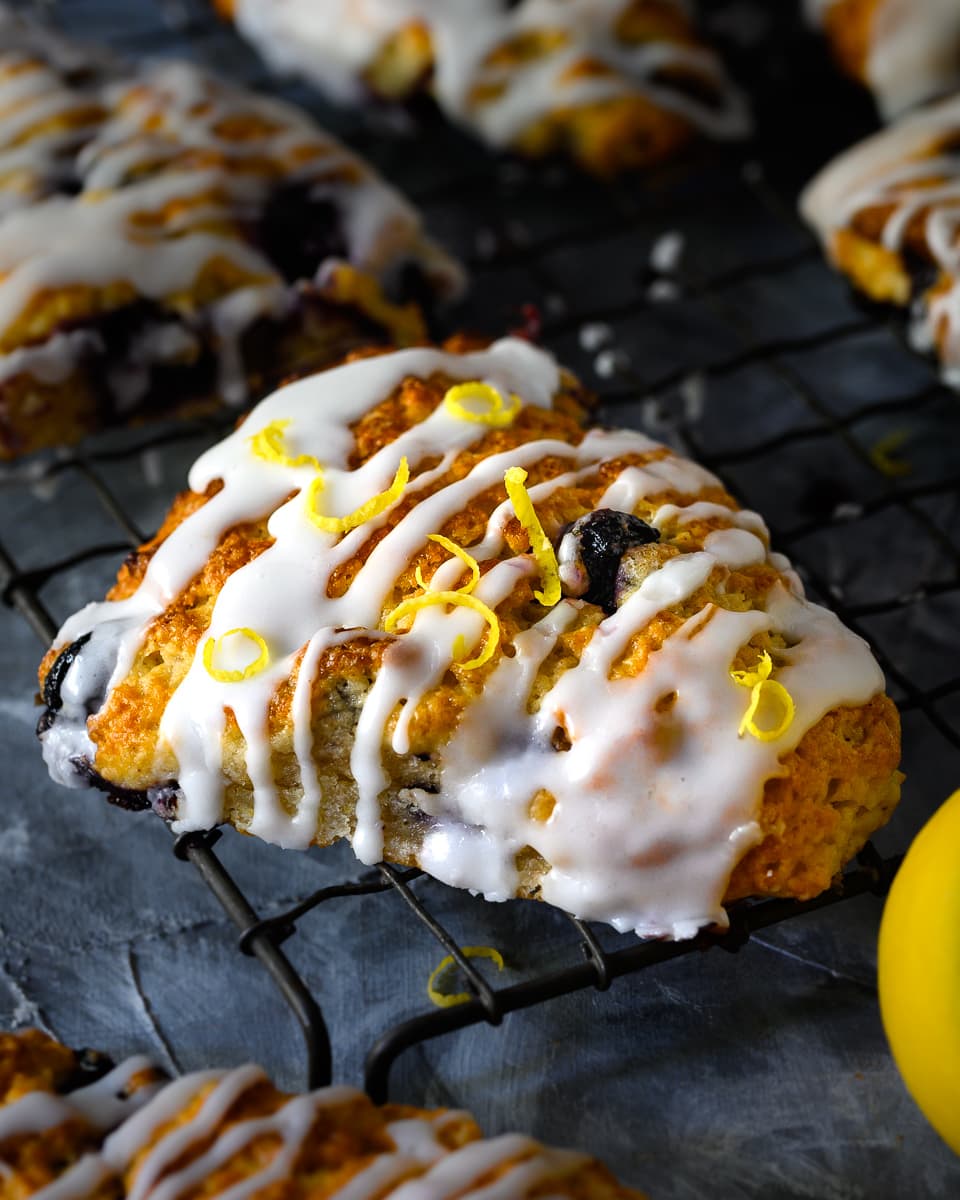 Vegan Blueberry Lemon Scones
Insanely delicious vegan blueberry and lemon scones, glazed with a sweet lemon icing. These ain't your Nanna's scones, and they don't need jam and cream!
Ingredients
For the Scones
1

teaspoon

psyllium husks

(ground, + 5 teaspoon water)

265

g

self-raising flour

90

g

granulated sugar

zest of 1 lemon

((around 1 tbsp))

½

teaspoon

baking powder

½

teaspoon

flaky sea salt

120

g

vegan butter

((use "block" style and freeze in advance))

150

g

vegan yogurt

((I used soy yogurt, make sure it's unsweetened and unflavoured))

2

tablespoon

lemon juice

2

teaspoon

vanilla extract

180

g

blueberries

((fresh or frozen))

2

tablespoon

plant milk

2

teaspoon

granulated sugar
For the Glaze
200

g

icing sugar

5

tablespoon

lemon juice
Instructions
To Make the Scones
In a small bowl, combine the psyllium husks and water. Mix well and set aside to thicken.

In a large bowl, add the flour, 90g of granulated sugar, lemon zest, baking powder and flaky sea salt. Whisk well to combine.

Using a box grater, grate the frozen vegan butter onto the combined dry ingredients. Use a pastry cutter or two sharp knives to cut the butter into the dry ingredients until you have a coarse, sandy textured mixture. Alternatively, blend everything together in a food processor using short pulses.

In a medium bowl, mix together the vegan yogurt, lemon juice, thickened psyllium husks and vanilla extract. Mix well until smooth - bearing in mind that psyllium tends to clump together.

Add the yogurt mixture to the butter/flour mixture and stir until just combined. Add the blueberries and stir again until combined.

On a lightly floured surface or a baking tray lined with baking parchment, push the dough out into a rough 30cm circle and slice using a bench scraper or knife into 8 equal segments. Arrange the scones on the baking tray with at least 2cm between each one. Place in the fridge to chill for 20 minutes. Meanwhile preheat the oven to 200c.

Once chilled, remove from the fridge and brush the tops of each scone with the plant milk and sprinkle with the remaining granulated sugar. Place in the oven to bake for 25-30 minutes or until puffed and golden brown on top.

Once baked, remove from the oven and, without removing from the baking tray, place on a wire rack to cool for minimum 30 minutes.
To Make the Glaze
In a small bowl, mix together the icing sugar and lemon juice until smooth. Once the scones are cool, drizzle with the glaze and leave to set for a minute before serving.

Optional: top with a little extra lemon zest if you have any.
Nutrition
Serving:
1
grams
Calories:
385
kcal
Carbohydrates:
68
g
Protein:
5
g
Fat:
11
g
Saturated Fat:
3
g
Sodium:
249
mg
Fiber:
1
g
Sugar:
41
g
Love this recipe?
Let me know on Instagram!