ORANGE AND CARDAMOM UPSIDE DOWN CAKE – just to start y'all off! This fella is based very loosely on the Sqirl blood orange upside down cake – so it uses a caramel glaze which ends up on top of the sliced orange. It gives the most insane smokey crunch to the edges of the cake, and a bitter sweet marmalade dreamyness to the centre. GET ON IT! You'll love it!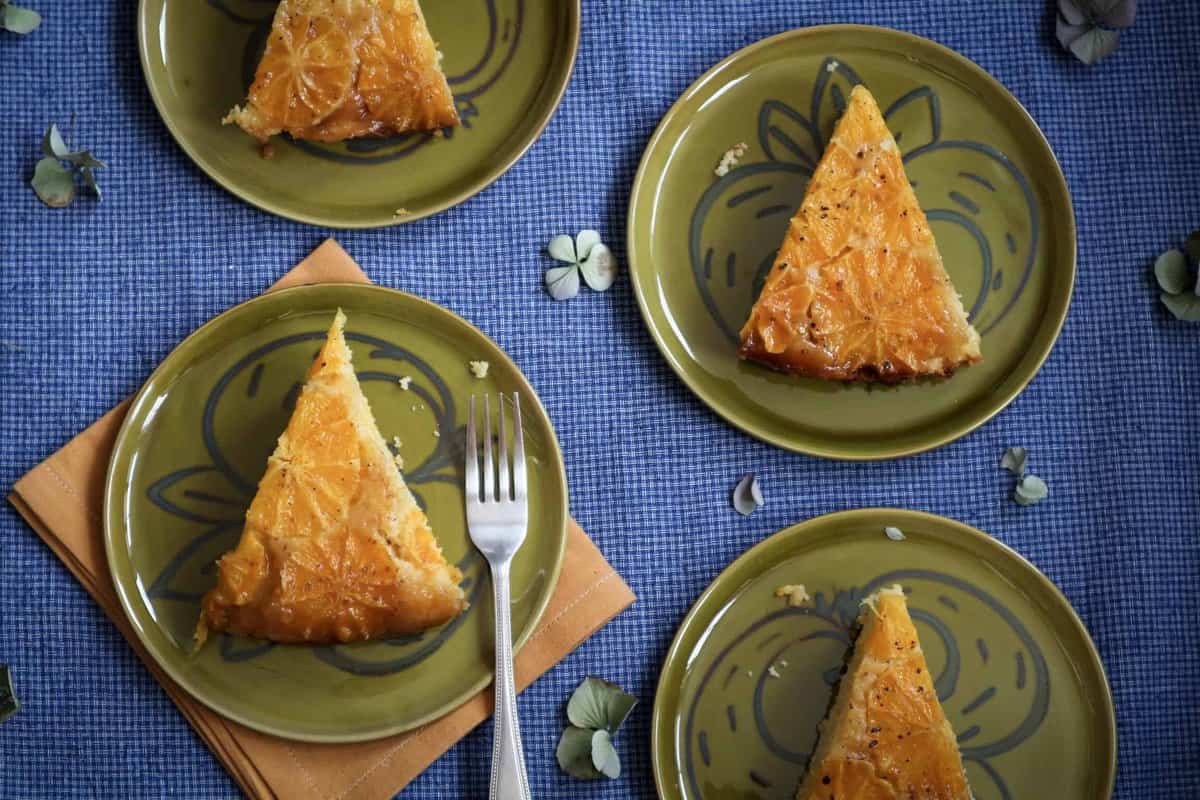 Ingredients
For the Caramel Glaze
115

g

vegan butter

I use baking block or stork

115

g

light brown sugar
For the Cake
4

medium oranges

Seeds from 10 green cardamom pods

230

ml

soy milk

1

tbsp

apple cider vinegar

2

tsp

vanilla bean paste

95

g

vegan butter

I use baking block or Stork

200

g

caster sugar

190

g

flour

2

tsp

baking powder

1/4

tsp

Maldon salt
Instructions
Make The Caramel
Grease a 25cm spring release cake tin with some vegan butter. Line the bottom with greaseproof paper and then grease the paper.

In a small pan over a medium heat combine the brown sugar and the vegan butter.

Stir constantly until the butter is completely melted. Remove from the heat.

Whisk the two ingredients together until they come together into a smooth caramel.

Pour the caramel into the prepared baking tin and swirl around to ensure an even layer forms. Place the tin in the freezer.
Make The Cake
Preheat the oven to 180c.

Into a small bowl, zest one of the oranges. Set aside.

Peel and slice all four oranges width ways into 1cm wide discs. Set aside.

Grind the cardamom seeds in a mortar and pestle or a spice grinder until they are roughly broken up (they should look like roughly ground black pepper).

In a measuring jug, whisk together the soy milk and the apple cider vinegar. Set aside for at least ten minutes to thicken slightly.

In a medium bowl combine the flour, baking powder and salt.

In the bowl of a stand mixer, beat the butter and caster sugar on a high speed until softened. Add the vanilla and orange zest and beat to combine.

Reduce the stand mixer speed to low and add a quarter of the soy milk mix, followed by a quarter of the flour mix. Add another quarter of the soy milk and continue to alternate with the flour until all ingredients are added. Do not overmix.

Remove the cake tin from the freezer and sprinkle an even layer of the ground cardamom over the now frozen caramel. Evenly spread the orange slices on top until there are no large gaps of exposed caramel. Working quickly, pour the cake batter over the orange slices and tap the cake tin on a solid surface to release any trapped air bubbles.

Bake for 35 minutes. Before removing, make sure a toothpick to the centre of the cake comes out clean.

Allow to cool for 20 minutes before inverting the cake onto a plate and serving.