Publised on 22/05/2019 by Richard. Last Updated on 12/10/2022 by Richard.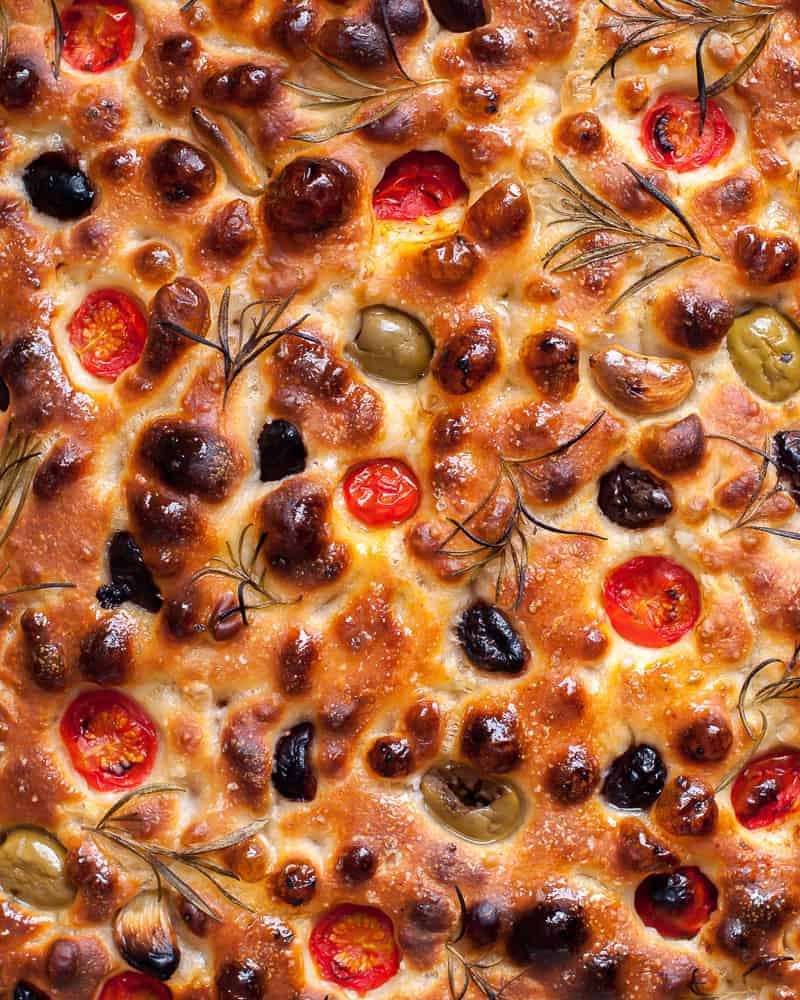 Sourdough focaccia like you've never tasted before! Crispy on the outside with a salty crust and oh so soft inside.
---
This was the first sourdough focaccia I ever made! Yeah, I like to go from zero to hero pretty quickly! I had just acquired my first ever sourdough starter and I needed to put him (he's called Chewbacca) to good use! I had made loads of loaves of bread before but never anything as ambitious as this.
I'm pleased to say that it worked beautifully and I've now made this recipe roughly 3 times a month since then!
What makes it so good??
I made sure this sourdough focaccia has just the right texture. I use some type '00' flour, which is usually reserved for pizzas and pasta. This makes it really super soft on the inside! I also like to give this sourdough focaccia a GOOD overnight prove. This really helps with flavour development, so it's not just a pretty face - it has FLAVA too!
Sourdough notes!
Two notes before you start this one!
1. This recipe involves a 4 hour prove and an 8 hour prove. It's worth it, but this is DEFINITELY a 2 day recipe, so maybe start making the dough around 4pm the day before you plan to eat it!
2. This recipe uses sourdough starter to make it rise, not shop-bough yeast. You'll need to get a nice, well established starter going before you make this. There are loads of recipes on the interweb for a starter and you won't look back once you get it going! I recommend this one!
Trust me, this is one of the best things i've ever baked, so it's worth doing things properly with this one!
Final notes!
Last few things - promise!
Please promise me you'll go out and buy a really nice extra virgin olive oil for this recipe. So much of the flavour AND texture for this bake comes from the olive oil, so please make sure you're using good stuff, and not a bottle of vegetable oil from the back of the cupboard!
The toppings are also super important! Good olives maketh a focaccia... or something like that! I use olives, cherry tomatoes, garlic and rosemary, but feel free to go rogue with this. If you're using garlic, I'd recommend soaking it in a bowl of water with a pinch of salt over night before use. It helps it not to burn in the oven and takes away some of the sharpness!
Serve this sourdough focaccia alongside my vegan cannelloni for a super dreamy dinner!
Sourdough Focaccia
The softest, crispiest sourdough focaccia ever!
Ingredients
For the Focaccia
95

g

sourdough starter

(nice and active, around 2-4 hours after you last fed it)

390

g

water

(at around 20c)

345

g

type '00' white flour

200

g

strong white bread flour

10

g

fine sea salt

14

g

extra virgin olive oil
For the Topping
4

tablespoon

extra virgin olive oil

¾

teaspoon

flaky sea salt

Small handful of cherry tomatoes

(halved)

4

cloves

of garlic

Small handful of kalamata and green olives

(de-stoned)

12-14

sprigs of rosemary
Instructions
In the bowl of a stand mixer fitted with the dough hook, place the sourdough starter and the water. Using your fingers or a silicone spatula, mix the two together until the starter in quite evenly distributed. Add the flours and the salt. Lower the dough hook and mix on medium speed until the dough comes together and forms a shaggy, rather wet ball (around 5 minutes). Turn the speed to low, add the the olive oil and mix for a further five minutes. The dough will not look smooth and glossy yet, so don't worry.

Grease a large Tupperware tub with a splash of olive oil and transfer the dough to the tub. Grab one side of the dough, pinch and stretch it up and over to the centre of the dough. Rotate the Tupperware 90 degrees and repeat: pinch and stretch the dough into the centre. Repeat two more times until you've made a total of four folds in the dough. Cover the tub with a damp tea towel and place in an ambient temperature of around 20-22c. Leave the dough to "bulk ferment" for a total of four hours, repeating the four folds another four times every half hour for the first two hours.

Meanwhile, grease a large, high sided brownie pan (around 23 x 33cwith a good drizzle of olive oil.

After the first two hours of fermenting and folding are done, transfer the dough to the oiled pan, cover and leave for the remaining two hours.

Once the dough is proved, place the entire pan of dough into a plastic bag or wrap with cling film and place in the fridge overnight or for a minimum of 8 hours.

The next day, or after 8 hours have passed, remove the dough from the fridge and place on the kitchen counter to come back to room temperature for an hour.

Once this hour is done, the second prove begins. This can take between 1 and 2 hours depending on the temperature of the room and the activity of your starter. Just keep an eye of the dough after the first hour of proving - it should become very bubbly and gassy.

About half an hour before your dough is ready, preheat the oven to 230c and prepare your toppings.

Once proved and nicely bubbly, wet your fingers and dimple the dough all over, making sure you push all the way down to the bottom of the pan.

Drizzle over the topping olive oil and sprinkle the flaky sea salt. Top with the herbs, olives, garlic and cherry tomatoes then place in the oven. Bake for 25 minutes, rotating after 15 mins.

Remove from the oven and leave to cool in its tin for 15 minutes. Carefully remove the bread from the tin once cool enough to handle and place on a wire cooking rack.

Focaccia tastes best warm within a few hours of baking, but you can also wrap in tin foil and store for a day or so. Enjoy!
Nutrition
Serving:
1
grams
Calories:
239
kcal
Carbohydrates:
37
g
Protein:
5
g
Fat:
8
g
Saturated Fat:
1
g
Sodium:
602
mg
Fiber:
2
g
Sugar:
1
g
Love this recipe?
Let me know on Instagram!