Publised on 19/09/2019 by Richard. Last Updated on 13/11/2022 by Richard.
Vegan apple fritters - light and crunchy outside and packed full of spiced apple! Enrobed in a cinnamon glaze with a slight hint of cardamom - they're my go-to vegan apple fritter!
---
Allow me to have a quick chat about these vegan apple fritters - also known as CRISPY APPLE SPICE BOMBS in my kitchen (by me, only I call them that..).
These guys are everything a vegan apple fritter should be: They're basically half spiced apple pie, half donut. The batter is moist and rich which crisps up on the outside like you wouldn't believe.

The apple is beautifully elevated by the peoples favourite CINNAMON and boosted with a little kick of cardamom. As you can probably tell, I'm VERY fond of these little fellas.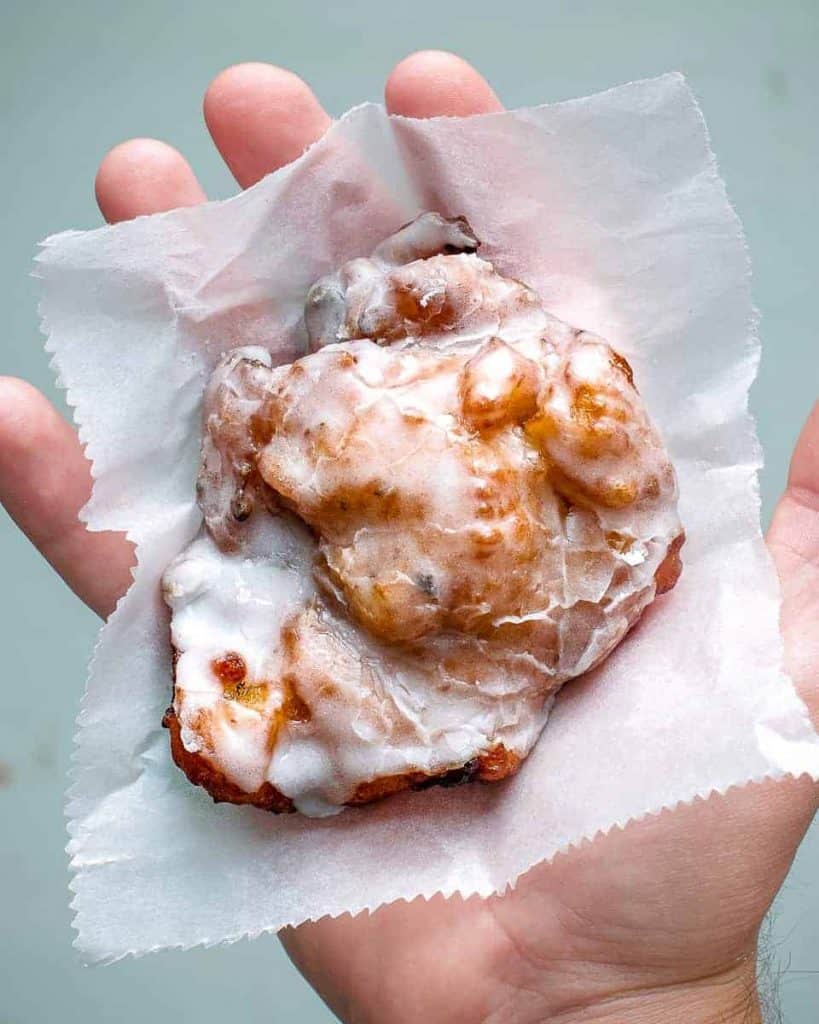 A vegan apple fritter a day keeps the blues at bay!
So most apple fritter recipes out there are yeasted. This means that instead of using baking baking powder to help them stay light and fluffy, they use yeast. As you're probably aware, this involves proving (i.e. letting the mixture rise) before it can be cooked.
But here's the thing. When I want a vegan apple fritter, I tend to want it LIKE FIVE MINUTES AGO! Not after 2 hours of proving. I want it STAT!

So my goal here was to develop a recipe which could be WHIPPED up in a flash, for fresh, toasty, spiced easy vegan apple fritters.
How d'ya like them apples??
When it comes to vegan apple fritters, not all apples are created equal! What you're trying to avoid with this recipe is a soft, soggy inside with overcooked apples which turn to mush as soon as they hit the fryer.

That's why I INSIST that you use baking apples for this recipe! That's why this easy vegan apple fritter recipe is THE BEST!
If you can't get hold of baking apples (such as bramley, janagold or honeycrisp) try to use the most tart apple you can find (a granny smith is a good alternative!). The reason for this is two-fold:

1. TEXTURE!
When you cook an apple, like most fruits and veggies, it'll soften somewhat. The longer you cook, the more it will soften. Cooking apples tend to keep their "bite" better than regular eating apples. This means your finished product will be chunky and al dente rather than mushy and squishy!
2. FLAVA!
Again, as with most fruits, when you cook an apple one of the first things that happens is it loses its sharpness. Acidity is what makes fruit exciting - it counterbalances the natural sugars leaving you with a much more complex flavour profile.
If you cook fruit for too long, you lose all the acidity and just end up with sweetness. This aint good. Cooking apples have a much higher acidity than regular apples, so they can stand up to a bit of high temperature without losing all of that 3D flavour excitement!
Bingo! A delicious vegan apple fritter (or twelve...)!
Nice 'n' spicy!
As everyone knows, an apple's best mate is CINNAMON! They're ALWAYS hanging out together, in apple pies, donuts, turnovers, crumbles and this vegan apple fritter recipe is no exception!
However, if you've been following School Night Vegan for a little while you'll know that MY best mate is CARDAMOM!
I love how bold and exotic the flavour is. It reminds me of when I got engaged, on a park bench in Stockholm with a cardamom bun in my hand!
By all means, if you want to go rogue with the spices in this vegan apple fritter recipe then please do! Here are some other suggestions which would work well:
NUTMEG - there's a little nutmeg in this recipe already, but if you like that vibe - double the amount!


CLOVES - if you're making these in autumn or winter, why not throw in some ground cloves to give everything a festive kick? One ¼ teaspoon should do it!


GINGER - ground ginger is one of my fave spices ever - I love the extra kick of heat it brings to sweet dishes. It would work beautifully with the apples in this recipe. Throw in a quarter teaspoon if you're down!
While you're got the fryer out...
It's always a bit of a faff to get the fryer out, or even to fill a pan with oil and bring it to temperature, so why not make my Chocolate Creme Filled Donuts or my Onion Bhajis while you're at it??
Vegan Apple Fritters
Vegan apple fritters - light and crunchy outside and packed full of spiced apple! Enrobed in a cinnamon glaze with a slight hint of cardamom - they're my go-to vegan apple fritter!
Ingredients
For the Apple Fritters
2

tablespoon

ground flax seeds

((chia or linseed are also great))

4

tablespoon

water

2

baking apples

((large! Peeled, cored and cubed))

2

tablespoon

lemon juice

45

g

vegan butter

((melted))

150

g

plant milk

((I used oat))

2

tablespoon

granulated sugar

195

g

plain white flour

2

teaspoon

baking powder

¾

teaspoon

ground cinnamon

¼

teaspoon

ground nutmeg

1

pinch

ground cardamom

½

teaspoon

fine sea salt

Vegetable oil for frying
For the Glaze
200

g

icing sugar

¼

teaspoon

ground cinnamon

3

tablespoon

plant milk
Instructions
To Make the Apple Fritters
Combine the ground flax seed and the water. Whisk together in a small bowl and set aside to thicken.

In a medium bowl, toss the peeled, cored and cubed apples in the lemon juice to stop them browning. Set aside.

In a medium bowl, mix together the melted vegan butter, plant milk and thickened flax egg.

In a separate medium bowl mix together the sugar, flour, baking powder, spices and salt.

Add the better, milk, flax mixture to the dry ingredients and stir well to combine to form a thick batter. Using a slotted spoon, add the apples to the batter, leaving behind any extra lemon juice in the bowl. Mix the apples into the batter well and place in the fridge.

In a high-sided medium saucepan, add a few inches of oil and bring to around 175c. (I use a probe or candy thermometer to make sure the temperature is right).

Once hot, add a heaped dessert-spoon of the batter to the oil. Allow it to fry for around 30 seconds before carefully flipping it over and frying until golden brown all over. Use a slotted spoon or a spider to remove the fried fritter from the oil. Place on a wire cooling rack to drain while you cook the remaining batter.

Once all the batter is cooked, allow the fritters to cool fully for around 15 minutes.
To Make the Glaze
In a medium bowl, whisk together all the glaze ingredients.

Once the fritters are cooled, drizzle a good dessert-spoon of the glaze over each fritter. Leave to set for a few minutes before serving.
Nutrition
Serving:
1
grams
Calories:
188
kcal
Carbohydrates:
37
g
Protein:
3
g
Fat:
4
g
Saturated Fat:
1
g
Sodium:
132
mg
Fiber:
2
g
Sugar:
22
g
Love this recipe?
Let me know on Instagram!