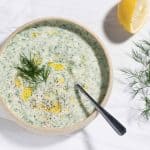 Print Recipe
Classic Tzatziki
This tzatziki is sharp, zingy and creamy like a good tzat should be! I use this ALL THE TIME with falafel, roasted carrots and as a component of a gorge summer mezze
In a small bowl combine the lemon juice and the minced garlic. Set aside while you prepare the rest of the dish.

Put the grated cucumber in a nut milk bag/muslin fabric/clean teatowel and squeeze out as much water as possible. Put the drained cucumber in a medium bowl.

To the bowl add the yogurt, dill, salt, pepper and 1tbsp of the olive oil. Mix everything together.

Add the garlicky lemon juice and stir again. Top with the last tbsp of olive oil and serve.