Publised on 30/05/2019 by Richard. Last Updated on 13/11/2022 by Richard.
Vegan sticky toffee pudding! Beautifully light sponge with date caramel sauce, rich with brown sugar!
---
Probably the best vegan sticky toffee pudding out there! Yes, this is a wintery dessert, and yes, it's spring, but who cares. Sticky toffee pudding pretty much changed my world when I first discovered it as a moderately obese northern pre-teen and it's one of those desserts which I have ached for ever since going vegan. BUT NO MORE!
This guy is so deliciously light and moist without being stodgy. The caramel sauce is super smooth and I borderline want to drink a glass-full of it. You'll see.
What is sticky toffee pudding?
Traditionally, sticky toffee pudding is a very moist cake, sweetened with dates and served with a very sticky caramel sauce. It originally comes from a town in the Lake District, up in the North of England. It's a perfect combination of light sponge and super rich caramel sauce. It MUST be served with ice cream or you're doing it wrong!
This vegan sticky toffee pudding sticks to all the rules - it's most and rich at the same time as being light. The caramel sauce is smooth and sweet with brown sugar. There's also a hint of nutmeg which just helps to nail down that wintery vibe!
This sponge is made with oil instead of vegan butter, which helps to keep everything super light. The lightest vegan sticky toffee pudding ever (that's quite the mouthful!
Extra tips!
Here are a few extra hints on how to get your puddings JUST right!
I baked mine in a mini bundt tin, but I get that these are pretty rare! You can also bake your sponges in a deep muffin tray - just make sure to butter and flour the insides first. You can even try baking these in muffin cases and then removing the case before adding the caramel sauce. The reason I bake these sponges separately rather than as one big pudding is that it keeps everything super light.
Don't overwork the sponge batter. Remember, the goal is to keep this as light as possible - so try not to overwork the gluten - it'll make the sponge rubbery and tough.
Get the caramel sauce nice and thick! You don't want a thin caramel on this dish - remember the name? It's gotta be sticky! So make sure you boil it for a while until it's nice and thick!
Be sure to serve this with a scoop of vegan cashew milk ice cream!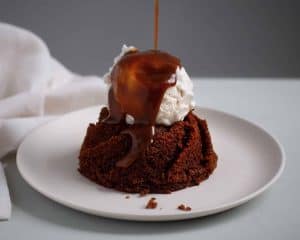 Vegan Sticky Toffee Puddings
This guy is so deliciously light and moist without being stodgy. The caramel sauce is super smooth and I borderline want to drink a glass-full of it.
Ingredients
For the Puddings
200

g

pitted dates

150

ml

boiling water

140

g

dark brown sugar

160

g

vegan butter

(at room temperature)

150

ml

oat milk

50

ml

vegetable oil

175

g

plain flour

¼

teaspoon

fine sea salt

1 ½

teaspoon

baking powder

1

teaspoon

baking soda

1

teaspoon

vanilla extract

½

teaspoon

nutmeg

1

teaspoon

ground cinnamon

½

teaspoon

ground ginger
For the Sticky Toffee Sauce
40

g

raw cashews

120

g

boiling water

½

teaspoon

vanilla extract

90

g

dark brown sugar
Instructions
To Make the Puddings
Preheat the oven to 180c and grease the wells of an x8 mini bundt tray or a x12 deep muffin tin. Set aside.

In a medium bowl, cover the dates with the boiling water and leave to sit for 10 minutes.

In the bowl of a stand mixer, fitted with the paddle attachment, beat the dark brown sugar and vegan butter together on high speed until smooth. Add the oat milk and the vegetable oil and beat to combine (don't worry if the mix looks split - all will be fine!)

Once the dates have soaked, blend them (along with the soaking wateto a paste with a hand blender or a high speed blender. Add the paste to the butter and sugar mixture in the stand mixer and beat to combine.

In a medium bowl, mix together the remaining pudding ingredients. Add to the batter in the stand mixture and beat gently and very briefly until just combined (don't overwork the batter).

Fill the prepared mini bundt or muffin tins and place in the oven to bake for 20 minutes. While baking, make the sauce.
To Make the Sticky Toffee Sauce
Place the cashews in the large cup of a high speed blender and cover with the boiling water. Leave to soak for a minimum of 30 minutes. Once soaked, blitz the cashews and the water together until very smooth and creamy.

In a medium saucepan, place the light brown sugar and top with 150g of the cashew cream. Place over low heat and cook for around 3 minutes or until the sugar has melted and the mixture is simmering gently - it should resemble a thick caramel (if still very runny, cook for a little longer until thick)
To Serve
Carefully turn out the puddings while still slightly warm. Drizzle with the sauce and serve with a scoop of Vegan Cashew Milk Ice Cream.
Nutrition
Serving:
1
grams
Calories:
378
kcal
Carbohydrates:
54
g
Protein:
3
g
Fat:
18
g
Saturated Fat:
7
g
Sodium:
304
mg
Fiber:
2
g
Sugar:
37
g
Love this recipe?
Let me know on Instagram!