Publised on 16/08/2019 by Richard. Last Updated on 13/11/2022 by Richard.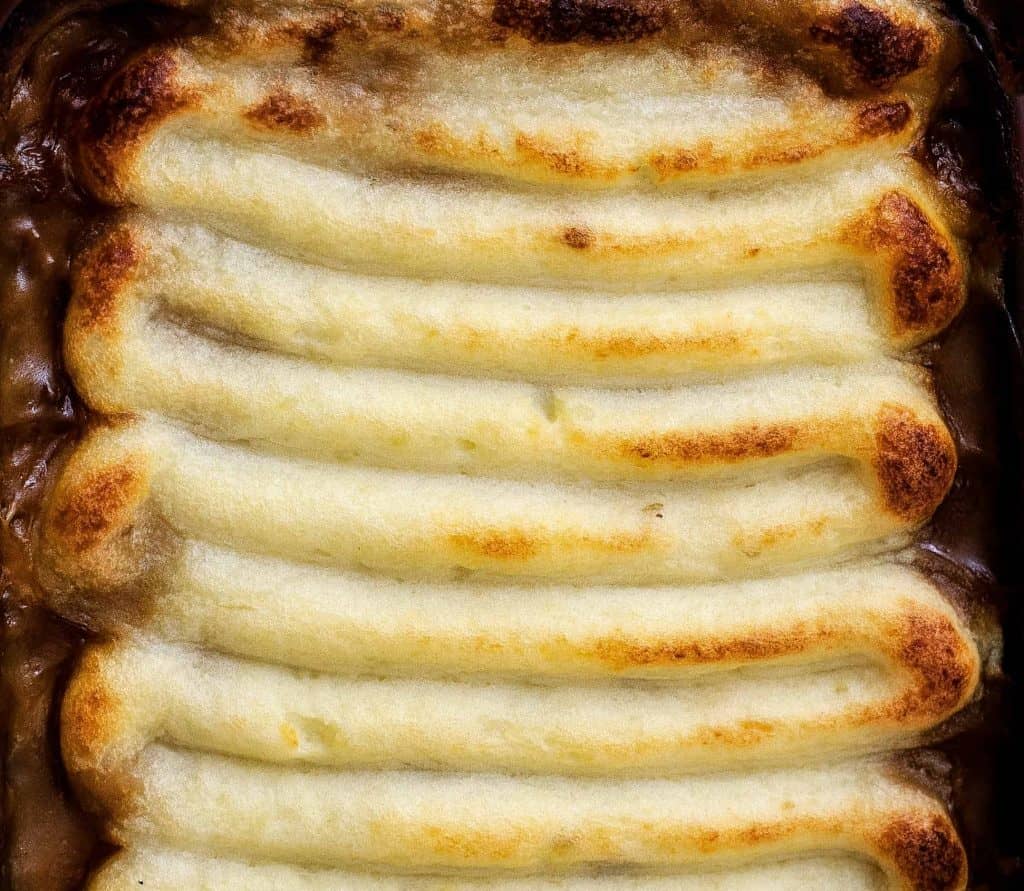 Vegan shepherds pie, packed with umami rich shiitake mushrooms, green lentils and covered with creamy mashed potatoes!
---
Would ya take a look at this vegan shepherds pie! Let's start by saying that the goal here is NOT to make "fake mince", ok? If I'd wanted fake mince I'd have used one of the AWESOME store bought fake minces currently on the market.
The goal here was to make a full plant-based shepherds pie with as few processed ingredients as possible. That was the plan anyway. Then I remembered how important fat is to mashed potatoes, and it all sort of went down-hill from there.
Regardless, this is a bonkers good shepherds pie recipe which you are legally obliged to make for any person who struggles with the concept of umami. Trust me - it will convert them!
What is a vegan shepherd's pie?
I can't think of anything more British than a delicious fresh vegan shepherd's pie. I grew up on this sort of meal, usually accompanied by roast potatoes, pickled cabbage and lashings of vegan gravy!
Traditionally made with lamb (hence the name..) it's a dish usually served as part of a Sunday roast or for a winter mid-week dinner. A vegetarian option is often called "Shepherdess Pie" which is a weirdly gendered view of meat-free options, but that's a whole other blog post!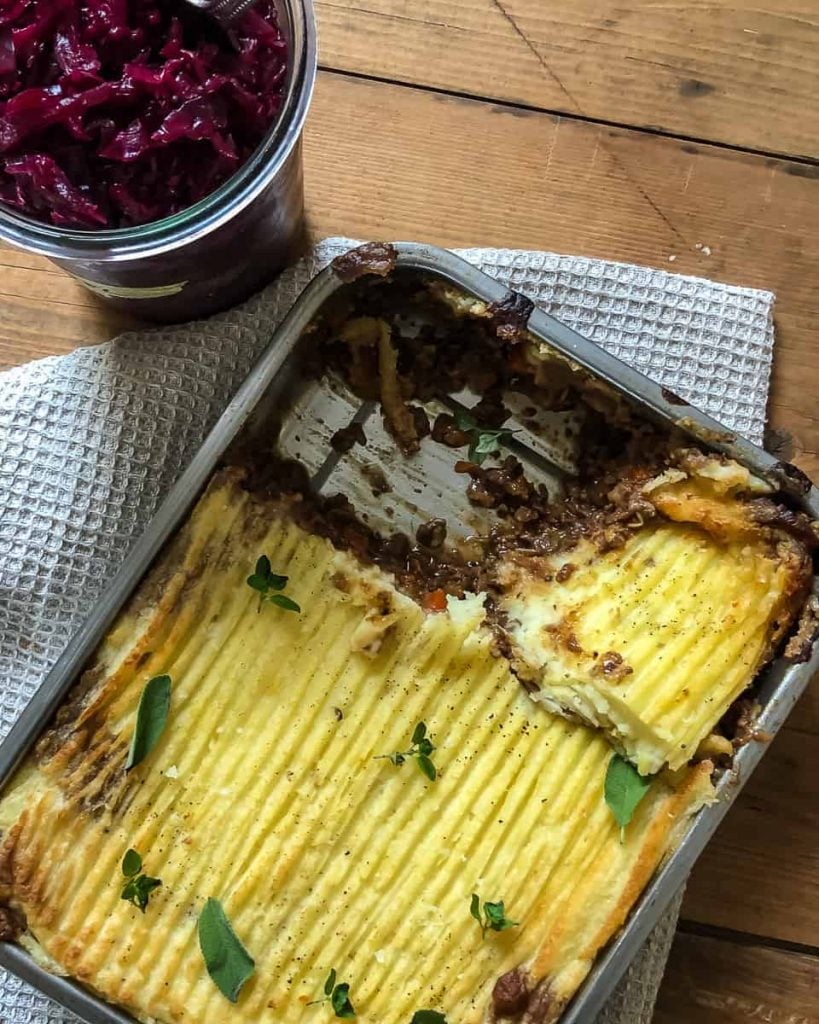 Magic ingredients!
This isn't your Nanna's vegan shepherd's pie! No no! It's literally PACKED full of flavour and super meaty textures. This pie is next level satisfying! Here's what you'll need to really make it POP!
Marmite
If you've been here a while, you'll have seen me using marmite before! It's a super salty, umami rich ingredient which is technically a yeast extract. It's sharp and will give your pie a really 3D flavour profile.
You can buy marmite here or, if you're in the UK, in EVERY SUPERMARKET! If you're not a fan of marmite, trust me, you're still going to LOVE this recipe. You won't taste the marmite but it will elevate all the other flavours in the dish.
Fennel Seeds
Yep, this one isn't a classic ingredient in a vegan shepherd's pie, but bear with me! All the other ingredients in this dish are super deep, earthy, meaty flavours. I wanted to use a herb or spice to wake the flavours up and elevate the pie to a higher level!
Fennel seeds give the dish a little zap of aniseed flavour which makes the filling so much more rounded. It does the same thing celery does when you make a mire poix. SNV trivia: I once came VERY close to having "M-I-R-E P-O-I-X" tattooed across my knuckles, because I'm AGGRESSIVELY into making stews.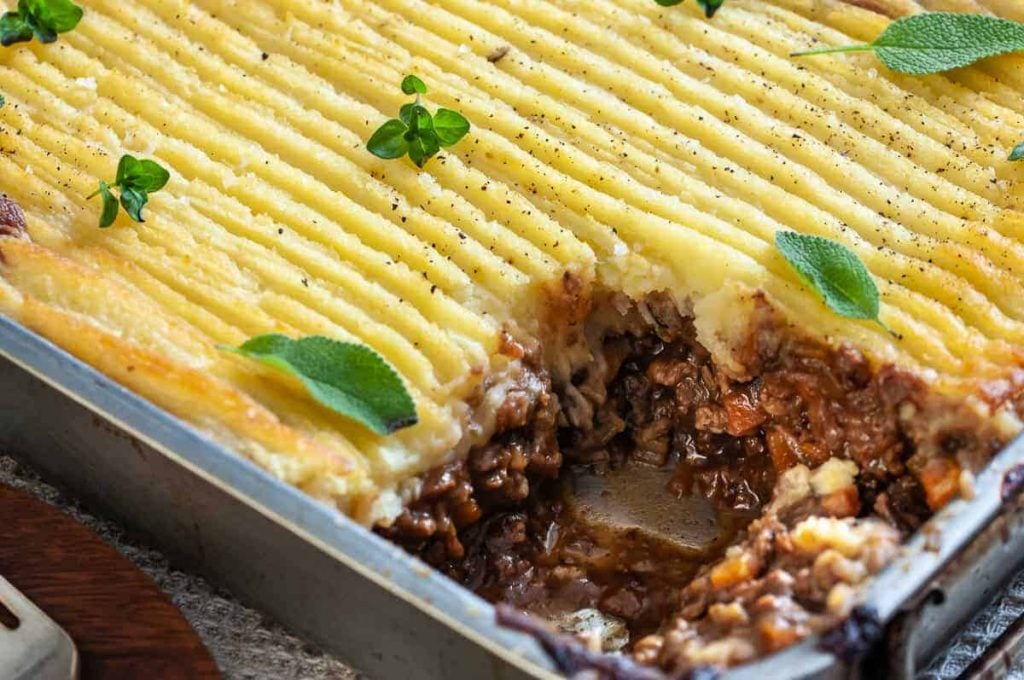 Miso Paste
I start MOST recipes with this stuff It's a by product of making soy-sauce (or vice versa, depending on how you look at it) and it's super important for adding umami flavours to recipes.
You can get brown or white miso and either work for this recipe, but I find brown rice miso has a slightly deeper, more complicated flavour.
Dried Shiitakes
Shiitake mushrooms are a double whammy when it comes to this vegan shepherd's pie! As you probably already know, they're one of the most flavoursome mushrooms out there, but even more importantly, they have a SUPER meaty texture.
There's no need for any fake meats in this recipe, because between the lentils (high protein!) and the shiitakes (texture and flavour) you've got something magically satisfying!
Any top tips!?
It's a pretty simple process to make this pie, and if you've ever made a shepherd's pie before, you'll be totally familiar with the sequence of things! However, if this is new to you, here are some tips to make sure your pie turns out PIEfect.
Make your mash FIRST!
This seems counter-intuitive, but you'll find it much easier to top your pie if your mash is cool. I've made this dish two ways, both with piped mash or with a simple ridged mash topping. Both work fine!
The ridged top is made by spooning the mash onto the filling mix and dragging a fork through it to create the ridges. When baked, these ridges crisp up beautifully!
Hydrate your shiitake mushrooms fully!
There's nothing worse than a half-dried shiitake mushroom lurking in this vegan shepherd's pie! For this reason, please please make sure you allow enough time for your shiitakes to hydrate properly! You'll also need to chop them nice and finely and this will be much easier if they're properly hydrated.
Sieve your mushroom stock!
For this recipe I like to use the water which we used to soak the shiitakes in. It's super flavoursome so why waste it? However, there's one risk here! Shiitakes sometimes have little sandy pieces of soil attached to them from when they were grown, and this is a super unpleasant texture to experience in a shepherd's pie.
Make sure you use a really fine sieve, tea strainer or muslin to make sure the grit doesn't get into your dinner!
Need more British comfort food?
If you need some more British food? Try these recipes:
Please keep in mind...
I love sharing my food with you - it seriously gives me so much joy! As a result, I put a huge amount of time and energy into creating these recipes. This recipe right here is my lil baby and I wouldn't change a single thing about it. As such, I won't give advice on any ingredient swaps, substitutions, omissions or changes to the method described above (how dare you talk about my baby like that!)
But seriously, if this recipe doesn't do it for you and you want to customise it - that's cool - no probs. Put that finely honed chef's intuition to good use and tailor the recipe to suit you! Regardless of whether you make any changes or not, let us know how you get on in the comments below.  
Shiitake and Green Lentil Shepherds Pie
Vegan shepherds pie, packed with umami rich shiitake mushrooms, green lentils and covered with creamy mashed potatoes!
Ingredients
For the Mash Topping
3

large potatoes

((I use maris piper))

pinch

salt

4

tablespoon

vegan butter

5

tablespoon

vegan cream

((I use oatly))
For the Filling
40

g

shiitake mushrooms

((dried))

500

ml

boiling water

400

g

tin of green lentils

⅛

teaspoon

fennel seeds

((ground in a mortar and pestle))

1

red onion

((finely chopped))

2

garlic cloves

((minced))

1

tablespoon

brown rice miso paste

½

teaspoon

marmite

1

carrot

((Peeled, halved and diced))

¼

teaspoon

dried thyme

¼

teaspoon

dried sage

¼

teaspoon

smoked paprika

2

teaspoon

dark soy sauce

2

tablespoon

plain white flour

1

tablespoon

vegan bouillon powder
Instructions
To Make the Mash
Peel and quarter the potatoes.

Place in a medium saucepan and cover with boiling water. Boil for 10-15 minutes or until a knife slips into the centre easily.

Drain in a colander and leave to steam for 10 minutes.

Once steamed, mash until smooth with a ricer or masher. Season with salt and pepper. Add the remaining mash ingredients and stir together until smooth!
To Make the Filling
Pour the boiling water over the shiitakes in a small bowl. Cover and leave to hydrate for 20 minutes. After 20 minutes, remove the shiitakes, reserving the water (which will become our stock).

Place the hydrated shiitakes in a food processor and pulse blitz lightly until the shiitakes are chopped roughly into mince like constistency. Set aside.

Preheat the oven to 200c.

In a large saucepan, add three tablespoons of vegetable oil and bring to a medium heat. Add the fennel seeds and toast for a minute. Add the onion and fry for a few minutes. Add the garlic and carrot and fry for another three minutes. If it starts to stick, add a tablespoon of water.

Throw in all of the minced shiitakes and the lentils along with the miso, marmite, soy sauce, herbs and spices and stir for a few seconds.

Add the flour and bouillon. Stir to combine, then pour the mushroom water into the pan through a fine sieve or tea strainer. Stir well and cover with a lid. Leave to cool, stirring occasionally, for around 10 minutes or until the sauce has thickened slightly.

Pour the hot filling into an oven proof casserole dish and top with the mash. Drizzle with a little oil and pop in the oven for around 15-20 minutes or until the top is golden and crispy and the sauce is bubbling around the sides.
Nutrition
Serving:
1
grams
Calories:
198
kcal
Carbohydrates:
26
g
Protein:
8
g
Fat:
8
g
Saturated Fat:
2
g
Cholesterol:
1
mg
Sodium:
437
mg
Fiber:
7
g
Sugar:
3
g
Love this recipe?
Let me know on Instagram!